We couldn't be more happy to know that there are so many vegan restaurants in NYC. I wish DC, where I live, had as many options as NYC. Giving your business to restaurants instead of buying more stuff is another way of buying American. Frequenting vegan restaurants, if that is a cuisine you enjoy, is another way of expressing your values through your purchases. We recently found a few of my favorite plant-based, vegan restaurants in NYC. What's your go-to place for vegan eats in NYC? Let us know in the comments section below. We'd love to try out your favorites too!
Best Vegan Restaurants in NYC
Divya's Kitchen: Ayurvedic, Vegetarian, and Vegan Restaurant in Manhattan
Pull up a chair; get cozy; and prepare for all your senses to be invigorated and nourished. My cousin, Susan, and I were very graciously hosted by Divya Alter, the co-founder, and chef behind Divya's Kitchen. We had the great pleasure of Divya's company during our meal.
Divya grew up in Bulgaria and had a conscious relationship with food beginning at age 18 while interning at the kitchen of an underground yoga ashram. She has been a vegetarian and a cook since then (over 27 years). She spent five years studying in India, where she was first introduced to Ayurveda. You can feel Divya's love and dedication to balancing and healing the body through food. Speaking with Divya is like handing over your soul and senses to Mother Earth; Divya's presence is calming, energizing, and invigorating. Susan and I wanted to soak up all her knowledge and healing powers! If you don't get to meet Divya while at the restaurant, I think this video shares her passion and essence quite well.
Divya sources the food she uses at Divya's Kitchen from local, organic farmers whenever possible. For those who will eat her vegetarian fare, she uses the highest quality of cultured dairy products, like cultured ghee, that comes from happy, free-range cows. If you're looking for an incredible, everyday, casual vegetarian and vegan restaurant in NYC to find nourishing and sustaining foods, we highly recommend Divya's Kitchen. We loved everything we ate and drank including the Hibiscus Pineapple Juice, Vegan Sunflower and Beet Hummus with Spelt and Sesame Crackers (gluten-free crackers available upon request), Vegan and Gluten-Free Vegetable Curry in Cashew Sauce, Vegan and Gluten-Free Roasted Vegetable Bowl, and Vegan Carob Coconut Cake.
Divya and her husband, Prentiss, are also the co-founders of Bhagavat Life, an Ayurvedic culinary school in NYC where they tech cooking lessons in their Ayurvedic restaurant, Divya's Kitchen. Their work aims to connect holistic living to everyday life.
Riverdel: Fast-Casual, Everday Vegan Deli and Grocer
Moo-ve aside dairy, Riverdel is THE go-to deli for your new favorite vegan sandwich for breakfast and lunch in New York. Riverdel offers only vegan foods on its ordering menu and in its grocery section. You'll find everything from cheese and crackers to ready-made vegan foods for breakfast and lunch, along with everyday provisions at Riverdel's vegan grocery shop. I tried Riverdel's vegan breakfast sandwiches including The McDel and The Croissant-Wich. Both are awesome and flavorful; it's incredible that there are no animal products used. Even if you're not vegan, you won't be missing a thing from these vegan breakfast sandwiches.
Riverdel hit the nail on the head with The McDel vegan bagel sandwich. The McDel, complete with protein from vegan egg, bacon, and cheese, is flavorful and well balanced. There is freshness from the mesclun and tomato, alongside a bit of tang from the mustard, all between a perfectly chewy on the inside and crispy on the outside bagel.
The Croissant-Wich comes together perfectly and is a satiating way to start your morning off right. The Croissant-Wich, a little light fare than The McDel, and equally as delicious. Its creamy, herbaceous vegan cheese is smeared on a flaky, vegan croissant. I loved the consistency of the vegan egg; it's soft and bouncy and maybe a bit more similar to tofu than an egg.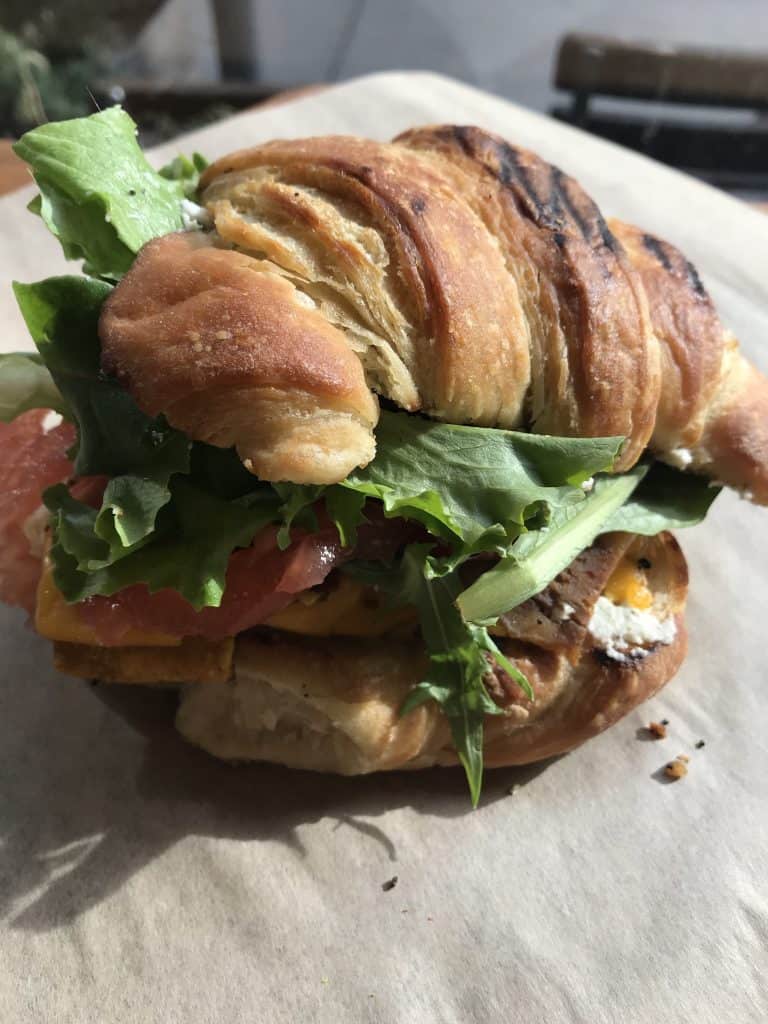 Avant-Garden offers fine vegan dining in East Village and Brooklyn's Williamsburg neighborhood.
Bareburger clearly lists its vegan menu options online and in its restaurants. There are lots of options.
Beyond Sushi is beyond! I didn't even mind that there was no raw fish because this vegan sushi is so flavorful and full of different textures. Beyond Sushi wasn't lacking anything. I loved the Spicy Mango (black rice, braised fennel, sun-dried tomato and avocado, topped with butternut squash and served with Almond pesto sauce) and Sunny Side (black rice, avocado, mango, and English cucumber topped with spicy veggies and served with toasted cayenne sauce).
Blossom on Columbus offers fine vegan dining in Chelsea and the Upper West Side. Gluten-, nut- and soy-free items are clearly listed on the menu.
CAVA offers flavorful, healthy customizable & crave-able salads and grain bowls. CAVA healthy restaurants can be found across the USA in 14 states and opening soon in others.
Taïm offers falafel with all the toppings. They've made it easy for vegans to spot the non-vegan ingredients they serve. See the list here.
The Butcher's Daughter has three locations in NYC offering breakfast, lunch, and weekend brunch. All menu items are clearly labeled as vegan. I loved the Spicy Kale Caesar Salad with Veggie Chicken. It was quite flavorful and had so many awesome textures and was also filling and satisfying.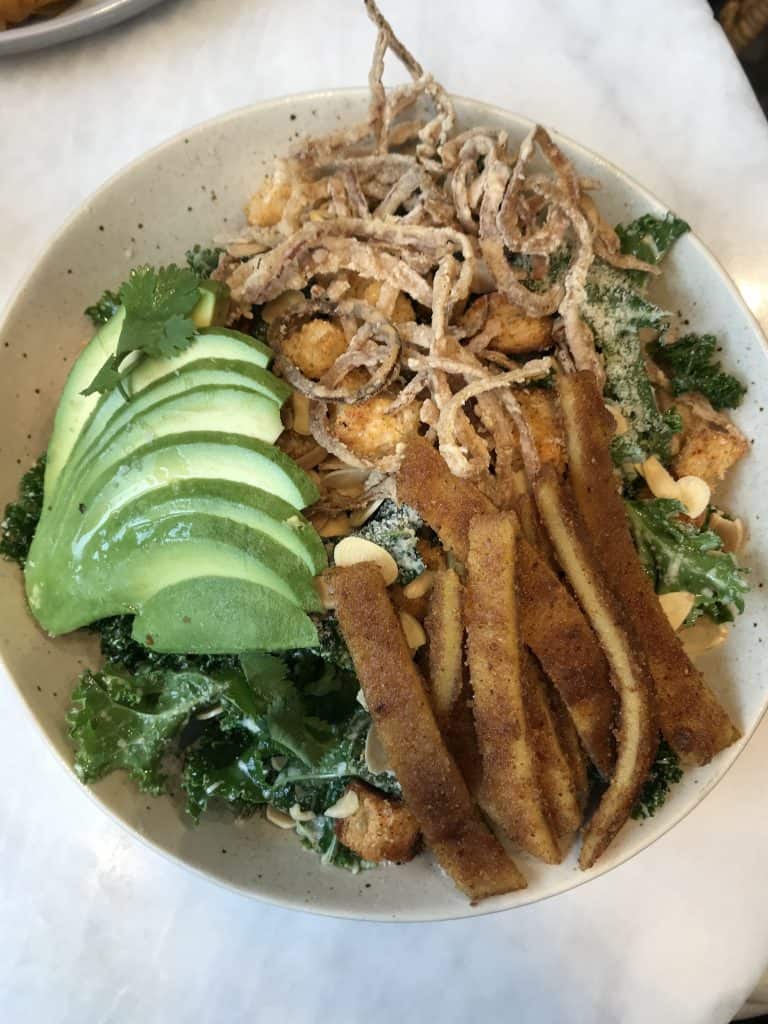 DON'T MISS OUR OTHER MADE IN USA VEGAN PRODUCT LISTS!
American Made Vegan Shoes
American Made Vegan Beauty Products
Plant Based Raw, Vegan, and Vegetarian Meal Delivery Services
24 of the Best Vegan Restaurants in NYC
Vegan Gluten Free Breakfast Cereal Recipe Loaded With American Made Goodness
How to Eat Vegan at Starbucks (with Made in USA products)
Healthy Vegan Nutella Alternatives, All Made in USA

Pin this list to save it for later!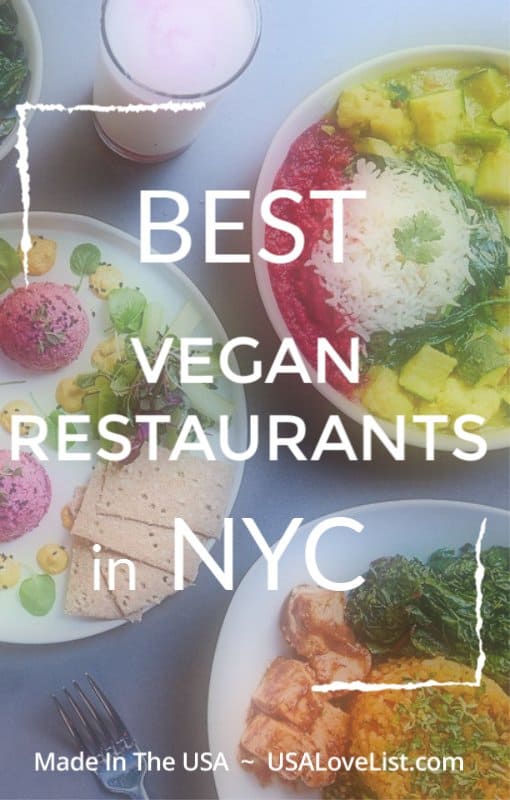 Disclosure: This is a sponsored post which USA Love List is proud to share with you because, sponsored or not, we only share stuff we love
Image credit: Divya's Kitchen