The five American companies listed below take the saying, "One man's trash is another man's treasure" to a whole new level. They specialize in the REUSE part of the three R's: Reduce Reuse Recycle.  I've picked five companies to represent the current trend of up-cycling, and they are doing it all American-made.
Instead of using natural resources and energy to make a new products from scratch, these companies were founded on the belief that already existing materials can work just as well, if not better, as the primary component in the creation of their products.  Keeping items out of our nation's landfills is important to those who are proud of the uniqueness and quality of their up-cycled American made products. Oh, and while you are perusing their websites, remember that gift you need to purchase for Mother's Day,  Father's Day or that wedding next month!
Reduce, Reuse, Recycle: Five Picks for Upcycled Products Made in the USA
2. THE GIVING KEYS

The Giving Keys jewelry pieces are handmade by individuals transitioning from homelessness in the USA from repurposed keys. Each key is engraved with a message like HOPE, LOVE, or BELIEVE. The wearer of a Giving Key is encouraged to give their key to a person in need of the message when the time arises. 
. Paloma Pottery
Paloma Pottery owner, Nicole Whitney, has been making pottery for 15 years in the Pacific Northwest which combines broken recycled glass in her pottery pieces. Paloma Pottery specializes in jewelry and home decor, like the one-of-a-kind unique clocks featured here.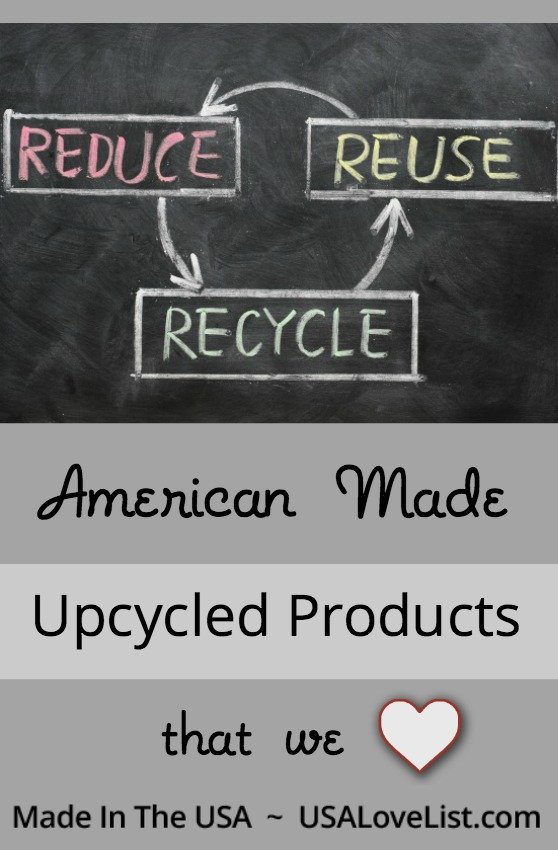 Follow USA Love List's board Reduce, Reuse, Recycle on Pinterest.