I moved to Richmond six months ago and was immediately struck by the strength of the creative class in this growing, southern city along the James River. I quickly met bag makers and jean makers and found locally made jewelry and candles made by craftspeople who are passionate about their wares and their community. Richmond, or RVA, is a city asserting itself nationally with its food, its beer, and its creatives who are making the city they love their own. Here are 10 things we love, all made in Richmond:
Awl Snap
Erin McRoberts of Awl Snap was a Martha Stewart Made in America finalist for good reason. She singlehandedly assembles her bench-made bags and leather goods in a studio in the city's Manchester Neighborhood using only the highest quality components. Her bags, for men and women, come with a lifetime guarantee and will only look better with age.
Maslo Jewelry
Nicole Maslowski started Maslo Jewelry in 2003. Though her education was in graphic design, Maslowski's eye for design led her to create Maslo. Her simple pieces that at once recall the grandiosity of the Art Deco age with a modern edge make them perfect as accent pieces for a night out or as staples in your everyday wardrobe.
Richmond Thread Lab
Christie Thompson started experimenting with vintage fabric as a way to work with her hands. It was when she started making men's neckties that she felt like she was onto something and Richmond Thread Lab was born. With her collections, Thompson looks to blur the lines between casual and formal through vintage style and organic textiles.
Phoenix Handcraft
Kyle Lucia and Johannah Willsey combined forces, Lucia is a traditionally-trained blacksmith and Willsey is a mosaic artist, to create Phoenix Handcraft. Phoenix Handcraft make furniture, public art, mosaics, architectural ironwork and interior accessories using traditional and reclaimed materials. Their ethos is that of a return to work done by hand within, and often with, the community.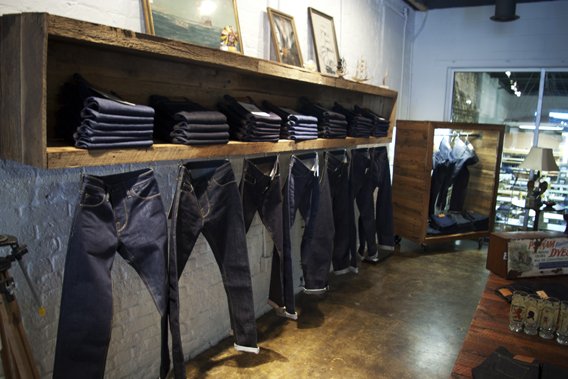 Shockoe Atelier
Headquartered in historic Shockoe Bottom, Shockoe Atelier is the product of over half a decade in the luxury garment trade. Founded in 2012 by Anthony and Pierre Lupesco, Shockoe started by making jeans in their workshop before launching their first full-line of menswear in 2015. Pop into the shop and you can see their exquisite jeans being made in the back.
Square Trade Goods
You'd be hard pressed to find a home in Richmond that doesn't have at least one of Alan Long's Square Trade Goods. Odds are that candle is going to be his signature campfire flavor. Long has since expanded beyond hand-poured, small-batch candles to t-shirts, hoodies, hats and locally made hand salve.
Blue Bee Cider
Blue Bee Cider is Richmond's only urban cidery. They make their artisanal ciders on a seasonal basis in their Manchester production facility. Tasting of their offerings, everything from dry ciders to desert ciders, are available on a daily basis.
Billy Bread
Billy Bread was started in 1999 by the eponymous Billy. With just one product over 15 years ago, Billy Bread has grown throughout the region and can be found at some of the region's finest restaurants and in grocery stores in the city. Handmade in downtown Richmond, this bread is not be missed.
Clawhammer Co.
Clawhammer Co. unleashed their Beam Box, a Bluetooth enabled speaker system made from reclaimed barn wood, on Kickstarter and doubled their projected goals. The speakers sold out almost instantly thereafter online and Clawhammer has expanded into cutting boards, tea light holders and apparel as well as acting as a retail outlet for other local makers.
Sub Rosa Bakery
Siblings Evin and Evrim Dogu run this wood fired bakery in the Church Hill neighborhood of Richmond. Their traditional baked goods, made from grain milled on site, have won raves from the
New York
Times and celebrity food critic Alton Brown.
Greg Houser is a freelance writer living in Richmond, VA. Follow him on Instagram: @greghouser