A heat wave has hit New England and it doesn't seem to be going anywhere! Here in Connecticut, we are officially melting. Unlike homes in other parts of the country, where high temperatures for days (weeks over here!) are common, most houses in New England do not have central air. And, believe it or not, there are more than a few New Englanders who don't use air conditioning at all. Our house has one air conditioner (not made in the USA, as we can't find any that are), and it does its job. However, it's our made in the USA fans that we love and use the most.
Save energy using American made fans
Ceiling fans, table fans, and window fans all use less energy than air conditioning. If you are a number person (which I am NOT) then check out the article "Window Fan vs. Air Conditioner: How Much Energy Do They Use" and do some math to find out how much energy you are using with your air conditioning. If you are not a number person, skip to the end of the article (like I did) and you can see that in the example given, one air conditioner uses more energy than four fans running simultaneously!
Here is a list of fans that are made in the USA in whole or in part and how to use them to lower your electric bill and save money while staying cool. Most of the fans listed below are assembled in the USA from foreign and domestic parts. We share these because at USA Love List we believe that any effort to keep manufacturing jobs in the USA deserves our attention!
Types of fans and how to use them
Window Fans
Window fans work best in places where it is hot during the day and cool during the night. The Air King 9166 window fan is reversible, meaning it can be switched from exhaust to intake. Exhaust would be used during the day, to suck the hot air out. Intake would be used at night, to let the cool air in. The Air King 9166 window fan comes with a storm guard which makes it possible to close the window behind the fan.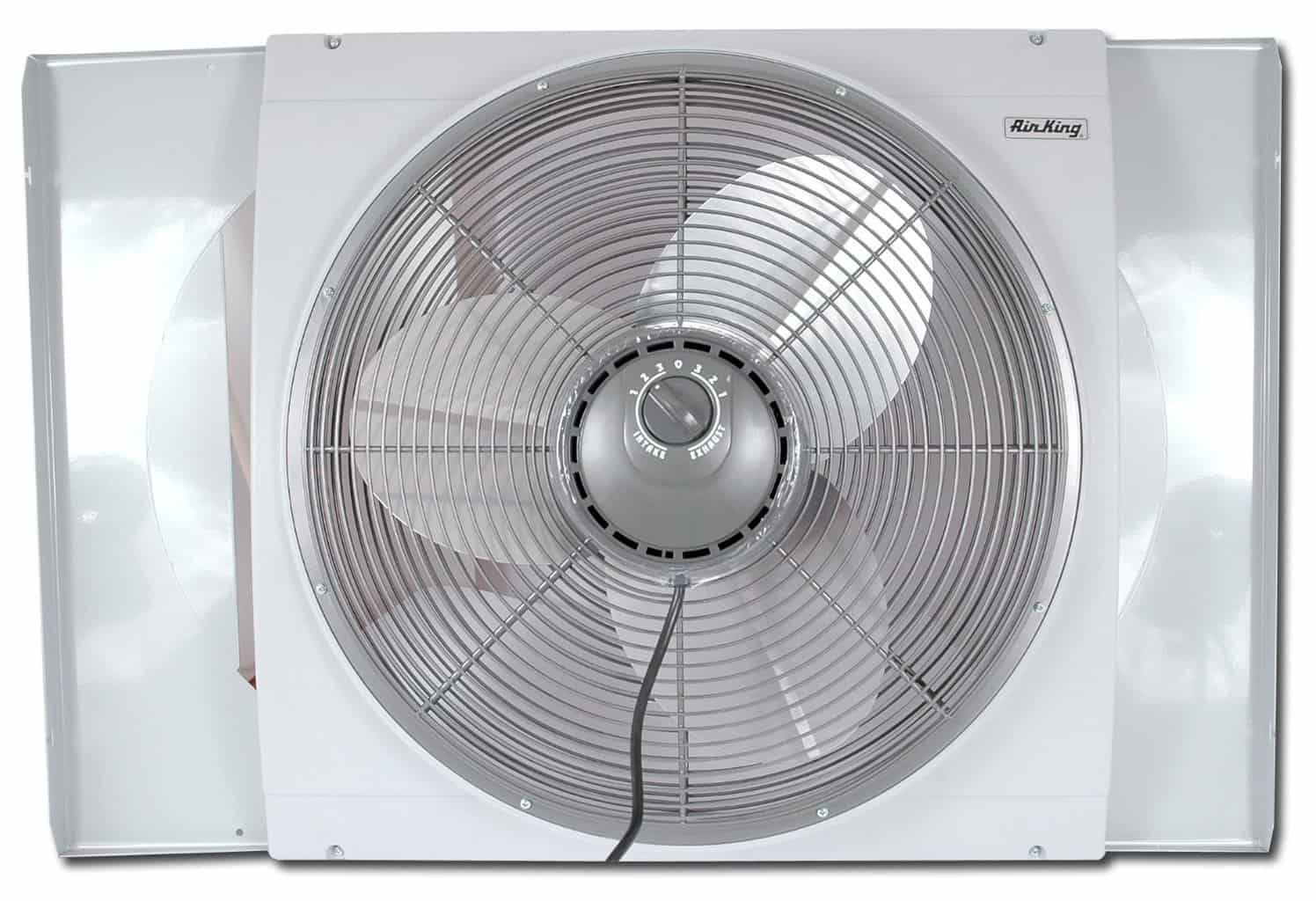 Box Fans
Box fans save energy and work best when used in front of a window. Instead of turning a dial to switch the fan from exhaust to intake (as described above), the fan is simply turned around. Lasko assembles fans, like the Galaxy box fan, with domestic and imported parts in Tennessee and Texas.
Air Circulators
Air circulators move air around the air around a room evenly distributing the temperature, as opposed to just blowing cool air to one spot. Some styles of Vornado air circulators are assembled in Andover, Kansas with domestic and imported parts. We have two Vornado air circulators in our house and we love the fact that they are quieter than other fans, making them great for the kiddos' bedrooms. Please note: I have noticed this year that a lot more Vornado fans have been manufactured overseas. Read labels carefully!
Ceiling fans
Ceiling fans move air throughout the room, similar to the air circulator. Make sure your ceiling fan is moving in the counter-clockwise position in the summer to create a cooling breeze in the room.
Matthews Fan Company ceiling fans are assembled in the USA from motors made in the USA and parts made in South America. They have a unique, modern design. More styles of Matthews Fans can be found at bellacor.com.


Big Ass Fans are, um, very large ceiling fans made in Kentucky. Sarah wrote about them in the USA Love List post, "Made in the USA, Big Ass Fans: Can You Guess What They Make?"
Attic fans and whole house fans
Attic fans and whole house fans are both fans that are installed in attics. Attic fans are intended to keep attics cool by drawing in cool outside air and pushing out hot attic air. We don't have an attic fan, so my attic fan experience is non-existent. Of course, I did research, but to explain what I read would take up its own post, so you can read it here yourself. Just remember, attic fans cool the attic, while whole house fans are in the attic but are intended to cool the whole house. I found several attic fans and one whole house fan that is manufactured in the USA.
Attic Breeze solar attic fans are manufactured in Texas using 100% solar power.
Sunrise Solar attic fans and roof vent fans are made in Warsaw, Indiana using raw materials and components made in the USA whenever possible -they even manufacture some of their own parts!
Quite Cool whole house fans are made in California.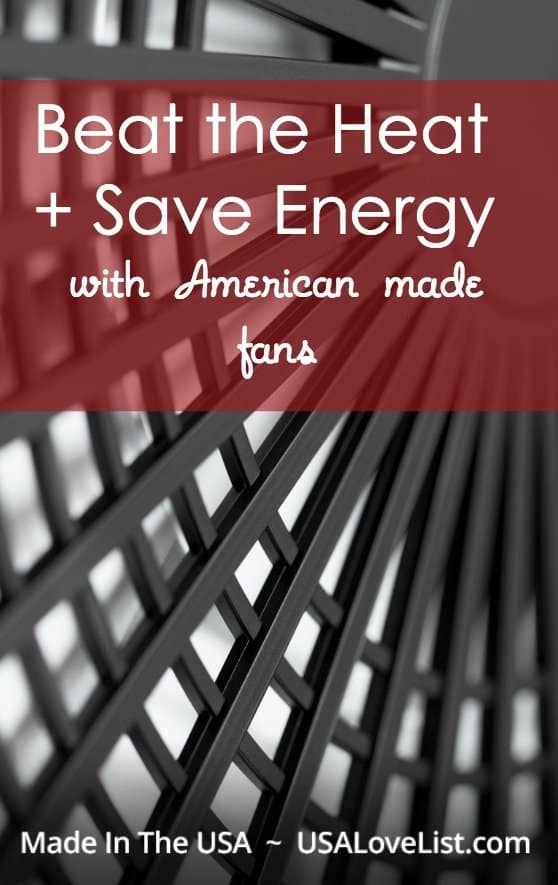 Have you found an American made fan that you love? Do you have tips on using fans to save energy and keep cool?
A huge THANK YOU goes out to my hubby for helping me with this post! 🙂
Follow USA Love List's board Summer: Made in the USA on Pinterest.