Gathering around a campfire is a favorite pastime, and we especially enjoy cooking with campfire accessories made in the USA. Toasters, roasters, poppers and more are American-made and available so you can get busy making memories along with some great campfire food.
Campfire Cooking Accessories We Love: Made in the USA
Whether you enjoy snacks like s'mores or popcorn, a hot dog roast, or an entire meal, you'll find the exact campfire cooking tools you need that's been forged right here on American soil. Add a fire ring and some heat, and before you know it, your backyard will be abuzz with happy conversation and storytelling.
Cooking Accessories
The Original Rolla Roaster stick is still being made in a small shop in Orofino, Idaho. The two-prong fork comes in a set of two. It's made from stainless steel and has a heat-resistant handle. This campfire tool extends all the way to 42 inches long for roasting marshmallows and smores.
C. Palmer Manufacturing makes outdoor cooking irons from high-quality aluminum or cast iron. Their West Newton, Pennsylvania factory can keep you well-stocked with campfire accessories such as sandwich toasters, hot dog toasters, pudgie pie makers, and hobo pie irons. With 78 years of business history, the company has perfected its campfire tools to be long-lasting.
Related: Best Grilling Tools and BBQ Products, All American Made
The Jacob Bromwell company made its first popcorn popper in 1819 when he designed the first 3.5-quart rectangular popper for outdoor use. Made in the heart of Indiana's popcorn country, the company continues to hand make each popper. Some users roast chestnuts or peanuts with it as well. Get your name engraved on this heirloom-quality popper and pass it on to others. Plus, the company offers a lifetime guarantee on all its products.
This hand crank campfire popcorn popper functions like the old-fashioned stovetop style but is made of heavy-duty stainless steel for the outdoors. It is handmade by Amish artisans who try to honor their Old Order ways by running their own small cottage business. Cottage Craftworks, located in Texas, sells this campfire accessory online with the intention of supporting Amish-owned businesses.
American Made Drinkware
Need something to sip your hot chocolate and coffee from? Try Tervis mugs, made in Venice, Florida. Numerous color options and lids are available in these insulated mugs with handles. Please note: The Tervis stainless steel products are made in China and painted in Florida.
Cast Iron
Almost any cookware made of cast iron makes a great campfire accessory for cooking. Try Lodge Cast Iron Cookware for cooking more hearty foods over the campfire. Try your hand at making pizza on this seasoned cast iron pizza pan. Use the grill topper for roasting fresh vegetables. Serve up a hearty soup or make homemade hot chocolate in this 2 quart cast iron camp Dutch oven. Please note: The Lodge enamel cookware is not made in its American manufacturing facility located in South Pittsburg, Tennessee.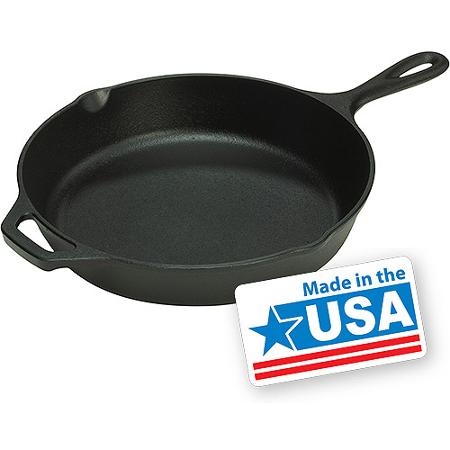 If you like the sizzle of steaks and burgers on the grill, try this American-made outpost grill by Breeo. Made in Lancaster Pennsylvania, the portable grill comes with its Anchorpoint™ system that attaches the grill to your fire pit.
Fire Ring
Now that you have a list of accessories, all you need is a fire ring. P&D Metal Works makes a huge selection of fire rings fabricated from heavy-duty steel. The Wisconsin-based, family-owned company makes different heights and diameters, as well as solid or laser, cut designs. You can even custom design your own fire ring.
Portable CampFire
This portable Campfire can be used anywhere. Radiate makes a large selection of portable campfires that can be transported anywhere. This made-in-USA brand is sustainable, reusable, and leaves no trace.
Have you visited our Made in USA Shopping District? It is the place to start your shopping when you want to find the best of American-made.

Pin this list to save it for later!