Earth Day might have been last month, but we are reminding you today how important it is to remember our earth's resources when we are landscaping our yard and tending our gardens. Mister Landscaper, an American manufacturer of drip and spray home irrigation kits, makes conserving our Earth's water a top priority. The people at Mister Landscaper know that water is a precious and valuable commodity that needs to be used responsibly. With this knowledge, they have designed home irrigation systems that use up to 50% less water than conventional irrigation systems. Yes, it is possible to water our flowers and gardens responsibly.
Mister Landscaper EcoFriendly Made in USA Spray and Drip Irrigation Kits
Mister Landscaper has been manufacturing high-quality micro sprays and drip irrigation products in Florida for over 35 years. The low volume spray irrigation was originally invented to be used in orange groves. It was introduced to the commercial market in 1991 so that homeowners could take advantage of the low cost, yet highly effective watering system.
Here is what we love about the American made irrigation kits by Mister Landscaper:
Mister Landscaper irrigation kits are easy to assemble. Kits come with the all required pieces include. The only tools you will need to have on hand is a pair of scissors, and maybe a hammer (depending on the kit). Most kits can be put together in under 45 minutes.
You save water using Mister Landscaper irrigation kits. Mister Landscaper irrigation systems use up to 50% less water than conventional watering systems and are even drought approved in some areas.
Mister Landscaper irrigation kits are time savers and eliminate worry. With a Mister Landscaper irrigation system installed, you no longer have to spend time hand watering plants, and you don't have to worry about finding someone who can water them properly when you go away. Timers can also be added for an additional cost.
All Mister Landscaper products are very affordable! Why invest in expensive, underground irrigation systems when you can have the same, if not better, watering experience with Mister Landscaper products?!
Want to learn more about the benefits of using Mister Landscaper irrigation systems, and about the various types of 100% made in the USA Mister Landscaper kits available? Read our article Introducing EcoFriendly Irrigations Systems from Mister Landscaper .
Tweet your thanks to this company for keeping their products made in the USA:
Top Picks
Do you have container gardens or potted flowers adorning your front walkway? If so, then the Micro Spray Pot Stake Kit is for you. This irrigation kit includes enough stake sprayers to water up to eight potted plants.
The Micro Sprinkler Landscape & Shrub Kit will water up to 250 feet of shrubs, trees, flower beds, and gardens This is a best seller and consumer favorite! It can connect with up to five kits for large area watering.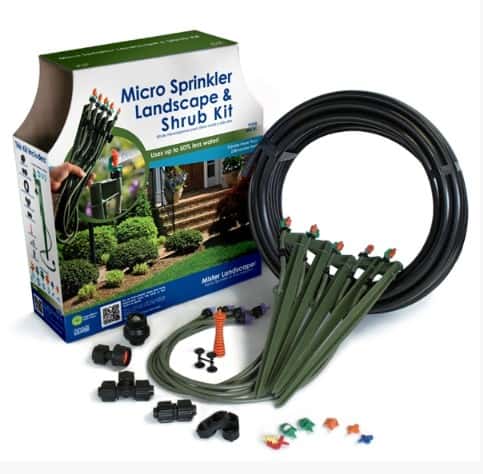 The Vegetable Garden Drip Kit is another consumer favorite. This irrigation kit makes the ideal watering system for up to 100 linear feet of row gardens and raised beds. The slow drip watering system ensures that vegetable plants are not over watered.
Mister Landscaper irrigation kits are now available at Lowes or Amazon. Ready to win your own? Then keep reading!
The Giveaway
Not one, but TWO lucky winners will EACH receive a Mister Landscaper All-In-One Micro Sprinkler Kit for Landscapes and Gardens, valued at $92.78.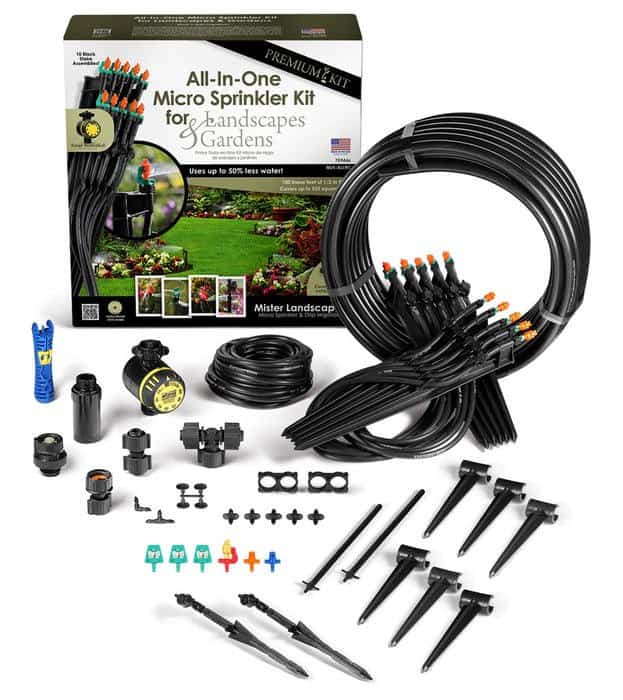 This Premium All-In-One Micro Sprinkler Kit can water up to 535 sq ft of landscapes, gardens, shrubs trees and more.
Includes a mechanical egg timer, so you can manually set it from 15 to 120 minutes and it will turn off automatically once the time has elapsed, also has a 50 PSI regulator to help prevent against blowouts of micro sprays, 1/4-in connectors and 1/2-in poly tubing
Includes 100-ft of 1/2-in poly tubing to run through your landscapes and supply water to the 10 Black stake assemblies and also includes 6 of our 1/2-in support stakes to secure the 1/2-in poly tubing to the ground
Each stake assembly is complete with a 10 GPH flow controller, 27-in flexible black vinyl, 13-in Black stake, On/Off control valve, vinyl locking collar and a 3-in-1 half circle, 4-ft radius micro spray
Kit also has 2 of our micro-spray pot stakes, multiple 1/4-in connectors and 10-ft of 1/4-in vinyl tubing so you can run water from the 1/2-in poly tubing to 2 potted plants
With the included 7 unique spray patterns, you get the coverage needed and the ability to adjust the spray pattern of each stake assembly with it's adjustable on/off valve and the kit also includes three 8-in stake extensions to add height to the micro sprays
The All-In-One Hole Punch Tool makes installation of the 1/4-in connectors easier and comes with a cleaning tool to clean micro sprays and the violet flow controller, kit also includes 4 goof plugs to seal any unused holes in the 1/2-in poly tubing
Includes a 1/2-in coupler to either extend the system or to repair a broken line, it also includes a 1/2-in tee fitting to run the 1/2-in poly tubing in opposing directions and end crimpers to end your 1/2-in poly tubing line
Constructed of commercial grade UV resistant resins made to withstand extreme climate conditions
All items in this kit, excluding the timer are proudly made in the USA
There are a variety of entry options including opportunities for multiple daily entries. Good luck!
Click the +1 button for further instructions on each entry. This giveaway will close at midnight on Thursday, May 23. The winner will be randomly selected, verified for correct entry participation, and notified by email.
a Rafflecopter giveaway

If you've already entered one contest on USA Love List, entering another will be even easier. Visit our Giveaways Page to find out about other active offers to join.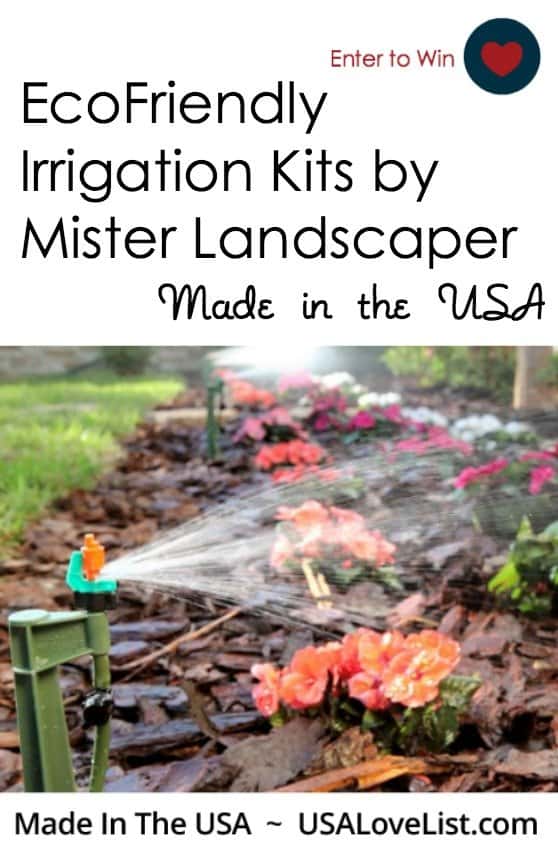 Disclosure: This is a sponsored post which USA Love List is proud to share with you because, sponsored or not, we only share stuff we love.