Music festivals go on all summer long and inspire countless fashion and beauty trends. Most of the looks will be effortless Boho, but a little rocker edge and glam girl always show up too. Festival or no festival, enjoy the vibe and get the look with our 8 favorite hairstyles for music festivals this season. We have listed the key Made in USA styling product for each look.
Don't miss our Festival Makeup: Summer Beauty Essentials, Made in the USA article for more festival style tips, and make sure you have all the festival gear you need as suggested by Our Music Festival Survivor Guide.
Music Festival Hairstyles We Love
STRONG MIDDLE PART
Keep it sleek with Not Your Mother's Smooth Moves Frizz Control Cream. Lightweight and leaves hair silky smooth. The infusion of coconut and silk extracts keep everything tame and smelling like perfection.
BEACH WAVES
If you have some curl to your hair use Not Your Mother's Kinky Moves Curl Defining Cream to separate and boost curls. If you barely have a wave to your hair spritz on blowpro Beach Pro Texturizing Mist and let it air dry, twist a few sections for extra wave.
SIDE BRAID
This a great option for a "no hair wash" day. Spray TREsemme Fresh Start dry shampoo to revive the volume, loosely braid and secure.
MESSY BUN
Start with spraying a leave in product like Desert Essence Hair Defrizzer & Heat Protectant – this provides a moisture coat to protect from the drying sun rays while it smoothes. Secure it with pins and finish with Alterna Anti-Humidty Hair Spray to define all your whispy hairs.
TOP KNOT
Use Kenra Platinum Texturizing Taffy to polish this classic hair style off. It has many purposes buy it tames fly-aways like nobody's business.
MILK MAID BRAIDS
Some Verb Volume Spray will expand your hair strand and keep it pliable with a touch of hold. Your braids will look full and last without being stuck to your head and flat.
FISHTAIL BRAID
Use New York Streets Hair Repair for easy prep and maintenance. It will tame frizz, protect from damage by strengthening it without being heavy. This is effortless, spritz, braid and go.
VINTAGE SCARF
This hair accessory (Get a vintage look a-like at American Apparel) is a hairstyle. Effortless, timeless and perfect for a day in the sun.
We've seen the mother of all music festivals, Coachella, come and go for this year. The summer music festivals list is long. Try getting out to support one of your local events. Soak up the culture, try some festival styles, and enjoy.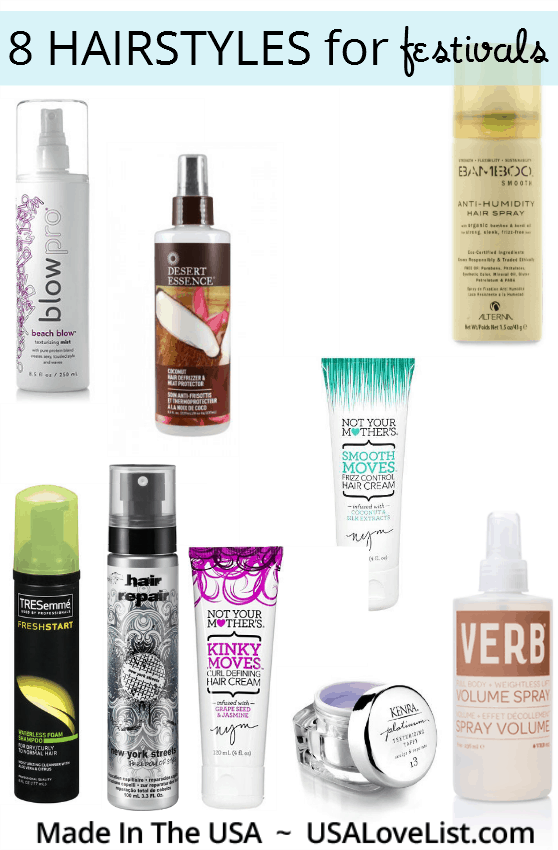 Is there a music festival in your summer plans this year? Let us know where and when.
original photo credit – Los Angeles Times Photography