Have you heard of mushroom coffee? You're probably thinking, I have but don't know what exactly it is. So, what is mushroom coffee anyway? Medicinal mushrooms are an age-old remedy for strengthening the immune system. Medicinal mushrooms have been revered for thousands of years and are popping up (no pun intended) in various products including coffee, tea, tinctures, and beauty.
I've tried each of these medicinal mushroom products.
Does Mushroom Coffee Taste Like Mushrooms?
Nope. The best way for me to describe the added taste of mushroom powder in your coffee is to say it adds a creamy texture, devoid of any real flavor. I think it simply adds texture.
Benefits of Mushroom Coffee Over Regular Coffee:
Mushrooms have lots of antioxidants, immunity-boosting properties, and vitamins. There is no negative effect to the adrenal glands from caffeine like that in coffee, so there is no crashing. Our adrenals glands are responsible for balancing our hormones and regulating energy levels, emotions, metabolism, and brain function. Since medicinal mushrooms have about 50 milligrams of caffeine, using medicinal mushroom coffee forestalls fatigue and boosts natural energy levels.
Adaptogens. What Do They Have to Do with Medicinal Mushrooms?
Adaptogens are densely nutritious botanical substances that regulate and normalize your body when it's 'off' due to environmental, physical, and emotional stressors. Medicinal mushrooms are adaptogens and 'adapt' their function to your body's unique needs. In fact, medicinal mushrooms improve your adrenal system, which is responsible for managing your body's hormonal response to stress.
Seven Medicinal Mushroom Products Benefits:
Chaga has antioxidant levels promoting anti-aging, while its adaptogen properties help balance the metabolic system.
Cordyceps improves vitality, endurance, and oxygen consumption to increase energy while supporting cardiac function and respiratory health.
Lion's Mane supports cognitive health, a healthy nervous system, and improves focus, creativity, and mood.
Maitake supports healthy weight control and balances blood sugar and insulin levels.
Reishi offers adaptogen properties that help balance and manage stress while supporting cardiac function and the immune system.
Shiitake boosts skin health, brain function, and mental energy and is a great source of Vitamin D.
Turkey Tail enhances the immune system and has powerful immunity activators.
Medicinal Mushroom Products: Brands We Love Offering Coffee, Tea, Chai, Mocha and More
We found American made brands we love and trust that are making products with medicinal mushroom including, mushroom coffee, mushroom tea, mushroom chai, and mushroom tinctures, among other medicinal mushroom infused products.
Amazing Grass Beauty Elixir is made with stress-reducing adaptogenic herbs combine with alkalizing greens, alongside biotin and Chaga mushroom to support radiant skin, hair and nails. The elixir is part of a pioneering line of USDA organic powders combining fermented greens, grown on the company's family farm in Kansas, to target four unique functional health needs spanning natural beauty, cognition, sleep, and gut health. I love the elixir's clean ingredients and that it offers a vegan option to those looking to support skin, hair, and nail health.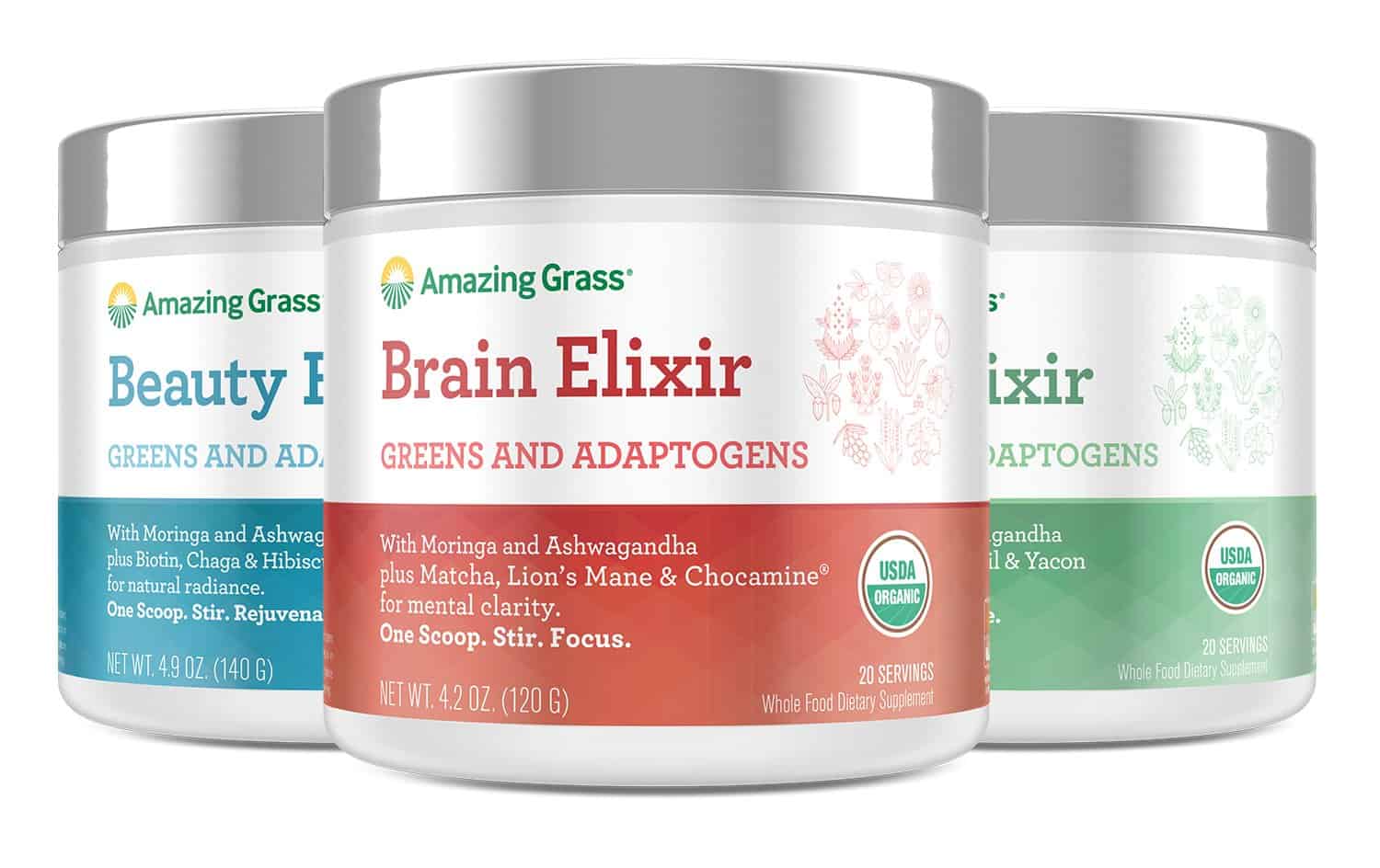 Birch Boys is a startup company that sustainably harvests wild Chaga and Reishi mushrooms from the Adirondack Mountains in Northern New York. The company was founded by Garrett Kopp, a 20-year-old entrepreneur, wilderness survival instructor, and mushroom identification expert. Garrett learned about Chaga tea from his grandmother when his 15-year-old self accidentally drank a glass of what-he-thought was iced tea in her refrigerator. When his Grandma walked in, her eyes lit up with an infatuating and enticing enthusiasm as she taught Garrett about "The King of Herbs". These medicinal mushroom tinctures deliver the benefits of single species in the most direct fashion, if taken sublingually. I love taking them in the morning to kick-start my day.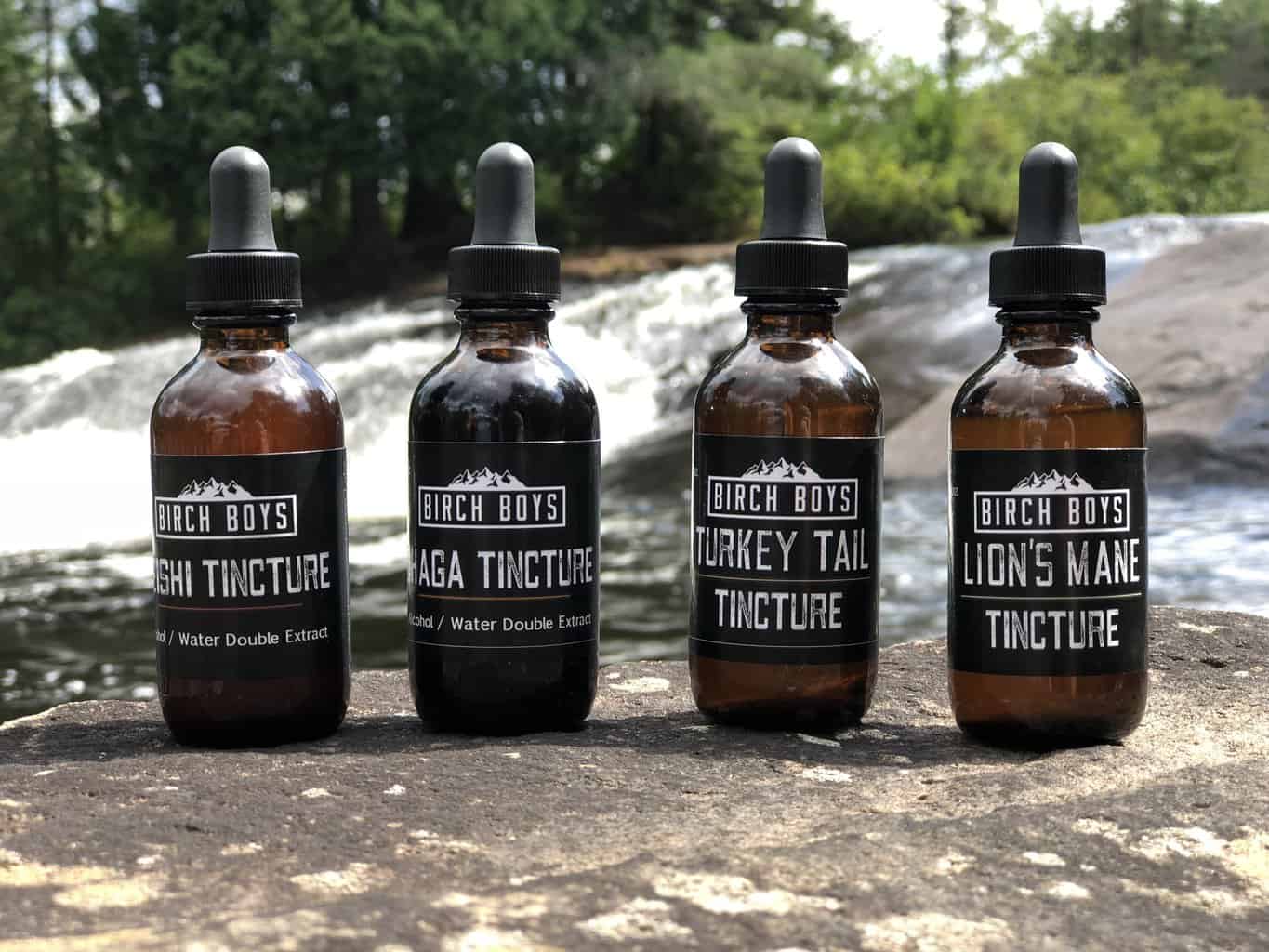 Birch Boys Wild Chaga Tea offers an antioxidant concentration higher than nearly any naturally occurring substance on Earth. This tea offers Chaga's healing properties in a mild, medicinal mushroom tea form. Chaga mushroom contains polysaccharides, which help your body convert food into usable energy. I love the enduring energy boost, making this naturally caffeine-free mushroom tea my go-to afternoon perfect pick-me-up.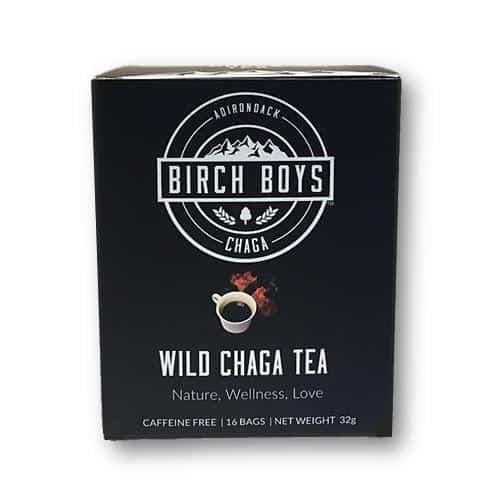 Host Defense founder Paul Stamets, D.Sc (Hon.), has been a dedicated mycologist for over forty years. The company offers a variety of products using mushrooms including, tea, tinctures, and chocolate, that provide a unique array of nutrients. I personally love the medicinal mushroom tea for its subtle taste and earthiness. Host Defense Turmeric Immune tea is a combination of turmeric root, ginger root, cinnamon bark, and black pepper. The black pepper stimulates digestive health, while Reishi, likely one of the original superfoods, called "The Mushroom of Immortality" in Asia for thousands of years, is added for general wellness and immune support.
Host Defense's MycoBotanicals Teas feature environmentally conscious packaging manufactured with renewable power offsets and unbleached, staple-free, natural fiber tea bags placed in boxes from recycled material and printed with plant-based inks.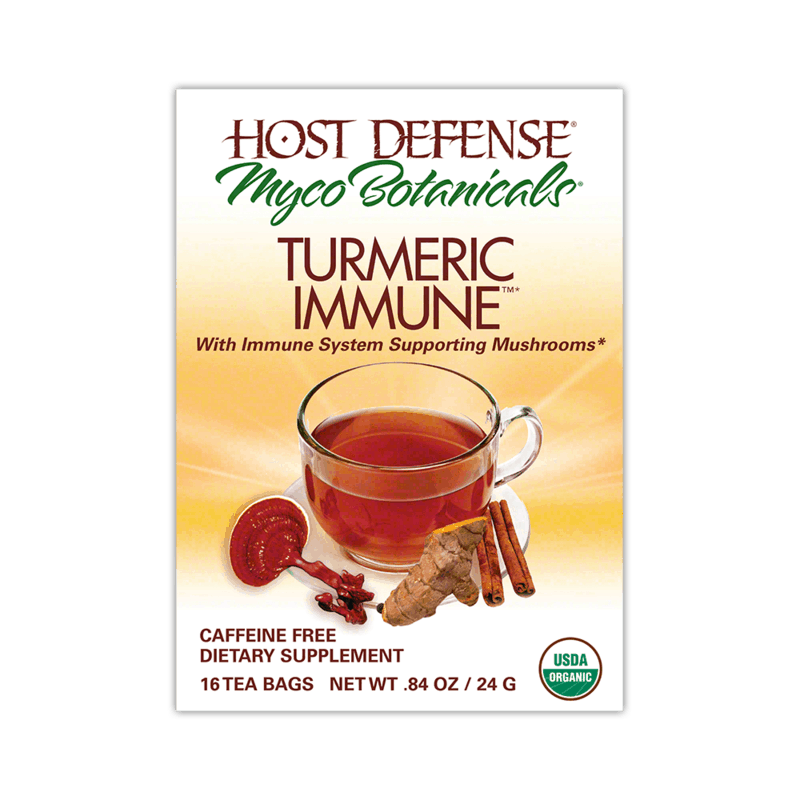 MUDWTR is a mix of organic, earth-grown ingredients including masala chai, cacao, reishi mushroom powder, chaga mushroom powder, cordyceps mushroom powder, lion's mane mushroom powder, turmeric, Himalayan sea salt, and cinnamon. Packed with four different adaptogenic mushroom compounds, each ingredient included is added for a specific purpose to compliment a life that demands one's best. This is the only medicinal mushroom chai product on the market that we've found. If you're looking for a medicinal mushroom chai, MUDWTR is it!
Neuroast every cup of Neuroast is made of 100% organic, dark roast coffee containing six powerful nootropic mushroom extracts making this an excellent adaptogen medicinal mushroom coffee option. The brand also carries an instant medicinal mushroom coffee and dairy-free coffee creamer that is vegan, keto-friendly, gluten-free, and chemical-free. If you're not sure about switching completely over to medicinal mushroom coffee, Neuroast is the best option to get your coffee and mushroom fix all in one.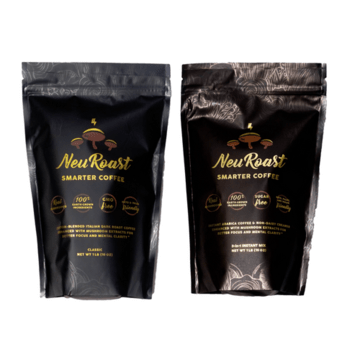 Om Mushroom crafts USA-grown, whole-food functional mushroom powders for holistic wellness. Om provides a line of single species and powders that address key wellness need states including beauty, cognition, energy, and immunity with the power of these scientifically-studied mushrooms. The company founder, Steve Farrar, a mycologist with over 30 years of experience growing mushrooms, and Sandra Carter (M.A. MPH, Ph.D.), a health and wellness expert with a Ph.D. in preventative medicine. They harness and distill the amazing, all-natural micronutrient benefits of the mushroom kingdom.
I particularly love the Om Energy for a pre-workout kick. It tastes great – kind of like an orangeaid, but with no added sugar. It's made with Cordyceps, Reishi, Turkey Tail, Agaricus blazei, Maitake, King Trumpet, Turmeric, Yerba Mate, Guarana, Vitamin D + C + B2, B3, B6 and B12. This is a great gluten-, GMO-free, organic, vegan and Paleo pre-workout for on-the-go.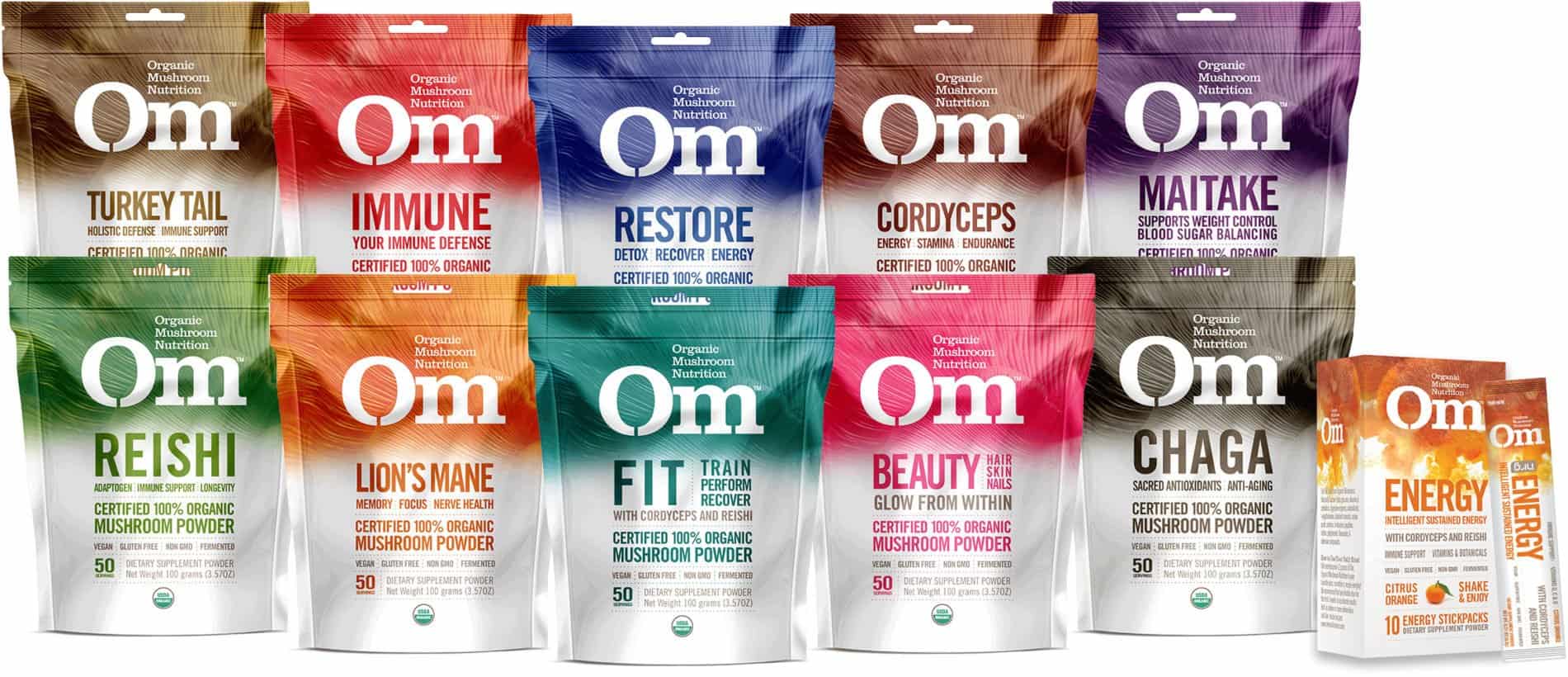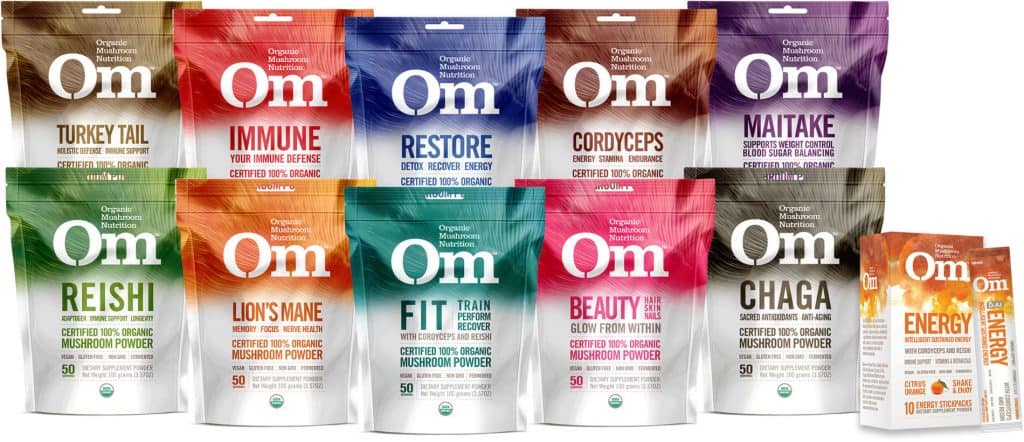 Primal Herb's mission is to inspire and provide a natural path to balance, restore, and optimize the body. One of its most popular medicinal mushroom coffee options is Neuroshroom. It's an extract powder that combines lion's mane, reishi and cordyceps for memory and cognitive support. I love the proprietary blend of medicinal mushroom from Neuroshroom because it offers mental clarity without any jitters or crashing.
Rasa coffee alternative was expertly crafted by an experienced and passionate herbalist with a specific eye toward offering a natural herbal coffee experience that would be not only energizing without caffeine, but deeply nourishing, adrenal-supporting, and health-enhancing to drink daily. Thanks to 9 adaptogenic herbs, including cordyceps and lion's mane extract, in their clinically-studied effective doses, Rasa BOLD potentiates your empowered, confident, best self. Rasa is the perfect alternative if you're looking to replace coffee with a caffeine-free coffee alternative. Its rich, smooth, and potent with a hint of cacao. I was surprised to find just how much I love starting my with Rasa and not feeling its effects later.
Tamim Teas are made from 100% organic ingredients and 100% American-grown functional mushrooms. These teas are 100% caffeine-free and never have any processed powders, extracts, sugars or additives. The company's founder, Liat Racin, wanted to share the cherished mushroom tradition with her community; that's why she handcrafts delicious herbal teas made with functional mushrooms & herbs. She founded Tamim Teas to bring the highest quality, 100% American-grown functional mushroom tea to the market. Naturally, the most effective mushroom tea starts at the source. She exclusively partners with American family farmers to procure the finest organic medicinal mushrooms and carefully pairs them with organic caffeine-free herbs in small batches. The result is an unadulterated, deliciously wholesome cup of herbal tea that both mushroom enthusiasts and simply tea lovers can enjoy. Tamim Teas is a Woman-owned business. We're huge fans of these vibrant, flavorful, and healthy medicial mushroom infused teas.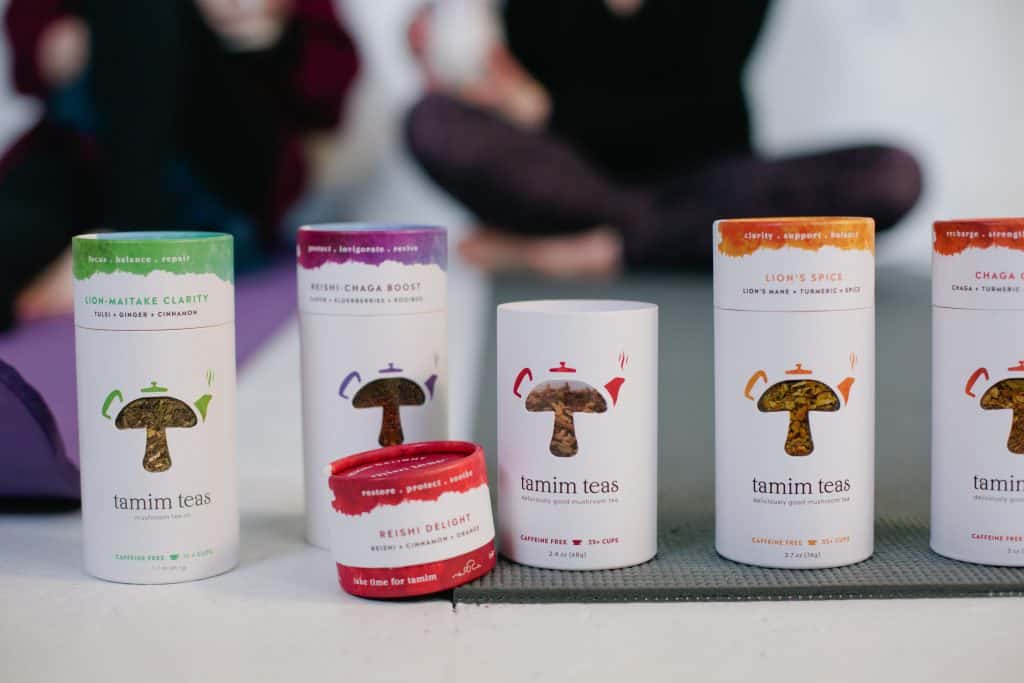 Wild Foods Cocotropic Wild Superfood Elixir is basically a hot chocolate or hot cocoa infused with medicinal mushrooms, without any kind of sugar or sweetener. I love adding it to my coffee with coconut cream for a rich mocha-like drink without any added sugar. It's perfect. The Elixir is a delicious blend of reishi mushroom, raw maca powder, chaga mushroom, and Wild Turmeric. Chaga mushroom has been linked to improving overall mood and its anti-inflammatory properties.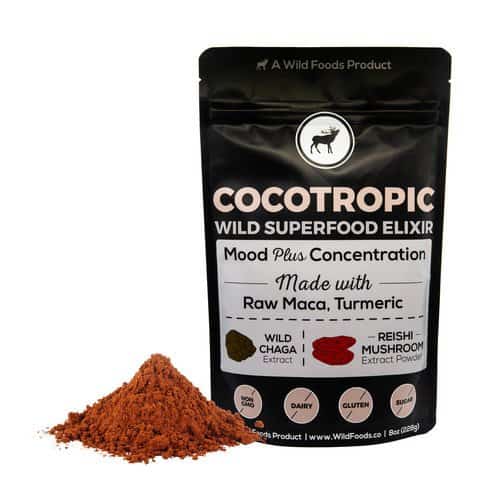 Let us know what you think. Have you tried mushroom coffee? Are you inspired to try it by our list of these mushroom coffee brands? Did we miss one of your favorites? Let us know in the comments below!
Disclosure: This is a sponsored post which USA Love List is proud to share with you because, sponsored or not, we only share stuff we love. *These statements have not been evaluated by the Food and Drug Administration. This product is not intended to diagnose, treat, cure or prevent any disease.
Image credit: Om Mushroom