We've had some fun collecting this list of food delivery services, and we're not done yet. This list is getting new updates all the time. There are so many American made food products, purveyors, farms, mills, and independent brands that will deliver right to your front porch. This is a great time to support these American businesses, get provisions you can trust, and keep your pantry stocked. This list is a work in progress and we need your help. If you find one we missed, please let us know in the comments below.
This list is focused mostly on mail-based food delivery services for your groceries, your pantry items, meats, poultry, produce and other basics. If you are looking for specialty food, try our list of Delivery Gift Ideas which contains a number of specialty food items. We also have anther list that focuses specifically on Meat and Poultry Delivery Services. And we have more specialized food lists in the works, so keep checking back.
In many cases, you can order items directly from a farm or farm cooperative, from an independent specialty food maker, or another unique source that will get you the highest quality foods in a way that directly supports American businesses just when they need it most.
Pin this list so you can check back for updates and share later.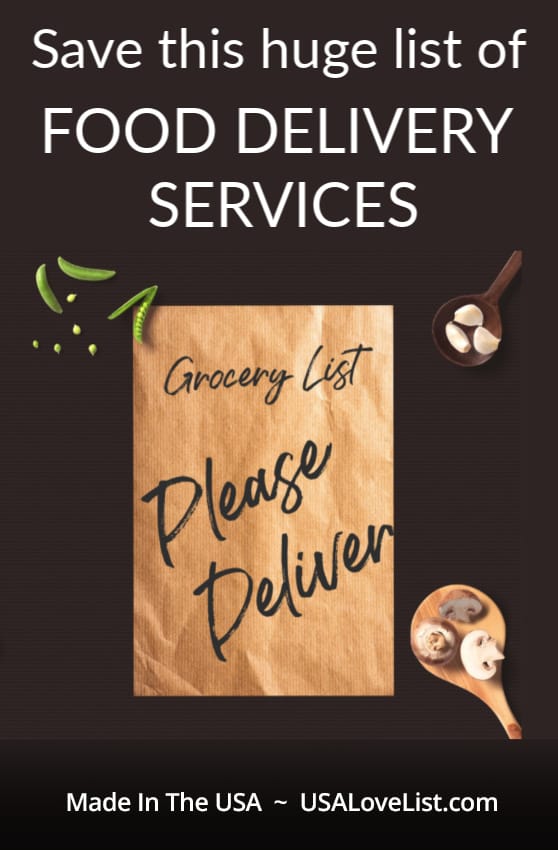 ---
Keep America in Business. Shop from home for the very best of American Made.
Ways to Stay Healthy This Season & Support American Made Products
Buy American to Set Yourself Up for Quality Time at Home
Delivery Gift Ideas: American made gifts for all occasions, delivered right to their door!
Food Delivery Services Bring Groceries To Your Doorstep
8 Plant-Based, Raw, Vegan and Vegetarian Meal Delivery Services
---
---