Did you know that you can purchase beautiful, affordable made in USA wood cremation urns online? Green Meadow Memorials has the best selection of high quality, engraved wood cremation urns on the internet.
Green Meadow Memorials
Selecting the ideal cremation urn for yourself or for a loved one can be overwhelming and daunting. Green Meadow Memorials' skilled staff understands this and has made purchasing a memorial urn online as simple, yet still personal, as possible. You can create and preview the design of the wooden cremation urn before submitting your order to make sure that everything is just the way you want it. Green Meadow Memorials provides understanding chat, phone, or email assistance Monday-Friday, 9am-5pm EST.
Made in USA Wood Cremation Urns
All of the wood cremation urns offered at Green Meadow Memorials are made in the United States. Wood is a warm, renewable, and classic choice for memorial urns. Green Meadow wood cremation urns are custom-designed, engraved, and finished to a high standard. Green Meadow works with all wood urn vendors to ensure that the wood is responsibly sourced from US forests.
The Green Meadow Memorials line of Signature made in USA wood cremation urns, like the memorial urn pictured below, are created by a veteran-owned and -staffed partner. Each wood cremation urn is handcrafted with care and precision. Signature memorial urns are crafted from solid alder.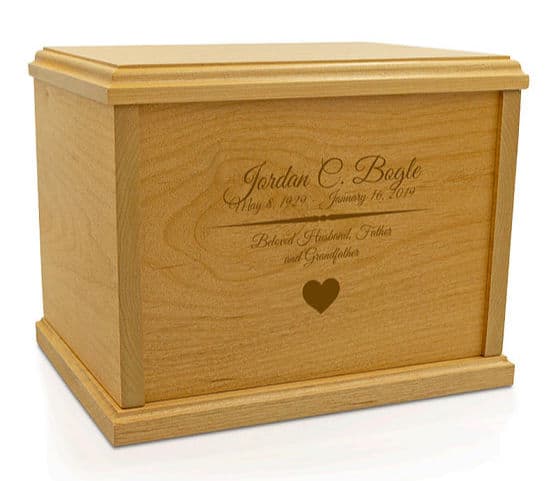 Green Meadow Memorials offers a line of unique and beautiful made in USA wood cremation urns with their Prestige line, pictured below. Archival quality printing gives these urns full color and high-resolution print. There are many themes to choose from, and there is complete customization of the sentiments, poems and Bible verses that can be added. Don't be fooled by cheaper knock offs that are made from low-quality plywood. The Prestige line of urns are available in solid hardwood walnut and oak options.

Transferring a loved one's ashes into the urn is a simple process. With both the Prestige and Signature line of memorial urns, the entire underside panel can be detached by removing the screws on each corner of the base. This grants easy to access to fill the urn. Four felt feet protect the display surface.
With Green Meadow Memorials, custom-designed, personalized, craftsman quality wood cremation urns are just a click away. You can be sure that you will find the perfect memorial urn to honor the life of your loved one.
Disclosure: This is a sponsored post which USA Love List is proud to share with you because, sponsored or not, we only share stuff we love.