It is so refreshing to see an American made item category that is actually growing! Not too long ago we couldn't find enough made in USA towel brands or manufacturers to compile even a short list. Now we have found ten brands. Show your support for American made and purchase bath towels, hand towels, washcloths or entire bath sets from at least one of the brands on this list.
Made in USA Towels
American Towels
The mission of American Towels is to be the premier resource for American grown and sewn bath towels and linens in The United States. The company believes that every purchase of Made in the USA products brings more stability to our local economies and brings us closer to reducing our reliance on global manufacturing.
American Towels currently offers three made in USA towel styles – the American Classic 100% ring-spun cotton in 5 colors, American Luxury Spa towels, and American Organic Certified towels. American Towels bath towels, hand towels, wash cloths and bath mats are all produced at 1888 Mills in Griffith, Georgia. No matter which style you like, you will find that the are all high quality and affordable too.
American Towels also sells Melioria Laundry Soap powders, arguably the finest quality organic laundry soap powders made in the USA.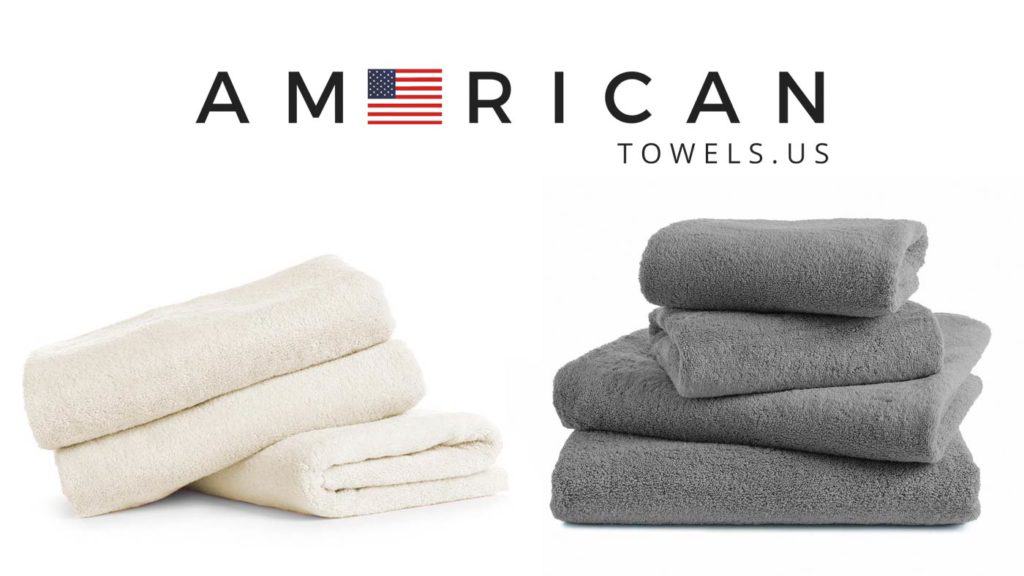 Made in USA Towels: The Source List
Don't see your favorite made in USA towels on this list? Leave us a note in the comments and we will be sure to add the company to our list!
1888 Mills 1888 Mills is one of the last remaining towel manufacturing facilities in the USA and has been continuously making made in USA towels in Griffin, Georgia since, well, 1888. It employs over 200 people at its facilities in Griffin, which is about an hour outside of Atlanta. Learn more about 1888 Mills made in USA towel manufacturing in our 1888 Mills American Manufacturing Spotlight.
American Blanket Company. American Blanket Company towels are manufactured in the USA from USA grown and spun cotton.
American Towels American Towels are both grown and sewn in the USA. They offer 3 styles of towels; the American Classic style (available in 5 colors), the American Luxury Spa style of hotel quality towels, and the American Organic Certified style towels that are Made in Green certified.
Authenticity50 Authenticity50 towels are made 100% Seed to Stitch® American made. Their first batch of made in USA towels sold out and the next batch is scheduled to be restocked in October. There will be a limited quantity manufactured, so sign up with Authenticity50 to be notified when they are ready for sale.
Better Homes & Gardens Better Homes & Gardens American Made Bath Collection towels are well made and affordable. They are easy to find at Walmart and online at Amazon.
Freshee The Freshee 10 Piece Bath Set contains 4 washcloths, 2 hand towels, 2 bath towels, and 2 bath matts. Each piece is woven and sewn in the USA from imported yarn using Enduraweave technology. Enduraweave technology is used when making luxury hotel towels to make them durable, shrink less, and last longer than the average towel. These items also were made with Intellifresh™ technology which offers a built in bacteria control. No stinky towels and bath matts means less laundry!
I was sent a set to try out and even after many washes, every item in this set is still as fluffy as seen in the photo below. They really are like luxury hotel towels. The bath mat lasts at least a week before washing- with no odor at all.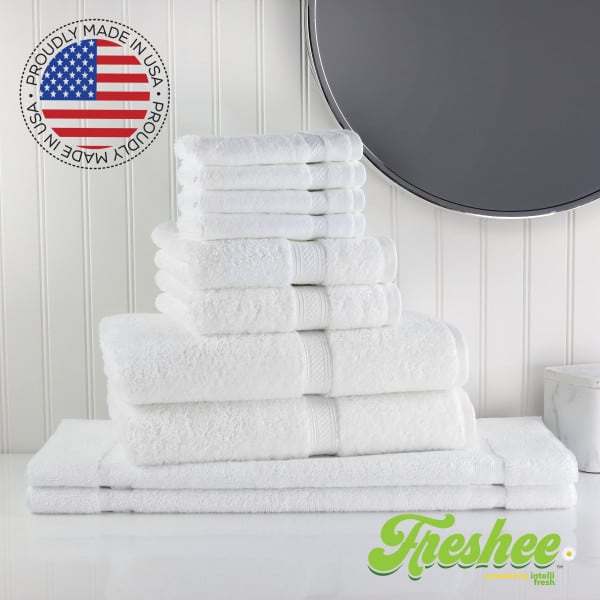 Lifekind Lifekind is an American manufacturer of Eco friendly mattresses and bedding. They now have a collection of Eco friendly, made in USA Certified Organic Colorgrown Towels. These towels are made with US grown organic supima cotton. The cotton is grown naturally colored, so no dye is used.
MATTEO MATTEO luxury towels are manufactured in Los Angeles, California from imported fabrics. MATTEO 100% cotton towels are garment washed and dyed with non-toxic dyes.
Rawganique Rawganique is an online retailer of Eco-friendly products. Their Dallas line of towels are made from American grown organic cotton. They are unbleached and dye free.
Red Land Cotton Red Land Cotton towels are made in Georgia from cotton that is grown on Red Land Farms in Alabama.
Towels by GUS Towels by GUS (GUS= Great Useful Stuff) offers two American made towel Collections: the Made in the USA Collection that features 11 color options, and the  Made in the USA Hotel Collection that features white and earth-colored towels. Both Collections are crafted from 100% cotton. TowelsByGUS offers made in USA monogrammed towels.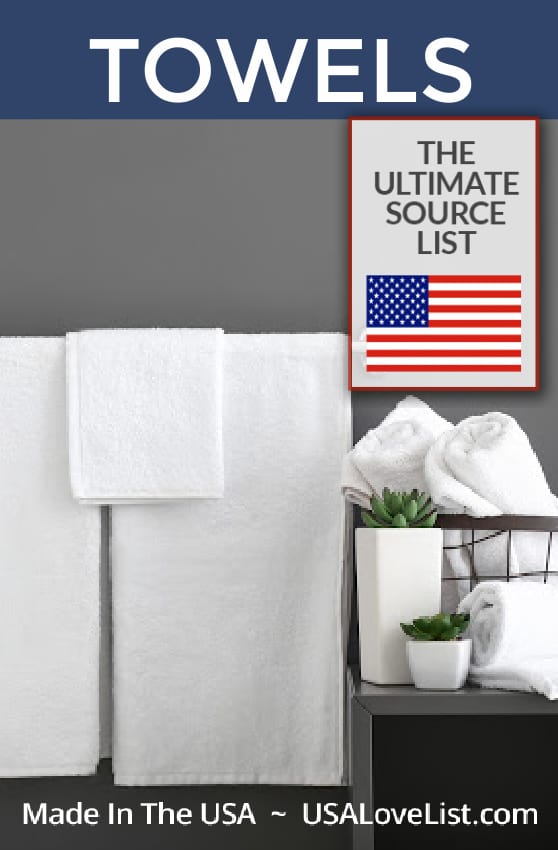 Love this list? Then you will love these too!