Earlier this year we introduced our readers to Marietta Hospitality, the leading manufacturer of personal care products for the hotel industry.  You can read that article here.
Today, to kick off Manufacturing Month, we are going to take a look at Marietta Hospitality behind the scenes. Maybe you recognize some of Marietta Hospitality's products, pictured below, from your last hotel stay?
Marietta Hospitality: American Manufacturer of travel size personal care products
The story of the the start of  Marietta Hospitality is a shining example of American ingenuity and entrepreneurship. Back in the 1970s a small town produce farmer named Manny Siegle had an idea to package his cabbage as sauerkraut in foil packaging known as sachettes. He was successful in purchasing a packaging machine that did just that. In between his experiments with his new packaging machine, Mr. Siegle did much traveling to promote his product, staying at the popular hotels of the time. It was because of these many hotel stays that he realized his machine would be ideal for packaging small, travel size personal care products.   As a result, the hotel guest amenities industry was launched, and Marietta Hospitality was born.

Personal Care Hospitality Products Made in the USA from Start to Finish
Today, Marietta Hospitality is the one stop shop for personal care product companies who are looking to branch into the hotel guest amenities industry. From start to finish, Marietta Hospitality handles every step of the manufacturing process in their USA facilities.
Marietta Hospitality Laboratories
Marietta Hospitality laboratories are certified microbiological facilities, FDA registered, and contain state of the art equipment. In the lab, expert chemists can be found crafting fragrance and formulation.  Marietta Hospitality lab technicians ensure that every personal care product is tested for safety and quality.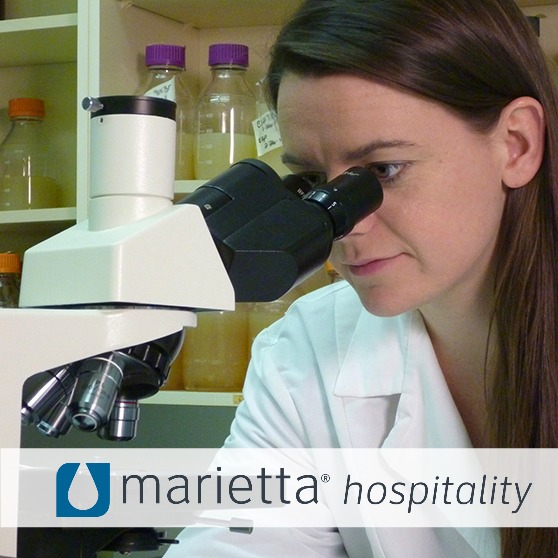 Marietta Hospitality Packaging Design and Development
The packaging that we see on Marietta Hospitality hotel personal care products is more than just a wrapper or a plastic container. Marietta Hospitality has an award winning design studio with staff that can create a whole brand identity. Marietta Hospitality has a team of engineering packaging professionals that work on packaging design, which includes bottle shapes and soap bar shapes, as well as the graphic design of the product labels.  Marietta Hospitality packaging experts are always working on developing sustainable packaging solutions.
Marietta Hospitality skin and haircare product manufacturing
Marietta Hospitality manufacturing facilities follow strict adherence to Current Good Manufacturing Practices (cGMPs) and are FDA registered. Here, high performance hair care and skin care products and bar soaps are manufactured, bottles are filled, packages are wrapped, and labels are put on.
This is just a brief overview of a few of the many services that Marietta Hospitality provides in the process of the US manufacturing of personal care hotel products. I am sure that Mr. Siegle, that small town American cabbage farmer, would be totally amazed by the impact of his bright idea on travelers all over the world.
Disclosure: This is a sponsored post which USA Love List is proud to share with you because, sponsored or not, we only share stuff we love.