Are you still racking your brain for what to buy your dad who has everything he needs, or for your best friend who always has the newest item?
Whether small or large, I like to think my decisions impact others, like buying American made. Here's my list of American made gifts for wine lovers. You'll find what you need to make a gift basket, or buy a single item for your wine loving friends. If you're a wino like me, you'll probably want everything on this list for yourself too!
The Savino Wine Saver Carafe is great way to preserve unused wine from an open bottle. Wine enthusiasts no longer need to try and re-cork an open, un-emptied bottle of wine. The Savino carafe is a wine preservation system uniquely designed to hold flavor and freshness for days. Shop the Savino Wine Saver Carafe at Amazon.
Photo Credit: www.corkpops.com
Cork Pops wine openers have been made in the USA for 30 years. The original Cork Pop opener opens a bottle of wine quickly and easily. Each cork pop cartridge opens 60 bottles of wine. Available in multiple colors.
Photo Credit: www.haleyscorker.com
Haley's Corker is the worlds only 5 in 1 wine corker and it's manufactured right here in the USA. Haley's Corker works as an aerator, a re-corker, a pourer, a stopper, and a filter. It is dish washer safe and re-usable. Available for corked and screw cap wine bottles. The Platinum Corker Set includes choice of 2 Haley's Corkers.
Photo Credit: wordswithboards.com
Words With Boards manufactures unique and personal gifts for all occasions from sustainably forested American hardwoods. The Wood Wine Racks are available in two sizes. The smaller size holds up to 6 bottles of wine, while the larger one holds up to 12. The holders are made to sit on a counter or shelf. They are available with 'CHEERS' or 'In Vino Veritas' inscribed. Personalized options are available as well.
Photo Credit: integritybottles.com
These sand carved wine glasses from Integrity Bottles are professionally etched. The set contains four wine glasses in choice of Stemmed or Stemless. Integrity Bottles is a Veteran owned and operated company. Not all Integrity Bottles products are made in USA, but those that are are clearly labeled. All etching is done in San Diego, California.
Photo Credit: www.gritandgracestudio.com
This Gilded Oyster Wine Charm Set includes four elegant charms to decorate wine bottles. They can be given as a gift all together, or you can split them up and give one to each of your besties---with their favorite bottle of wine, of course! The wine charms are handmade in South Carolina by Grit & Grace.
Photo Credit: bensgarden.com
Fun, and sure to put a smile on any face, Ben's Garden's gifts are a great way to spread holiday cheer. I love the Oh Look, It's Wine O'Clock Round Decoupage Glass Tray.  The products are entirely crafted by hand in New York. Buyer beware, you will want absolutely everything on Ben's Garden site!
Photo Credit: jacobsensalt.com
Photo Credit: www.bobbysuesnuts.com
Bobbysue's Nuts "Original" Style are the perfect blend of sweet and salty. They use premium nuts including, almonds, pecans, and cashews. They're preservative free, organic and GMO-free – I love that! I suggest having the 32 oz. jar on hand for any upcoming parties, hostess gifts, or just as a holiday treat for yourself. Shop the Bobbysue's Nuts Amazon store.
Photo Credit: parmcrisps.com
Cheese and wine have never been easier to pair together than now. Kitchen Table Bakers ParmCrisps are crunchy cheese "crackers" made out of one ingredient – cheese. Crispy, crunchy, and flavorful, I love having these on hand to pair with wine for small get togethers, or hostess gifts. They come in nine flavor options, and are found nationwide at major grocery stores.
Photo Credit: Amazon
I love salami and I really love Creminelli salumi. The Gourmet Artisan Salami Mix includes my three personal favorites, 1 piece of Creminelli Tartufo Salami with black truffles, earthy and bright, 1 piece of Barolo Salami with Barolo red wine, bold and bitey, and 1 piece of Wild Boar Salami, gamier than the other, and a bit softer than most salumi.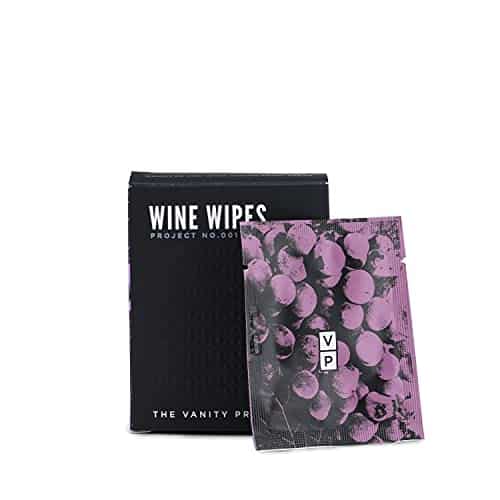 Photo Credit: Amazon
Now that you're done indulging, wipe that wine off your smile with Wine Wipes. These wipes come in a small compact and are great for red wine stains on your teeth, or to use between wine tasting. Wine Wipes' orange blossom flavor ensures each wipe won't ruin your next sip.
Have you visited our Made in USA Shopping District? It is the place to start your shopping when you want to find the best of American-made.

Pin this list to save it for later!