Ooooooo-kla-homa where the wind comes sweeping down the plains and products are shipped across America. This state shaped like a pot has been referred to as the Heartland of America.
Sooners, Cowboys, Okies, whatever you want to call them, they truly have hearts of gold. These people pulled together after the Oklahoma City bombing and many horrific twisters. They are hard workers and put their hearts into those things that are made here. In 1889 people staked their claim in the Oklahoma Land Rush and it has developed strong roots of productivity ever since.
My teen years were rooted in this state and I'm happy to share 10 products made in Oklahoma, a place that breathes college sport rivalry and breeds down to earth people. Ya'll come back here and enjoy these fixins' or just order 'em on-line.
10 Things we Love Made in Oklahoma
Nonni's Foods is another fun little surprise. For over 20 years Nonni's has baked its deliciousness and has become the leading brand of biscotti in North America. Nonni's Foods products are available in all 50 states, Mexico and Canada. They also market under the names La Dolce Vita and THINaddictives. I realized I had a box of THINaddictives cranberry almond goodness in my pantry that I bought at Costco. I'm happy knowing my newest mid-afternoon "addiction" is low in fat and only 100 calories. It also puts a smile on my face that I'm supporting my home state in some small way. If you're looking for a different kind of healthy treat, try Nonni's biscotti that contain gourmet chocolate, real fruit and premium nuts. No artificial preservatives or flavors are used, only quality ingredients. Snack time… I'm heading to my pantry now. Visit Nonni's Amazon shop.
Cookshack deserves a shout out because BBQ is a good 'ol American way to cook food with a twist. For 50 years, Cookshack has been a family-run business and a leading authority for barbecue cooking, technology, and high-end products. Their mantra "smokin'made simple" goes into each of their smoker ovens, charbroilers and pellet grills. What a great hobby to take up to impress your family and friends. Cookshack can help you with BBQ sauces, spices, recipes, tips, and techniques as well as step-by-step videos for the visual learner. You might even work up some confidence and enter BBQ competitions. Cookshack has teamed up with one of the greats in the competition circle, Ed "Fast Eddy" Maurin who has appeared on shows like the Today show. They take barbecuing to a whole other level. No need to go looking for a good barbecue restaurant when you can smoke it in your own backyard.
Recommended: Made in the USA Grills and Grilling Accessories: The Ultimate Source List
Schwab & Company believes the secret is in the smoke too. Schwab's is another historical shop that started in 1912 by George Peter Schwab who came from Germany to Oklahoma. He believed in doing things the old-fashioned way and not cutting corners. The Schwab secret of cooking their meats in smokehouses over hardwood hickory for hours gives their meat products that extra something from the Old World. Schwab's American dream has endured for five generations and is still going strong. Their hams, turkeys, sausages, pork chops and much more are all of highest quality with no additives. You can try some "German" Bratwurst that is American made.
Leonard Mountain is a great place to put together a box of homemade type food for a sick friend, to show appreciation or some easy meals for those days you don't want to spend a lot of time in the kitchen. Soups, bread mixes, chili's, rice mixes, pasta salads, you name it, there's plenty to choose from that will fill your tummies with that home feeling of comfort food. Gluten-free products are available as well. Leonard Mountain is service oriented and assembles customized orders and corporate gifts. I love this idea because it's a little something different than flowers, fruit baskets or pastries.
Stan's Smokehouse, Inc. kicks out some American made beef jerky that would be a perfect protein snack for hikes, road trips or that mid-afternoon slump. Stan's has received over 400 awards for their hickory smoked meats and is a Cured Meat 'Hall of Famer.' Since 1970, Stan's has served quality USDA inspected meats and backs it up with a customer guarantee. Y'all give it a try now, ya hear!
Silver Leaf Gems all started 10 years ago when Diana Pate was in a severe auto/pedestrian accident. She spent many months in the hospital recovering and jewelry making became therapy and a hobby. To make a long story short, she and her two daughters now create jewelry together. They share their talent in many art and craft festivals, trunk shows and in their studio. I don't know about you, but I love shopping from the comfort of my own home. Silver Leaf Gems has a variety of jewelry creations made by these ladies and you can find them on their online catalog. There are many colors to match that new outfit or find the perfect gift for a friend. Silver Leaf Gems sells to over 130 businesses and serves a broad base of customers across America.
Nuyaka Creek winery offers the state's largest Made-in-Oklahoma fruit wines also known as Country Wines. Elderberry has become quite popular for those who enjoy fine wines but are allergic to grapes. There is a buzz (no pun intended) about the health benefits one might get from this fruit. A wide variety of wines are ready to taste as well as wine festivals that include local vendors of art, music, crafts, and food.
Shawnee Milling Company is one of the leading independent mills in the United States producing over two million pounds of food service products and quality animal feed products daily. For 106 years Shawnee Milling Company has been using the wheat that sweeps over the plains of Oklahoma. This helps with the controlled quality in achieving the high standard this company provides. If you want to taste some mid-western yumminess, order up some biscuit and gravy mixes from their online catalog.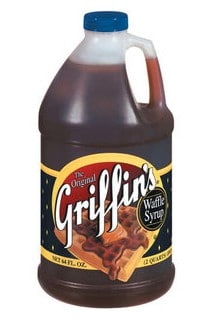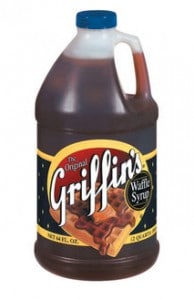 Griffin Food Company has been a family owned and operated company since 1908. Griffin's is known for its syrups, mustard, and jellies. Oklahoma's favorites are its Griffin Waffle Syrup and Griffin Strawberry Preserves. If you want a kick to your yellow mustard, try their Jalapeno Mustard.
TulsaGiftBaskets.com can assemble corporate or personal baskets filled with Oklahoma made products. They ship coast to coast and hand deliver in the Tulsa area.
This article was originally posted as a guest post by Jennifer Taylor in 2013. It has been updated over the years by our editors. Jennifer Taylor is a domestic engineer, busy mom of two and a freelance writer who lives in Colorado. She has lived in several states including Oklahoma. She believes in supporting small businesses and American-made products to strengthen the economy. Visit her blog "Taylored Tangents" at www.jenlynntay.blogspot.com.
Follow USA Love List's board State-by-State: Made in USA on Pinterest.