On the hunt for THE perfect Eco friendly wedding gift or bridal shower gift? Looking for a gift with meaning that will be used AND remembered? I've got you covered.
Don't miss our other lists of American made wedding gift ideas; Best Wedding Gifts, Made in the USA,  Best Bridal Shower Gifts, Made in the USA, and American Made Wedding Gifts: Things They Didn't Put On Their Registry.
5 Eco Friendly Wedding Gift Ideas
1. Eco pillows
These Eco-pillows are handmade in the USA by Alexandra Ferguson. The felt and polyfill used to create each pillow are made from recycled plastic bottles.
2. Anniversary Wine Box (filled with the couple's favorite local, organic wine)
A personalized wine box made in Missouri of birch wood will not be forgotten. This gift will become a part of the couple's 1st, 3rd and 5th wedding anniversary celebrations.  Make this wine box extra special and stock it with wine local to the bride and groom, or organic wine from the region where they met.
3. Stone Food Slab by American Stonecraft

A Food Slab from American Stonecraft makes the perfect gift for a couple who likes to entertain.  Each Food Slab is hand cut and polished from natural field stone. Food Slabs can be frozen or refrigerated and will keep appetizers cold while serving.  The purchase of each unique Food Slab supports New England farmers and also helps preserve open space.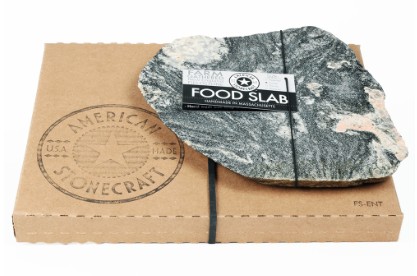 4. Eco-Woven Wool Throw by Faribault Woolen Mill 
For 150 years Faribault Woolen Mill has been manufacturing woolen blankets in Faribault, Minnesota.  The Eco-Woven Wool Throw is made from recycled wool blend.
5. Reclaimed barn wood frame from My Barnwood Frames
A beautiful, handcrafted picture frame is a gift that the newly wedded couple is sure to use right away to display the photos of their special day. This frame from My Barnwood Frames is made from reclaimed barn  wood, so each frame is unique. My Barnwood Frames is an online retailer of sustainable home goods with a history.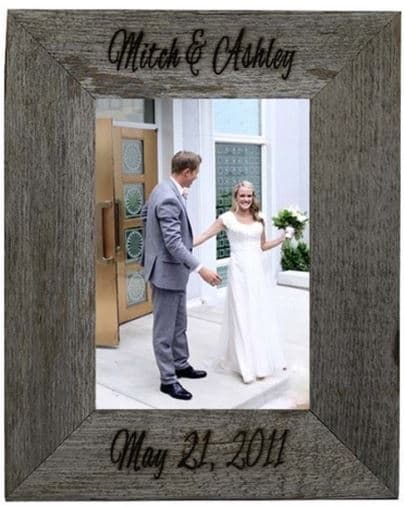 Hey, don't miss this other Eco Friendly lists!
American Made Eco Friendly Gifts
Eco Friendly Jewelry Made in USA That We Love
Eco Friendly Products Made in the USA from Recycled Goods
Reduce, Reuse, Recycle: American Companies Turning Trash Into Treasure
Eco Friendly Wedding Gift Ideas, All American Made
6 Tips for Planning an American Made Eco Friendly Wedding