I feel that in years past I was TRICKED into buying cheap, low quality Halloween decorations made overseas.  I would walk into a Big Box store and be inundated with spooky skeletons,  cackling witches and glowing ghosts- all Halloween decorations that I just HAD TO HAVE!!!  One visit to that Big Box store and I would leave with all the Halloween decorations needed for my house,  inside and out, for less than $100.  And the next year, I would be right back in that Halloween section buying more cheap Halloween decorations, since the ones I bought in previous years broke or fell apart!
It took many years and a lot of wasted money before I realized that investing in higher quality decorations, and especially American made Halloween decorations, would actually SAVE me money in the long run.
Don't miss our lists for Made in USA Candy, and American made Halloween candy and treats. 
Four American Made Halloween Decor and Party Must Haves
Ann Clark Halloween Themed Cookie Cutters
Halloween themed cookies make a great treat for any Halloween party! We love making Halloween sugar cookies with Ann Clark Halloween Themed Cookie Cutters. Ann Clark Ltd manufactures cookie cutters in Rutland, Vermont and has become the largest cookie cutter manufacturer in the world. My Ann Clark cookie cutters have lasted for years as they don't bend or discolor.
Halloween Party Tip: Have a cookie decorating station at your party where guests can decorate their own cookies to take home as favors. 

Fiesta Halloween Dishware
Your Halloween party guests will be asking all about the Fiesta Halloween themed plates you serve those appetizers on! Fiesta Halloween Dishware is colorful, fun, and made in West Virginia.
Halloween Decor Tip: Hang Fiesta Halloween plates on your kitchen wall or display them in your hutch or dining room shelf when not in use.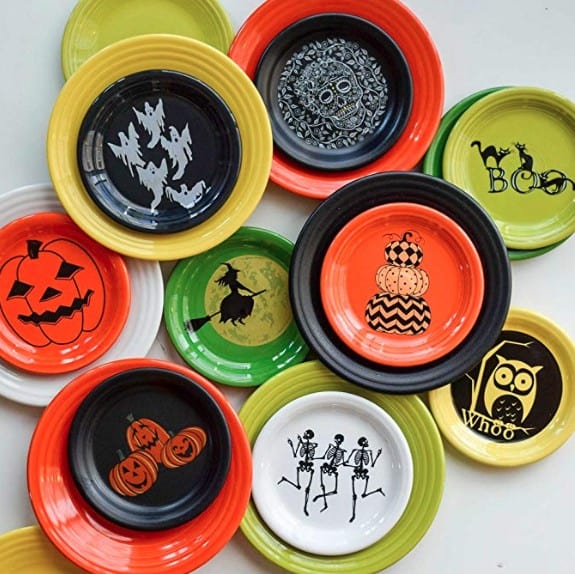 Heritage Lace Spooky Table Toppers
Stop buying one time use plastic table covers! Heritage Lace Halloween themed textile table toppers, lamp toppers, mantle toppers, and more are machine washable and can be used for years.  Heritage Lace American made textiles are produced in North Carolina.
Halloween Decor Tip: Throw a Heritage Lace Halloween textile table topper over the back of your sofa for living room decor. 
Uncle Goose Happy Halloween Letter Blocks
Uncle Goose Happy Halloween Letter Blocks can add Halloween decor to any room in your home. Place them on a shelf in the bathroom, a table in your entry way to greet Trick or Treater, or even as a party table centerpiece. Uncle Goose Happy Halloween blocks are handmade in the USA and can even be played with by kiddos ages 2 and up.
Halloween Party Tip: For a fun Halloween party game have your guests list how many words they can make with the letters in 'Happy Halloween'. This is fun for all ages! Give a prize to the person with the most words. For a template and answers, visit here. 
Disclosure: This is a sponsored post which USA Love List is proud to share with you because, sponsored or not, we only share stuff we love