Gibson is one of the most recognized brands in the musical instruments industry. Gibson Brand Inc. guitars are played by musicians of all genres, from blues, to country, to hard rock, world wide. They are loved by both new guitar players and seasoned professionals. If you are on the hunt for a new acoustic guitar, electric guitar or even an acoustic-electric guitar, Gibson is the logical guitar brand to start your search with… but are Gibson guitars made in USA? USA Love List readers have asked. Here is our answer.
Are Gibson Guitars Made in USA?
History of Gibson Guitars
Would you believe that the instrument that started what we know today as Gibson Brands Inc. was a mandolin, not a guitar? Orville Gibson was a hobby mandolin and guitar maker living in Kalamazoo, Michigan. His search for the best quality and tone in his instruments lead him to think out of the box with his creations. In 1898 a patent was issued to him for a mandolin design that was unusual for its time, as it used a solid piece of wood for the sides as opposed to strips of bent wood. Orville incorporated this arch top design into his guitar making. In 1902 the Gibson Mandolin-Guitar Mfg. Co. Ltd. was founded.
Gibson would change company ownership over the next 120 years. Under every leadership, Gibson would continue to release innovative American-made guitar designs that would leave their impact on the world-wide music scene. These models include the Gibson L-5 (1928), Gibson Super 400 (1934), Gibson Les Paul (1952), Gibson ES 355 (1958), Gibson Flying V (1958), and the Gibson SG (1961). To this day these are still Gibson's most popular guitars.
Where Are Gibson Guitars Made Today?
Today, Gibson Guitar Inc. is headquartered in Nashville, Tennessee. Gibson guitars are respected for their build quality, outstanding tone, and distinct design. They are also known for their American craftsmanship. Gibson guitars are made in two United States factories. Gibson's acoustic guitars are made in Bozeman, Montana, and the electric guitars are made in Nashville, Tennessee.
Gibson's made in USA guitars take more time to make than guitars made overseas in automated factories. Though the bodies of Gibson guitars are pre-cut from solid, high quality wood (also at a US factory), the guitars are assembled and finished with human hands. The high quality wood, hardware, and finishes, as well as labor costs, make Gibson American-made guitars fall on the expensive end of the price spectrum.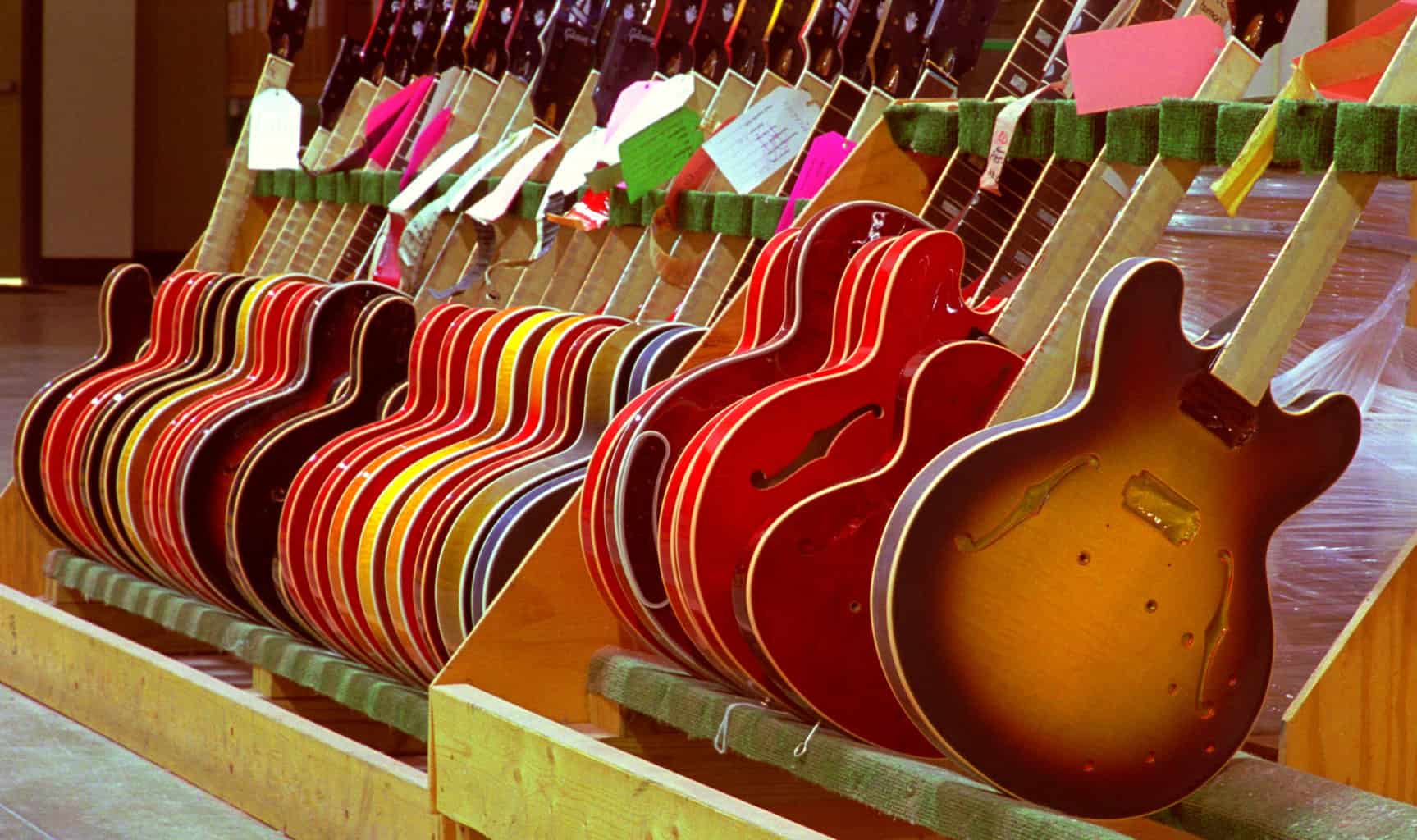 For musicians looking for a less expensive guitar, Epiphone guitar brand is Gibson Brand Inc.'s budget guitar brand. Epiphone is the only guitar brand that has Gibson's authority to make budget versions of popular expensive Gibson models. Epiphone guitars are not made in the USA, as they are made in factories in China and Korea.
Gibson Electric Guitars: Made in Nashville Tennessee
Some of the most iconic electric guitars in music history are Gibson guitars. The Gibson Les Paul guitar is one of the most popular electric guitars worldwide. This solid body electric guitar was first introduced to the Gibson collection in 1952. Jimmy Page played a 1959 Les Paul Standard with sunburst finish when he was with Led Zeppelin. Peter Frampton played a 1954 Les Paul Custom 'Phenix'. Slash, the guitarist from Guns N Roses, played his Les Paul in 80s music videos for "Sweet Child o' Mine" and "November Rain".
Les Paul, ES series, and SG series electric guitars are made at the Gibson USA factory in Nashville, Tennessee. Watch the Gibson TV video below to see how much work and detail goes into the manufacturing process of each of these American made guitars.
The Gibson Custom Shop for electric guitars is also located at the Nashville factory. Custom Shop electric guitars are re-creations of vintage Gibson electric guitars. Custom Shop replica guitars are soooo close to the real thing! Skilled Luthiers hand build these collectable instruments with high end tone woods, custom hardware, authentic Gibson Humbuckers and beautiful finishes. The Custom Shop also is responsible for producing signature artist collection models where the artist works on the finest details with Gibson designers.
Gibson Acoustic Guitars: Made in Bozeman, Montana
Bozeman, Montana is the home of the Gibson acoustic guitar factory. Gibson's acoustic guitars are known for their superior performance and tone. These US-made guitars are crafted by hand with attention given to the finest detail. Watch the Gibson TV factory tour video below to see the skilled craftsmen in action.
There is a Custom Shop for acoustic guitars located at the Bozeman factory. The Historic Collection of Gibson Custom guitars includes classic favorites like the 1934 Jumbo. This guitar was larger than any other Gibson guitar when it was released. It is available today recreated with a Thermally Aged Adirondack red spruce top and mahogany back and sides.
The Modern Collection of Gibson Custom guitars includes new, innovative guitars with lighter bodies and styles that are designed with partner musicians. The Gibson SJ 200 Western Classic is a flat top guitar with a four-bar Mustache bridge and ebony fingerboards.
Where to Buy Made in USA Gibson Guitars
You can find popular guitar brands like Taylor and Fender for sale at Amazon.com, but you will not find Gibson guitars there. Beware of imposters! Gibsons are known to be expensive guitars with a price range for new guitars to be $1,000 to $10,000+. Do your research and make sure that model names that are presented are actually Gibson brand models. To purchase an authentic used or new Gibson it is best to shop a dealer store or authorized online dealer that is registered with Gibson to make sure you end up with the American made real deal. If you find a listing like the one below I spotted on Amazon, it is definitely too good to be true!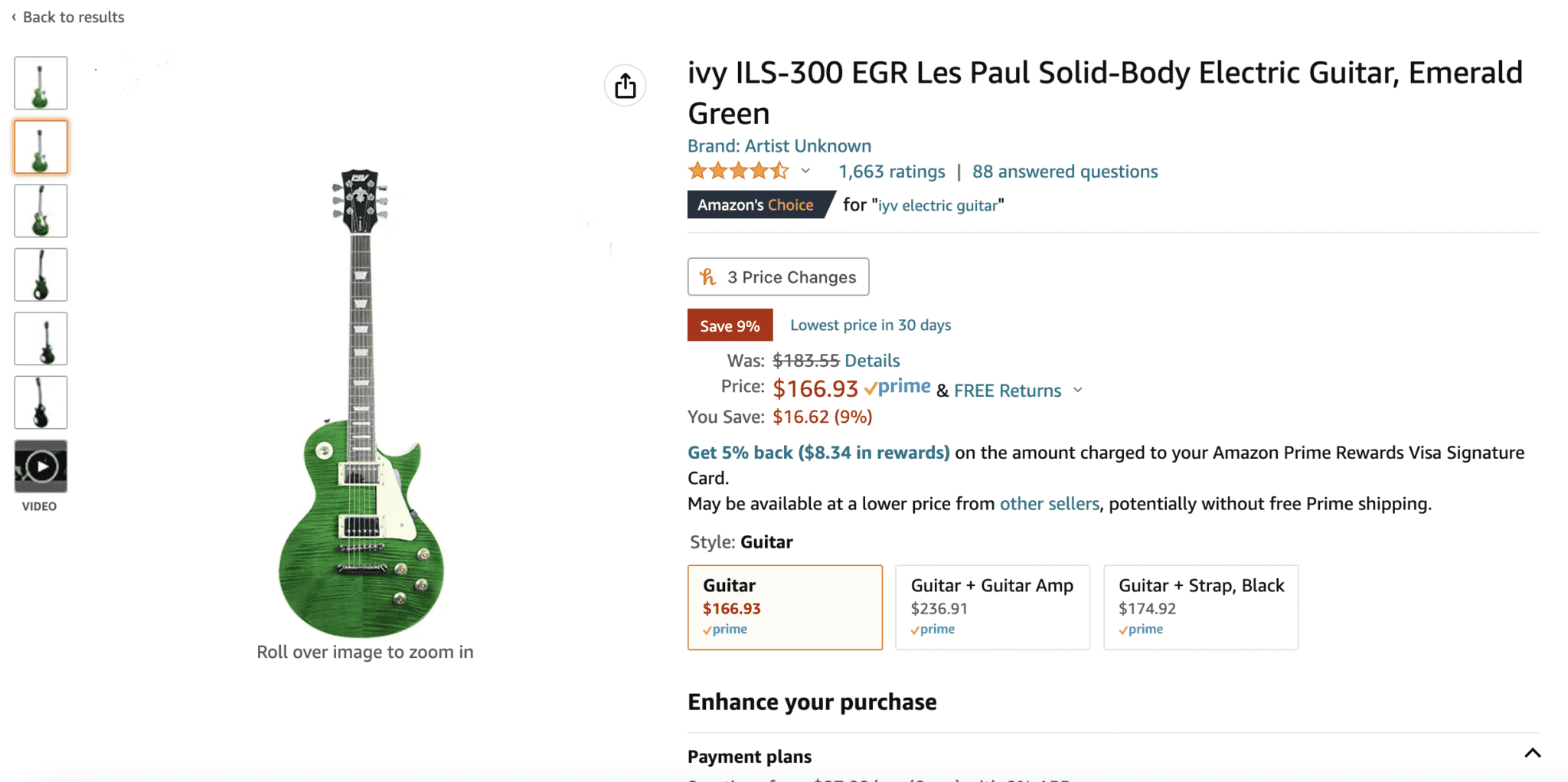 Pin this list to save it for later!