Editor's note: Sadly, Botanic Organic ceased operations in 2020. Check our list of best natural face care products all made in the USA. 
Botanic Organic is a line of incredibly special organic facial products made with safe, non-toxic ingredients that feed, repair, and protect your skin. I cannot tell you enough how much I truly love each and everyone of these products that I've tried. Your skin is your body's largest organ, so think about 'feeding' it with nourishing, healthy products, with only ingredients you can trust. That's why I love Botanic Organic's organic and plant-based line of products.
I'm absolutely obsessed with Botanic Organic Honey & Licorice Daily Cleansing Grains Mask. It offers the best of all worlds – it is gentle enough not to strip your skin of its natural oils, while also leaving your skin extremely smooth by cleansing impurities that clog your pores. Your skin will be hydrated, cleansed and polished. There are four main ingredients in these cleansing grains that nourish your skin – oat kernel flour gently exfoliates, drawing impurities from your skin and unclogging pores, honey powder offers intense moisture to hydrate your skin, licorice root powder and coconut milk offers anti-inflammatory properties to calm your skin; coconut milk softens skin with vitamin E to reduce flaking and dryness.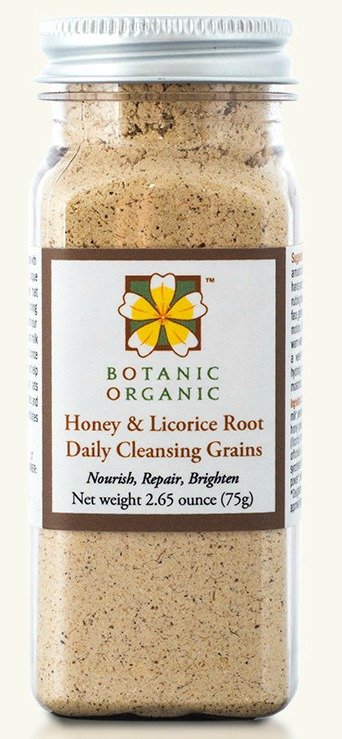 Botanic Organic Pomegranate & Argan Antioxidant Oil Serum is one of the best facial oils I've ever experienced. It's viscus, making it perfect for thirsty and aging skin. It also smells amazing, so take deep breathes in to relax yourself after application. The pomegranate, argan and pumpkin oils protect against wrinkles caused by oxidation, while oils of sea buckthorn and tamanu help to restore skin damaged by age, exposure and trauma. Calendula herbal oil soothes and helps to regenerate new skin cells and the argan oil contains sterolins. These improve skin's metabolism, reduce inflammation and promote excellent moisture retention. My skin was noticeably brighter and hydrated within a few days of using it.
The first ingredient in Botanic Organic Cucumber & Calendula Nutrient Mist is cucumber distillate. This mist packs only the best ingredients to cool and refresh skin while promoting firmness and hydration. Calendula, witch hazel and chamomile distillates calm skin that is irritated from sunburns, rosacea, thread veins, acne or shaving rashes. I'm not the only one else who loves this Mist; everyone who has reviewed it gave it a five star rating.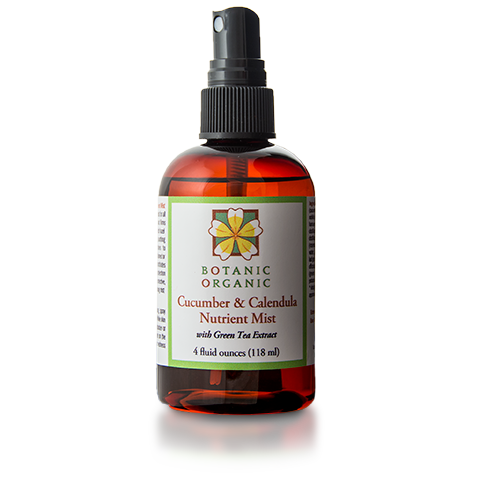 Combine the Pomegranate & Argan Antioxidant Serum with Cucumber & Calendula Nutrient Mist to create a tailor-made emulsion. It calms and balances a teen's oily or blemished skin; it calms & restores men's skin after shaving; and it also restores radiance and elasticity to mature or photo-aged skin.