Looking for a talc free powder? I know you heard about the link between talc and ovarian cancer after the huge company, Johnson & Johnson was sued for $72 million, right? Just in time, we came up with a long list of the best talc free powders that are safe to use from head to toe. Talc free powders like body powder, dry shampoo and baby powder should be on your list. Just in time for the months when you'll be sweating more, and less likely to wash your hair as frequently, we came up with a long list of American made options for you.
Talc Free Powder: American Made Talc Free Body Powder, Baby Powder & Dry Shampoo
Talc Free Body Powder and Baby Powder
Qēt Botanicals Botanical Body Powder is a clean, botanically derived body powder. The botanical oil not only adds a calming scent, but it also prevents odor causing bacteria. This is the perfect body powder to use at night if you suffer from occasional night sweats. It is 100% talc free, free of bacteria breeding starches, and is nontoxic.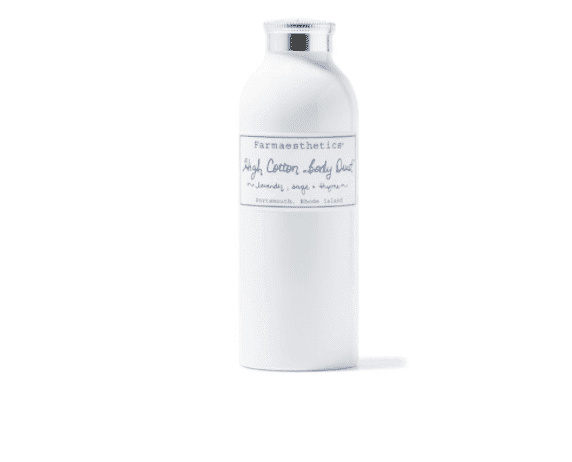 Photo Credit: farmaesthetics.com
The Farmaesthetics High Cotton Body Dust is a herbal body powder that is 100% natural, with no artificial preservatives, petroleum products, synthetic fragrances, or dyes or talc.This body powder is softly scented and safe for baby and adult. Can be used to absorb moisture and prevent chaffing, as well as as a deodorant and foot powder.
Photo Credit: www.moodysisters.com
Moody Sisters Body Dusting Powder is a light body deodorant dusting powder. Not only does it help with between shower body oder, but it also helps for moisture control for thigh chaffing and boob sweat. It is made with organic flower powders, essential oils, and is baking soda and talc free.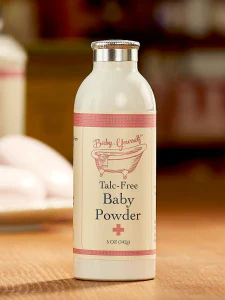 Photo Credit: www.vermontcountrystore.com
Baby Yourself Talc Free Baby Powder body powder works (and smells!) just like traditional baby powder. This all natural body powder contains organic arrow root and kaolin clay. Made in Vermont.
Photo Credit: www.chagrinvalleysoapandsalve.com
Baby Me! Unscented Baby Powder by Chagrin Valley Soap & Salve Company is formulated for sensitive skin. It contains organic ingredients and is talc free, cornstarch free, gluten free, and synthetic free. It's organic, vegan, non- GMO and cruelty free.
Photo Credit: naturesbaby.com
Nature's Baby Organics Silky Dusting Powder is safe and gentle enough for all infants, even newborns. It is made out of nothing but USDA certified organic ingredients, including tapioca starch, and organic extracts, including Matricaria flower extract, Echinacea Angustifolia extract, and goldenseal extract to further soothe and calm irritated skin. Simply dust it over baby's bottom to absorb wetness and relieve chafing.
Shop the Nature's Baby Organics Amazon store.
Talc Free Dry Shampoo
ACURE Dry Shampoo is made with organic and non-GMO corn starch, kaolin clay and lavender and chamomile essential oils. This vegan dry shampoo is great to use between showers to dull that oily hair look, or to use after blow drying your hair to texturize when styling. It is Paraben free, Sulfate free, Mineral oil free, Petrolatum free, Formaldehyde free, Cruelty free.
Shop the Acure Amazon store.
Photo Credit: www.fatandthemoon.com
Fat and The Moon Lavender & Cocoa Dry Shampoo is made of cocoa powder, arrowroot starch, kaolin clay, and lavender essential oil. It's easy to apply to the hair root. Simply part your hair and apply the powder using a brush. Beware of the seductive combination of lavender and chocolate – it might send you on a chocolate binge! Made in California.
Photo Credit: gandgorganics.com
Green & Gorgeous Organics Dry Shampoo is available in options for all hair types, including oily hair. They are all 100% Vegan, Non-Toxic, Organic, Sulfate Free, Talc Free, and Fragrance Free.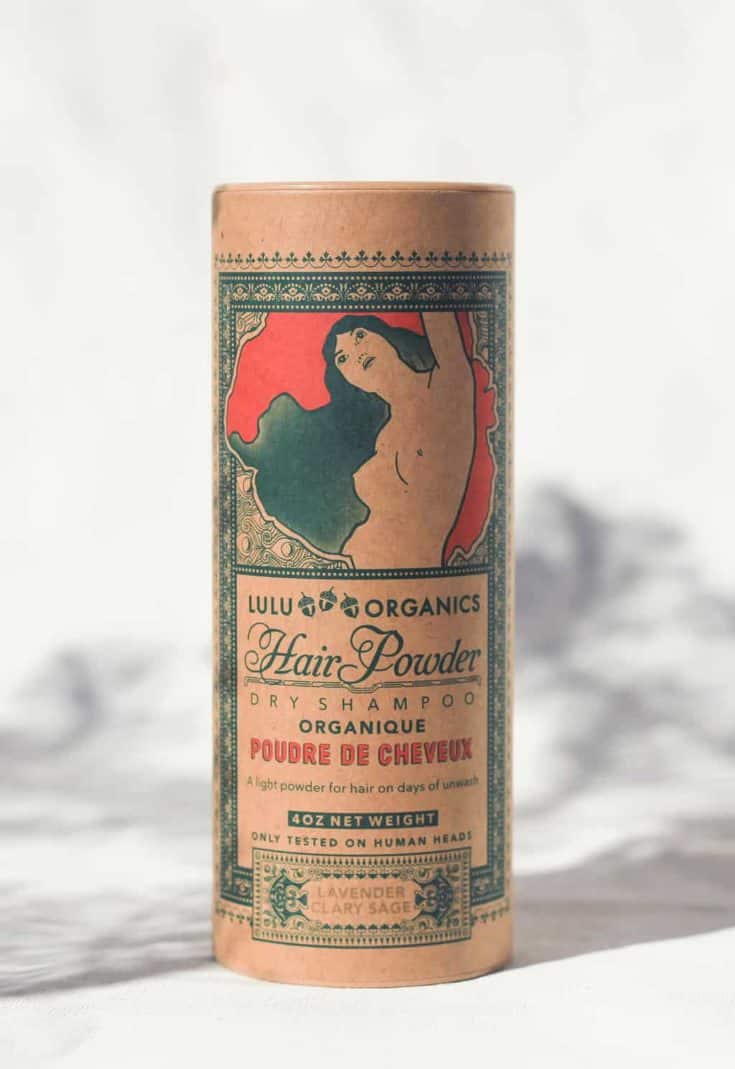 Photo Credit: www.luluorganics.com
LuLu Organics Hair Powder is organic, paraben free, talc free, gluten free and child safe. It can also be used on the body as a body powder. And with seven different scents to choose from, you are sure to find one you love.
Have you visited our Made in USA Shopping District? It is the place to start your shopping when you want to find the best of American-made.

Pin this list to save it for later!