I know you heard about the link between talc and ovarian cancer after the huge company, Johnson & Johnson was sued for $72 million, right? Just in time, we came up with a long list of the best talc free powders that are safe to use from head to toe. Baby powders and body powders without talc should be on your list. And everyone's new favorite, dry shampoo should be talc free too. We have an extensive list of American made options for you.
Talc-Free Powders: Baby Powder & Body Powder
Nature's Baby Organics Silky Dusting Powder is safe and gentle enough for all infants, even newborns. It is made out of nothing but USDA certified organic ingredients, including tapioca starch, and organic extracts, including Matricaria flower extract, Echinacea Angustifolia extract, and goldenseal extract to further soothe and calm irritated skin. Simply dust it over baby's bottom to absorb wetness and relieve chafing.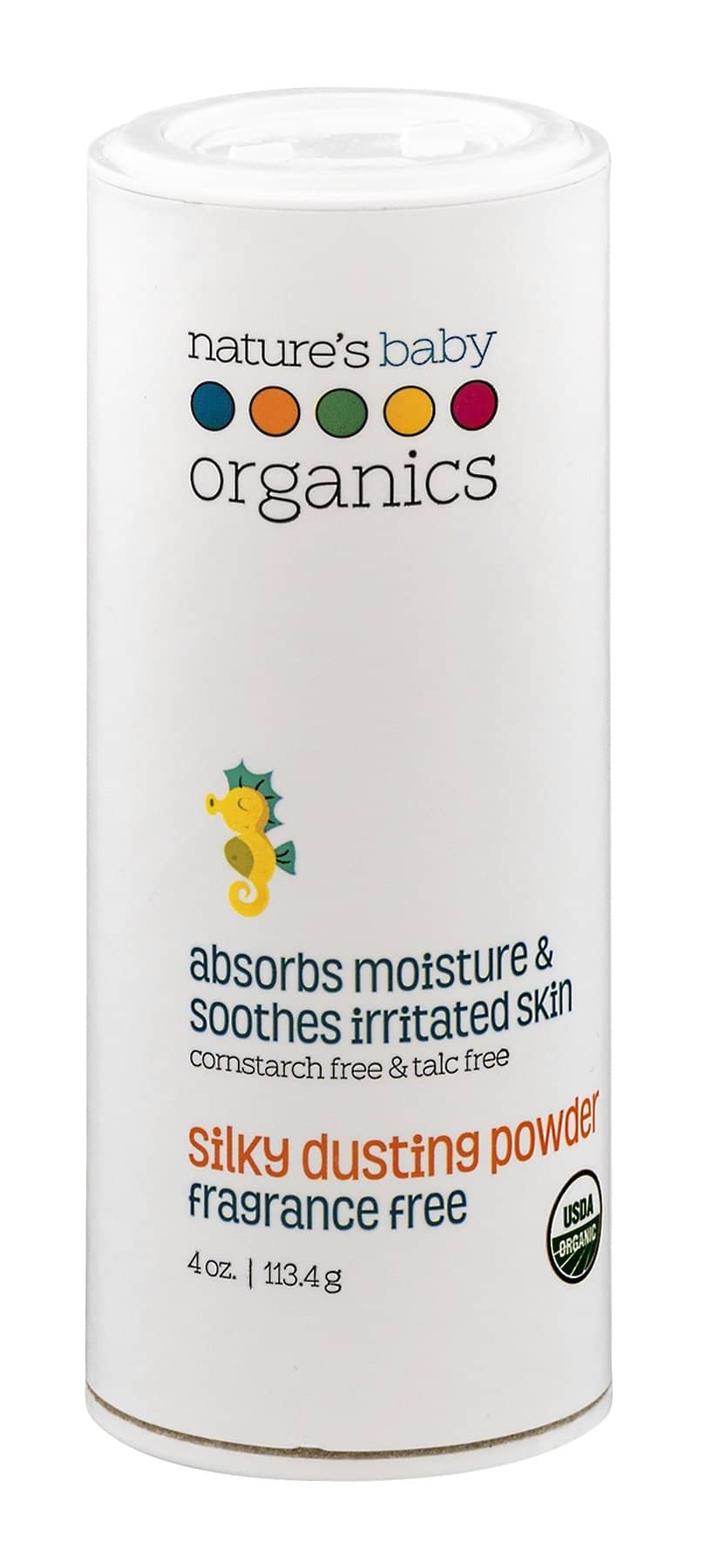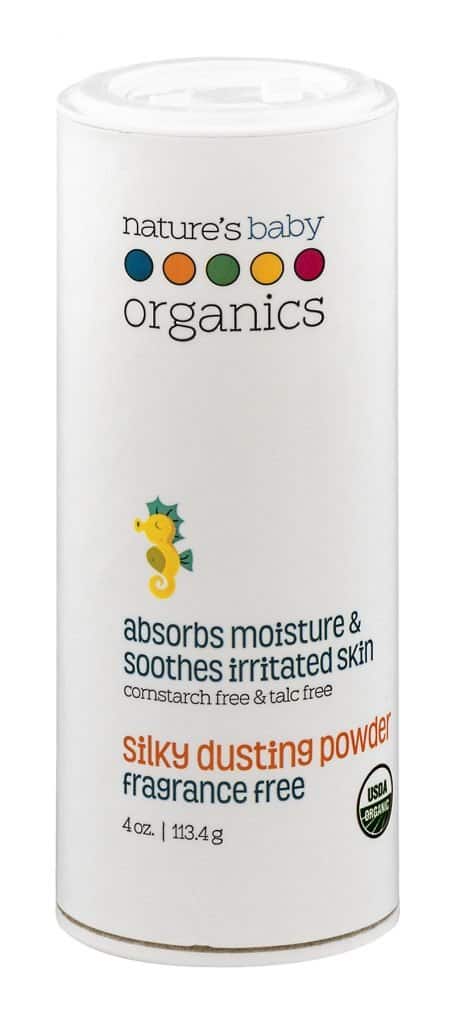 Babytime! Silky Powder soaks up extra moisture while supporting the skin's natural probiotic ecosystem, which makes it great for babies or to use down there. The powder is enriched with sweet wild rose and probiotics for a soft touch and subtle fragrant smell. It's 95% organic, fragrance-free, gluten-free, and talc free body powder. The powder is made with organic tapioca starch, organic corn starch, organic marshmallow root extract, organic aloe leaf extract, organic calendula flower extract, organic rosehip fruit oil, organic rose flower oil, organic rosemary leaf oil, lactobacillus ferment lysate filtrate, allantoin, and kaolin clay.
Believe Organics Talc-Free Powder freshens, deodorizes, and absorbs moisture safely. This talc-free loose powder handmade in small batches with organic rosemary & lavender essential oils. The ingredients including, certified organic cornstarch, certified organic arrowroot, certified organic tapioca, sweet rice, kaolin clay, saleratus, certified organic lavender, certified organic rosemary, and other certified organic essential oils. I love using this powder to keep drying during heavy workouts or during the summer to ward off chafing. When you sweat, light lavender and rosemary scents cover up body odor.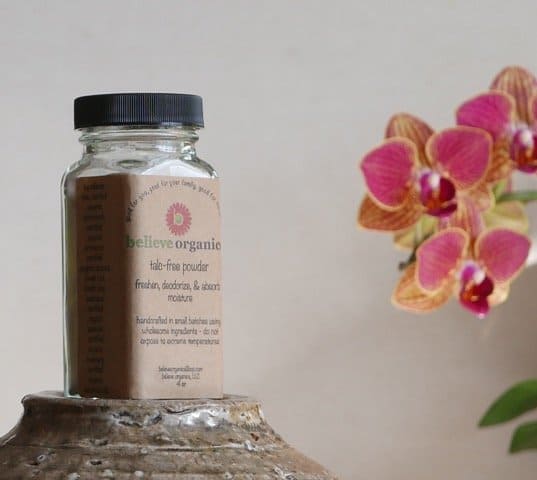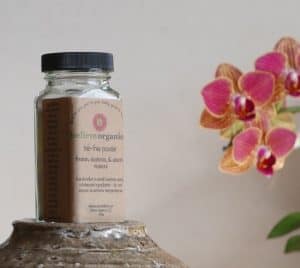 Moody Sisters Lavender & Rose Body Dusting Powder It's made with arrowroot powder, organic non-GMO cornstarch, tapioca powder, lavender, rose, and chamomile powder, and lavender, neroli, ylang-ylang, patchouli, and rose essential oils. This is a light powder, and great for freshening up in between showers.
10% off any full size items with code USALOVE through 12/31/19.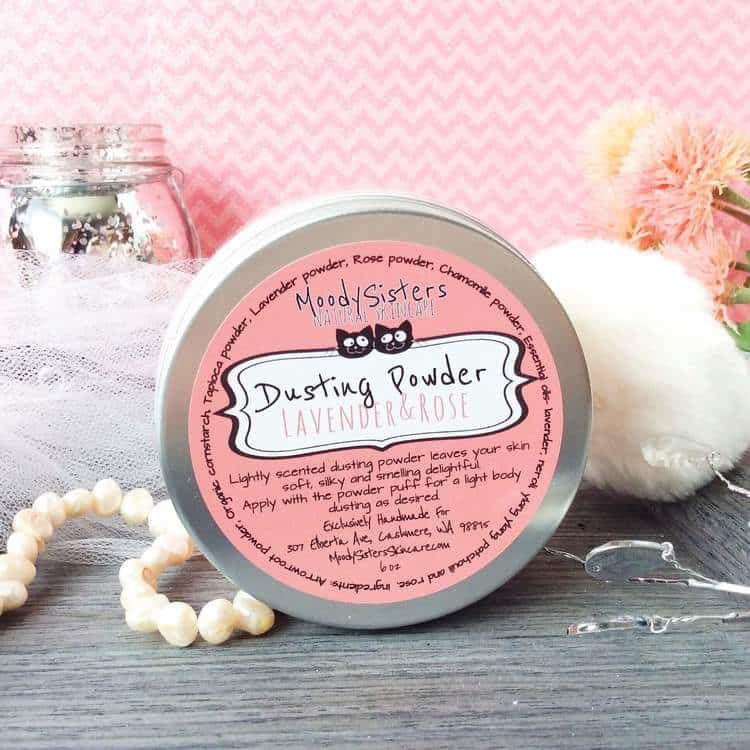 Talc-Free Powder: Dry Shampoo
I was recently turned on to dry shampoo as a way to keep my hair from looking oily between shower shampoos. My hair tends to be oily and is dark brown. All of these dry shampoos are great, not only because they are talc-free dry shampoos made in the USA, but also because they leave your hair smelling and looking great. There's no grayish hair look from these powders.
ACURE Dry Shampoo is made from organic and non-GMO corn starch, French white clay (kaolin), oat flour, slippery elm bark flour, argan stem cells, CoQ10, and lavender and chamomile essential oils. This dry shampoo is great to use between showers to dull that oily hair look, or to use after blow drying your hair to texturize when styling.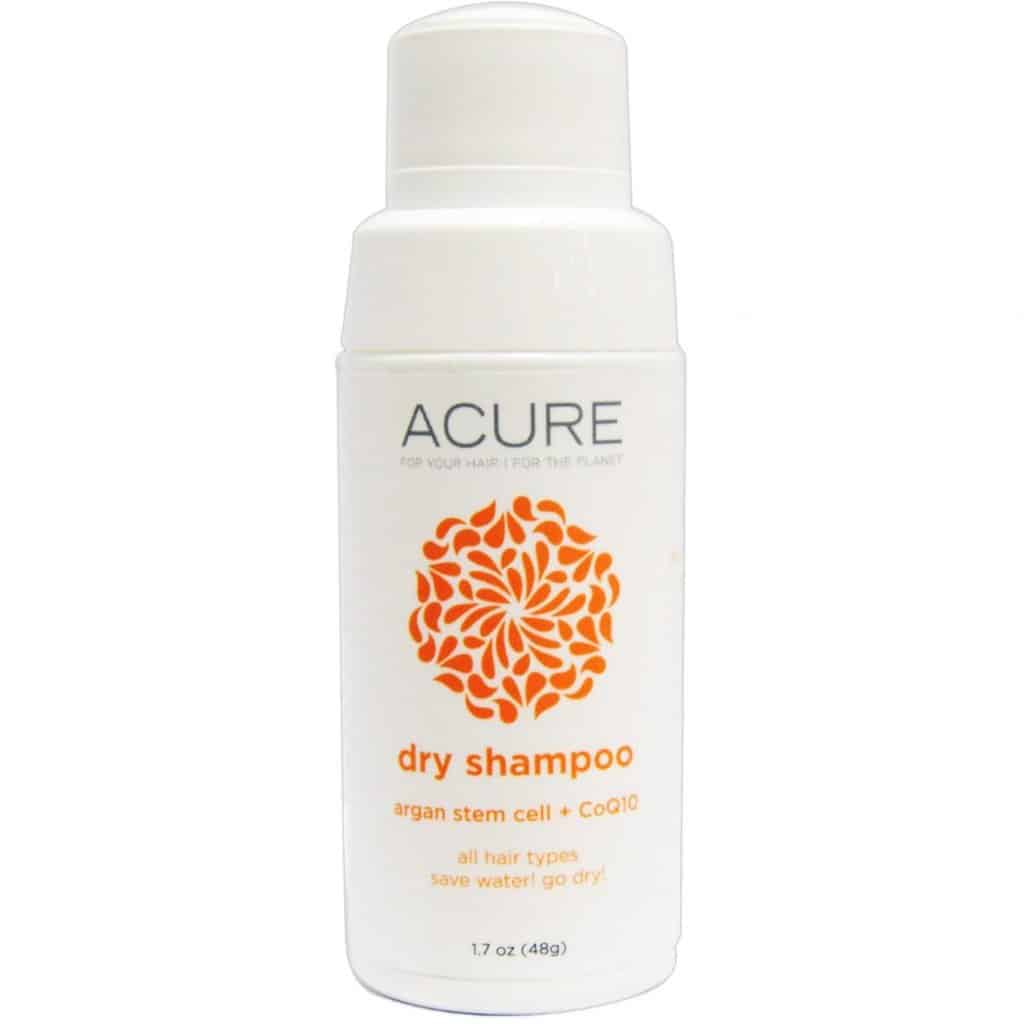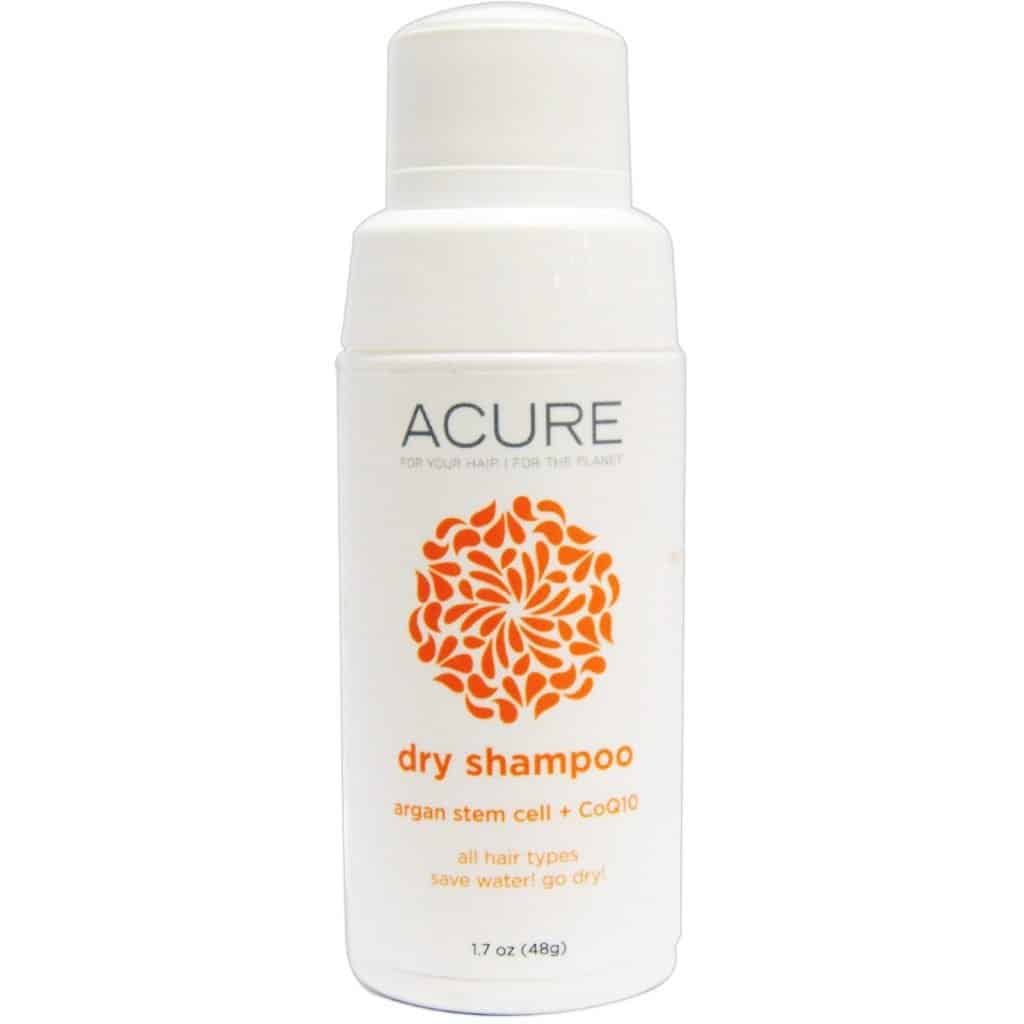 Fat and The Moon Lavender & Cocoa Dry Shampoo is perfect for light brown to dark brown or black tresses. The shampoo is made of cocoa powder, arrowroot starch, kaolin clay, and lavender essential oil. It's easy to apply to the hair root. Simply part your hair and apply the powder using a brush. Beware of the seductive combination of lavender and chocolate – it might send you on a chocolate binge!
Green & Gorgeous Organics Dry Shampoo for Dark Brown and Oily Hair is made with organic arrowroot powder, brown rice powder, horsetail (shavegrass) powder, all natural clay, aluminum free baking soda and organic essential oils. It's non-GMO, gluten-free, talc-free, vegan and free of parabens, sulfates, and perfumes. The brand also offers options for all hair types, including oily hair, and is offered in grapefruit and sweet orange and lavender and bergamot.
Little Barn Apothecary Flowers + Clay Dry Shampoo is made from rice starch, kaolin clay, corn starch and a blend of natural fragrances. I love this dry shampoo because it's lightweight, has a lovely light floral fragrance, and is easy to apply. I like using it after working out, and before showering, if I'm running errands around town. I absolutely love how this smells. The floral scent reminds me of lily of the valley, which happens to be one of my favorite flowers.
LuLu Organics Dry Shampoo in Lavender + Clary Sage offers the clean and intoxicating aroma of lavender perfectly partnered with an invigorating clary sage. It is organic, paraben free and talc free. comes and made safe ingredients include organic corn starch, white clay, baking soda, organic rice powder, organic horsetail powder, and organic essential oils. It comes in three other scents including, patchouli & amber, vetiver & black pepper, and jasmine.
Moody Sisters Dry Shampoo is one I love and this is the brand that turned me on to using dry shampoo. It's perfect for the times when your hair doesn't quite need to be washed again but could look a little less greasy. The puff applicator makes it so easy to apply and blend into your scalp without any mess. It's handmade with organic arrowroot powder, non-GMO cornstarch, lemon peel powder, organic witch hazel, and aluminum free baking soda. It's also vegan and cruelty-free.

10% off any full size items with code USALOVE through 12/31/19. New email subscribers can choose 4 samples and just pay shipping at MoodySisters.com/tryme.
yarok Feed Your Style Organic Dry Shampoo is 100% vegan, gluten-free, alcohol-free, paraben free, sulfate free, cruelty-free, and talc-free. I've written about how much I love yarok products in my non-toxic hair care guide, and Yarok's dry shampoo is no exception. The organic starch and arrowroot tapioca powder absorb excess oils in the hair, while organic aloe vera leaf powder and french green clay powder detoxify and add volume to your hair.

Zabana Essentials Dry Shampoo Lavender Citrus Mint smells amazing. It's a really fresh scent without being overpowering. All the scents 0f lavender, mint, and lemon come thru when you use it. This shampoo is made with kaolin clay, avena (collodial oatmeal), arrowroot powder, sodium bicarbonate, essential oils, and bamboo extract. With clay as the first ingredient, I find it's great for hiding greasy hair in between wet shampooing. It's 100% natural and vegan.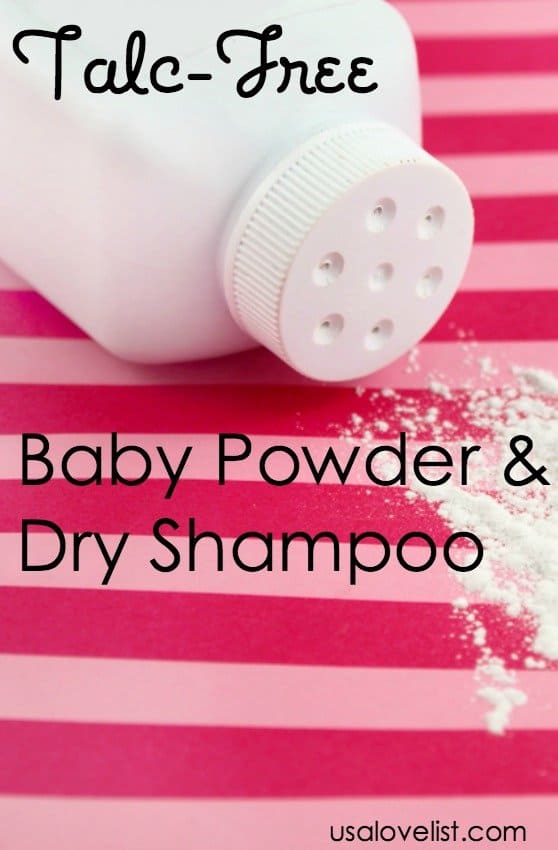 Disclosure: This is a sponsored post which USA Love List is proud to share with you because, sponsored or not, we only share stuff we love.