There are so many claims made in the beauty industry, and it's so easy to get sucked into the glitz of it all. I made the switch to non-toxic, chemical-free beauty and personal care products in 2015 when I trashed all my beauty products and started over. I'd never used facial oil before that because, as someone with oily/combination skin, I thought putting oil on your face would make you break out. I couldn't have been more wrong, and am so glad I know better now.
For over a year now, I've been experimenting with different facial oils to see which ones complement my skin best. These oils have helped to dull fine lines, brighten my skin, even my skin's texture, hydrate my skin, and prevent breakouts. As a result, I rarely, rarely get pimples and my skin is glowing. The oils found in these products are found in nature, and not chemically created. They all have different properties to help your skin, depending on your problem areas, skin type, and age.
Algae oil high in EPA, moderates inflammation and blocks UV-induced enzymes that destroy collagen.
Argan Oil restores skin elasticity, combats wrinkles, and repairs skin imperfections.
Apricot Oil is a lighter oil, containing vitamins A, C, and E, and antioxidants to protect skin from signs of aging and sun damage.
Avocado Oil heals and hydrates dry skin.
Baobab Oil oxygenates and recharges lackluster skin.
Blackberry Seed Oil is intended for problem, damaged, maturing or sensitive skin.
Carrot Seed Oil benefits the skin through the presence of vitamin A and beta-carotene nutrients that shield the skin from oxidative particles known as free radicals. These vitamins also hasten the cellular turnover process and lubricate cells in the outermost layer of the skin.
Evening Primrose Oil contains omega-6 fatty acids which can help you regulate your hormone levels and cure your hormonal acne issues. These fatty acids also play a role in cell structure, which to help heal eczema, psoriasis, and atopic dermatitis, while also promoting skin elasticity.
Grapeseed Oil moisturizes oily and acne prone skin. It's also high in vitamin C, which brightens your skin.
Jojoba Oil is nearly identical in chemical structure to the skin's natural oil. It absorbs quickly, making it great for daytime use.
Moringa Oil helps fight skin fatigue by delivering a healthy supply of fatty acids, Vitamins A, B, C, & E, and antioxidants.
Olive Oil moisturizes and fights free radicals created by exposure to sunlight. It's a thicker oil, so I love using facial oils that contain it at a night time for maximum hydration.
Pomegranate Seed Oil improves the texture of the skin, fends off free radicals and protects against sun damage.
Pumpkin Seed Oil contains vitamins, A, B, E, and K. There are high levels of natural antioxidants and polyunsaturated fatty acids in pumpkin seed oil, and it is especially high in vitamin E. Vitamin E has been shown to reduce the amount of scarring from wounds, and has been shown to decrease the effects of psoriasis, and to diminish redness associated with  symptoms of rosacea.
Rosehip Seed Oil contains vitamins, antioxidants and essential fatty acids known to correct dark spots and hydrate dry, itchy skin, all while reducing scars and fine lines. It's also a natural acne and eczema treatment.
Sea Buckthorn Oil heals acne, dermatitis, dry skin, eczema, and skin color changes, and contains anti-aging properties.
Tamanu Oil offers anti-inflammatory and antioxidant powers.
Thesis Face Serum is the perfect every day, well priced, facial oil that includes a multitude of key oils to support your skin's health. It's made with all organic oils, including grapeseed, jojoba, walnut, apricot, and sunflower, and essential oils including, lavender, tea tree, geranium, petitgrain, eucalyptus, and blue chamomile. The grapeseed oil brightens skin overnight, while apricot oil protects your skin from free radicals that cause wrinkles and fine lines. I love that this serum has tea tree oil in it because the oil has antibacterial properties which are great for preventing and healing acne.
The oil is on the thicker side, so I'd suggest using it at nighttime. You'll notice your skin glows in the morning. The serum has an earthy scent which I absolutely love too.
Code USALOVE saves you 15% off on Thesis products at checkout!
5 AM Amaranth Oil On The Go is a 100% pure, cold pressed amaranth oil that is organic, vegan, non-GMO, gluten-free. Rich in vitamin E and essential fatty acids, this oil is perfect for achieving firmer, brighter, and smoother skin. This oil aids in active skin recovery and rejuvenates while providing maximum hydration, making it perfect for those suffering from eczema, psoriasis, dermatitis, rosacea or dry skin.
Agent Nateur holi(oil) refining youth serum is inspired by Europe but made in the USA, making it an ultimate American made luxury beauty brand. This silky, luxurious face oil combines the highest grade of natural, non-GMO ingredients that are organic or wild crafted. It is made from organic rice bran oil, organic rosehip oil, wildcrafted Bulgarian rose oil, organic vitamin C, organic helichrysum oil, organic vitamin E, and wildcrafted sandalwood oil. This serum is great as an anti-aging oil or retinol replacement since rosehip oil naturally protects against sun damage and acts as a natural retinol.
Your skin's tone, glow, and elasticity will improve within only a few nights use. We loved it!
Aphorism Bright As Day Radiance Serum is handcrafted in micro-batches in New York City. This urban minimalistic skincare collection features four facial products that are bioactive, organic, wildcrafted, 100% plant-based, vegan, and cold-pressed. To combat environmental skin stressors such as congestion, air pollution and lack of beauty rest in a city that never sleeps, these day-to-night serums and facial oils feature powerful properties to replenish the skin. We love Bright As Day for its high-performance plant extracts containing vitamins, amino acids, omegas 3, 6 & 9 and UV shields in perfect combination to rejuvenate dull, dry, parched skin.
Athar'a Pure Neem Healing Oil
 is made of neem oil, organic pumpkin seed oil, sweet almond oil, evening primrose oil, lavender, rosemary, rose geranium, frankincense, and myrrh. Neem Oil is a powerful plant that is a naturally anti-bacterial, anti-fungal, antiseptic, and anti-inflammatory making it great for blemishes, acne, rashes, and itchy, irritated skin, eczema, psoriasis or dermatitis. I love to use this oil at night because a little goes a long way; it absorbs quickly; and I wake up with bright, glowing skin! This oil is 100% natural, vegan, synthetic-, paraben-, toxin-, sulfate-, alcohol-, dye-, and cruelty-free!
Believe Organics Facial Elixir is made with 100% certified organic ingredients including rosehip seed oil, jojoba oil,  hazelnut oil, and a blend of floral & citrus essential oils. At $17, it's an affordable luxury. It makes for a great hydrating and restorative facial oil, perfect for oily skin.
Botanic Organic Pomegranate & Argan Antioxidant Oil Serum is one of the best facial oils I've ever experienced. It's so thick and it smells amazing. Pomegranate, argan and pumpkin oils protect against wrinkles caused by oxidation, while oils of sea buckthorn and tamanu help to restore skin damaged by age, exposure and trauma. Calendula herbal oil soothes and helps to regenerate new skin cells and the argan oil contains sterolins. These improve skin's metabolism, reduce inflammation and promote excellent moisture retention. My skin was noticeably brighter and hydrated within a few days of using it. I highly, highly recommend all Botanic Organic products. They're really lovely.
Editor's top pick – readers save 15% off on Botanic Organic products at checkout with code USALOVE!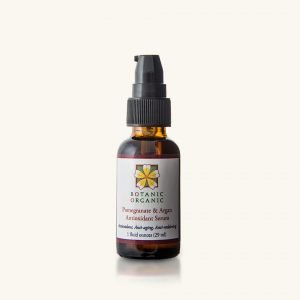 Cocokind Organic Chia Seed Facial Oil is perfect for normal or mature skin. Infused with organic chamomile flowers, this lightweight Organic Chia Facial Oil is calming, moisturizing, and a rich source of antioxidants and phytonutrients. Cocokind makes organic, natural, and non-toxic beauty products all with under five ingredients in each product. All its products are made in San Francisco, California.
We're big fans of  Cocokind Cycle Back Program which offers a 50% discount code when you cycle back empty containers.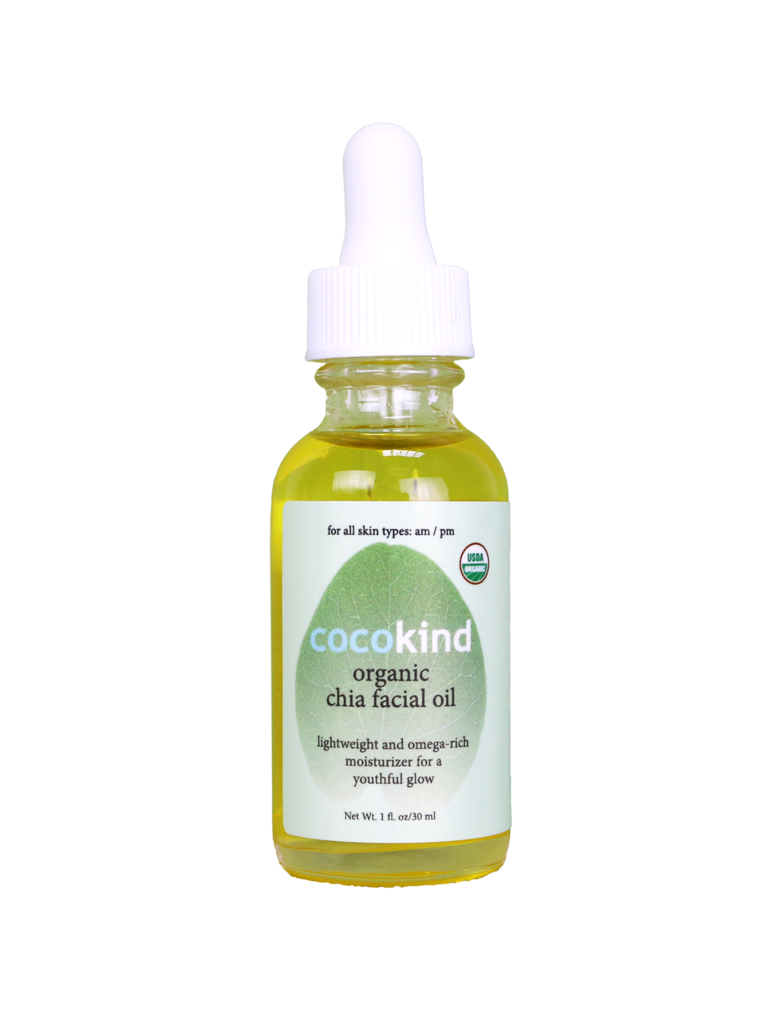 Desert Essence Moringa, Jojoba, & Rose Hip Oil contains organic moringa seed oil, organic jojoba seed oil, rosehip seed oil, and orange peel oil. Moringa Seed Oil contains more antioxidants than any other known plant. This unique trio of oil moisturizes, restores, and brightens skin.
Dr. Alkaitis' Organic Ageless Facial Elixir combines anti-aging antioxidants, Ayurvedic herbs and high potency super foods that promote luminous skin, deeply nourished at the cellular level. 
Fat and The Moon Face Oil is another affordable face oil option for normal to acne prone skin. Made with 100% organic ingredients, including calendula and burdock infused almond oil, hemp seed oil, jojoba oil, tamanu oil, and rosehip seed oil, it's great for treating scars, healing damaged skin, treating sun spots and deep wrinkles. It's a thicker oil, making it great for nighttime use. It's perfect for my oily skin and has helped to brighten my skin and soften fine lines around my eyes.
FATCO's Myrrhaculous Face Oil is a blend of nutrient-dense, plant-based oils, plus essential oils, all of which have anti-aging and healing properties. Step up your skincare game with this amazing anti-aging facial oil. Cruelty-free, Paleo-Certified, vegan and filled with rich nutrients and an amazing mix of numerous organic oils including jojoba, olive, grapeseed, pumpkin seed, macadamia nut, avocado, argan, tamanu, baobob, rosehip seed, borage, moringa, evening primrose, pomegranate seed, seabuckthorn, and neem. The secret ingredient is myrrh, a moisturizing key that soothes chapped, dry skin.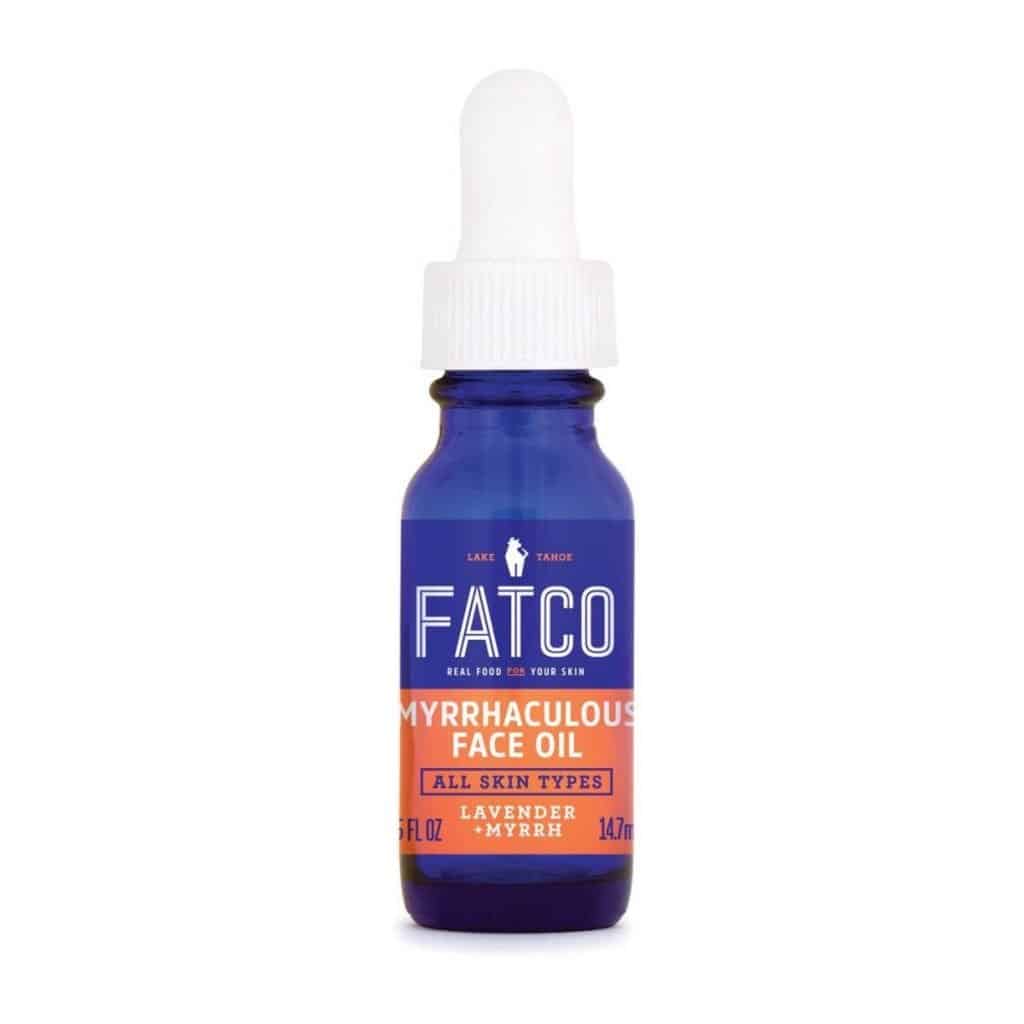 Indie Lee Squalane Facial Oil this plant (from olives) derived oil quickly absorbs and hydrates skin. It's perfect for those with dry, oily or acne prone skin because it promotes skin renewal. You'll notice a difference in your skin's overall texture and brightness overnight. The line is created by Indie Lee who after being diagnosed with a brain tumor, wanted to eliminate environmental toxins in her life.
Innersense Organic Beauty Harmonic Healing Oil is great for daytime use on the face or as an overnight treatment for the scalp. Innersense is my go-to haircare brand. They've created a non-greasy, nourishing oil for all skin types, that most resembles our own skin oils. It is excellent for use in dry to normal skin and hair care. It's made from safflower seed oil, evening primrose oil, macadamia seed oil, tamanu oil, hazel seed oil, orange flower oil, jojoba seed oil, and rosemary essential oil. I use this oil on my face at the start of the day to hydrate my skin, or at night to calm my scalp.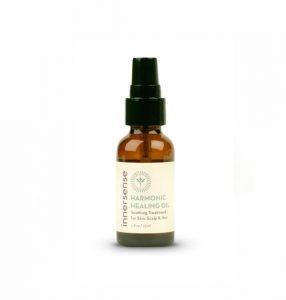 Jenuinely Pure Moisturizing Serum is made with organic sunflower oil, organic olive fruit oil, organic jojoba seed oil, squalane oil, organic rosehip seed oil, organic tamanu oil, lavender essential oil, and vitamin E. The squalane oil is derived from olives and it mimics some of our own bodies' natural oil. That's why this moisturizing serum absorbs so well. I love like how thick this oil is, so I prefer using it at nighttime. It has improved my skin's elasticity, dulled fine lines, hydrated my skin, and improved dullness.
Klei offers a line of sustainably crafted, self-care beauty products featuring botanical ingredients each chosen for specific skin-nourishing qualities. We love the Klei 2% Salicylic Acid Clarify Treatment. It treats skin with this medicated oil containing Salicylic Acid for oily and acne prone skin, in tandem with nourishing oils like arnica, calendula and hazelnut oils to soothe and minimize skin irritation.
Korina Naturals Face Serum for Oily and Acne Prone Skin is formulated with a special of oils including grape seed oil,  jojoba oil, evening primrose oil, vitamin e, frankincense-, geranium-, and tea tree essential oil, that actually help keep your skin-producing oils in check. The blend of essential oils included in this oil contains anti-bacterial, anti-inflammatory, and astringent properties to aid in the reduction of blemishes and acne. This oil is a great one for balancing your skin's tone and decreasing the amount of oil your face produces.
Lauren Brooke Cosmetiques Organic Facial Serum is a perfect anti-aging serum for sensitive skin. This exquisite skin-tightening serum combines organic jojoba, evening primrose, rosehip and pomegranate oils for an anti-aging & anti-inflammatory, plus, pumpkin seed and sea buckthorn oils for their high vitamin C, E, and A content. Essential fatty acids deeply nourish and restore elasticity.
For those looking for an excellent anti-aging serum, at great bang for your buck, ($27 for a one ounce bottle), you cannot go wrong.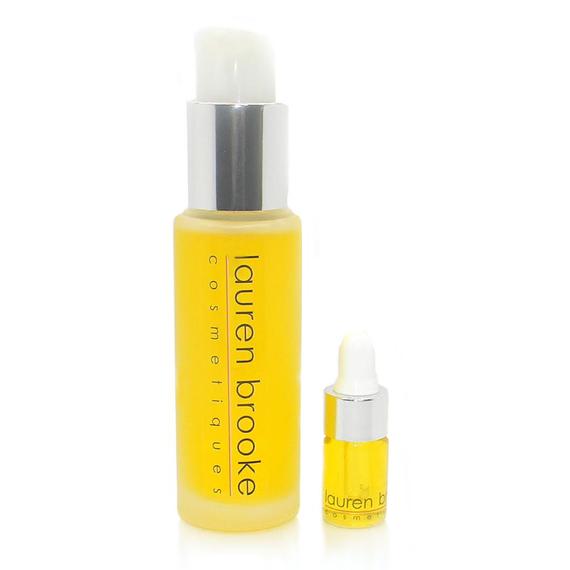 Perfect for everyday use, travel, or for hydrating skin on any one-off occasion, Leahlani Bless Beauty Balm, is the perfect go-to nighttime routine solution for everyone, but especially those with dry, mature or sensitive skin. This organic and cold pressed facial oil is solid making it simple to apply. A little goes a very long way. Simply take a dime size amount due to the fact that the product is free of water, wax or emulsifiers. Simply use your hands to warm the oil before apply in upward strokes using your fingertips to stimulate blood flow and absorption. This balm absorbs well, hydrates, and add elasticity and natural brightness to the skin.  It's great to use at night or under your everyday makeup routine.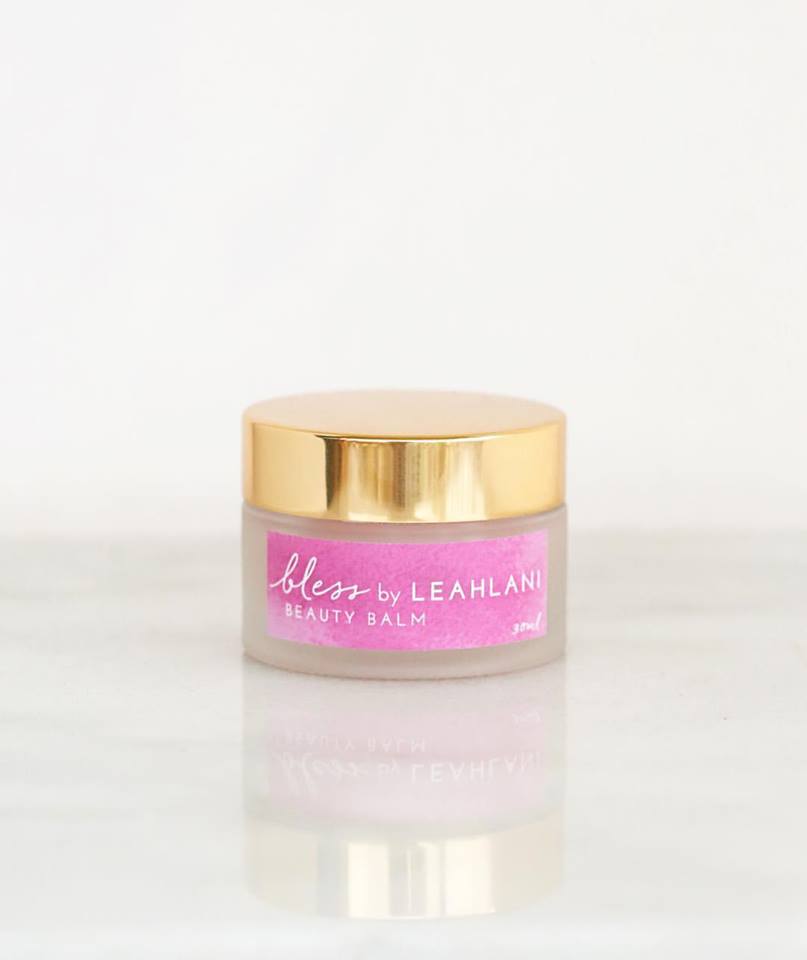 Marie Veronique Oil de Jour is another one of my favorites because it's thick, hydrating, and smells amazing. It contains jojoba, borage, camellia seed, meadowfoam seed avocado, olive, kiwi seed, chia, red raspberry seed, sesame seed, tamanu, rosehip seed, vitamin E, pomegranate seed, broccoli seed, prickly pear seed, algae, and tomato seed oils. There are so many amazing oils in this product, aimed at improving collagen and the skin's elasticity with algae oil, producing natural retinol with rosehip seed oil, and reducing aging signs through reducing inflammation with balanced omega-6s/omega-3s from the kiwi seed, chia seed, olive, and sesame seed oils. I notice my face is brighter, and my skin firmer when I wake too.
Mi-Me Tomato Seed Regenerating Facial Serum is another amazing product by Mi-Me. I love using this serum for daytime use under my daily moisturizing to hydrate, tone, and protect my skin from environmental factors that cause stress and damage to the skin. I absolutely love how this product smells too. The serum contains black cumin seed oil, among others, which helps to heal acne, eczema, and psoriasis; reduce wrinkles; and even skin texture, making it a great facial oil for oily skin and problem-prone skin. 
nyl Velvet Transformative Serum is a lovely, lightweight serum perfect alone for daytime use or to add to your nighttime facial creme for added hydration. The serum is the brand's most popular item, and I can see why. It's high in vitamin C and antioxidants to fight free radical damage that contributes to the formation of wrinkles. I noticed fine lines around my eyes and smile lines soften, and that my skin felt firmer. The frankincense, sandalwood, sage, and neroli essential oils are calming, and healing. A little goes a long way. It's made with 100% organic, vegan, and cruelty-free and gluten-free ingredients too.
Odacité Wild Carrot Serum Concentrate comes with a solid five-star customer review rating, and it's not surprising. It's made with two simple ingredients, cold-pressed certified wild carrot oil, and certified non-GMO vitamin E, to deliver concentrated anti-aging and anti-wrinkle benefits. If you're looking for age-defying and skin glowing benefits, this is your go-to facial oil.  It's vegan, non-GMO, cruelty-free, gluten-free and made in California.
Fight free radicals and inflammation while hydrating with Organic Bath Co. Nourish Night Face Oil.  The brand is holistic and organic. The face oil is a luxurious mixture of all organic ingredients including prickly pear seed oil, jojoba infused with calendula and chamomile, organic shea nut oil, rosehip oil,  tamanu oil, evening primrose oil, green coffee oil, hemp seed oil, and essential oils. Blended to perfection to increase your skin's elasticity and radiance. I love everything about this oil; its smell, potency, and its effectiveness. I woke up with hydrated and radiant skin after the first use.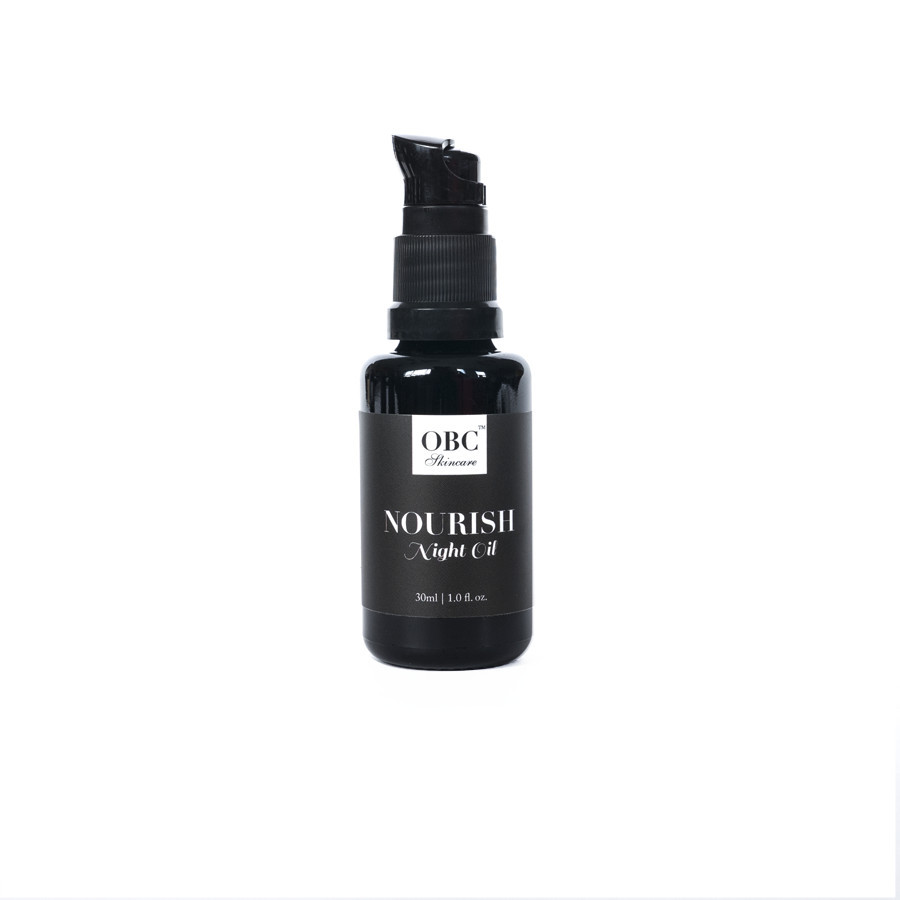 Osmotics Cosmeceuticals Skin Rescue Nourishing Oil is made in Denver, Colorado, where everyone knows it takes a lot to moisturize and heal dry, chapped skin. This oil is packed with ingredients like evening primrose oil, rich in Linoleic Acids (LA) and Gamma Linolenic Acids (GLA) to increase skin elasticity, soothe redness and irritation. It also has red raspberry oil, rich in Omega-3 and Omega-6 fatty acids to promote optimal skin health and nourish damaged skin. This is a great oil for use year 'round to heal and hydrate dry, damaged skin.
Pixi Rose Oil Blend is a botanical blend infused with a powerful complex of youth preserving oils to help improve skin's elasticity and glow. Sweet almond, rosehip, jojoba, pomegranate seed, and rose geranium oils nourish the complexion, leaving it comforted & smooth to the touch. It's great for nighttime use and helps to hydrate and restore the skin's natural texture and tone.
PRATIMA Nourishing Essential Oil is made of sweet almond oil and infused with essential oils of lemon, geranium, rose, rosemary, sandalwood, jasmine, ylang-ylang and vitamin E. These organic essential oils have the unique attribute of penetrating to the deepest layer of facial tissue to help delay the signs of aging, strengthen connective tissue, increase cell renewal and address skin problems where they begin. The oil feels luxurious and nourishing. It's the ultimate skin amenity, perfect for everyday use day and night.
Qet Botanicals Restoring Night Serum is perfect for skin in need of extra nourishment or moisture. This serum nourishes the skin gently and deeply and has ingredients that naturally mimic Retin-A, without the side effects of flaky skin and sun sensitivity. Immortelle and sea buckthorn berry oil are partners working together to balance the skin. They strengthen cells, reduce any scarring and irritation, and allow the inflammatory cycle to stop so healing can begin.
Qet Botanicals is a special skincare line, hand-crafted from start to finish, without a single drop of synthetic chemicals. The line was founded by one woman, Lisa Brill. She and her team develop, manufacture, test, fulfill, package, and ship + share all of its handmade, plant-based treatment products from its private facility in Wisconsin.
Sara Elizabeth Skincare Luxury Herbal Day Oil is an exceptional facial oil. It's made with luxurious, precious oils including moringa oil, red raspberry seed oil, meadowfoam seed oil, marula oil, blueberry seed oil, seabuckthorn fruit oil, olive oil, black currant oil, black seed oil, wild carrot seed, nettle leaf, comfrey leaf, dandelion root, red raspberry leaf, calendula flowers, Matricaria chamomilla, Helichrysum italicum, Citrus reticulata, peru balsam, jasmine sambac, and rose otto. You'll notice more youthful, glowing skin with only a few applications. I think it's best to use on your face at night after cleansing.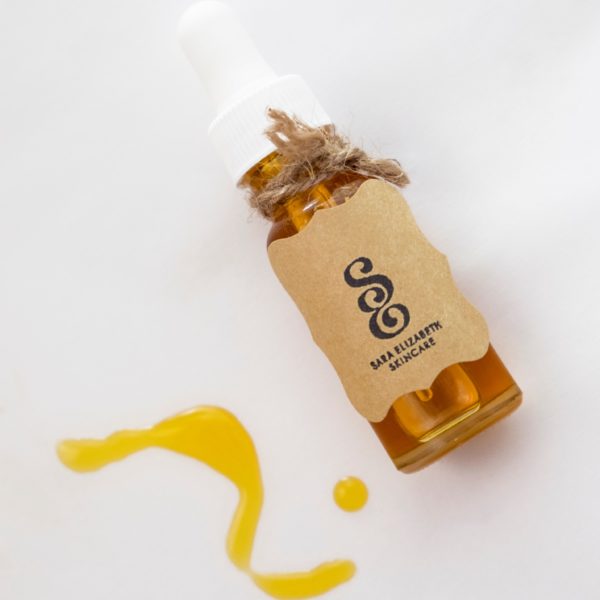 Shankara fuses the best of modern skincare science and ancient Ayurvedic principles for products that balance and enhance your skin's natural beauty. Say goodbye to the appearance of fine lines around your mouth, eyes, and forehead with Shankara Fine Line Treatment Oil. This 100% pure unique oil blend goes deep into the skin to calm, protect, and rejuvenate while maintaining balance in the T-Zone area for skin that looks healthy and radiant. It's cooling and slightly sebum balancing, as well as non-comedogenic, meaning it won't clog your pores. Made with loving care while using sustainable practices in Reagan Wells, Texas.
If you're looking for a facial oil to even skin tone and color, SHINE Organic Brightening Facial Oil, is it. Made from organic pomegranate oil, organic argan oil, organic jojoba oil, sunflower seed oil, organic licorice extract, lemon peel oil, bearberry leaf extract, elderberry fruit extract, grapefruit seed oil, and jasmine oil, this blend hydrates and brights skin while naturally diminishing the look of fine lines. This facial oil is vegan, cruelty- , soy-, corn- and gluten-free and made from 70% organic ingredients.
Skin Owl Mangosteen Beauty Drops PM, made from raw, organic, baobab oil and pure mangosteen oil, this simple concoction moisturizes and brightens skin so that you wake up glowing. It helps reduces fine lines around the eyes, and smells like candy. I love using this before bedtime because I wake up with skin that's bright and glowing. It's worth every penny.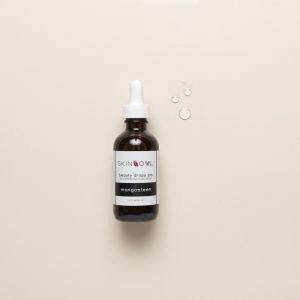 Suki Nourising Facial Oil contains jojoba oil, sunflower seed oil,  grapeseed oil, rice bran oil, evening primrose oil, rose hip fruit oil, carrot seed oil, carrot root extract, lavender flower extract, calendula flower extract, vitamin E, apricot kernel oil, safflower seed oil, and olive oil. Hydrating and restorative for maturing skin, carrot root and carrot seed oil deliver vitamin A to prevent the appearance of premature aging and evening primrose delivers omega oils & fatty acids to nourish, while reducing fine line & wrinkle appearance.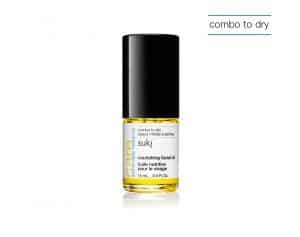 Tata Harper Beautifying Face Oil is nothing short of luxurious. Made from squalane oil (derived from olives), jojoba esters, olive oil, argan kernel oil, camellia seed oil, sambucus nigra fruit extract, alfalfa extract, arnica leaves and flowers, calendula flower extract, comfrey leaves, borage leaf extract, meadowsweet flower extract, algae extract, linalool, and limonene, this oil is lightweight and fast-absorbing. I love what this company is doing for the natural, non toxic beauty industry. Not only is each one of its products is made by hand in the company's own Vermont headquarters, they also have a functioning certified organic farm where many ingredients used in various Tata Harper products are grown. The brand is completely free from GMOs, synthetics, fillers, and gluten.
VERED Botanicals Anti-Aging Treatment Oil is made from organic, ethically sourced, therapeutic-grade essential oils and organic herbs including, jojoba oil, sweet almond oil, rosehip oil, argan oil, kukui nut oil, shea oil, primrose oil, rose, jasmine, ylang ylang, rosewood, orange, tangerine, fennel, patchouli essential oils, and horsetail, japanese honeysuckle, marshmallow, licorice root, plantain leaf, calendula, extracts, and lavender. The oil is high in omega fatty acids and antioxidants which are great for nourishing normal, dehydrated, mature or dull skin.

Disclosure: This post is a sponsored post which USA Love List is proud to share with you because, sponsored or not, we only share stuff we love. 
Image credit: Botanic Organic