February 9th is National Pizza Day, so celebrate with a spinach pizza baked in an American made Lodge cast iron skillet….because everyone needs a reason to make pizza, right?!

MMM…..this spinach pizza is so good. Baking a pizza in a cast iron skillet gives the dough a slightly crunchy crust that I love.  Caesar dressing replaces traditional pizza sauce, adding extra flavor to this spinach pizza.
I use the Lodge Cast Iron Deep Skillet for the following recipe which makes a 10 inch pizza. You can use your favorite pizza dough for this recipe. I use this recipe and I split the dough in half. One half makes 2 skillet pizzas. I wrap the unused dough half tightly in plastic wrap and freeze it.
Cast Iron Cooking: Spinach Pizza Recipe
Ingredients
Pizza dough
2 tbs olive oil
Caesar dressing, about 4 tbs (more or less if desired)
2 cups mozzarella cheese
Black olives, sliced
3 cups of fresh baby leaf spinach
3 tbs fresh parmesan cheese
Directions
Preheat oven to 400 degrees.
Lightly brush the olive oil onto the bottom and sides of the cast iron skillet.
Press the dough to the bottom of the skillet. Let it rise for about 15 minutes.
While the dough is rising, saute the spinach in a medium pan with a splash of olive oil (I use garlic flavored olive oil).
With a fork, poke the risen dough, getting rid of any bubbles.
Spread Caesar dressing on the dough.
Top dough with mozzarella cheese, spinach, and olives. Sprinkle on the fresh parmesan cheese.
Bake for 15-20 minutes.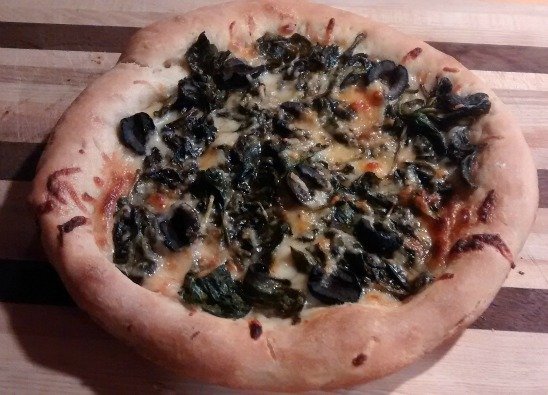 The spinach pizza slides easily out of the Lodge cast iron skillet, right onto the cutting board for easy slicing! Enjoy!
Disclosure: USA Love List received some products in this post unconditionally for review purposes. Our opinions are always our own, and we aim to write fair and balanced reviews to promote only the very best of American-made products.
Follow Tracey's board Cast Iron Cooking on Pinterest.