Try something different your next pizza night with this easy recipe for cast iron pizza. Baking a pizza in a cast iron skillet gives the dough a slightly crunchy crust that my family loves. Caesar dressing replaces traditional pizza sauce, adding extra flavor to this spinach pizza.
Cast Iron Pizza
I use the Lodge Cast Iron Deep Skillet for the following recipe which makes a 10 inch deep dish pizza. Don't be afraid to try a different skillet size, or the Lodge Cast Iron Griddle for this recipe. Just adjust the cooking time as your crust could be thicker or thinner depending on the pan size.
You can use your favorite pizza dough for this recipe. I use this recipe and I split the dough in half. One half makes 2 skillet pizzas. The 10 inch pizzas are on the small side, so I make four pizzas with different toppings. Any unused dough can be wrapped in plastic and stored in the freezer until the next pizza night.
The kiddo love coming up with different topping combinations and this spinach pizza is one of their favorites. The spinach pizza slides easily out of the Lodge cast iron skillet, right onto the cutting board for easy slicing! Enjoy!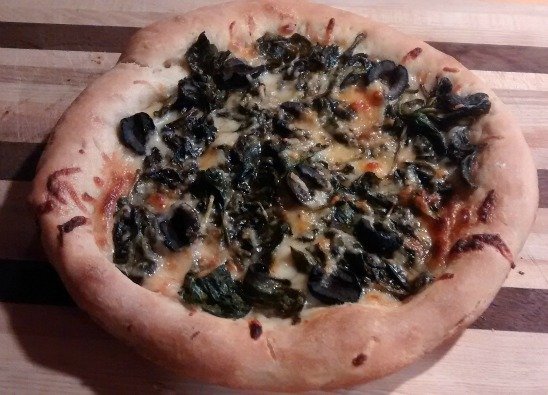 Disclosure: USA Love List received some products in this post unconditionally for review purposes. Our opinions are always our own, and we aim to write fair and balanced reviews to promote only the very best of American-made products.

Pin this list to save it for later!