Christmas is now in the past and it's time to put away those decorations. EVERY. SINGLE. YEAR… I swear I'm going to organize my Christmas decorations and pack them away more efficiently. Last year, I totally failed at packing up the goods, so when I got everything out this year, I found myself throwing away unusable crushed bows, ruined wrapping paper, and mildewy stockings. Not to mention the fact that there are quite a few items that haven't been touched for years. Yes, this year I am getting organized! Now is as good a time as ever to invest in American made storage containers to help with my organizing needs.
American Made Christmas Decoration Storage Containers & Tips On How To Use Them
1. The 27 Gallon Sterilite Industrial Storage Bin is my BFF when it comes to storing holiday decorations.
I have tried larger sized totes, but they are too awkward for me to lug and stack in the basement. I have tried clear (non industrial) totes, but they crack after a year or two, and the covers don't seal as well. The made in the USA Sterilite 27 Gallon Industrial Storage Bin is by far my favorite container to put most of my holiday decorations in. I have 3 of them. They are easy to carry, stack perfectly, and the covers seal tightly to keep out critters.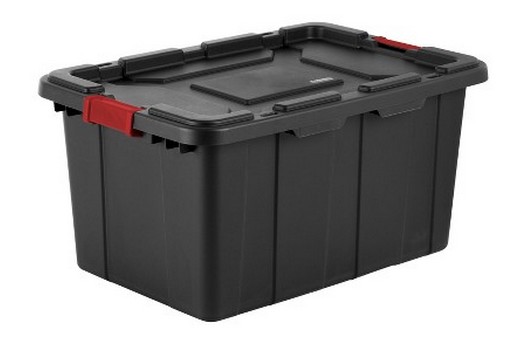 2. Ditch the cardboard boxes and flimsy plastic holders that your ornaments came in, and store them in sturdy plastic containers instead. 
The made in the USA Snapware Snap 'N Stack is my favorite for round, and even shaped, glass ornaments. Instead of trying to find the box they came in, with the correct shaped storage holes in it, they fit easily and perfectly in in the Snap 'N Stack.
Plastic shoe boxes, like the IRIS Clear Plastic Storage Box are perfect for storing the rest of my ornaments. My kiddos have their own special ornaments that they made in school, or have been given as gifts over the years. I store them in their own (with their names on them!) plastic shoe boxes. This makes it easy for them to know what they are hanging on the tree when it is time to decorate, and it's easy for me because they are busy with their boxes while I sort through the more delicate ornaments.
The American made Snap 'N Stack, and the plastic shoe boxes full of ornaments are put away in a storage bin and stored in the basement until next year.
3. Re-purpose some of those cardboard  toy boxes, or shipping boxes for light string storage. 
The sturdier the box the better! Cut a decent size rectangle- about 10 inches by 14 inches or larger works well. Simply wrap a strand of lights around the cardboard for tangle free storage. The wrapped lights fit in a storage bin.
4. Make sure your wrapping paper isn't damaged in storage.
I absolutely LOVE the IRIS USA, Inc. 40- Inch Wrapping Paper Box. It fits up to 20 rolls of 40 inch wrapping paper. This gives you plenty of room to stock up on clearance rolls now for next Christmas. Major bonus: it is made in the USA.
5. Prevent your wreaths from getting dusty and flat and store them sturdy wreath storage boxes. 
The IRIS USA, Inc. 24″ Wreath Storage Box keeps your favorite wreath in pristine shape for next Christmas. The box is designed to be stored in an upright position. This feature makes it a great space saver! Of course, it is also made in the USA.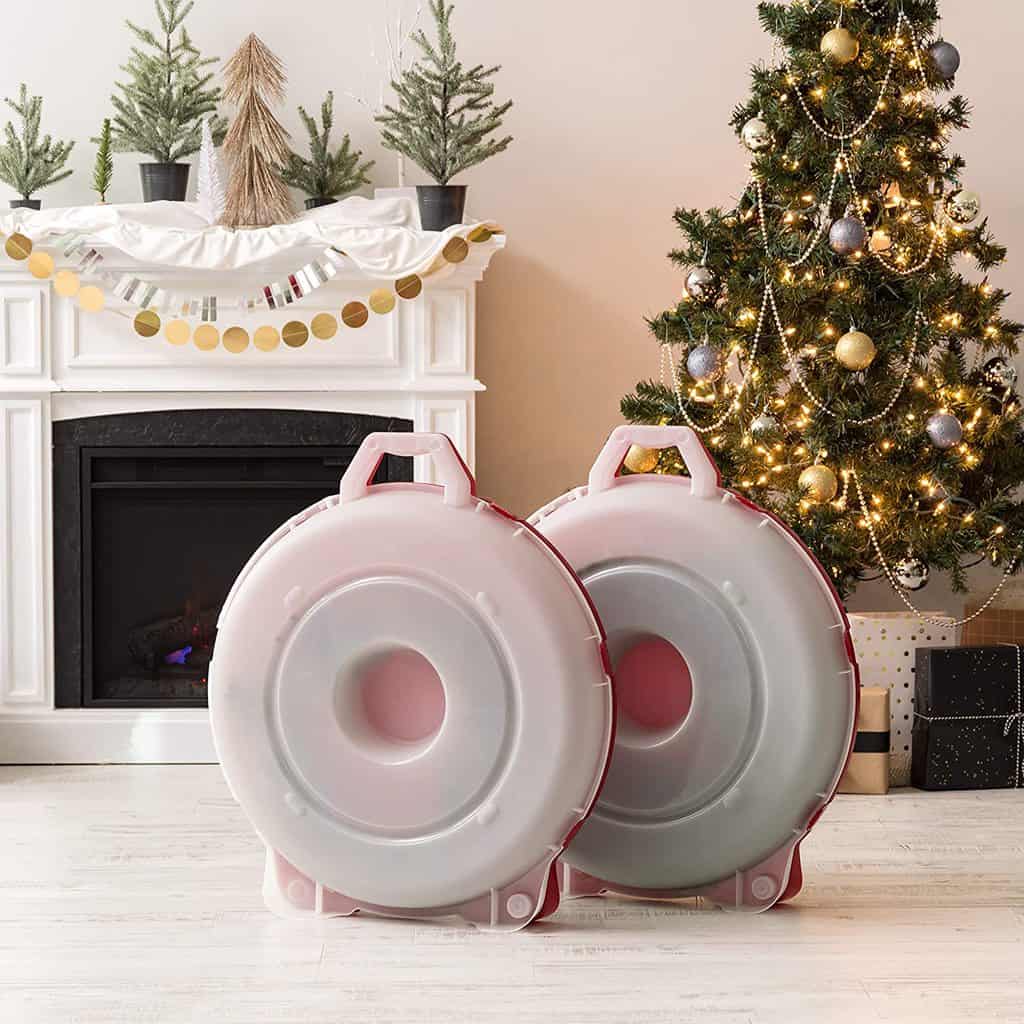 Do you have holiday decoration storage tips to share or a favorite American made storage container? Let us know in the comments!  
Follow USA Love List's board Get Organized! on Pinterest.