I sweat A LOT. As in, when I get out of a hot shower, I'm sweating. There are even times after a cardio-intensive workout where I'm sweating one-hour post-workout. I made the switch to clean, non-toxic beauty products. I also make no exceptions when it comes to using non-toxic detergents, so I started hunting for the best non-toxic sports detergents that are made in the USA.
Looking for other ways to swap out natural, Made in USA products you can trust? Take a look at our lists for the best natural deodorants, the best natural toothpaste brands, the best natural face wash, and our ultimate source list for Clean Beauty Products.
Since I workout between three to five times a week, I'm routinely washing my workout gear. I was finding that as soon as I would start working out I would smell body odor. I knew it wasn't my body because I had recently showered but rather noticed that smells were getting trapped in the synthetic materials from which most workout gear is made. In my search for the best non-toxic sports laundry detergents it was important for me to find ones that are not tested on animals and were sustainably made and sourced. I would not include any brands on this list that didn't make the cut for getting my clothes clean. Here are my picks for the best non-toxic sports laundry detergents that actually remove smells and do not simply mask them.
Best Non-Toxic Sports Laundry Detergents
Grab Green 3-in-1 Laundry Detergent Pods offer concentrated laundry detergent which combines deep-cleaning concentrated detergent, stain remover, and brightener, all in one. I love this detergent! These powerful powder pods cut through dirt leaving your laundry clean and fresh. Don't just take my word for it though. These 3-in-1 Laundry Pods were awarded a 94% rating of excellence in overall stain removal, AND they outperformed Tide in stain and soil removal. This laundry detergent is cruelty-free and made in the USA.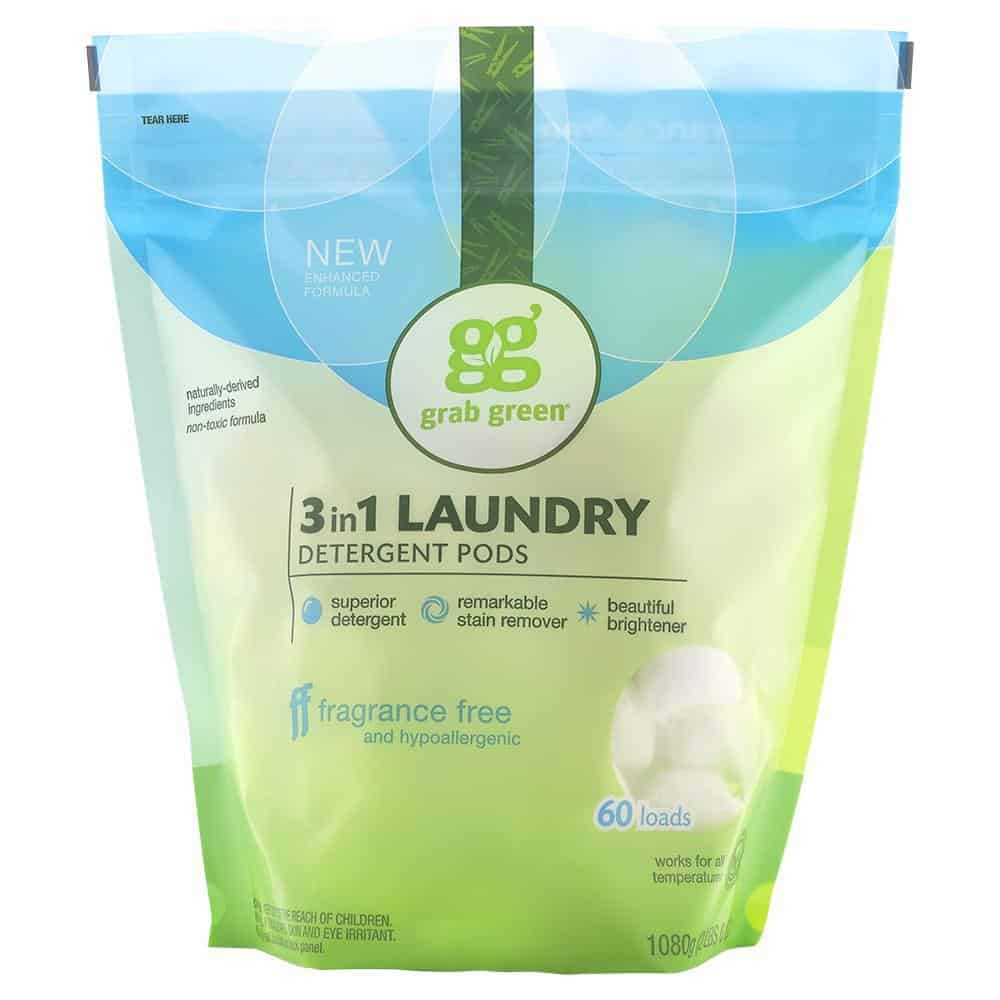 HEX Performance Laundry Detergent was developed by its founder, Drew Westervelt, who was playing professional sports when he noticed that his apparel and tech gear would still stink, even after they had been washed. He discovered that odor meant bacteria was alive and well in his laundry. HEX laundry detergent is extremely green across the board – with a biodegradable formula and packaging with a much smaller carbon footprint(than those awful plastic bottles). Additionally, HEX is 100% cruelty-free and never tested on animals. HEX is almost clear and it pours like water. No dyes, no fillers, no optical brighteners, no phosphates. HEX is manufactured in Baltimore, Maryland.
Molly's Suds is a woman-owned company built on legacy. Molly's Suds was started in 2008 by pediatric nurse & mother of four, Monica Leonard, inspired by the loss of her stillborn daughter, Molly. Monica created a non-toxic and biodegradable laundry detergent safe for even the newest members of our families. Molly's footprints are on the back of every one of our products to remind you our products are safe for even your tiniest family member. With infertility and fetal demise on the rise, we have to take a stand for our future. Monica wants to carry on Molly's legacy while helping families with safer products and the education of ingredient integrity.
Eliminates tough odor-causing bacteria in performance wear through the use of "colloidal micelles", which creates an energy field of safe cleaning power that penetrates and breaks up oil and dirt molecules into soluble components.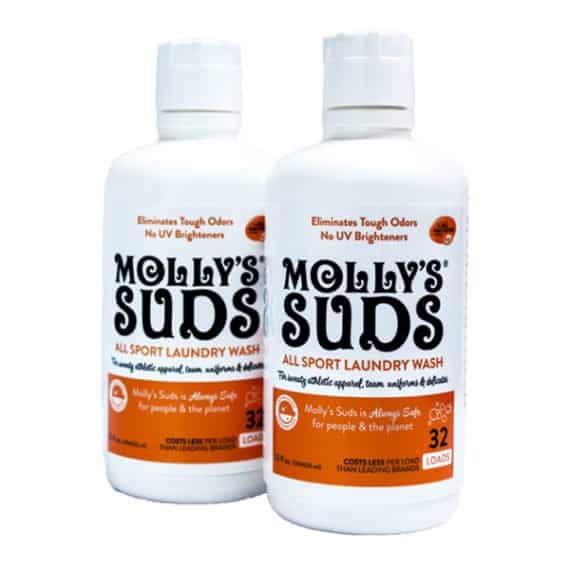 Specially formulated for synthetic and technical fibers, the liquid helps to preserve wicking capabilities, breathability, SPF, and water repellency, keeping your clothes looking new and fresh. Super-concentrated and affordable, All Sport is formulated with non-toxic, food-grade ingredients and without the use of UV brighteners, harsh chemicals, or synthetic fragrance. Effective as a pre-treatment for stains and great as a sink wash for delicates or as a general laundry soap, All Sport is a versatile product for any family household. Molly's Suds All Sport, and all Molly's Sud's products, do NOT contain any of the following, synthetic fragrances, dyes, optical brighteners, nonylphenol ethoxylate, petrochemicals, phosphate, fillers, bleach, sodium lauryl sulfate (SLS), or sodium lauryl sulfate (SLES), 1,4 Dioxane, formaldehyde, or any other known carcinogens or toxins. Each product is HE Safe, Certified Vegan, and Certified Cruelty-Free by Leaping Bunny.
De-clutter the way you clean with one simple multi-purpose cleaner that human and fur-baby moms can feel good about–MomRemedy! This non-toxic brand utilizes naturally antiseptic hydrogen peroxide and only 3 other easily recognizable ingredients to tackle stains, dirt, grease, or grime while removing unwanted odors. Mom Remedy Everything Household Cleaner & Stain Remover – With just a few sprays, you can keep your countertops, highchairs, throw pillows, rugs, and more, fresh and stain-free!
Roux Maison all-natural Sports Laundry Detergent eliminates dirt, odor, and bacteria that thrive in technical and workout gear and is specifically engineered to maintain the elasticity of lycra, spandex, and all hi-tech fabrics, while also maintaining waterproofing qualities. It comes in three scents including Ambrosia, Sweet Tea, and Fragrance-Free. Roux Maison detergent is 6x concentrated so a 160z bottle is good for 40 loads of wash. That means both less water and energy are required for packing and transport. Just like the rest of Roux Maison products, these detergent rinses clean and is readily biodegradable, leaving no chemical residue on you or your fabrics. All products and ingredients are classified as non-hazardous, neutral pH, and vegan and free of sodium lauryl sulfate (SLS), sodium lauryl ether sulfate (SLES), formaldehyde, phthalates, 1,4 Dioxane, parabens, phosphates, optical brighteners, genetically modified (GMO) ingredients, marine pollutants, artificial fragrances, or artificial dyes. All detergents are low sudsing and safe for septic tanks.
Deena Drummond founded Roux Maison in 2012 and started manufacturing locally in Nashville, Tennessee. The brand democratizes access to superior and eco-friendly cleaning products and is proud to remain a woman-owned business.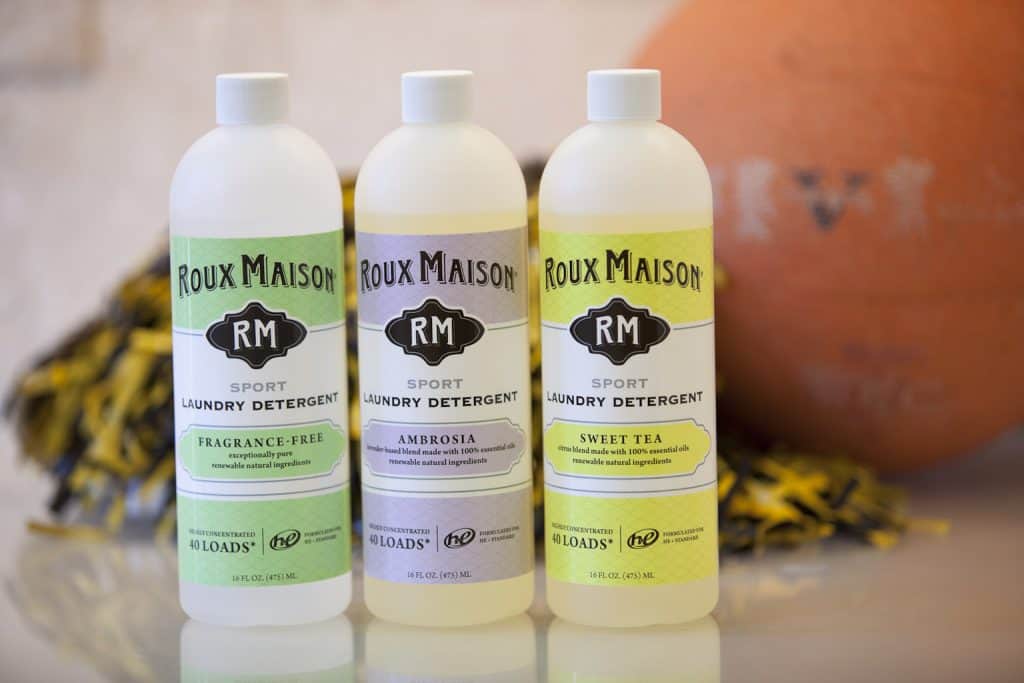 Sports Suds is a residue-free laundry detergent and unlike conventional detergents, it rinses away completely. It is specifically designed for high-tech sports clothing and made to leave clothes free of odor while removing residue buildup left by other detergents. Suitable for anything normally washed in water, it completely removes deeply embedded odor. To date, it's rescued countless thousands of odor-wreaked shirts, shorts, and personal favorites from exile to the landfill. Sports Suds is HE compatible, biodegradable, non-fragranced, hypoallergenic, non-toxic, made from all-natural materials, free of perfumes and dyes, and septic and gray water safe.
Please note: Sport Suds manufactures its products in both USA and Canada using raw materials, packaging, and talent located near their processing facilities and often no more than a few minutes away.
Disclosure: This is a sponsored post which USA Love List is proud to share with you because, sponsored or not, we only share stuff we love.