November 14: World Diabetes Day
World Diabetes Day was created by the International Diabetes Federation and the World Health Organization to educate people around the world about the health threat of diabetes. It is recognized every year on November 14th, the birthday of Sir Fredrick Banting, who in 1922 co-invented insulin with Charles Best.
Access to Diabetes Care
The campaign theme for 2021-23 World Diabetes Day is Access to Diabetes Care.
Millions of people with diabetes around the world do not have access to diabetes medical care. Even right here in the United States, people of all ages struggle with access to specialized diabetic medical doctors and medications. People with diabetes need ongoing care and support to manage their condition and complications. This can be a struggle for diabetics both financially and physically.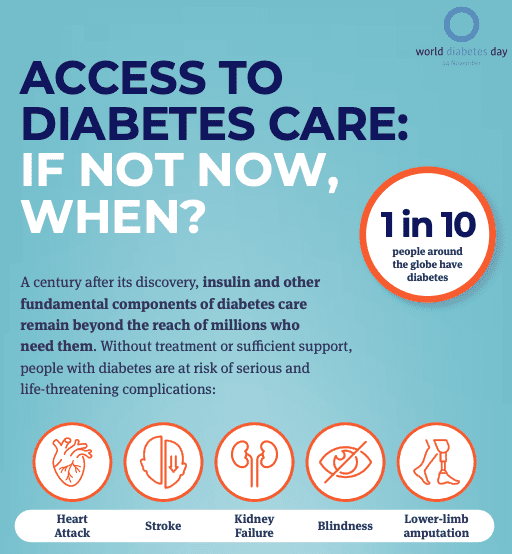 Made in USA Neoteric Diabetic Skin Care
If you have diabetes or a family member that does, then you know that foot problems are common with diabetics. Over time, diabetes can affect the nerves in a person's foot that can cause pain, tingling, and even loss of feeling in a foot. Diabetes can also lower the blood flow in the foot, causing poor circulation.
For more information on how diabetes affects the feet, visit the National Institute of Diabetes and Digestive and Kidney Diseases website.
Neoteric Diabetic Skin Care Advanced Healing Cream is patented and clinically proven to increase circulation, and speed healing of severely dry and damaged skin by stimulating collagen production and new cell growth. Advanced Healing Cream works with the first application to soothe skin and protect skin from further damage. The patented ingredient in Advanced Healing Cream is an oxygenated organic oil which is blended with vitamins and other nutrients.
Neoteric Cosmetics has been making skin care products for diabetics since 1998, and manufactures Advanced Healing Cream in the USA.
Neoteric Diabetic Skin Care Advanced Healing Cream is not just for diabetic foot care. It also works in aiding the healing of skin conditions brought on by radiation, chemotherapy, and dialysis.
Disclosure: This is a sponsored post which USA Love List is proud to share with you because, sponsored or not, we only share stuff we love.