The Whole 30 diet is a commitment that involves some serious preparation. It all starts with a solid Whole30 shopping list loaded with go-to foods to sustain and energize you on your journey. It's a bonus if there are some treats or new foods mixed in that you have never tried too.
Do I need to buy special food for the Whole30 diet?
One of the benefits of eating on the Whole30 plan is clearing out sugars, starches, and learning to really taste the flavors of the fresh, clean foods that are highlighted by the Whole30 menus. In an ideal world, we'd have all the time in the world for shopping and preparing the freshest, healthiest meals. Scratch that… in an ideal world, we'd have a personal chef shopping for and preparing our perfect Whole30 menu. Well, in the absence of that, we do have several fantastic lists of products you can look for in local stores or order online.
Why buy Made in USA when trying to "eat clean" on Whole30?
When you make your Whole30 shopping list from our source lists, you'll know that these are products you can trust. Every one is made in the USA, usually by small, independent producers. And each product has been personally reviewed by Jill Homiak, one of our editors who loves Whole30 so much that she has taken it from a diet to a lifestyle. She is one of the busiest women I know but she is also a genuine foodie so she has found the best grab-and-go snacks or meal replacements that will keep you from falling off the wagon or the most flavorful packaged sauces, broths, and dressings to make your meal prep a breeze.
Are snacks and packaged foods allowed on the Whole30 diet?
Technically speaking, no. On Whole 30 you should be preparing and enjoying regular meals of fresh, whole foods. In the real world, however, sometimes you need something to get you from the end of your workout, through a couple of errands, and back home to where you can prepare that good meal. Having some Whole30 compliant snack foods and packaged foods on your shopping list can make the difference in being able to stick with the plan to fully enjoy the benefits. Don't let the perfect be the enemy of the good!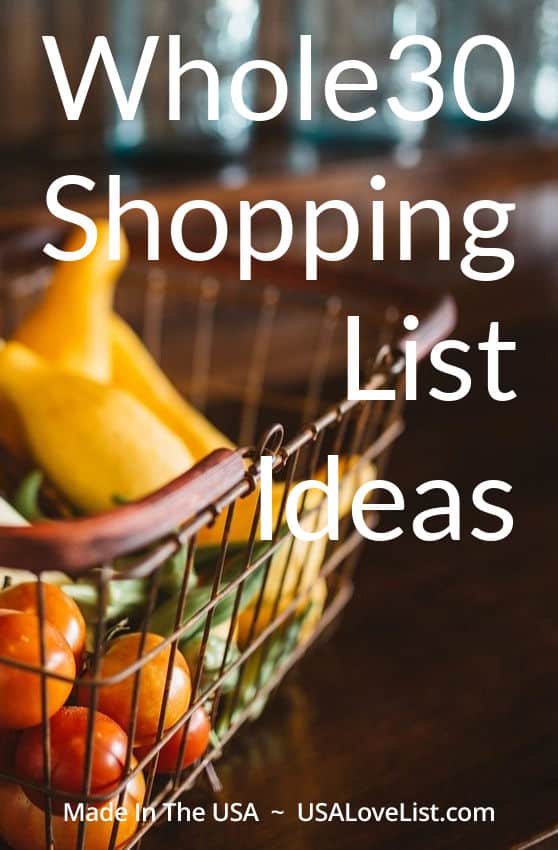 If you discover a Whole30 compliant product that should be on everyone's Whole30 shopping list, we want to know about it, especially if it is made in the USA. Please help us out by adding it in the comments section below. Bonus points if you tell us which state it is made in. We do update these lists regularly and we'll check those comments for your recommendations. Thanks for your help!