The weather is cold across the country and it's time to warm up. We're also into giving to cozy gifts. Are you looking for American made cold weather accessories? Here is the USA Love List ultimate source list for Made in USA winter hats, gloves, scarves, and other cold weather gear for men, women, and children.
American Made Cold Weather Gear, The Source List: For Men, Women, and Kids
Did we catch them all? If you know of a source for Made in USA winter hats, scarves, or mittens that we missed, go ahead and add them in the comments below so we can be sure to include them with the next update.
For more American made cold weather gear suggestions don't miss Made in USA Boots for Cold, Snow & Rain, Men's Boots Ultimate Source List, our source list for American made women's outerwear, and American Made Cold Weather Picks for Kids.
Looking for winter gloves? We have a list for that- Winter Gloves (and Mittens Too!) Made in USA
Golden Touch Naturals mittens, gloves, fingerless gloves, scarves and hats are made in the USA from alpaca fleece.
Golightly Cashmere gloves, hats, scarves for women, men, baby, and kids are made in New Mexico.
G & L Positive Goods Eco friendly hats, scarves, gloves for men, women, and kids are made in the USA from recycled and upcycled materials.
HotHands are air activated, one time use hand, foot, and body warmers that are made in Georgia. Shop the HotHands Amazon store.
Jack & Mary Designs hats, scarves, mittens, and more for men, women, and kids are made in Maine from repurposed sweaters and materials.
JYTTE unisex merino wool beenies are made in the Rockies.
Love Your Melon beanie hats are made in the USA.
Maroon Bell Outdoor has wool beanie hats that are made in the USA and fleece lined. They also offer made in USA cotton beanie hats with a pom-pom.
Don't miss our list of Base Layers & Thermal Underwear Made in USA
Michigan Mittens makes fun and functional USA-made products made in the Mitten State. They've taken warmth to a whole new level with these double layer "SUPERIOR" Michigan Mittens. They are made to keep you nice and toasty warm on those cold winter days with a washed rag wool outer shell and a soft acrylic liner. Sensitive to wool? These mittens have a soft acrylic liner, wrapped around the cuff so that the wool will not brush against your skin. They are 100% USA made. Theses Michigan made mittens are knit, hand cut, and sewn in a family owned knitting company in North Carolina and finished in Pontiac, Michigan. They are decorated, label assembled and packaged at Earth 2 Earth, a printing factory in Pontiac. These mittens are handled by no fewer than 8 American workers.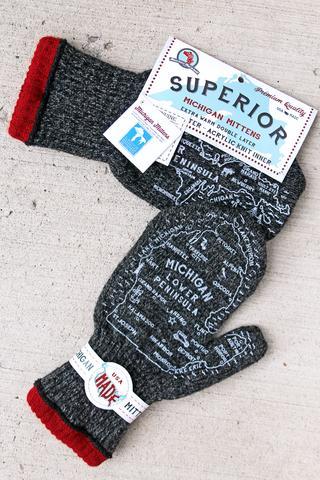 The Mitten Co. wool mittens for men, women, and kids are made in USA from repurposed sweaters
The Mouse Works felt hats for adults and kids are handmade in Virginia.
Ohio Knitting Mills merino scarves are knit in Ohio.
Runyon beanies and skull caps are milled, cut, and sewn in the USA. They are available in a variety of colors and styles. One size fits all.
Skida outdoor gear for men, women, and kids includes hats, neckwear, mittens, and headbands all made in Vermont.
Stormy Kromer hats are made in Michigan. These heritage hats for men, women, and kids are warm and comfortable as a baseball cap. The band slides down to cover the ears when it gets really cold. Stormy Kromer now makes mittens and scarves for men & women too!
Tuff Kookooshka produces unique hats, scarves and jackets for boys and girls of all ages, made in Massachusetts- some hat styles even come in adult sizes.
Turtle Gloves is a Michigan maker of fingerless gloves, convertible mittens, and other outerwear accessories for men, women, and kids. Turtle Gloves Weather Protect Heavy Mittens are warm, water-resistant and windproof. Shop the Turtle Gloves Amazon store.
Wintergreen Northern Wear coats, hats, mittens, and more for men, women, and kids are made in Minnesota.
Have you visited our Made in USA Shopping District? It is the place to start your shopping when you want to find the best of American-made.
Love this list? We know you will love these lists too!