I am so excited to share this list of amazing Whole30 approved foods that I've discovered along the way, which is great for your Whole30 grocery list. This post has recently been updated with new information.
I've just ended my fifth round of Whole30. My great results (or non-scale victories (NSV)) from doing Whole30 this last time were losing inches, glowing skin, and no knee aches. Those are great results, right?
If you are new to the Whole30 Challenge, read my post about Whole30 Challenge guidelines and tips that I have discovered along the way.
Whole30 Approved Foods for Your Grocery List
LanoLife: On the go protein products
LanoLife grass fed bone broth is nutritious and delicious! The on the go powdered broth pouches were created for those on the go. The easy to serve single doses make a refueling snack brake both quick and healthy. LanoLife bone broth comes in chicken and beef bases with other flavor options. All broths are 100% Paleo and Keto friendly too. Each serving has 10 grams of protein. I was skeptical that a powdered broth could be good, but LanoLife changed that. This broth is incredibly flavorful. It's also available by container and single serve cups.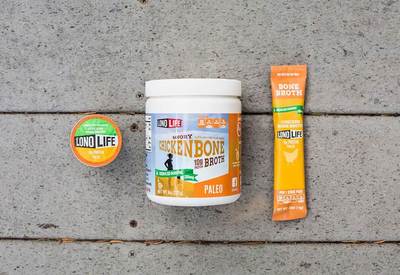 Chomps
CHOMPS® redefines snacking that's good for you with its signature meat snacks. Chomps meat snacks are made from the highest quality, humanely-raised meats and they contain only natural ingredients. Chomps is the only meat snack that is Grass-Fed & Finished, Whole30 Approved, Certified Gluten-Free, Certified Paleo, Non-GMO Project Verified, and Certified Humane. Take 15% off CHOMPS meat jerky with code USALOVE at checkout.
Whole30 Approved Beverages
During my second Whole30, while at my cousin's house looking for compliant tea, I found the tea brand she had in her pantry included cornstarch in the tea bags. I was shocked. Why would cornstarch be in a tea bag?! It simply goes to show that our food system needs a complete rehaul and that you have to check labels to make sure you're not ingesting ingredients that serve no purpose for optimal health. I feel fortunate to have found the items I've listed below as options for Whole30 compliant teas, pre- and post-workout drinks, and sparkling water and other beverages.
GT's Kombucha is my all-time favorite kombucha brand. You simply can't go wrong with this brand. Check the labels because some flavors have maple syrup. I enjoy Multi-Green on Whole30 because it doesn't have any fruit juice and is, therefore, unlikely to entice your sugar dragon.
LyteLine is a perfect replacement for sugar and additive-laden sports drinks. There are zero additives and no sugar. Just a light, refreshing lemon flavor. The brand offers electrolyte-replenishing, liquid concentrate and sports drinks created specifically for health-focused people who don't want unnecessary sugar or additives in their electrolyte products. The ingredients include balanced ions of magnesium, sodium, chloride, and potassium and zinc, an essential trace element, and citric acid. LyteLine products contain no calories, sugars, sweeteners, carbohydrates, artificial colors, flavors, or preservatives and is non-GMO, vegan, vegetarian, and gluten-free.
Mushroom Tea – See our full list of medicinal mushroom options that happen to be Whole30 compliant by nature.
Numi Organic Tea makes the best organic teas with no additives.
Om Energy makes for a great pre-workout Whole30 compliant drink. It's a mix of mushrooms and vitamins including, Cordyceps, Reishi, Turkey Tail, Agaricus blazei, Maitake, King Trumpet, turmeric, yerba mate, guarana, and Vitamin D, C, B2, B3, B6, and B12. It's great for week two when you're most likely to be feeling an energy slump before experiencing the 'tiger blood' stage where you'll get a boost of energy.
Sparkle Skin Boost Powder is a great way to get a collagen boost with vitamin C. These ingredients improve fine lines and skin elasticity. No other product has improved my fine lines more than this one!!! Cheers to that NSV! I'm a huge fan of this product for its clean ingredients, results, and taste. NOTE: Only the No Flavor option is compliant.
Spindrift makes the best sparkling water because they only add natural, farm-picked fruit juice for full flavor, with no added sugar. Cucumber, Mango Orange, and now Pineapple, Spindrift's NEWEST flavor, are my personal favorite flavors, and I've tried them all!
Whole30 Approved Broth and Soup
Whole30 compliant bone broth and soups are pretty hard to find. Almost every mainstream brand on the market has added sugar, soy or wheat. Even when I'm not on Whole30, I like to enjoy clean bone broths and soups with nutrient dense ingredients from brands I trust. If you're interested in trying bone broth, it is high in protein, calcium and critical amino acids like glycine and glucosamine, which are great for bone and joint health.
Whole30 Approved Dairy-Free Creamer and Nut Milk
I've noticed that some people think that they have to drink coffee black while on Whole30. While that is an option, you don't have to drink it black if you don't want. We've found four made in USA, dairy-free creamer and milk options from brands we trust.
Califia Farms Better Half Coffee Creamer, Unsweetened is a great option especially for people who are used to using a thick creamer. It's dairy-free, soy-free, gluten-free, sugar-free, and carrageenan-free, making it Whole30 compliant.
MALK Organics, Unsweetened Vanilla Almond Malk is the cleanest nut milk on the market with no fillers or binders. The Vanilla Almond Malk is made with organic almonds, natural vanilla flavor derived from vanilla beans, Himalayan salt, and filtered water. It's not a creamer, but it is an option to add to your coffee.
Neuroast Supercream offers the only powdered coffee creamer I've found to be Whole30 compliant. Both Original and Pumpkin Spice options are compliant.
nutpods is my go-to dairy-free creamer. All their flavors are Whole30 Approved. If you're looking for rich, flavorful coffee that you'll be excited to drink, I recommend nutpods Hazelnut Unsweetened Dairy-Free Creamer. It's made from heart-healthy almonds, MCT-rich coconuts, and is free from carrageenan, dairy, soy, gluten, and sugar. It's made from simple ingredients including purified water, coconut cream, almonds, natural flavors, and contains less than 2% of acacia gum, sunflower lecithin, dipotassium phosphate, gellan gum, and sea salt. While I typically don't use creamer in my coffee, I find that the richness and texture from nutpods makes a real difference in making me excited for my coffee every single morning! 15% off with code USALOVE.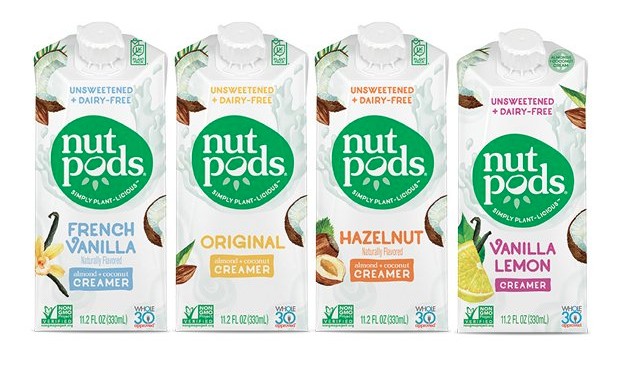 Whole30 Approved Collagen
If you're looking for another way to supercharge your coffee, I'd suggest adding coconut cream or MCT oil along with collagen for bulletproof coffee. I've used all these brands and trust their ingredients. They dissolve easily in warm or hot liquid and are tasteless.
Whole30 Approved Condiments & Dressing & Marinades
Pre-made Whole30 compliant condiments, dressing, and marinades can be pretty difficult to find. There also aren't that many options. The brands listed below are ones we suggest for the vibrant flavors they bring to any dish. All of them are small, family-owned businesses making some or all of their products Whole30 compliant. Of course, these are all made in the USA, so you can trust the ingredient list.
I'm going to give my schpiel about Whole30 compliant mayo. There is no store-bought mayo, compliant or not, that tastes better than homemade mayo. I use this recipe and with these three simple tips, you can create fail-proof, Whole30 compliant mayo. 1) Make sure your egg has reached room temperature. 2) Use avocado oil or light olive oil. 3) Get yourself an immersion blender. 4) Make sure the ingredients are covering the blade of the blender before you turn it on. Voila! 15 seconds later you have the BEST mayo of your life!
Dress It Up Dressing offers three compliant flavors, Champagne Vinaigrette, Red Wine Vinaigrette, and Blackberry Vinaigrette. (Note: Only Malt vinegar is prohibited on Whole30 because the finished product in malt vinegar contains gluten.) These compliant dressings are packed with flavor making them easy to use on salads or on poultry or seafood. Dress It Up Dressing is a Certified Women-Owned Business and B Corp based in Maryland.
Loisa makes all-natural, Latin inspired seasonings that put Goya to shame. Both the Sazón and Adobo seasonings are incredibly flavorful. Use them as a rub for intense flavors you're sure to want over and over again. These seasonings contain no MSG, artificial colors, flavors, or preservatives, ever. Additionally, they are certified organic, on-GMO, and plant-based.
Mesa de Vida Whole30 Approved sauces are a must-have for marinating or just to have on the side as a seasoning to dress your meal. I don't think I've ever tasted a sauce so flavorful! Cooked for only 30 seconds prior to packaging, Mesa de Vida concentrated flavor bases are great for cooking from-scratch meals inspired by vibrant cultures from around the world. Mesa de Vida is a women-owned business based in Washington State.
Noble Made by the New Primal Whole30 Approved BBQ and Buffalo Sauces have exceptional flavor and are great for whipping up quick, flavorful recipes for the entire family.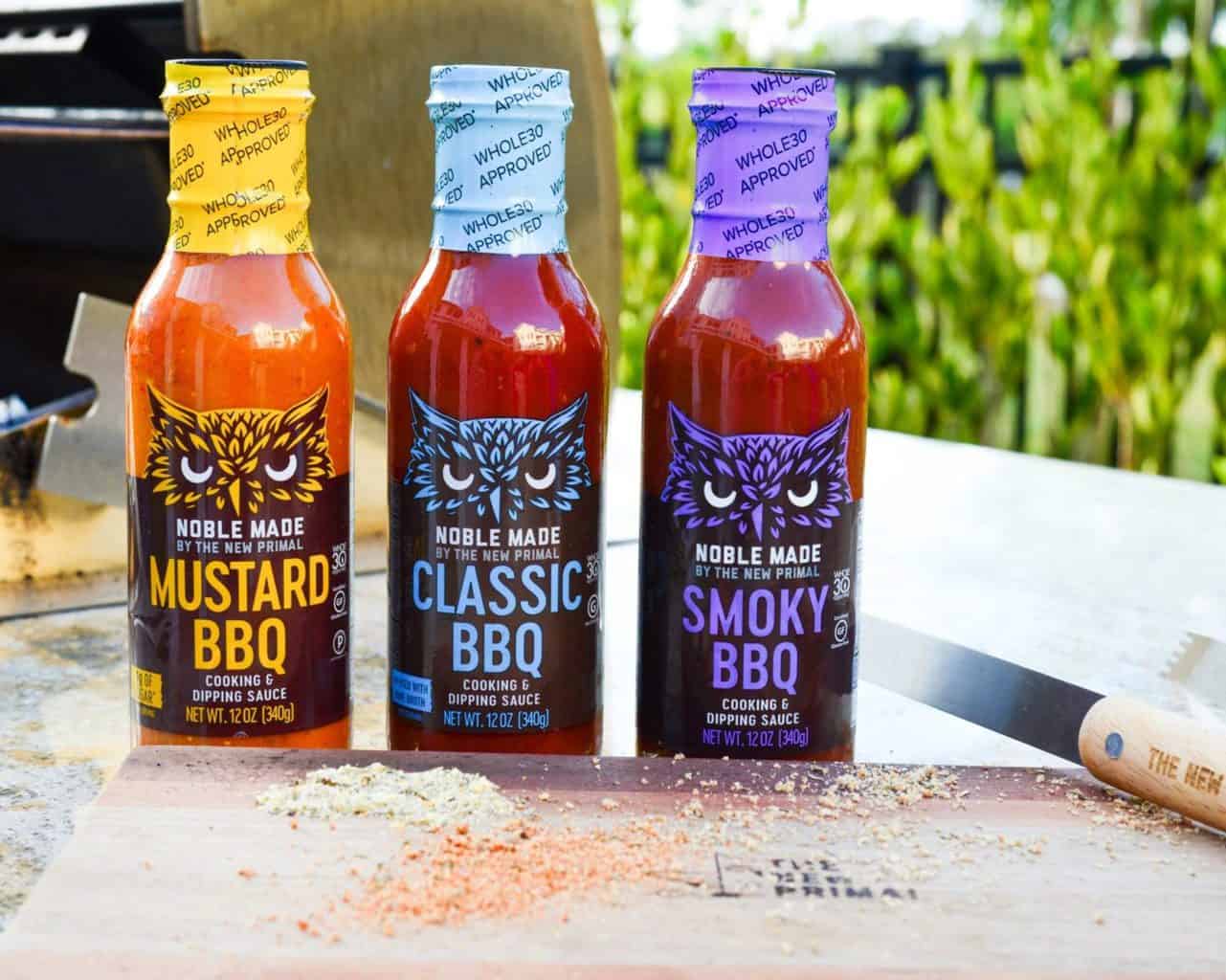 Noble Made by the New Primal Whole30 Approved Dressing consider this four-piece dressing kit from The New Primal to serve as a mini wardrobe for your precious greens. With a portfolio of flavors that range from smooth and bright to tart and snappy, our capsule collection transforms any veggie, taco, or poke into a real taste-bud turner.
Noble Made by the New Primal Whole30 Approved Ketchup is my favorite ketchup on the market, even when I'm not doing the Whole30 challenge. I love its tangy and sweet taste and smooth and thick texture. It's sweetened with pineapple juice and seasoned with onion powder, garlic powder, allspice, and cloves.
Saucy Lips is a small family-owned and operated company. They make healthy, natural, gluten-free, dairy-free, soy-free, GMO-free, vegan, and paleo-friendly products. Their marinates are great for cooking quick, flavorful meals. The Zesty Cilantro flavor is my personal favorite.
Tessemae's Whole30 Sauce Boss is a collection of Whole30 Approved marinades, dressings, sauces, and ketchup. I like to use these dressing on salads or as a meat marinade. They offer classics like Creamy Ranch and Lemon Garlic. Find them at your local Whole Foods, or online.
Yai's Thai uses simple and healthy ingredients without sugar or artificial ingredients. Yai means grandmother in Thai, and this line of Whole30 Approved hot sauce, salsa and simmer sauces uses traditional Thai ingredients for unique, bold and zesty flavors that pair well with everything from eggs to fish and beef. They're bursting with flavor! 20% off Yai's Thai with discount code USALOVE.
Whole30 Approved Emergency Snacks
Whole30 Snacking ProTip: When looking for Whole30 Compliant emergency snacks, think high in protein, and low in carbs and sugars. Don't be fooled by popular energy bars, many are non compliant!
For a list of Whole 30 compliant snack ideas, don't miss our list of the made in USA products we love.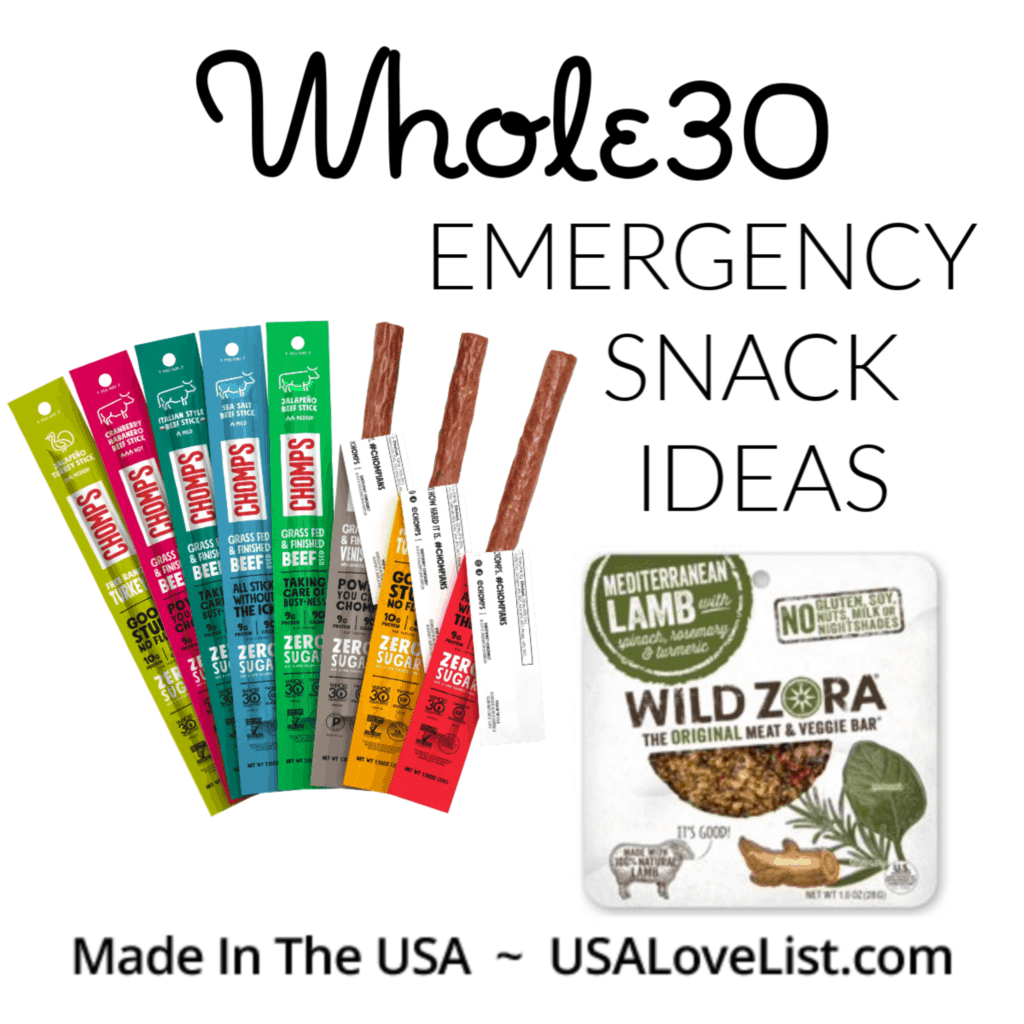 Whole30 Approved Grain-Free Flours
Anthony's Goods is my go-to brand for grain-free flours. These flours are not meant for recreating paleo friendly treats, but rather to use for breading on meat or fish and or to thicken sauces or soups. Anthony's Goods offers high quality, organic, non-GMO, products that are priced well below many other brands. That's just one of the reasons we love them!
Whole30 Approved Healthy Plated and Fat Options
Plated Fats:
Avocado or guacamole (We love Wholly Guacamole!), cashews, coconut butter, coconut meat, coconut flakes, and coconut milk, hazelnuts, macadamia nuts and butter, and olives are all considered healthy plated eating fats. If you're looking for more information on which Whole30 fats are best, take a look at their official shopping list.
Cooking Fat:
I like using cooking oils with high smoke points so they do not burn and create carcinogens. I suggest coconut oil (350°F smoke point) or ghee (485°F smoke point).
For coconut oil, Nutiva Liquid Coconut Oil is organic and non-GMO. It is the world's best-selling brand of organic coconut oil. I trust this brand and use their products whether I'm on Whole30 or not.
Ahara Rasa offers the most unique varieties of ghee on the market including Brown Butter, Chai Spice, Lemon & Garlic, Niter Kibbeh (Ethiopian Spiced Ghee), Tumeric & Black Pepper, and Vanilla Dream. Made in Portland, Oregon from organic, local, pastured, cultured cow's butter. We love the Gold Star for sautéing or roasting vegetables; the Bulb & Rind for chicken and seafood; and the Vanilla Dream for our bulletproof coffee. The newest flavor, Chai Spice Ghee is also Whole30 compliant.
Ahara Rasa Niter Kibbeh (Ethiopian Spiced Ghee) won the Best New Product Sofi Award in 2018 in its category. The Sofi Awards are like the Oscars of the food industry.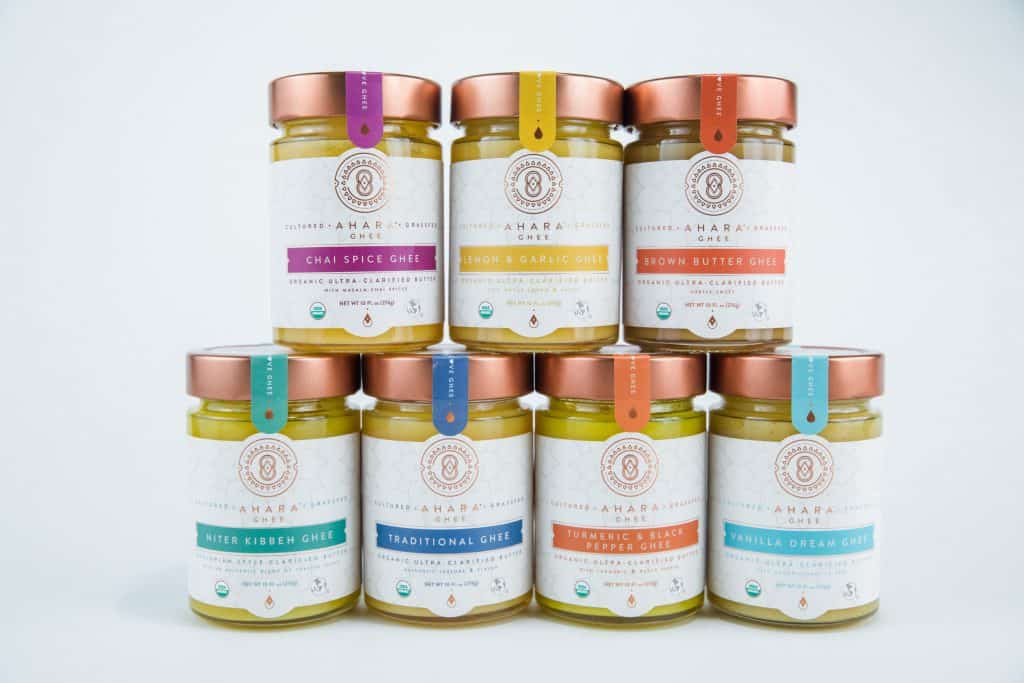 Don't miss our full list of American Made Whole30 Compliant Ghee options.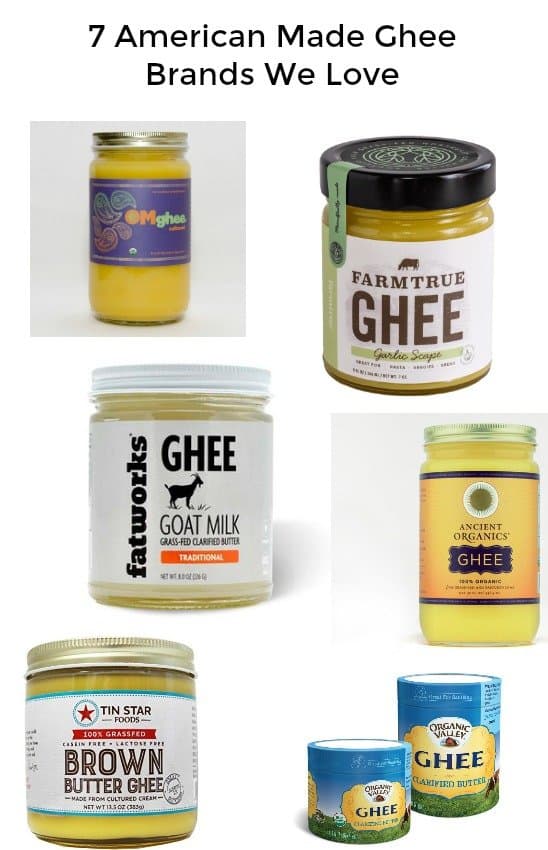 Whole30 Approved Hot Sauces
Luckily there is no shortage of super flavorful Whole30 compliant hot sauce options on the market. From well-known brands sold at big retailers to small family owned businesses sold online, Whole30 compliant hot sauce options are abundant.
Bravado Spice Hot Sauce, This is the best hot sauce I've ever tried. It's incredibly flavorful and is well balanced with heat from the jalapeño and a sweet tangy from the green apple.
Frank's Red Hot Sauce is a well-known brand and surprisingly happens to be Whole30 compliant.
Horsetooth Hot Sauce is a family run company that has been crafting its hot sauce in Fort Collins, Colorado since 2008.
Picaflor Boulder Sol and Vida Verde Hot Sauce varieties are both Whole30 compliant and made with organic fruit.
Saucy Lips has seven flavors of compliant sauces that are fruit and spice based. They're awesome!
Tabasco is a well-known brand and surprisingly happens to be Whole30 compliant.
Wildbrine offers two Whole30 compliant hot sauce flavors including Smoky Jalapeño Sriracha and Spicy Kimchi Sriracha. I like them both, but prefer the Smoky Jalapeño Sriracha for its more mild taste.
Whole30 Approved Jerky
We have a full list of our favorite Whole30 compliant jerky. Remember that jerky is meant to be an emergency snack and only eaten when there is no other compliant food around.
Whole30 Approved Grass-Fed Meats and Seafood
There are some great resources for grass-fed meats and sustainable seafood that are all Whole30 compliant. If you're looking for non-scale victories (NSV) cooking with new ingredients is a great way to feel empowered about your food decisions and your path to food freedom. See my tip below for cooking fish fillets quickly, while keeping them moist, tender and flavorful.
Greensbury Market is a nationwide delivery service for the healthiest, most responsibly sourced proteins. Over the past decade, they have hand-picked quality products from the best U.S. organic farms, ranches, and fisheries. They offer organic, grass-fed, grass-finished meat sourced from a collective of family farms in the USA, 100% USDA certified organic and antibiotic-free chickens and turkeys, and wild seafood that is certified by the Marine Stewardship Council and raised using methods that cause little to no harm to wildlife and ensures the protection of our ocean's ecosystem. That means no chemicals, no hormones, no antibiotics, and no GMOs are used on any of Greensbury Market products. Read more about grass-fed meat here. 
Sizzlefish, I seriously love you so much! I've had the Wild Sea Scallops, Wild Alaska Halibut, Wild Alaska Haddock, Wild Atlantic Cod, and Calamari. I found all the seafood to be fresh and super tender. The easiest and fastest way I found to cook the fish fillets was to poach them in hot ghee in a saucepan. I hold the fillets with tongs so they won't quite touch the bottom of the pan, but I have it sitting in the hot ghee to cook. (This way the fillets won't stick to the pan.) I hold each side of the fillet in the ghee for about 45-60 seconds. This keeps the fish tender without overcooking it. Works like a charm every time. They deliver nationwide.
Tribalí Foods Beef Patties Umami have amazing flavor and I can't imagine going through Whole30 without them on hand! I love having these patties on hand for Whole30 because they make it so, so simple to create a meal by simply adding plated fat and lots of green veggies. They come individually sealed and frozen. They have 19 grams of protein and are made with organic 100% grass-fed beef, garlic purée, shiitake mushrooms, fire roasted onion, Red Boat Fish Sauce (anchovies, sea salt), Umami seasoning (dehydrated garlic and onion, sea salt, mushroom powder, spice, olive oil ), and nori seaweed.
Whole30 Approved Meal Delivery
There is a lot of meal prep and cooking with the Whole30 because finding compliant options at mainstream restaurants or on-the-go options can be pretty difficult. If you're looking for Whole30 compliant meal delivery options that cut down meal prep time, without sacrificing flavor, I highly, highly recommend the options below.
CavemanChefs makes it easy to buy Whole30 compliant meals a la carte or via subscription. Their meals are hearty, perfectly seasoned, satiating, and completely Whole30 compliant. The Lemon Dill Salmon has been my favorite so far! The website makes it easy to search on Whole30 compliant meals that are available each week. CavemanChefs is a chef-owned company offering the best quality of food available. They use all-natural, grass-fed, grain-free, sustainable, and organic foods to create complete meals delivered straight to you. CavemanChefs offers Whole30 compliant meals at free pick up locations around Denver to Boulder or they ship nationwide. You can order the meals to be delivered fresh or frozen, which makes it very convenient for meal planning.
Cooked offers Whole30 Approved meal delivery. The meals arrive fresh (not frozen), ready-to-eat, and are delivered nationwide. They are proud to source locally and organic whenever possible. I've loved the variety and flavors of all the meals. They're truly a great way to save time during your Whole30 journey. 15% off Cooked with discount code USALOVE. Valid on first orders over $45 only. No expiration.
Territory meals are by far my favorite Whole30 Approved Delivery option. Wow, was I blown away by how incredible every Territory Whole30 compliment meals are. The flavors are simply incredible, even when the meal seems pretty basic. I'd gladly eat Territory meals on a daily basis. Territory meals are prepared by local chefs. If you're in Southern California, San Francisco, Dallas, or the Washington DC, Maryland, and Virginia metro area, they deliver fresh, Whole30 Approved meals right to your doorstep. It's worth the indulgence.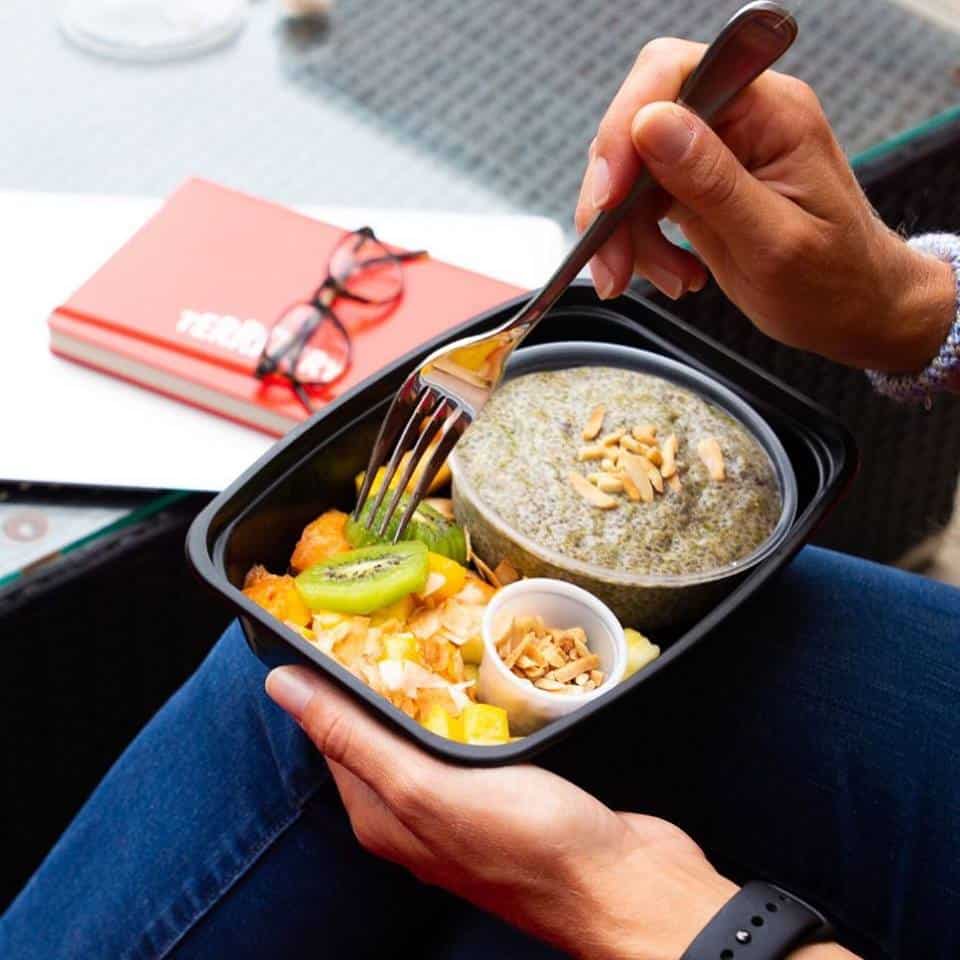 Whole30 Approved Nut and Seed Butters
Nut butters can be a sugar dragon triggering food. While these nut butters contain no sugar and are Whole30 compliant, they can trigger your brain to want foods that do have sugar. Make sure you're not eating nut butter by the spoonful as a snack in between meals, but rather as a plated fat with a meal. If you're feeling hungry between your three meals of the day, it's likely because you're not eating enough plated fat at each meal. These options are great to have on hand as plated fat or as an emergency snack.
Artisana raw, organic nut butters are so incredible. They're perfect for satiating hungry, but don't eat this if you're worried about your sugar dragon.
Barney Butter Raw + Chia is amazingly smooth, creamy, and flavorful almond butter blend. I've been a fan for many years now.
Bliss Almond Coconut Nut Butter, made with unsalted dry roasted almonds, coconut oil, desiccated coconut meat, and sea salt, is a great option for adding on top of celery and eating at mealtime because of its high-fat content. I love the crunchy texture too!
Blue Mountain Organics is a USA Love List favorite because they're made with certified organic, raw nuts to create a simple nut butter. The texture and flavor are incredible. These nut butters are made in Virginia's Blue Mountain region.
Crazy Go Nuts Plain Walnut Butter is a great option for making your own walnut sauce which is a simple mix of walnut butter, coconut aminos, and lime juice. I put it on my cauliflower fried rice for added fat and flavor.
Dastony is another USA Love List favorite because these nut butters are simply stone grind certified organic, raw nuts made into nut butter. The raw cashew butter is my personal favorite. Honestly, you might want to consider using their nut butters to make nut milk because they taste too darn good to not eat by the spoonful.
Kalat Superfood's Blueberry Cinnamon Walnut, it's oh so nice to meet you. I cannot get enough of this Paleo and Whole30 friendly nut butter. It's made with roasted almonds, walnuts, dates, blueberries, organic coconut oil, organic cinnamon, sea salt, and added vitamins. NOTE: If you're worried about awakening your sugar dragon, I would wait until post Whole30 to try this one.
Nutiva Coconut Manna is a great option for getting in your healthy plated fat at mealtimes. It's great to add on top of cooked broccoli or chicken for extra flavor.
Once Again uses only the finest organic nuts available to make its creamy nut butter. Their natural creamy nut butters are made with only nuts, nothing else, for wonderfully rich-tasting nut butter. The butter is packaged in glass jars derived from 50% recycled glass. I enjoyed the almond, cashew, and sunflower seed butters.
Soom Foods Tahini is made with just one ingredient, Ethiopian grown sesame seeds. I find it to be one of the richest and flavorful brands of tahini on the market.
Whole30 Approved Salsa
Whole30 compliant salsa is another category that can be tricky since most salsas on the market have added sugar. From well-known brands sold at big retailers to small family owned businesses sold online, Whole30 compliant salsas aren't too hard to find.
Whole30 Approved Tomato Sauce
Whole30 compliant tomato sauce is another one of those hard to find product categories. Here's a full list of options for dairy free, soy free, sugar free, wheat free options. Be sure to look at each sauce variety individually as some brands have tomato sauce made with wine or other non-compliant ingredients. Each brand name is linked to a compliant option.
Sick of cooking yet? If you're looking for compliant Whole30 compliant options for eating out, check out our Whole30 Restaurants by City List and if you're near True Food Kitchen, it's always a safe bet as well.
Why Try to Buy American When Putting Together Your Whole30 Grocery List?
Whole30 is all about fueling your body with wholesome quality ingredients. All the time, but especially when you are hoping to get results from the Whole30 program, you want to be able to trust that what you see on the ingredient list is what you are putting in your body. These American companies are often small, independent companies, manufacturing their products in the USA for the love of it, with a focus on quality. You could probably call them up and talk to them if you wanted to! Support these companies you can count on. As long as you are reading the nutrition labels anyway, also keep an eye out for "Made in the USA".
Are you doing Whole30? Thinking about it? Let us know in the comments below!
Follow USA Love List's board Whole30 Recipes on Pinterest.
Disclosure: This is a sponsored post which USA Love List is proud to share with you because, sponsored or not, we only share stuff we love.
Have you visited our Made in USA Shopping District? It is the place to start your shopping when you want to find the best of American-made.

Pin this list to save it for later!