Dream It. Do It. is a non profit grass roots network that aims to recruit a skilled and educated American manufacturing workforce, as well as to change public misconceptions of manufacturing careers.  Most of the recruitment focus is put on today's youth, junior high to college age, with the intention to spark career interest and to help them form an educational plan for a  rewarding, high paying job in the manufacturing industry.
What makes Dream It. Do It. so effective is the fact that it doesn't preach a 'one size fits all' national program to promote interest in manufacturing careers. Dream It. Do It. recognizes that increasing the interest in manufacturing careers at a state and regional level is more important, as manufacturing specialties vary from state to state.  Dream It. Do It. helps regional and state entities, like schools, community groups and manufacturers,  network to gain the tools needed to promote the specific manufacturing careers available in their area.
Currently there are 28 states participating in the Dream It. Do It. network
You can find out here if your state participates. Arkansas, Maine and Oklahoma have recently joined and are not yet on this list.  If you don't see the state you reside in as a member, but know it will be beneficial to your area, contact your state's manufacturing association or your state's Economic Development Commission or similar entity, and encourage them to join.
Recently I was able to attend a Manufacturing Mania event hosted by Connecticut Dream It. Do It. that was aimed at introducing junior high students to skilled, well paying career opportunities in local manufacturing industries.
About 100 students from eastern Connecticut schools attended the event. In opening remarks, these students' preconceived notions of manufacturing work were challenged. They were informed that in Connecticut, the average salary is $50,000, while people working in the manufacturing industry make an average of $51,000- $86,000 a year. They were told by U.S. Congressman, Joe Courtney, that in Connecticut manufacturing careers are the innovative jobs of the future.
A career in manufacturing consists of more than putting things together, it can involve engineering, technology, education and skill.
Students were divided into different groups to participate in activities.
There was an area of the event set aside for students to visit with representatives from  companies and educational facilities. Here students could  learn what these companies manufactured and what educational path to take for a career in manufacturing.
It was interesting to see that quite a few of the companies in attendance, like GKN Aeropsace, are worldwide companies that have a manufacturing site in Connecticut. GKN Aerospace manufactures parts for aircrafts that are used by other Connecticut companies, Pratt and Whitney (jet engines) and Sikorsky Aircraft (helicopters).
Also, most of the companies in attendance manufacture parts, not whole products.  For example, Alpha Q Inc. manufactures parts for Rolls Royce and for Sikorsky's Black Hawk helicopter. Acme Wire Company, a family run business, manufactures wire products, like the protective wire of  face masks, and fan covers.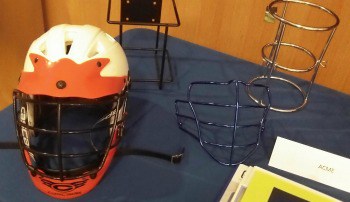 In the Demonstration area, students were shown examples of the computer technology used in today's manufacturing.  3D printing is an area that is growing in popularity and where technology is constantly advancing.  It was cool to see some 3D printers in action, and the students were fascinated.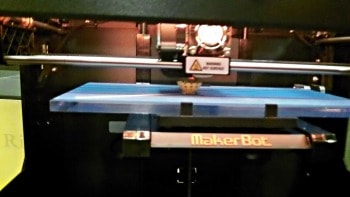 I was not surprised at all to see K'NEX (made in Pennsylvania) as a main component of one of the Manufacturing Mania activities! In the K'NEX Competition area, students were separated into 4 manufacturing teams. They were assigned "jobs" and tasked to build a product with K'NEX by following diagrams. Here they learned the importance of following directions, and working together. The team whose final product passed  inspection first, won.
At the end of the day, several of the students I talked to had a new appreciation for careers in manufacturing. Some said they would consider looking into engineering as an option. Some said they liked the computer and technological aspects and could see themselves doing something in that area. Overall, I think that Connecticut Dream It. Do It.'s Manufacturing Mania event was a great success. Youth were exposed to careers in Connecticut Manufacturing, and their eyes were opened to the possibilities.