Kleen Freak is a made in the USA system designed to keep your car looking fantastic and protected from the elements. The better news; Kleen Freak's detail system takes less than ten minutes and doesn't involve touching a hose.
Keep Your Car Clean
The Bureau of Labor and Statistics lists transportation as the second largest area of household spending in the United States. For a large percentage of people, that transportation expense consists of the cost to obtain and maintain their cars. So why not take the time to keep your personal vehicle spotless week after week? We found a made in USA car care product to help you stay on top of the job.  [youtube http://youtu.be/Xr0AQmj9vGo?rel=0]
Waterless Car Wash
Technology has finally caught up with the antiquated ways of washing your car. It is no longer necessary to fill a bucket with dish soap and spend a Saturday morning rubbing dirt into your paint with an old sponge. With modern microfiber cloths and advances in cleaning solutions, it is easy to keep your car clean for its life without ever spraying it with a hose.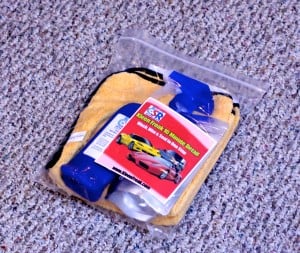 How to Wash Your Car in 10 Minutes – no water!
The Kleen Freak 10 Minute Detail couldn't be simpler. The entire system consists of a bottle of detailing solution and three micro fiber cloths. To use it, mist a section of your car with the detailing solution, wipe with one of the cloths and lightly buff with the other. Spraying and wiping to remove dirt may sound like sacrilege to those of us who grew up with a bucket of water. The detailing spray breaks the dirt's attachment to your car, and the microfiber lifts it away as you wipe.
What's wrong with water car washes?
There are two more salient points about a system like Kleen Freak. First, it doesn't take any longer than driving down to your local drive through car wash and you end up with a much better result. A particularly well maintained cloth brush car wash can do a good job of making your car look clean. The problem is that many of them are using extremely coarse brushes that cause fine scratches in your car's paint. Initially, these "swirl marks" aren't noticeable and may not cause irreversible damage. Over time, the small scratches remove the luster from your paint and can permanently damage the finish. Second, waterless car wash systems, as the name implies, save a lot of water. Given the ease of the process, it has become irresponsible to wash gallons of clean water down your driveway.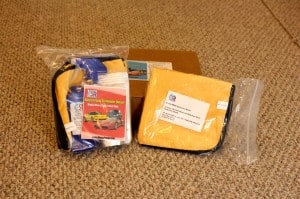 An American Made Product We Love
The final note I want to share is that Karl Eberhardt from Kleen Freak is a genuine American businessman who truly cares about his products and customers. Outside of being a fantastic product, Kleen Freak is an exceptional consumer experience from an American owned and American manufactured product. Take 10 minutes out of your week to keep your car clean, you'll be happy you did.
Disclosure: USA Love List received this product unconditionally for review purposes. Our opinions are always our own, and we aim to write fair and balanced reviews to promote only the very best of American-made products.  This is a sponsored post, but we're glad to share it because sponsored or not, we only share stuff we love.