The details of face contouring makeup tips can be overwhelming but they don't have to be.  The fundamental idea is very basic and often times just gets lost in translation with an overwhelming amount of products, shades and brushes to consider.  I am going to break down the basics to make the idea easy and comfortable and then share a good, simple, natural and American made makeup source (Rejuva Minerals) where you can get everything you need.
Face Contouring Makeup Tips – Beginners Basics
The basic premise is to even your complexion with foundation, lighten the areas that would be naturally lit and darken areas to define the facial shape structure.
Apply foundation all over.
Add Highlighting (light shade) = Apply where light would naturally hit the face; nose bridge, cheek bones, top of chin and forehead.
Tap light pressed powder onto these areas and blend the edge.
Finish with Bronzer (darker shade) = Apply to hollows of cheeks, temples, jaw line, and sides of nose.
Sweep onto these areas using light, blendable strokes.
Heavy contouring is losing momentum as makeup trends are leaning towards the more natural look.  I am wearing a version of the "no makeup" look.  In addition to following the steps above I also have blush along my cheek bones with light eye and lip makeup applied.
Rejuva Minerals highlighting and contouring shades used above:
Choosing your highlighting and contouring shades.
You want to select a contour shade (dark) that is 2 to 3 shades darker than your foundation.  When using a bronzer you want to avoid any shimmer and sparkle.  It should be a matte finish.
A highlight shade can be done with or without any shimmer.  A slight hint of shimmer on the cheek bone area adds some radiance but can look fake on the forehead, nose and chin.  A foundation or concealer 1 to 2 shades lighter work well to highlight naturally.
Rejuva Mineral Makeup's highlighting and contouring photos and tutorials use pressed powder foundation and bronzer.  It keeps it simple to understand and apply, leaving you with a flawless and natural finish.  They have several different complexions featured that give the details, including what colors were used to achieve the look.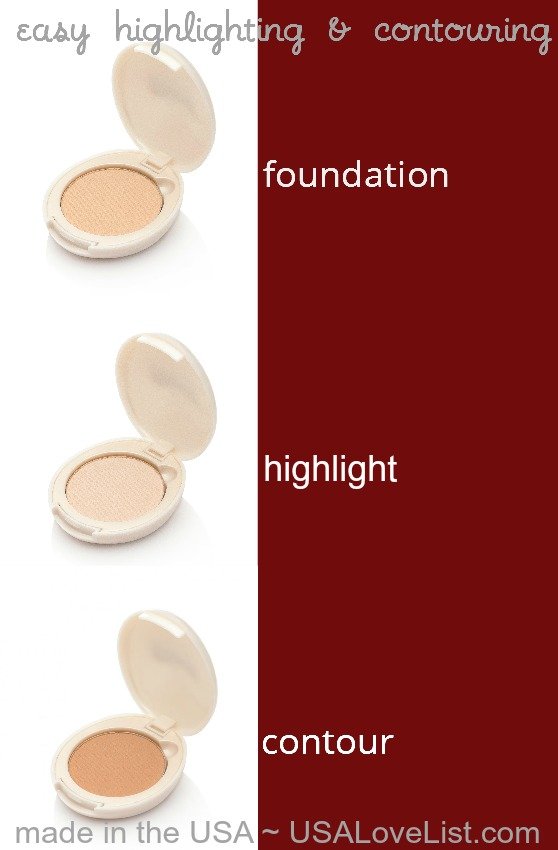 Visit their website to see the variety of looks and how to's.  Rejuva Minerals cosmetics are all made in the USA.