I'm here to tell you… finding made in USA clothing for kids is possible! Believe it or not, there ARE a lot of companies out there that manufacture children's clothing in America. Here is a list to prove it!
Made in USA Clothing for Kids
Made in USA Organic Kids' Clothing: Two Crows for Joy
Two Crows for Joy is the website to visit if you are on the hunt for American made organic clothing for baby (0-24m), boys (2t-8), and girls (2t-8). Adooka Organics, Two Crows for Joy's own clothing line, is manufactured in a small factory in Philadelphia, PA. Two Crows for Joy also sells made in the USA baby shower gifts, cloth diapers and organic mattresses and bedding.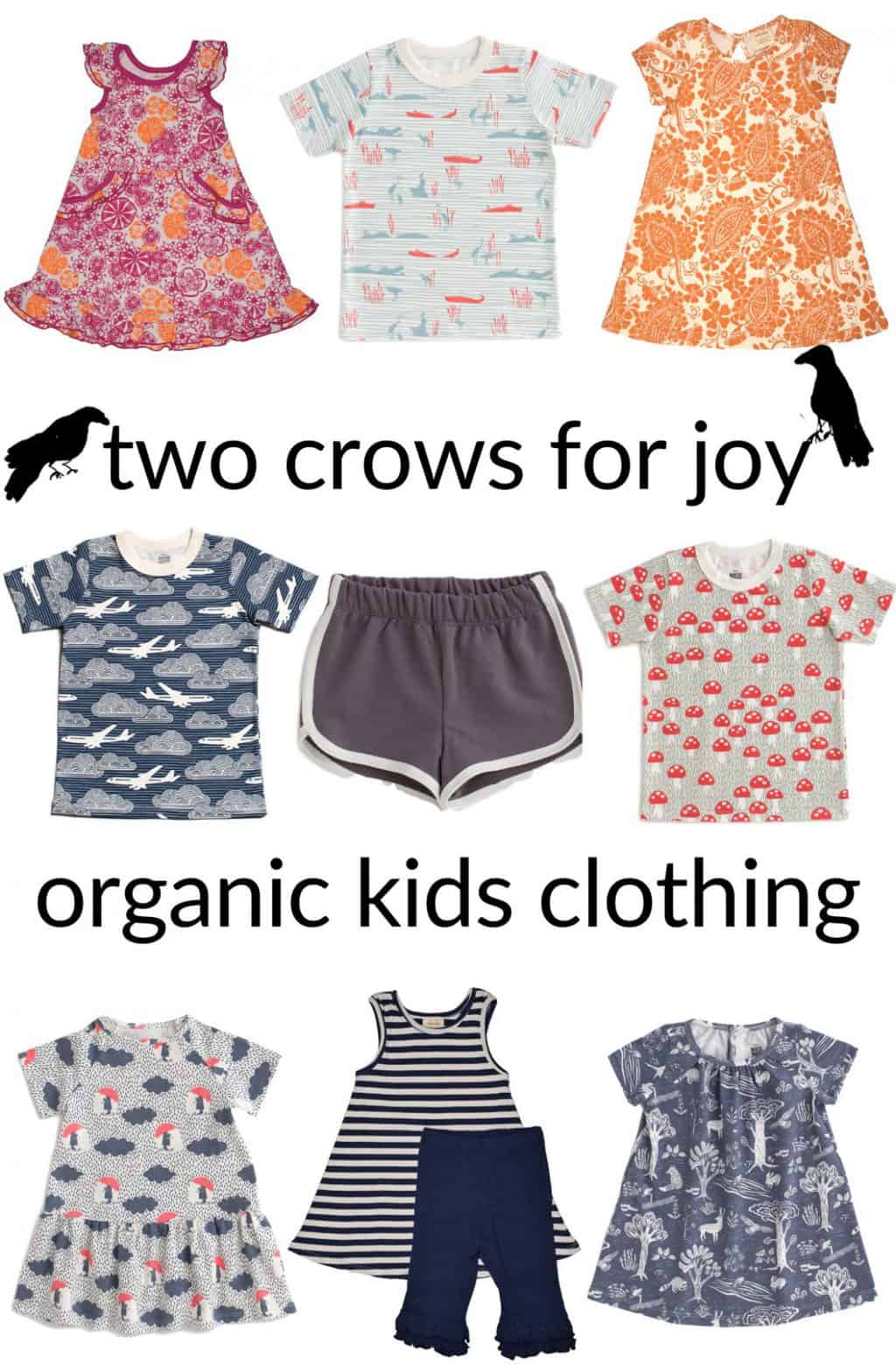 American Made Kids' Clothing Online Retailer: American Adorn
American Adorn is an online retailer of designer kids' clothing ALL made in the USA. In fact, several of the brands you'll spot on this list are available at American Adorn! American Adorn sells comfortable and trendy clothing for boys and girls in sizes 0-6x. Organic styles and brands are available as well.
Made in USA Clothing for Kids: The Ultimate Source List
This list of made in USA clothing for kids is constantly being added to, so check back often! If we missed a source you love, add it to the comments so we can include it with our next update.
American Adorn is an online retailer of American made clothing for boys and girls sizes 0-6x. Organic styles available. Learn more about American Adorn made in USA clothing for kids at the top of this article.
Aviator Nation hoodies, sweatpants, and tops are made in sizes 2-14.
Axl Brand organic clothing for infants is made in San Francisco
The Bailey Boys classic clothing for boys + girls in sizes 0-10 is only available in stores or by catalog.
Belle & Beanzer rompers are made in USA from 100% pima cotton
Birdwell Beach Britches board shorts for boys are made in California.
Books to Bed 2 piece pajamas are made in the USA and feature popular children's book characters and run in sizes 12M- kid's size 10.
Brian the Pekingese 100% organic cotton pajamas for baby and kids are available in sizes newborn to 10 years. These PJs are pre-shrunk and contain no flame retardants. They are super soft and comfortable!
Castleware Baby makes non-toxic, organic baby to toddler size sleepwear made in California. Save 10% on your entire order with code USALOVE. No restrictions, no expiration.
City Threads clothing for boys and girls sizes 0-12 is American made. Underwear, PJs, pants, tops…City Threads has it! Take 15% off your City Threads order now with discount with code USALOVE. No expiration, one-time use per customer.
Colette Kids is a maker of onesies & toddler tees. Some organic styles are available.
Earth Creations makes and sells unisex organic cotton Ts up to youth size 10. Their T-shirts are dyed with natural clay dyes.
Esme sleepwear for girls is available in sizes 2T-14. Esme clothing runs small, so order 2 sizes up from what your kiddo normally wears.
Garden Kids makes all of their children's clothes in the US. They carry boys and girls organic clothes sizes 6-12, as well as smaller sizes.
Gracious May fashion clothing for girls baby to 7y is made in the USA from high quality fabrics. They also carry made in the USA shoes.
GrUVy Wear manufactures UV protective swimwear for boys and girls sizes 3-14.
Hank Player USA manufactures edgy, cool, retro tees for kids and babies are all made in the USA.
Hoonana is a manufacturer of boys clothing 0-6, made in Los Angeles
I Bambini Clothing vintage inspired clothing for girls size 2-8, made in Texas
LAMade Clothing made in USA girls clothing is available in sizes 7-14, baby girls clothing comes in sizes 3/6m-24 months.
Laura Dare made in the USA kid's pajamas, nightgowns, and robes are available in sizes 9M- kid's 14.
Looking Glass Clothing Company clothing for girls sizes 2-8, is manufactured in North Carolina.
Mouthman unisex long sleeve hoodie T's are fun and eco-friendly. They are made eco-fabric that's created from recycled bottles.
My Boo & You is a 100% organic clothing line for baby and toddler that includes onesies and T shirts, made in USA.
Nordstrom + Nordstrom Rack both carry a huge selection of made in the USA brands. In store and online, from babies to teens and in between you are sure to find something for your kiddo!
Orangeheat apparel is handmade in Venice, California with made in USA organic cottons and water-based-inks. They make kids' T-shirts, adult T-shirts, and baby onesies, available in sizes 0-8. These tees are incredibly soft and well made. These are the types of tees kids will love and remember for years in the future.
Paigelauren luxury baby clothing comes in sizes 0-4t.
ShirtsThatGo are graphic Ts printed in the USA on American Apparel T shirts that feature planes, trains, construction vehicles, space ships- it has a motor and moves, it's on one of these T-shirts!
So Nikki is a fashionable clothing line for tween + teen girls.
Soul Flower collection of baby clothing (0-24 month) and kids' clothing (2T – 6) is all American made. Soul Flower creates t-shirts, onesies, baby bibs, and hats using only super-soft, 100% organic cotton.
Tidepools Swimwear UV protected swimwear is available in boys and girls sizes 2-14.
TJ's PJ's collegiate sleepwear for boys and girls are available in sizes baby– kid's 14.
Two Crows for Joy is an online retailer of made in USA clothing for boys, girls, and baby, sizes 0-8. Almost all of the clothing available is organic. Learn more about this made in USA Clothing for kids retailer at the top of this post.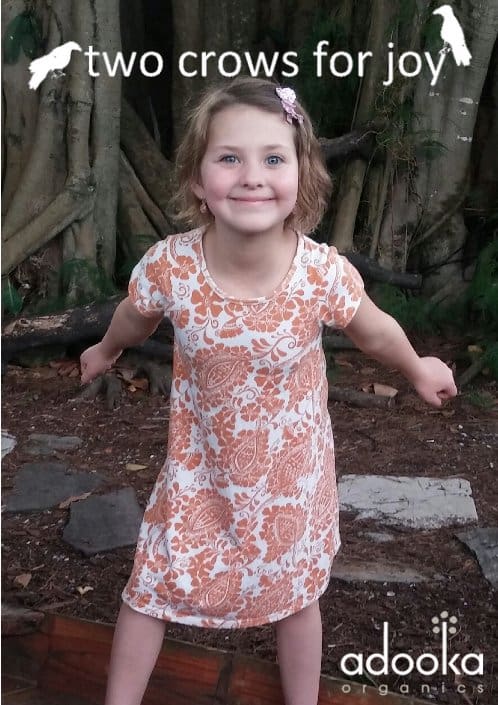 Tuff Kookooshka hats and coats for boys and girls sizes 3/6 months to 6, are manufactured in Massachusetts.
TwirlyGirl American made dresses and skirts are perfect for, well, twirling. And they are reversible too!
Winter Water Factory certified organic clothing is available in baby, toddler and kids sizes up to 8.