The best clay mask will deep clean your skin. The ingredients draw out the oils and impurities from the pores. In the process, you get tighter pores too. After mask removal, you must hydrate with your moisturizer to restore balance to your clean, tightened, and toned face. I've picked my six favorite face masks, all American made so you can trust the ingredients on your skin.
For more American made beauty product suggestions, don't miss these: Made in USA Beauty Products: Ultimate Source List.
The Best Naural Face Wash for All Skin Types
Key Benefits Of Using A Clay Mask
deep cleanse
tighten pores
remove impurities
control oil
tone sagging skin
---
The Best Clay Mask for Skin Detox
Each of the following masks delivers all of the key benefits of a clay mask but excels in the noted areas. Any of these masks will make a good addition to your at home facial routine. Mask 1 to 2 times a week after cleansing.
Thesis Beauty Mermaid's Cheek is completely pure for a true detox using only non-synthetic and organic ingredients. It's actually fun to mix your own mask: simply add water and slather on. A little goes a long way, so this mask will last you a long time. Save 15% off any Thesis order with code USALOVE, plus 15% off already listed sales items found here.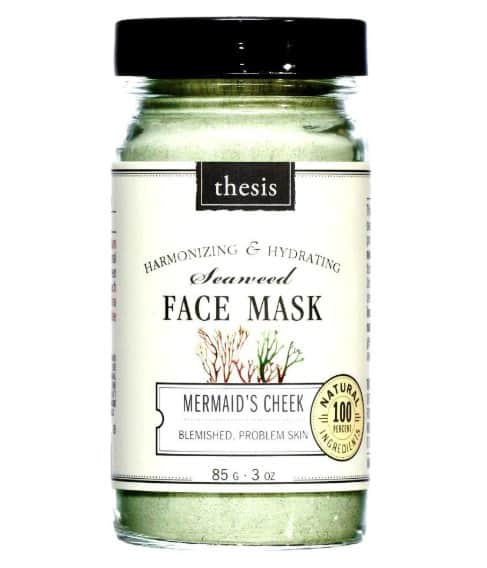 Moody Sisters Dead Sea Mud Mask is loaded with minerals and nutrients to cleanse, tighten, smooth, and hydrate, plus it smells like cocoa! 10% off Moody Sisters full-size items with discount code USALOVE.
Mario Badescu Drying Mask is best known to shrink breakouts, reduce redness and heal old pimples faster.
Bliss multi-face-eted all-in-one anti aging clay mask smooths texture, tightens pores, brightens and softens (mask stays moist).
PUR Minerals Dirty Girl detoxifying mudd masque with pascalite clay wipes out acne-causing bacteria and shrinks pimples.