USA Love List editors have searched popular stores and websites to find the best cruelty free makeup brands and beauty products made in the states. Make sure your cosmetics and beauty products are non-toxic and that no animals are used for their testing. Are your favorite brands on our list?
Why invest in cruelty free makeup and beauty products?
A beauty brand and makeup brand is labeled cruelty free when it does not test its ingredients or products on animals. However, there is currently no regulation in the US on the cruelty free claim. Some brands with the cruelty free label could source their ingredients from other companies and not know those ingredients are tested on animals. We made sure that the cruelty free makeup brands and beauty brands on this list are really cruelty free. Many are PETA certified or Leaping Bunny Certified.
Vegans be aware- cruelty free products do not need to be vegan. They can still have animal products in their ingredients. Don't miss our list of Best Vegan Makeup Made in USA.
In order to be included in our list of cruelty free makeup brands and beauty brands, a company or product needs to:
be labeled 'cruelty free', PETA certified, or Leaping Bunny Certified.
be made with non-toxic ingredients
be American made Note: We know most products contain ingredients that are not 100% sourced in the States (as that would be impossible), however, they are sourcing as much as possible in the U.S. and supporting manufacturing jobs here resulting in products you can trust on your skin
Cruelty-Free Makeup Brands & Beauty Brands We Love
This list of cruelty free makeup brands and beauty brands that we love made in the USA keeps getting longer! You can find LOTS of options here. We know because we found many brands we love and support and they are listed below in alphabetical order. Did we miss your favorite made in USA cruelty free makeup brand or beauty brand? Let us know in the comments below.
Rejuva Minerals: Clean, Natural Makeup
Rejuva Minerals cruelty free makeup products are free of common skin irritants that are found in the ingredients of common makeup brands. Rejuva Minerals clean mineral makeup contains only naturally derived and organic ingredients. This high quality makeup is perfect for those with sensitive skin, allergies and for everyone who is cautious about what touches their skin.
Though not required by state or federal laws, Rejuva Minerals makeup products go through multiple testing processes to make sure that they are free of heavy metals and all ingredients are screened for nanoparticles. Products are also stability and micro challenge tested, which means they are tested to make sure they are bacteria, mold, and yeast free, and they are tested to make sure they perform with the same high quality over time. Rejuva Minerals products are never tests on animals.
All of this testing and has earned many Rejuva Minerals products a labeling with the EWG Verified™ seal, and the Made Safe® seal. There are also Rejuva Minerals makeup products that are ranked "0", the cleanest ranking, in the Think Dirty app.
Au Naturale non-toxic and cruelty free makeup products are handcrafted in a Wisconsin lab. All Au Naturale makeup is Leaping Bunny certified, PETA approved cruelty free and vegan, non-toxic, paraben free, and gluten free. 
Axiology Balmies, multi use crayons for lips, eyes, and cheeks comes in vivid, eye-catching colors, and they are long lasting too. If you're looking for a cruelty-free make up brand with non-toxic ingredients you can pronounce, look no further. Axiology is one of our favorite cruelty free makeup brands because it is PETA certified, vegan, and does not contain palm oil, the production of which continues to destroy the rainforest and its endangered inhabits, including orangutans. Axiology was founded and is run by Ericka Rodriguez, who has made it her company's mission to produce a vegan lipstick ethically and kindly. You can find Axiology Balmies at ULTA.
Benedetta cruelty-free skincare brand is based in California and has been making organic, farm-sourced small-batch skincare products since 1996. Their products are luxurious and excellently crafted for all skin types. We're huge fans of this American made luxury beauty brand.
Berlin Skin is inspired by founder Monica's German grandmother, who always taught her that less is more when it comes to caring for the skin. After a two-year-long struggle with constant cystic acne, Monica finally learned how to heal her own skin. She followed a holistic lifestyle and used botanical ingredients in her skincare routine. Monica began studying aromatherapy and essential oils and quickly fell in love with how diverse, powerful, and invigorating plants could be for the entire body and mind. All Berlin Skin cruelty free skin care products are made in America with renewable energy and all packaging comes in recyclable boxes that are also made in the US. Berlin Skin is Leaping Bunny certified.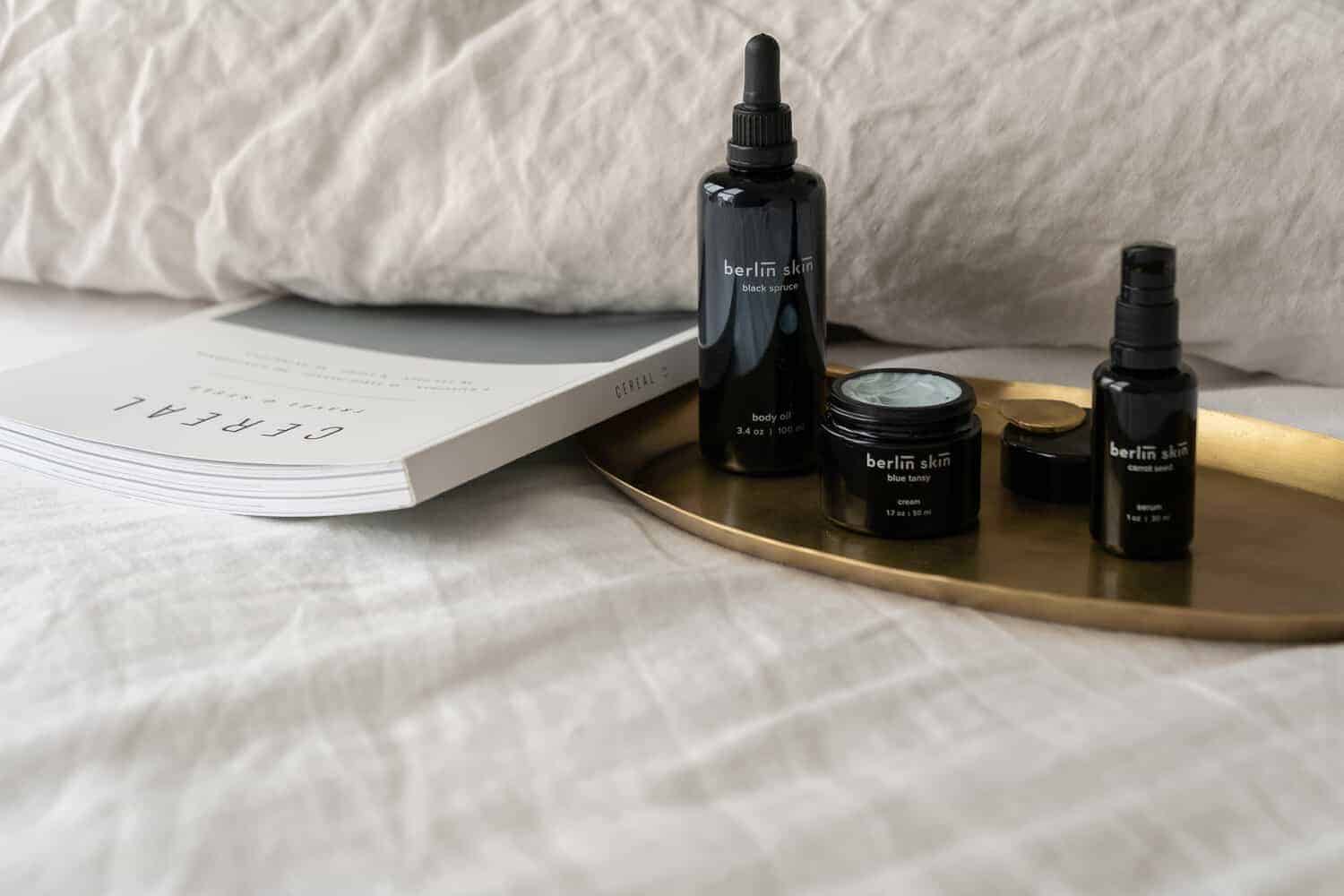 Biossance is a clean cruelty-free skin care brand that is pioneering sustainable beauty through biotechnology. Their 100% plant-based squalane, a mega-moisturizing molecule found in each of their products, is sourced sustainably from sugarcane. Biossance prioritizes sustainability with tree-free outer packaging made from sugarcane paper. They do not use bleach chemicals, dyes, or foil, and they package products in recyclable bottles. We love the weightless hydration of the brand's bestselling SQUALANE + VITAMIN C ROSE OIL. This sugarcane-derived, sustainable squalane oil contains the brightening power of Vitamin C, plus rose oil, which is revered for reducing the look of lines and wrinkles. A little goes a long way – you'll only need a drop or two for radiantly healthy-looking skin. Biossance is PETA certified. Shop Biossance at Sephora.
Cannabliss Organic offers natural, organic, cruelty-free beauty products made with naturally rich hemp oil to provide numerous healing benefits. The full-spectrum hemp oil is grown organically in Colorado and works wonders on dry skin, acne, wrinkles, scars, sun spots, eczema, and psoriasis. The brand uses the finest ingredients and supports sustainable practices. These products are rich and luxurious and not diluted with water or harmful chemicals. We especially love the Bliss Body Oil. Cannabliss Organic is PETA certified.
COOLA makes great mineral-based, made in USA non-toxic sunscreen. My go-to cruelty-free foundation is COOLA Mineral Face SPF 30 – Matte Tint. It goes on smooth and provides the perfect coverage without being heavy. It is PETA certified, hypoallergenic, vegan, TSA-friendly, cruelty-free, and water-resistant for up to 40 minutes. Read more about the specific COOLA products we've reviewed and love already.
Earth Harbor uses only the highest quality and ethically-sourced ingredients to lovingly bring you 100% natural, effective, cruelty-free beauty products. I love the GLOW JUICE Refining Enzyme Mask because it leaves my skin glowing for days and works diligently to improve the skin's texture, tone, and clarity. I leave it on all day long to work deep into my pores. The ingredients are wildcrafted, non-toxic, certified organic, PETA certified and non-GMO.
Erin's Faces is the PETA Certified cruelty-free mineral makeup, organic, and vegan skincare line from NYC makeup artist, Erin Williams. Erin's story is a really incredible one of passion, honesty, and determination. Her entire purpose is to empower, educate, and include women (and the occasional gent!) of all shapes, sizes, and shades.I love Erin's beauty connection for its simple, clean, and yet effective ingredients. It's easy to find products that address your skincare concerns, like Tamanu Oil, which is wonderful for all skin types that are in search of hydration.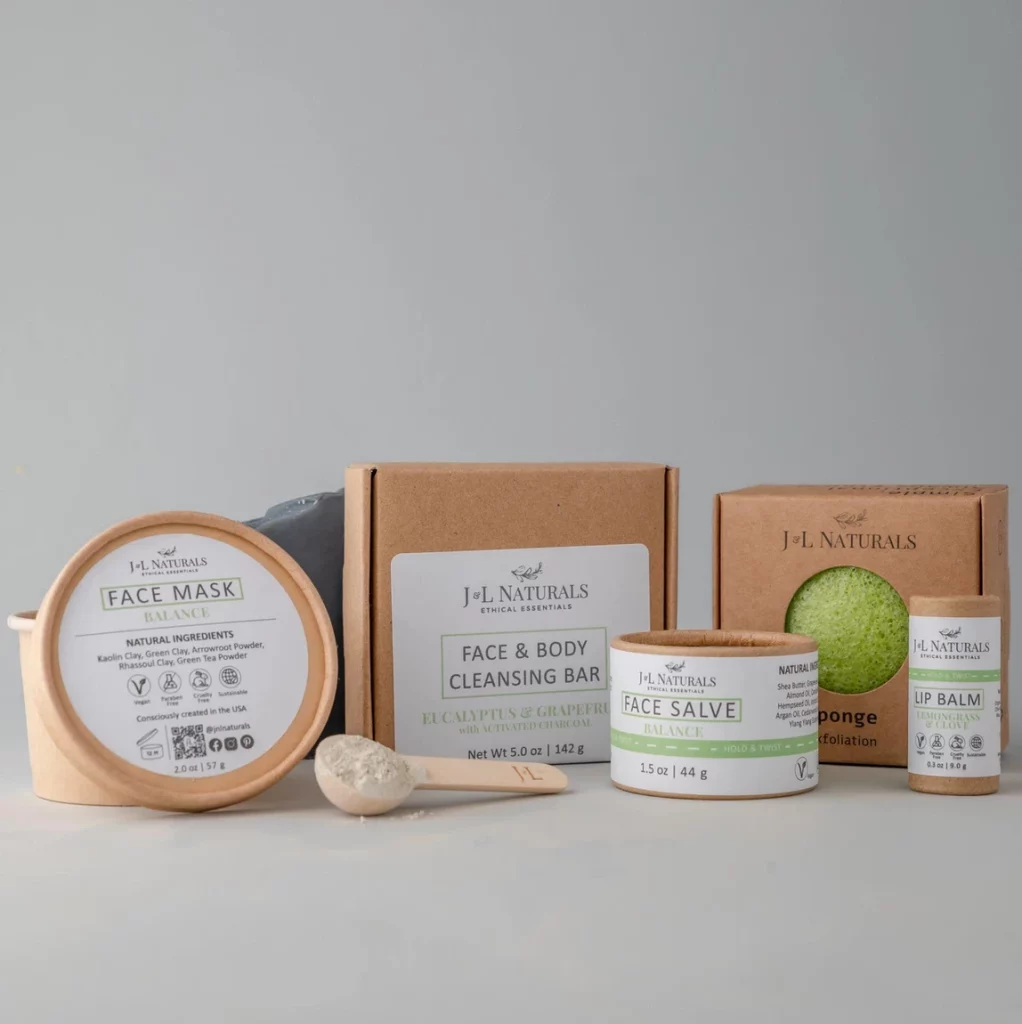 Juice Beauty offers the best in class when it comes to organic, cruelty-free cosmetics and skincare. One of the very top cruelty-free makeup brands, Juice Organics was developed by wellness entrepreneur, Karen Behnke. I love Juice Beauty Antioxidant Moisturizer for its hydrating, organic ingredients. I also like to put this moisturizer under my facial oil before bedtime. I've never used a CC Cream that I love more than Juice Beauty STEM Cellular CC Cream. It offers the perfect coverage and it protects with mineral SPF 30. Shop Juice Beauty at ULTA.
Kindred Skincare Co. offers 100% organic oil cleansing skincare collection that caters to any man, woman, or teen. This cruelty-free skincare line is 100% organic and vegan-friendly, and consists of facial and body cleansers, oils, and treatments. These products are free of parabens, sulfates, fragrances, animal by-products, and harsh chemicals. Kindred Skincare Co. was founded and created by a female Materials Science Engineer. Her mission with Kindred Skincare is, with its bounty of nature's ingredients, akin to a "walk through the woods," immersing your skin in nature and allowing it to reset naturally, be nourished, and rejuvenated as well as lifting your spirits and soothing your mind.
Kopari is a Hawaiian-born brand that uses 100% coconut oil in all its products. We love this skincare line for its cruelty-free, paraben-free, sulfate-free, and vegan products. Coconut oil won't dry out your skin, which actually helps heal acne. Your skin won't go into excess oil production from being dried out from harsh chemicals and products that don't support your skin's natural balance. We particularly love the Face the Day & Night Kit for making cruelty free skincare simple. Shop Kopari at Sephora.
Kypris Beauty is made with organic, wildcrafted, and local and sustainably procured ingredients from woman-owned farms and is one of the most luxurious cruelty-free skincare lines made in the USA. If you're going to try one of their products, I suggest the Beauty Elixir II: Healing Bouquet. This elixir softens, tones, and balances skin. Visit the Kypris Amazon shop.
Leahlani Skincare is a botanical skincare line formulated in Hawaii by holistic skincare expert, licensed esthetician, and botanical alchemist Leah Klasovsky. Leahlani transforms your mundane skincare routine into a treasured ritual that nourishes and feeds the skin with natural ingredients found in beloved Hawaii. Shop by skin type or ritual kit, you'll be sure to find everyday luxuries that will transform and heal your skin.

Balance and soothe your skin with Leahlani Happy Hour Serum. Happy Hour protects the skin from free radical damage and unveils a calm, radiant, and balanced complexion while alleviating inflammation, neutralizing redness, soothing irritation, and diminishing scarring. It's a nourishing cocktail of chardonnay grapeseed oil, antioxidant tea extracts, soothing lavender, and blue tansy,
Legend's Creek Farm cruelty free skincare products are certified cruelty free and have the Leaping Bunny on the label. "Everything your skin needs to feel great, and nothing it doesn't" is Legend's Creek Farm's slogan. They aren't exaggerating either when they say 'everything'. Legend's Creek Farm offers beauty products you can use from your head (herbal shampoos and conditioners) to your toes ( goat milk lotion). Today, Legend's Creek Farm is known world wide for their Premium Goat Milk Lotions. This lotion can be used as a body and hand lotion, yet it is natural enough to be used on the face too. What I love about Legend's Creek Farm's lotions is the variety of scents they come in (there is non scented too!). You are sure. to find one to your liking.
Odacité makes a line of facial oils ultra-specific to your skin type. You will see immediate results. My favorite is the black cumin + cajeput serum concentrate, perfect for oily and acne-prone skin. If you're looking for age-defying and skin glowing benefits, this is your go-to facial oil. It's vegan, non-GMO, cruelty-free, gluten-free and made in California. Visit the Odacite Amazon shop.
One Love Organics harnesses the healing power of plants and specializes in holistic skincare essentials packed with antioxidants and vitamins to deliver a fresh, healthy glow. We're huge fans! Suzanne LeRoux created the brand's award-winning skincare products which are produced in micro-batches at the company's ECOCERT® licensed manufacturing facility in St. Simons Island, Georgia. The products never include parabens, phenoxyethanol, nanoparticles, silicon, PEG, synthetic perfumes or dyes. Shop One Love Organics at Bluemercury.
Organic Bath Co. makes clean, simple non-toxic, organic bath, and personal care products. The body butter has simple and hydrating, all organic ingredients including, shea butter, sunflower seed oil, jojoba oil, argan oil, and essential oils. There are no nasty fillers or chemicals in these beautifully simple products. Expect soft, supple, and hydrated skin.
OSEA offers products with a natural blend of potent organic seaweed concentrates, combined with lush botanicals and essential oils to deliver effective natural skincare solutions for anti-aging, sensitive skin, and blemish care. OSEA is a family run and operated cruelty-free beauty business that's been around since 1996. We love that OSEA is non-toxic, vegan, cruelty-free, gluten-free skincare line. Read more about the specific products we've reviewed and love already. Shop OSEA at Bluemercury.
Rosacea Care is made with clean formulas and is free of artificial colors or synthetic preservatives. The products are made with gentle, delicate, soothing, and non-irritating ingredients derived from nature. While the focus is on rosacea and sensitive skin, the products can be used by anyone who desires clean skin care. One of our editors with aging, oily skin enjoys the benefits of this brand. Rosacea Care is located in Massachusetts.
Sara Elizabeth Cruelty-Free Advanced Skincare contains highly effective cosmeceutical grade ingredients such as Peptides, Plant Source Collagen, and Hyaluronic Acid, stable forms of Vitamin C and Enzyme and AHA exfoliants. We are fans of the line overall. The namesake beauty brand was created and is owned by Sara herself. We're particularly fond of the Ylang Ylang Moisture Quench Firming Cream which makes for the perfect cruelty-free face moisturizer. Hyaluronic acid and Konjac spheres penetrate the upper layers of the epidermis, rapidly tightening the skin and smoothing out wrinkles to fortify facial skin, leaving it supple and hydrated.
SUNDAY RILEY is another cruelty-free skincare line created to target specific skincare issues. We're big fans of Juno Hydroactive Cellular Face Oil, a blend of superfood seed oils mean to deliver anti-oxidant treatment while hydrating and smoothing your face. Brand founder, Sunday Riley, created a line for targeted skincare treatment designed to improve skin immediately that continue to be effective over time. Sunday Riley products are cruelty-free and formulated without fragrance. Shop Sunday Riley at Sephora.
Tammy Fender makes exquisite, holistic, plant-based cruelty-free skincare products and is also a woman-owned beauty business. I have tried a lot of beauty products, and I couldn't have put it better myself…Tammy Fender Epi-Peel, is a facial in a jar. Your skin is left feeling soft and smooth. I like using this product once a week before my nighttime beauty routine. The results are just like going to get a spa facial. A little goes a long way and the jar can be used for about 9-12 uses. Shop Tammy Fender at Bluemercury.
Tata Harper is a non-toxic, luxury skincare line that's cruelty-free. All products are brought to your face from Tata's farm in Vermont. We're huge fans of Tata Harper Beautifying Face Oil for its luxuriously lightweight, fast-absorbing face oil helps to instantly energize the look of the skin, leaving a silky-soft, hydrated surface with a brighter and firmer appearance. Powered by Brown Algae Extract, this oil helps turn back the skin's age clock to reduce the appearance of dullness and fatigue for a toned, radiant look, while Camellia Flower oil deeply moisturizes with essential fatty acids. Shop Tata Harper at Sephora.
Vapour Beauty offers a bold approach to crafting high-performance cosmetics includes only the purest, active ingredients from the earth—and nothing else. Of all of the cruelty-free makeup brands, this one has one of the largest product ranges. The brand was created by Krysia Boinis and Kristine Keheley in the enchanted mountains of Taos, New Mexico. Shop Vapour Organic Atmosphere Soft Focus Foundation on Amazon it's worth every penny. This product is absolutely amazing. You only need one pump to cover your entire face – a little goes a long way. It is so natural looking and offers a great sheen, without being shiny. I love it.
Vert Mont Perfumery makes essential oil-based, non-toxic, vegan, cruelty-free fragrance. The brand offers artisanal botanical perfumes handmade in Vermont. Each product is perfumed to be experienced as an intimate scent – in that only those who are closest to you will smell your perfume. I personally love the Ver Mont Perfumery's Neroli Body Nectar. It is a luxurious perfumed moisturizer made with simple ingredients, including, organic sweet almond oil, coconut oil, Marula oil, organic neroli, & Moroccan rose absolute, resulting in silky, hydrated and healthy skin.
Have you visited our Made in USA Shopping District? It is the place to start your shopping when you want to find the best of American-made.
Love this list? We know you will love these lists too!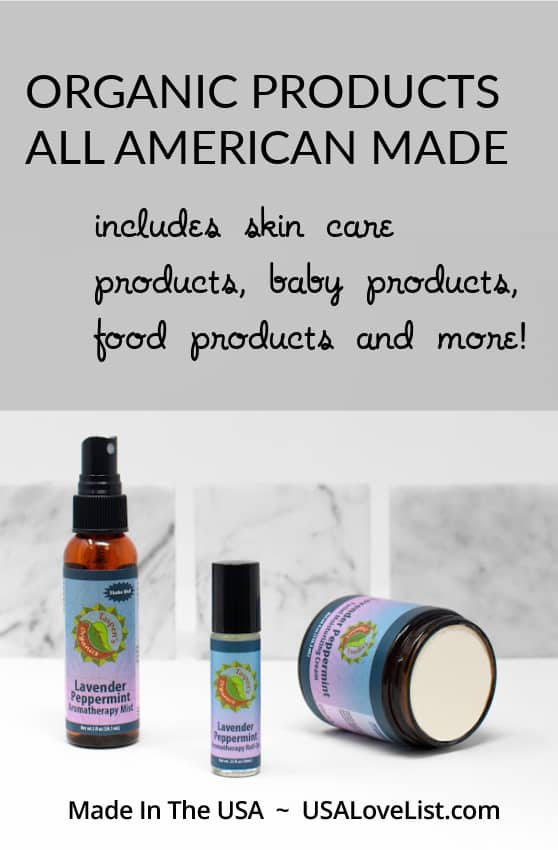 Pin this list to save it for later!