Made in USA jeans can be difficult to find! USA Love List editors have searched websites and stores to put together a source list that makes it easy for you to purchase American made jeans. No matter what your style is, we are sure you will find a pair of jeans made in USA that you'll love.
Jeans Made in USA
About Our List
This list of made in USA jeans includes jeans in sizes and styles for men and women. Kids jeans made in the USA have been a challenge to find and we currently have no American made jeans for kids on our list. If you know of a brand we missed, let us know in the comments below!
This lists includes all styles of jeans- fashion jeans, work or ranch jeans, and jeans for everyday wear. We looked for made in USA jeans in hard to find sizes like tall, petite and plus. We have tried to be detailed in the brand descriptions to help you narrow down your search options. Many made in USA jean companies change their stock and styles often, so check their websites regularly for updates.
We have included in this list jeans that are manufactured in the USA from American made denim, as well as jeans that are cut and sewn in the USA from foreign made (mostly Japanese and Italian) denim. We believe that a company that creates American jobs with skilled American workers deserves to be recognized and supported!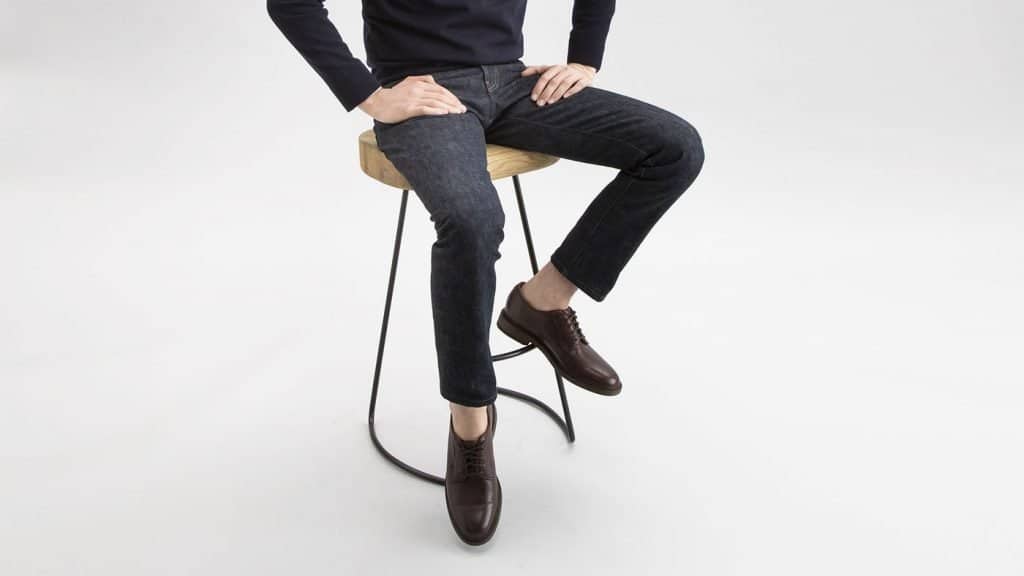 Why Buy USA Made Jeans?
Popular jeans brands like Wrangler and Levi's worn't be spotted on this list. Though these brands both started as US manufacturers, they moved overseas where they could mass produce their jeans at a lower investment.
The brands you see on this list are, in most cases, 'slow fashion' companies which means they make their products in smaller batches. Several of the brands are even jeans made to order. By not over producing their products, they are keeping their carbon foot print low, as well as limiting clothing waste.
Many of the USA made jean brands on this list are privately owned and family owned businesses. They pay fair wages and give back to their communities.
American made jeans traditionally cost more than the name brand jeans you find in big box stores, for all of these reasons. We did, however find jeans made in the USA that are of similar price.
Did we miss your favorite American made jeans brand? Let us know in the comments below! We update this list frequently, so please check back!
American Made Jeans: A Made in USA Source List
Billiam custom tailored fashion denim jeans for men and women are made in South Carolina. Since these jeans are custom made, any size is possible.
Brave Star Selvage selvaged denim jeans for men are available in skinny and straight leg styles. Their denim is made in USA and in Japan and all jeans are made in Los Angeles.
Bullet Blues designer jeans in styles for men and women are manufactured entirely in the USA. From cotton yarns to dying and finishing to production, all of their manufacturing is done domestically. The company was named to honor the bravery of the American Soldiers fighting at Normandy in World War II.
Ciano Farmer Denim Co. jeans are custom made in Texas using vintage techniques.
Crawford Denim jeans for women and men are handcrafted in California. Men sizes run from 28-40, Women sizes 25-31.
Dearborn Denim is dedicated to making denim jeans for men and women that are affordable, that fit well and that are made from start to finish from USA made components. There is no middle man, so prices for American made denim start at $49! Dearborn Denim jeans stretch, but don't stretch out. They are comfortable and fashionable. Dearborn Denim jeans for women come in 6 styles including palazzo, straight leg, skinny, and curvy. Their made in USA jeans for men are also available in 6 styles including slim, straight leg, tailored, relaxed fit, and commuter.
Detroit Denim Co. jeans are handmade in a small Detroit factory. Each pair is made to order with the customer's choice of denim, fly, fit, and leg.
Freenote Cloth jeans for men are made in the USA from Japanese sourced denim. 
Ginew is a Native American owned denim jean company that offers stylish and functional jeans for men. The denim is salvaged from Japan.
Gustin jeans for men are made to order in California. They are available in straight, slim, and skinny fit.
Gusset jeans for men are made in the USA for work and for fashion. They carry utility jeans, carpenter jeans, and sizes for big men. Many styles are under $80.
HARDENCO, also known as Hartford Denim Co., men's jeans are handmade in Hartford, Connecticut. These durable denim jeans are made for work and utility.
imogene + willis premium denim jeans for men and women come in multiple styles and are made in USA from American and Japan sourced fabric.
James Jeans jeans for women are American made and are available in multiple styles. Maternity sizes available. James Jeans are made sustainably.
Karen Kane offers great fitting denim jeans for women that hit all the right places. There are so many styles from which to choose too. From twill jeans to capri, boot cut, skinny and denim leggings, you're sure to find a pair you'll love. Available in plus sizes too. Also available on Amazon. Note: not all Karen Kane clothing items are made in USA. Read descriptions carefully
Kimes Ranch jeans are western inspired every day jeans in styles for men and for women. Mens' jeans run 26- 40 waist and up to a 36 inseam. Womens' jeans are available in sizes 000-16 waist and 30-36 length. They even have several styles under $100.
Left Field NYC jeans for men are made in the USA from American denim. These jeans are made to order and there are many styles and denims to choose, including salvage denim. Sizes go up to a 42 waist.
L.C. King Manufacturing Co. has been manufacturing jeans for men in the USA since 1913. Made in Tennessee, L.C King Manufacturing Co. jeans are made to be durable and worked in. Duck denim jeans are available. Sizes go up to a 50 waist and 36 inseam. They even carry denim overalls.
MOTHER denim jeans for women are made in L.A. MOTHER seriously has a pair of jeans for every style and have the largest selection of made in USA jean fits on our list. Shop MOTHER jeans at Nordstrom.
NOEND denim jeans for women are made in the USA. Each pair is handcrafted in Los Angeles, California. NOEND jeans come in a soooo many styles!
Round House has been making jeans in the USA for over 100 years. Round House jeans for men are made for work and for everyday wear. Styles include carpenter jeans, cowboy jeans and more. Sale prices at $60 and less.
Schaefer Outfitter ranch wear jeans for men and women are made in USA from imported materials. Schaefer Outfitter jeans are mad for comfort and durability and they are under $100.
SIWY caters to women who like wearing jeans with whimsical style elements. You can find jean shorts, cropped denim and skinny jeans from this line.
Tellason jeans for men are cut and sewn in California from Japanese selvage denim.
Texas Jeans affordable, durable jeans for men made in the USA. Relaxed, Slim, and Carpenter jean styles are available. Most styles are under $60. Custom inseams are an option.
Veronica Beard makes luxury fashion jeans in a wide variety of styles for women: straight leg, boot cut, skinny, high-waist, button-fly, colored denim. Find the style of the moment with a fantastic fit, made in Los Angeles. We often find them at Nordstrom.

Made in USA Jeans Retailers
Cover and pinable images both feature American made mens' jeans from Todd Shelton.
Have you visited our Made in USA Shopping District? It is the place to start your shopping when you want to find the best of American-made.

Pin this list to save it for later!
Love This List?
Check Out These Popular Made in USA Source Lists:
SHOES | HANDBAGS | JEWELRY