Made in USA jeans can be difficult to find, so we've put together a source list that makes it easy for you to purchase American made jeans that you'll love. We found jeans made in the USA for men, and women. Kids jeans made in the USA have been a challenge to find! We have included in this list jeans that are manufactured in the USA from American made denim, as well as jeans that are cut and sewn in the USA from foreign made (mostly Japanese and Italian) denim. We believe that a company that creates American jobs with skilled American workers deserves to be recognized and supported!
American Made Jeans
American Made Jeans for Men: Todd Shelton
Todd Shelton is an American menswear brand and headquartered in East Rutherford, NJ, just ten miles outside of NYC. All products are manufactured in-house, and Todd Shelton does not wholesale, nor are Todd Shelton items sold in stores. Since its founding in 2002, all Todd Shelton garments have been and still are sold direct-to-customer through the brand's e-commerce store.
Todd Shelton American made jeans for men currently are available in two denim options; Pro Original Denim, and Pro Soft Denim. Pro Original Denim jeans are the best selling options and are popular with men who like the feel and fit of sturdy denim. Pro Soft Denim jeans are made of soft, lightweight denim and are favored by men who dress for comfort.
Todd Shelton always prioritizes long-term customer relationships and personal customer service. The brand's in-house factory creates the flexibility to offer industry-leading size and fit options. Take a short Fit Survey now and receive a personalized fit recommendation from the Todd Shelton NJ team: https://toddshelton.com/fit-recommendation?
Selvage Denim Jeans That Feel Good: Bluer Denim
Bluer Denim, based in the Pacific Northwest, makes selvage denim jeans that feel good and look good so you can be good. All materials are sustainably sourced in the US, including selvage denim from the Cone Mills White Oak plant, and cut and sewn in a family-owned facility in Los Angeles. They are proudly carbon neutral, buying carbon offsets to make up for any greenhouse gasses generated by their manufacturing.
This indie denim brand avoids trends by making only two styles of classic cuts. The Men's Classic Straight is your everyday pair of jeans, designed for comfort and longer wear. With wider legs and a higher rise, you can run errands, work in the yard or sit in an extra-long meeting without feeling constricted. The Men's Modern Slim is the polished pair of jeans that you wear for the big meeting, the big date, or the times you need to look a bit more confident than you feel. They're cut for a modern vibe: one part skinny, one part slim with a bit of taper below the knee. Both styles are made from selvage denim.
Check out Bluer Denim, where the owner, Rogier, handwrites a thank you note to each customer, and will happily help you find your forever jeans.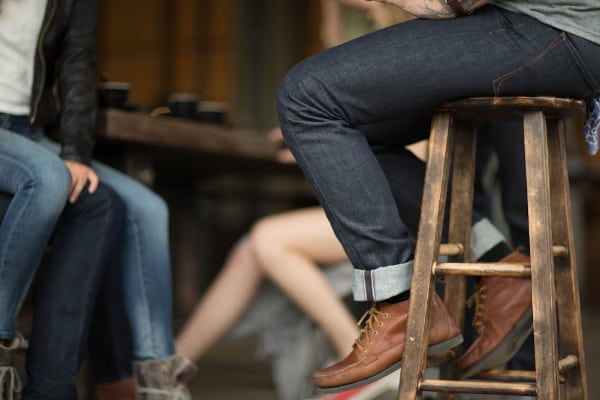 Designer Jeans for Women & Men: Bullet Blues
Bullet Blues designer blue jeans for women and men are proudly manufactured in the USA. Bullet Blues jeans are 100% made with American resources and craftsmenship. The high quality denim is manufactured in North Carolina and the custom rivets are made in Kentucky.
Bullet Blues designer jeans for men and women are fashionable, durable and comfortable. Jean styles for men and women include relaxed fit, boot cut, tapered leg, and skinny in a variety of denim washes. Additional styles for women include high waist, and flare leg. Women skinny jeans are available in multiple colors. There is a pair for everyone's style!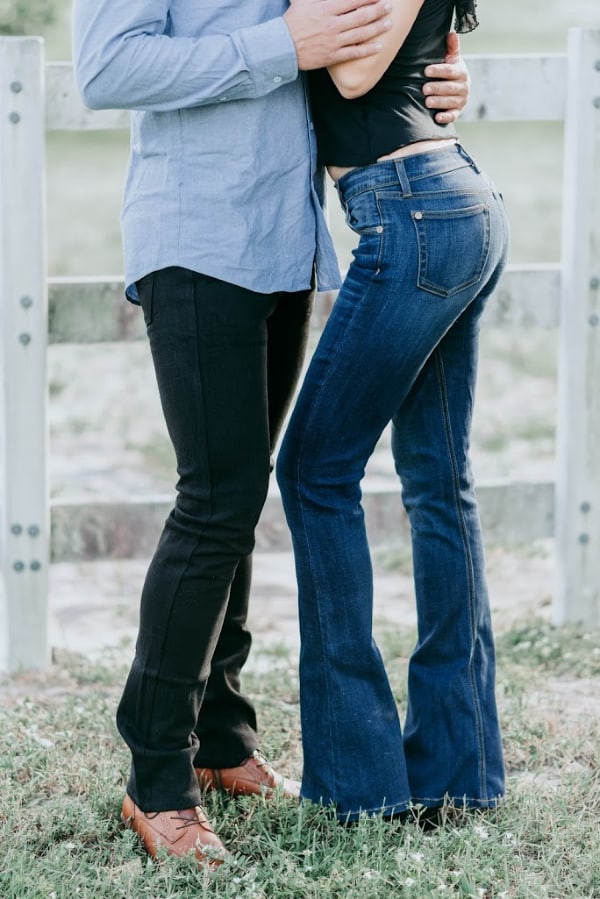 American Made Jeans: A Made in USA Source List
Did we miss your favorite American made jeans brand? Let us know in the comments below! We updated this list frequently, so please check back!
Made in USA Jeans Retailers
LOVE THIS LIST?
Honestly, we know you will love these lists too!
Made in USA Men's Clothing Brands: The Ultimate Source List
Made in USA Women's Clothing: The Ultimate Source List
Made in USA Men's Fashion Dress Shirts and Polo Shirts: The Source List
Made in USA Activewear: The Ultimate Source List
The Best of Preppy Style, Made in USA
Made in USA Socks: The Ultimate Source List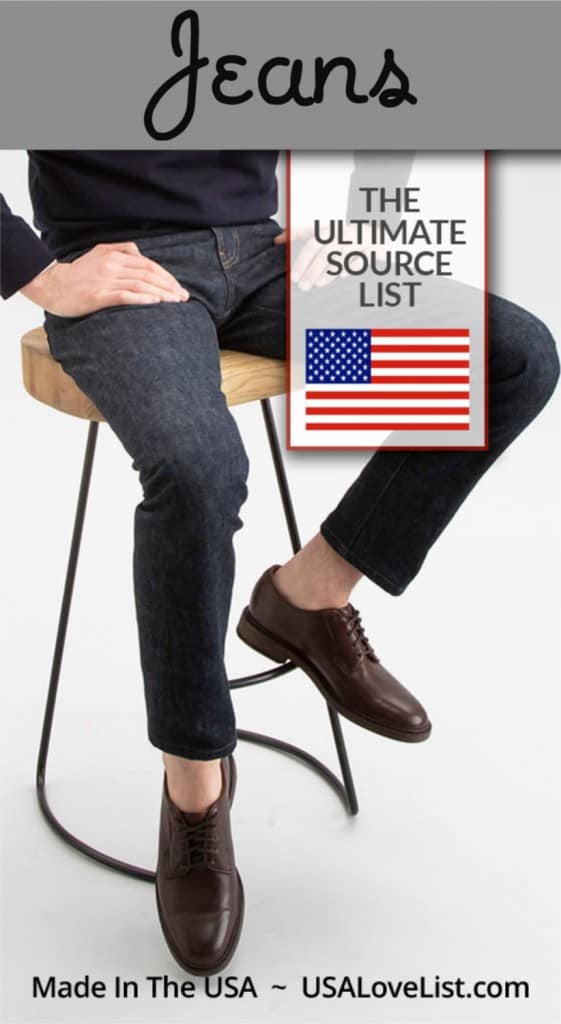 Disclosure: This is a sponsored post which USA Love List is proud to share with you because, sponsored or not, we only share stuff we love.
Love This List?
Check Out These Popular Made in USA Source Lists:
SHOES | HANDBAGS | JEWELRY