Most of my articles are all about skin care and taking great care to keep your skin in the best possible health.  I would like to explore a more holistic approach to healthy beauty in the coming months: a beauty that includes more than just our hair, skin and makeup.  Dont worry: I will still be covering the very best American made skin and makeup products.  I just plan to encompass more ways of feeling and being our most beautiful selves.
Today I will be kicking things off with a product line developed for optimal female sexual health.  It is an all natural oil designed to increase desire for women of all ages but especially those with hormones changing.  Zestra offers a personal lubricant as well.  Just a couple more items to add to the list of rejuvenating products.  Because these some of the very most intimate items, we want to be sure we are using products and ingredients we can trust. USA Love List is happy to be able to share these products that are exclusively made in the USA.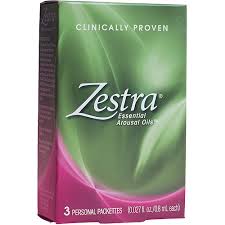 Speaking of being more in tune with our whole bodies' health and beauty, I wanted to add some information about an exciting ally of Zestra.  Eslor Skin Care is partnering with them to offer some samples of their premium skin care when you are trying Zestra.  I am a personal fan of Eslor and I know some of our USA Love List readers are fans as well.
The Zestra oils are a blend of natural botanicals and anti oxidant vitamins.  The product was developed by a pharmacologist and put to two clinical trials.  Zestra is produced in an FDA registered pharmaceutical and consumer manufacturing facility.
Zestra has been featured on television media outlets as well.  You can watch the clips from the likes of  The View, Nightline, Access Hollywood, Dr. Oz and others.
In my opinion Zestra is a great option, it is completely noninvasive, can be ordered right from home and is all natural.  For more information, doctor recommendations and personal testimonials please visit their site, Zestra.com
Disclosure: This is a sponsored post which USA Love List is proud to share with you because, sponsored or not, we only share stuff we love.