This list of the best CBD skincare products includes only products that are American made. CBD is gaining popularity in skincare products. This is due to some studies that have shown Cannabidiol (CBD) has anti-inflammatory properties and can relieve some skin ailments.
The legalization of hemp farming and production has been hitting momentum across the United States. The growing and harvesting of the hemp plant is revitalizing farms. The production facilities that are needed to extract the hemp oil and CBD oil for these skincare products are creating jobs. It is amazing to see so many new businesses starting and new products launching, including many of the companies and products in our list.
Consult with your doctor before using CBD products. If you're pregnant or breastfeeding, the FDA warns against CBD use in all forms.
Best CBD Skincare Products
Please Note: The products in this list are manufactured in the USA from American grown hemp. Some of a products ingredients may be sourced globally, as not all ingredients are found in the USA.
Photo Credit: www.botaskin.com
BOTA, a plant-based, CBD-infused skincare brand, is crafted to provide gentle and effective skincare that's free of harsh chemicals. That means skincare free of parabens, fragrances, and made with non-GMO, cruelty-free ingredients. BOTA CBD hemp oil is sourced from hemp grown on US farms following natural farming practices.
The BOTA skincare line includes body lotions, hand lotion, and facial products.
Photo Credit: cannablissorganic.com
Cannabliss Organic makes CBD beauty skincare products from the finest ingredients, that support sustainable practices and having a positive impact on you and the world. The products are rich and luxurious and not diluted with water or harmful chemicals. We're huge fans, most especially of the Bliss Body Oil and Hemp Salve. They are both incredibly moisturizing, go on smooth, smell amazing, and relax, all at the same time. 
Cannablis Organic CBD is sourced from hemp organically grown in Colorado.
Photo Credit: clovergiftshop.com
Clover Apothecary is the line of CBD skincare products available at Clover Gifts Shop, a woman owned business located in Woodstock, Vermont. Clover Apothecary CBD skincare products are handcrafted in small batches in Vermont using Vermont grown hemp. The C "Bee" D Salve includes Vermont beeswax and is made to sooth dry skin and other skin ailments.
Take 20% off Clover Gift Shop CBD products with discount code USALOVE. No expiration. One use per customer.
Photo Credit: dopeminerals.com
Dope Minerals makes skincare products including cream and facial & body oil infused with topical Magnesium and/or CBD. Dope Minerals products are vegan, paraben-free, GMO-free, gluten-free, and made with organic ingredients. These two powerhouse ingredients are easily absorbed by the body and provide all-natural, therapeutically effective results. Dope Minerals Magnesium and CBD skincare collection are really special. Both ingredients offer so many skincare benefits that are great for the face and body. Its Magnesium + CBD Infused Face & Body Oil is complete with the richest anti-aging ingredients to heal the skin. Its Magnesium + CBD Cream offers 400 mg per 4 oz. non-GMO, USA sourced, Full Spectrum CBD to heal psoriasis, eczema, and other skin conditions. I found it to be great for acute joint pain.
Dope Minerals CBD oil is sourced from CBD rich hemp flowers from plants grown on USA soil.
Photo Credit: dragonflyhempcbd.com
Dragonfly Botanicals has sourced the highest quality organic full spectrum Hemp extract with CBD, herbs, essential oils & oils to create handcrafted plant-based products as nature intended. Products include organic tinctures, facial & body care, eco-friendly pet & insect & sun products. The Dragonfly Botanicals skincare line includes topical creams and skin creams like Restore & Revive Full Spectrum Hemp CBD Calming Skin Cream which is formulated to soothe skin ailments like dry, cracked skin, cuts, burns, bug bites and any skin irritation. Dragonfly Botanicals CBD is extracted from Colorado grown industrial hemp.
Take 25% off your Dragonfly Botanicals purchase with code USALOVE.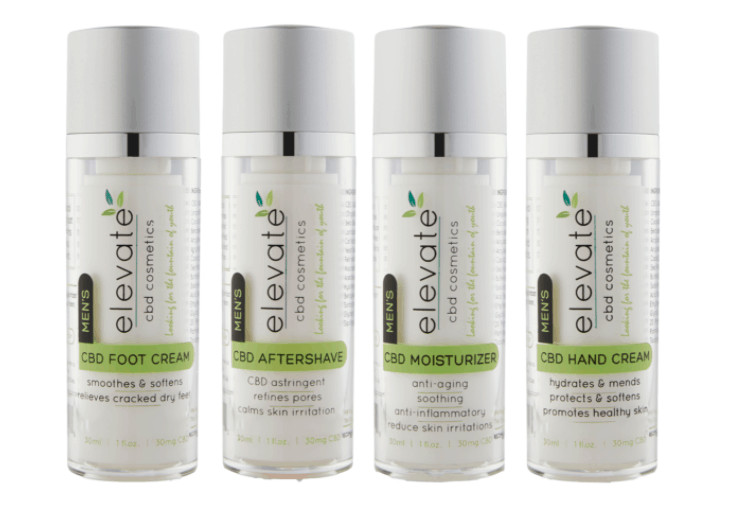 Photo Credit: elevatecbdcosmetics.com
Elevate CBD Cosmetic products were developed to address the signs of aging and to fight the underlying causes. All Elevate CBD Cosmetic products are Leaping Bunny Certified, gluten free and ingredients are GMO free. They also contain no phthalates, parabens, binders or added ingredients. They even have a skincare line for men that is lightweight with a clean look, and includes foot cream, aftershave, hand cream and moisturizer. Other Elevated CBD Cosmetic items include facial products, body washes, scrubs, masks, and more.
Photo Credit: empowerbodycare.com
Luxuriate in simple everyday pleasures with Empower Bodycare Luxe Collection CBD Luxury Body Oil. This oil offers a soothing blend of CBD derived from organically grown hemp, essential oils, and organic, non-GMO oils. Soothe, soften and hydrate your skin with this fast-absorbing, high-potency CBD body oil. This oil smells amazing and leaves my skin feeling hydrated and supple.  Empower Bodycare is proud to source their CBD fromEast Fork Cultivars (located in Oregon), one of the first USDA-certified organic hemp farms. All its products are vegan and never tested on animals. 
Photo Credit: herbessntls.com
Herb Essntls makes high-performing skincare products while utilizing the unique beneficial properties of cannabis. We love the enriching body lotion that incorporates calming and anti-inflammatory ingredients like Cannabis Sativa seed oil, organic aloe vera, organic shea butter, and organic chamomile. All of the products are formulated, manufactured, and packaged in Los Angeles, California. Herb Essntls follows the strict prop. 65 policies that ban harmful chemicals and unhealthy preservatives such as parabens. None of its products contain the psychoactive substance THC and are 100% legal. Herb Essntls products leave your skin smooth, soft, and silky every time.
Photo Credit: www.yummikarma.com
High Gorgeous products are made in sunny Orange County, California. They were the first mainstream cannabis beauty brand, created in 2016. They offer the skin-healing benefits of cannabis. All products are cruelty-free and made with the best botanicals on the market and always made without parabens, soy, or sulfates. 
Photo Credit: kanaskincare.com
Kana Skincare has created the perfect synergy between purple rice extract and licorice root extract to effectively increase our level of hyaluronic acid and to smooth fine lines. The light, pastel purple color is all natural and derives mainly from the purple rice. Green tea leaf water and cannabinoids help reduce inflammation of the skin. I love this ultra-hydrating mask. It's perfect to use post-exfoliation. You'll make up with glowing, hydrated skin ready to face whatever the day brings your way. I put mine in the fridge for an extra refreshing beauty routine experience.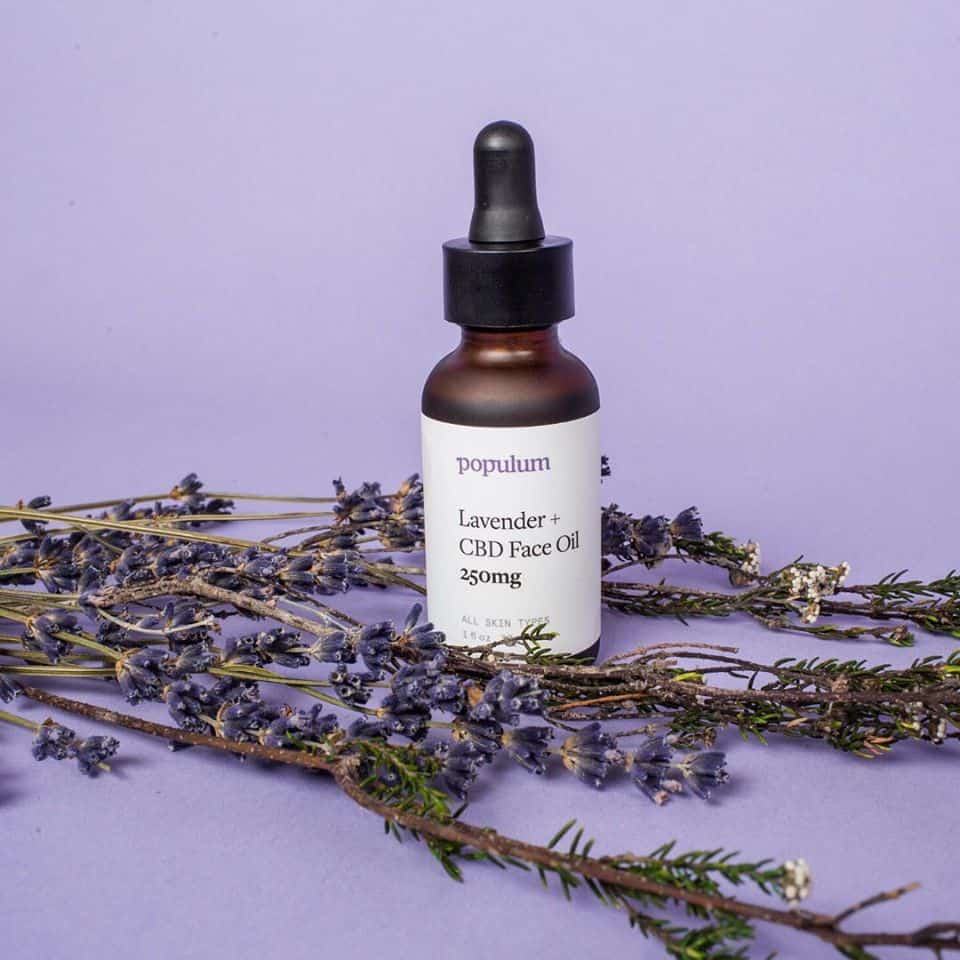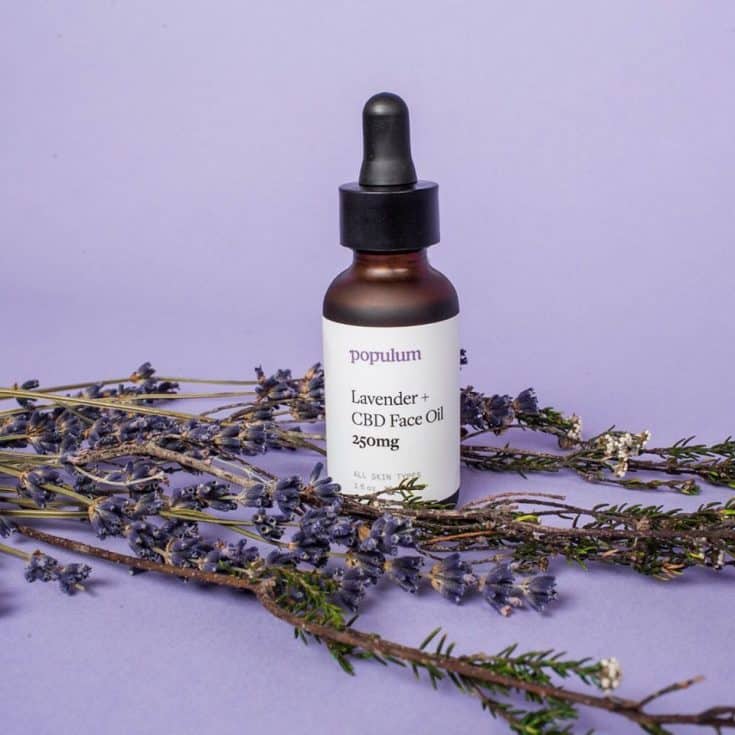 Photo Credit: populum.com
Populum Lavender + CBD Face Oil is uniquely formulated to provide antioxidants that will moisturize your skin, reduce signs of aging, and leave your skin with a healthy glow. Antioxidant-rich lavender helps with fine lines and aging and provides a calming floral scent that helps you to feel at ease while non-GMO hemp oil contains phytocannabinoids known to help with inflammatory and autoimmune diseases. We love the calming lavender addition to this CBD facial oil, making it the perfect addition to your night time skincare ritual. 
Our list of the best CBD bath and body products contains more American made CBD products that are good for the skin. It includes bath bombs, bath salts, soaps and more.
Did you see your favorite product on our list? If not let us know in the comment below and we will check it out.
Have you visited our Made in USA Shopping District? It is the place to start your shopping when you want to find the best of American-made.

Pin this list to save it for later!