I was recently offered a chance to try the FootMate System and I'm excited to be working with them to share the story of this made in the USA product. Not only is it the best way to massage tired feet after a long day of work, but the FootMate brush and Rejuvenating Gel also offer many more benefits to our body…and to our country. Read on to find out how.
A foot massager and so much more: The FootMate System
Beauty & Personal Care
Summer will be here before you know it! Are your bare feet ready to make a public appearance? The FootMate System is the perfect foot brush and gel combination to have those tootsies beach worthy in no time!
The outer brushes of the FootMate System sooth rough skin on heels and the sides of the feet and clean hard to reach areas, like between the toes.
The American made Rejuvenating Gel is a natural antiseptic, cleanser and conditioner all in one. Tea Tree Oil is an active ingredient in the Rejuvenating Gel and is a natural antibacterial and anti fungal that helps fight foot odor and athletes foot.
Health & Wellness
The FootMate System can help with your overall health and wellness. The American College of Foot & Ankle Orthopedics & Medicine has endorsed the FootMate System. Using the FootMate System improves circulation and helps stimulate blood flow in the feet. This makes it the perfect fit for people who have diabetes, who are pregnant, or who suffer from swollen ankles.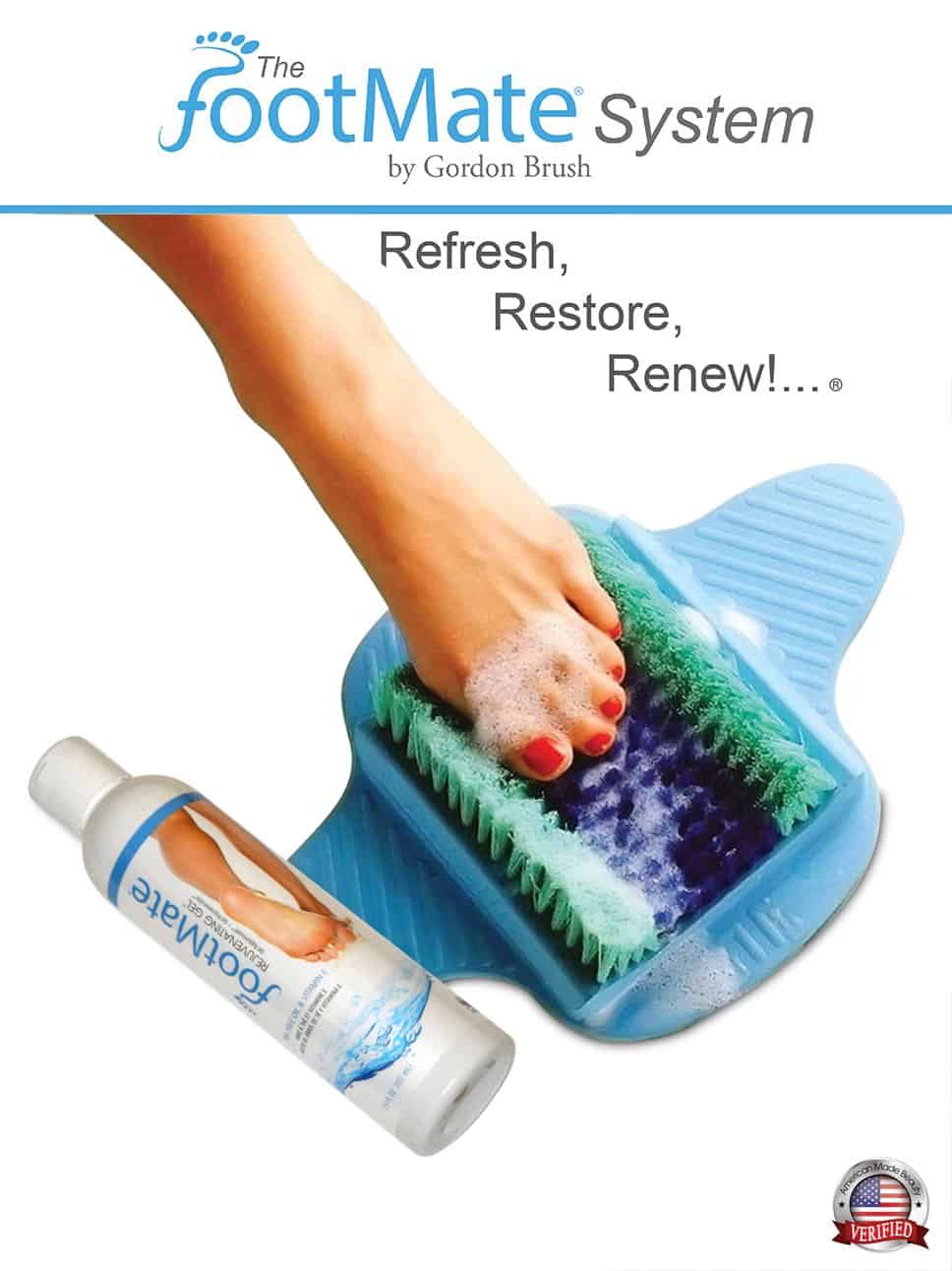 Read my review, The Finest Foot Care Made in the USA: Review of the Footmate System by Gordon Brush,  and see why I LOVE the Footmate System.
The Footmate brush is 100% Made in the USA
Gordon Brush, the manufacturer of the FootMate brush, has been making brushes in the USA for over 60 years. Gordon Brush has two American manufacturing locations, one in Milwaukee, and one in California. California is where the FootMate brush is manufactured.
The FootMate brush is 100% American made, so NO components are imported from China. Despite the lower cost of outsourcing manufacturing over seas, Gordon Brush has been loyal to keeping the FootMate System 100% made in the USA, keeping jobs on American soil and benefiting the American economy.
At the California facility, the 5 axel automated machine that manufactures the FootMate brush makes 1 unit per minute. Each FootMate brush contains over 11,000 American made bristles. Those are a lot of bristles to tickle your toes!
The FootMate brush is now available in customized colors; you pick two colors for the bristles, and a color for the base.
Read more about Gordon Brush, the manufacturer of the Footmate System, in a USALL Guest Post, Gordon Brush: Proud to be an American Manufacturer .
Disclosure: This is a sponsored post which USA Love List is proud to share with you because, sponsored or not, we only share stuff we love.