Whether you are in the market for a new grill, or just looking for some new accessories to spruce up the one you have, USA Love List has THE made in the USA grills & grilling accessories source list for you. Make sure you have the best American made grill and grilling accessories and you will be sure to up your BBQ game at your next cookout!
Don't forget that Father's Day is right around the corner and I am sure dad and hubby would not be disappointed if they received something from this American made list!
Don't miss our list of made in the USA patio furniture.
Made in the USA Grills and Grilling Accessories
Made in the USA Grilling Accessories
We LOVE pizza here at the Hanson house and my kiddos and I actually make pizza from scratch once a week. Just the other day I was wondering how we would carry this new tradition on in the summer when the last thing I want to do is turn my oven on and make it even hotter in my house.
USA Love List readers get $50 off of  gas or charcoal grill KettlePizza Oven Kits with code USALOVE.
KettlePizza Pizza Oven Kits are a great solution.  A KettlePizza Pizza Oven Kit is designed to turn your charcoal kettle grill into an outdoor pizza oven.  Manufactured in Massachusetts, the KettlePizza stainless steel sleeve fits between the bottom and cover of most charcoal grills creating the perfect wood oven pizza cooking environment where your pizza will not come out over cooked on one size and cold on the other. 
Bear Paws are 100% made in the USA. This tool is a must have for your BBQ chef, especially if he/she specializes in large pieces of meat. The Bear Paws BBQ tool can be used to shred pork or chicken, to lift and serve meat, and to even toss a salad.
Fire & Flavor all natural charcoal, smoking chips, fire starters, and spices will add flavor to your grilled dishes that no one else can beat! The Lump Oak & Hickory charcoal make even the plainest burgers taste gourmet! My husband is a chef and he is a huge fan!


The Kingsford Charcoal Grill Caddy Dispenser keeps charcoal dry. Holds 20 or 24 pound bags. Don't forget the Kingsford charcoal– that's made in the USA too.

Royal Oak grilling products include varieties of charcoal, wood chips, and lighter fluids, all made in the USA.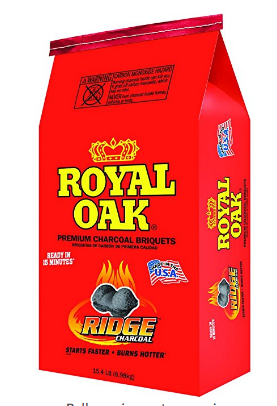 Made in the USA Grills
Based in Southern California, Alfresco manufactures all of their luxury professional level outdoor cooking systems in the United States.
American Badass charcoal and gas portable grills are made in the USA by American workers with parts made in the USA.
American Outdoor Grill (AOG) grills are manufactured in California.
Blaz'n Grill Works pellet grills are 100% American made with components sourced from Nebraska, Colorado, Pennsylvania, and Oregon.
Broilmaster has been manufacturing grills in the USA for about 50 years. Today, Broilmaster Premium Grills are made in Belleville, Illinois.
Hasty-Bake charcoal ovens have been made in the USA since 1948.
Holland Grills are made in North Carolina and are designed to prevent flare ups.
Huntington grills are made in North America with 2 factories in the USA (Huntington, Indiana and Dickson, Tennessee)  and one in Ontario, Canada.
Don't miss our list of American made cookout necessities.
Disclosure: This is a sponsored post which USA Love List is proud to share with you because, sponsored or not, we only share stuff we love.
Follow USA Love List's board Grill it Up!! on Pinterest.