Don't forget that Father's Day is right around the corner and I am sure dad and hubby would not be disappointed if they received something from this American made list! USA Love List has THE list of made in the USA grills that includes charcoal grills, gas grills, pellet grills, smokers and more. Make sure you have the best American made grill you will be sure to up your BBQ game at your next cookout!
Made in the USA Grills: The Source List
RTA Outdoor Living
RTA Outdoor Living made in USA grill islands make the luxury of having an outdoor kitchen more affordable. RTA (ready-to-assemble) Outdoor Living grill islands and kitchen islands cut out the high costs associated with building an outdoor kitchen form scratch. They are a one supplier source for everything you need to create your outdoor kitchen oasis. No matter what type of grill you prefer- charcoal, gas, electric, pellet, and even smokers- RTA Outdoor Living has you covered. Want to add a sink, refrigerator, bar, storage space, and counter tops to your outdoor kitchen? Maybe you are looking for an affordable wood fired pizza oven? How about a fire pit or a fire table? They offer all these products too!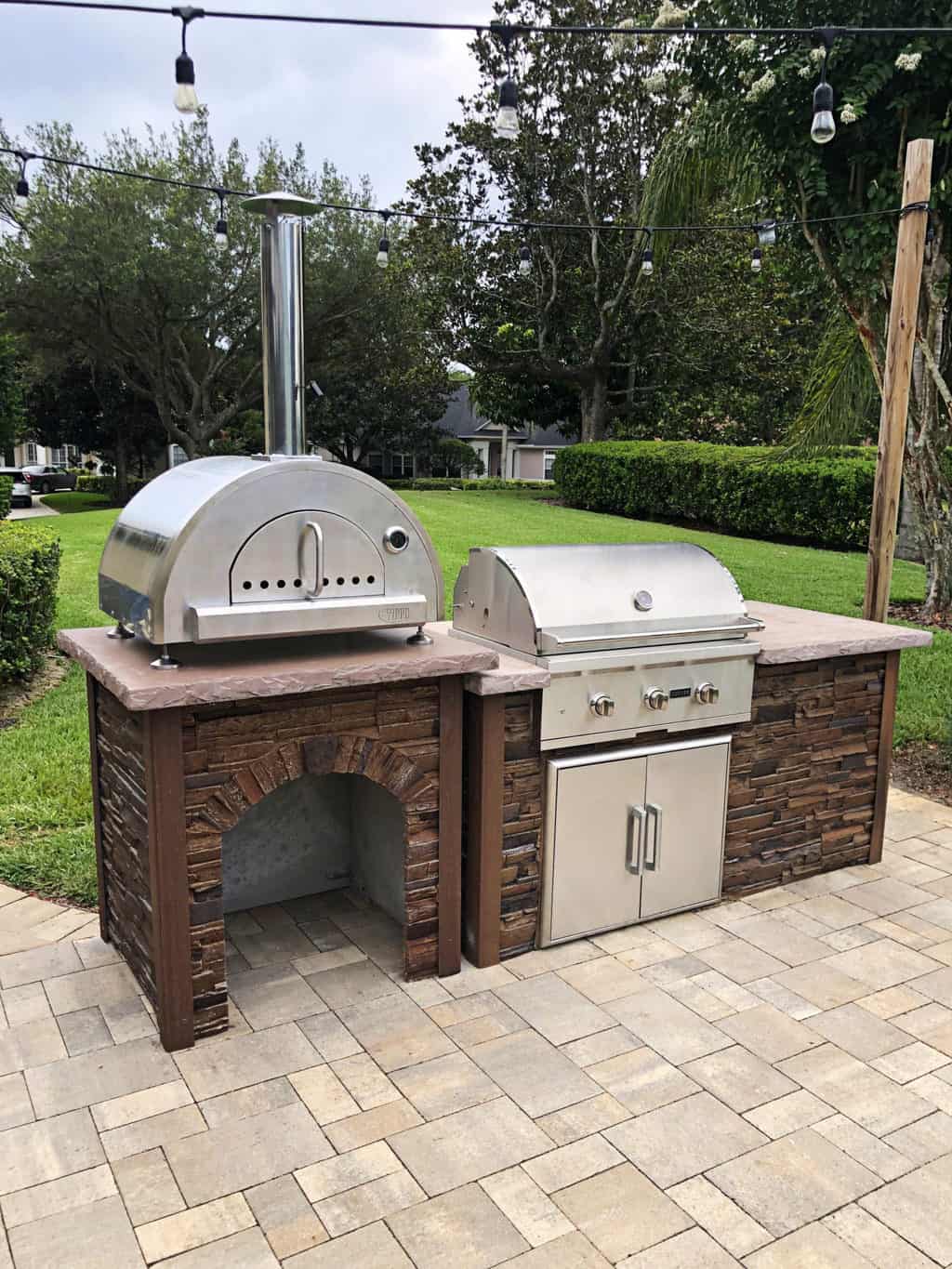 RTA Outdoor Living kitchen and fire products are hand made in their Cambridge City, Indiana manufacturing facility. All kitchen islands are made from a patented concrete composite material that is engineered to withstand any climate and outdoor stressors.
Can't decide what layout or options you want for your kitchen island? Use the RTA Outdoor Living 'Outdoor Kitchen Design Tool' located on their website for inspiration.
Based in Southern California, Alfresco manufactures all of its luxury professional level outdoor cooking systems in the United States.
American Outdoor Grill (AOG) grills are manufactured in California.
Assassin Smokers & Grills insulated smokers, charcoal grills, and custom trailers and hog cookers are handcrafted in Georgia.
Blaz'n Grill Works pellet grills are 100% American made with components sourced from Nebraska, Colorado, Pennsylvania, and Oregon.
Broilmaster has been manufacturing grills in the USA for about 50 years. Today, Broilmaster Premium Grills are made in Belleville, Illinois.
Dakota Grills are outdoor and indoor grills because they plug in. Dakota Grills can grill or bake and produces no smoke. You can actually grill a steak and bake cookies at the same time!
Fire Magic grills and outdoor cooking accessories have been manufactured in the USA for over 70 by RHPeterson Co.
Goldens' Cast Iron Kamado Grill and Kamado Smoker are made in the USA from cast iron. These grills are built for durability.
Grillworks artisanal grills are hand constructed from stainless steel. These luxury grills are available in family size and professional kitchen size.
Don't miss our list of made in USA grilling tools and BBQ products!
Hasty-Bake charcoal ovens have been made in the USA since 1948.
Holland Grills are made in North Carolina and are designed to prevent flare-ups.
Holstein MFG. backyard and professional grills are made in Iowa.
Hunsaker Smokers Vortex smoker is made in Missouri.
Huntington grills are made in North America with 2 factories in the USA (Huntington, Indiana, and Dickson, Tennessee) and one in Ontario, Canada.
Kalamazoo's high end, handcrafted outdoor grills and pizza ovens are manufactured in Kalamazoo, Michigan.
KANDO Gear, a family-owned company from Texas, makes pellet grills/smokers that will last forever.
Kenyon electric grills are handcrafted in Connecticut.
KettlePizza® Pizza oven kits are made in Massachusetts. They turn a regular gas grill or a Weber charcoal grill into a pizza oven. They're very easy to set up and use! They're available on the KettlePizza® website or on Amazon.
Lone Star Grillz, a Texas company, either makes the parts that go into their pellet grills in its fully tooled fabrication shop, or source the components from US manufacturers. Either way, these wood pellet smokers are entirely made in the USA.
MAK Grills pellet grills and smokers were the first pellet grills to have a digital control. In 2013 MAK Grill was the first grill manufacturer to be inducted into the Made in America Hall of Fame.
MHP (Modern Home Products) gas grills have been made in the USA, Illinois to be exact, for over 50 years.
Myron Mixon Smokers are made by internationally award-winning barbecue expert Myron Mixon. The company is in Georgia and the grills are made in Missouri at the Smokin' Brothers fabrication facility. These grills & smokers cook great and have built-in software controllers made in the USA.
Pitts & Spitts smokers and grills have been handcrafted in Texas since 1983.
Portable Kitchen PK Grill Original is an aluminum grill made in Arkansas and are perfect for tailgating, a day at the beach, camping, as well as back yard cooking. Only the Original model is American made.
Primo Grills are the only ceramic grills that are made in the USA, Georgia to be exact.
Sawtooth Pellet Grills are made in Boise, Idaho.
Smokin Brothers Traditional, Premier, and Commercial grills are made in Missouri.
Solaire infrared grills, portable gas grills, outdoor gas grills and built in grills are made in the USA.
Some of Weber's grills, like the Classic charcoal kettle grill and the Summit series of gas grills, are manufactured in Palatine, Illinois.
Yoder Smokers are handcrafted in the USA.
Cover and pinable image: RTA Outdoor Living
Have you visited our Made in USA Shopping District? It is the place to start your shopping when you want to find the best of American-made.
Love this list? Then we know you will love these lists too!

Pin this list to save it for later!