USA Love List has compiled a list of companies that not only make their products in the USA, but they are also Veteran owned and make it a point to give back to the men and women who have served our country.
Companies that Support American Veterans
Capps Shoe
Capps Shoe has a long tradition of supporting Military Branches with Berry Amendment Compliant Footwear, all made in Gretna, Virginia. The Uniform Division sells the Department of Defense uniform footwear for the Army, Air Force, Navy and Marines thru Federal Contracts. Also available in the Army – Air Force Exchange Centers (AAFES), the Navy Exchange Centers (NEXCOM), R.O.T.C, J.R.O.T.C, and private uniform stores. In order to further the support for Veterans and Active Service members, Capps Shoe offers significant discounts for qualified service members. In order to receive the discount please contact customer service at 800-533-7733.

Boldfoot
Boldfoot men's fashion socks are grown and sewn in the USA using American grown cotton. Boldfoot donates 5% of their profits to U.S. Military & Veterans in need. You can save 15% off your Boldfoot sock purchase now with code USALOVE on your first order. No minimums necessary. No expiration date.
Hero Clean
Hero Clean cleaning products are specially formulated to handle the stains, odors, and messes of guys. Hero Clean donates a portion of their profits to organizations who support our nation's heroes and their families, like Iraq and Afghanistan Veterans of America, Lone Star K9 Kennels, Veterans Village, and The Mission Continues.
Oscar Mike
Oscar Mike is an American made apparel company that started its own nonprofit, the Oscar Mike Foundation, with the mission of keeping injured veterans on the move.
Boss Dog
Boss Dog brand Greek Style Frozen Yogurt Dog Treats are high quality, all natural treats for dogs made from human grade ingredients. Boss Dog is a proud sponsor of Pets for Vets, an organization that matches pets in need of homes with military veterans who are in need of a pet.

Snap-on Tools
Snap-on Tools is a franchise tool company that sells directly to professional technicians and manufactures 80% of its tools in US plants. Snap-on Tools is an official sponsor of the Honor Flight Network. The Honor Flight Network currently raises money to send WWII Veterans to Washington, D.C. to see their memorial.
Clif Bar
Clif Bar, a company that manufactures most of its snack and energy bars in the US, supports the Farmer Veteran Coalition through a grant provided by the Clif Bar Family Foundation. The Farmer Veteran Coalition works with veterans in farming and food communities, educating them on farming and connecting them to agriculture.

Veteran Owned Companies: Made in the USA
American Built Clothing
American Built Clothing is an apparel company launched by two lifelong friends and U.S. veterans, KC and Nick. KC served in the Navy and Nick was a Marine sniper who served three tours. They reunited to start their own company – making sure every inch of the company is American-made, from the cotton to the screen printing. With every purchase, you're directly supporting our country's Veterans.
"We want people to be proud of what they wear, and be proud of where they are from."
Heroes Vodka
Heroes Vodka was founded by U.S. Marine Corps Veteran Travis McVey. Heroes Vodka is made in the USA from 100% American corn. A percent of every purchase goes to support the American Freedom Fund which empowers veterans across the USA through athletic, educational, and advocacy programs.

Love of Country
Love of Country is an American made clothing company owned and run by a husband and wife team, Joe and Kristen Knoetgen. Joe is an Air Force Medic and EMS Volunteer. The couple started Love of Country with the goal to outfit American's with clothing that shows pride and support for our nation's military, police, fire, and EMT. Love of Country T-shirts for men and women are made completely in the USA. I was sent the Ladies Debut Organic/ RPET Tee which is made from 50% organic cotton and 50% recycled polyester fabric (made from plastic bottles). This Eco-friendly and patriotic T-shirt is super soft, comfortable, and fits great.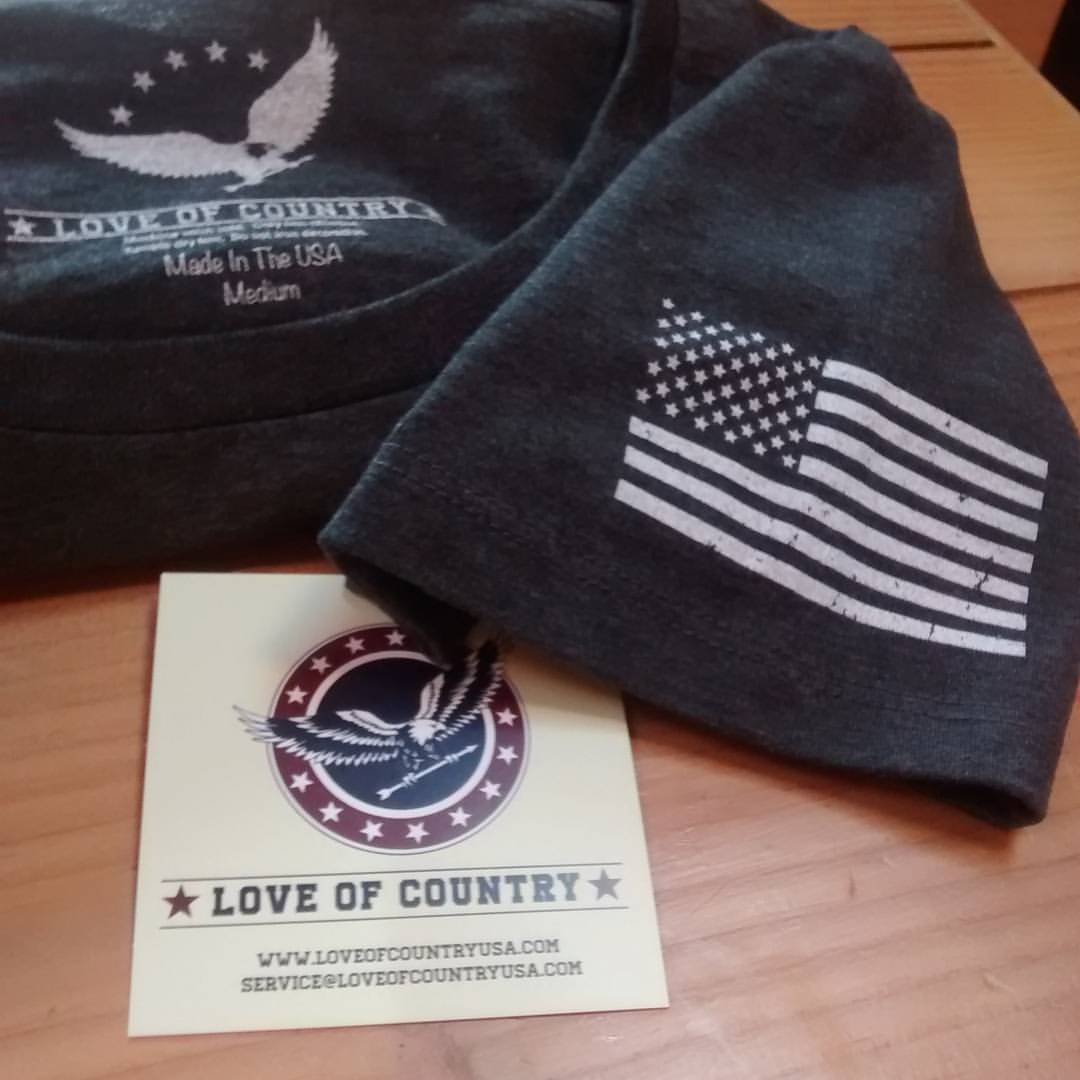 Did we miss any? If you are aware of brands that support American veterans, please add them in the comments below for our readers to see and so we can add them in future updates.
Disclosure: This is a sponsored post which USA Love List is proud to share with you because, sponsored or not, we only share stuff we love.