Addicted to leggings? Us too! Buy the ones made in the USA for the best fit and quality. Check out our source list for American Made leggings. We have had several inquiries from readers for suggestions on American-made leggings, so of course, we just had to put a source list together! In this made in USA source guide, you will find leggings for working out, leggings for lounging around, and even leggings for a night out on the town.
American Made Leggings
Eco-Friendly Leggings: Yoga Democracy
Yes! Leggings can be Eco-friendly.  In fact, Yoga Democracy is the leader in sustainable, Eco-friendly activewear legging brands.  The fabric that is used to make Yoga Democracy leggings is made from post-consumer plastic bottles, and fishing nets pulled for oceans around the world.  The polyester and nylon fabric that is created from other people's trash is soft and long-lasting- making it perfect for activewear leggings. Yoga Democracy also is a zero-waste manufacturing company as all excess material is collected and repurposed.  
To get the colorful patterns on their leggings, Yoga Democracy uses an Eco-friendly, non-toxic dying process that results in beautiful bleed-free, vibrantly colored patterned leggings. There is no white on pulling, and the fabric is pill-resistant, sweat-wicking, microbial free and fade resistant. Yoga Democracy leggings are designed, printed, and sewn all in the same building in Carefree, Arizona. Take 25% off your  Yoga  Democracy purchase with promo code USALOVE.
American Made Leggings: The Source Guide
Do you know of a source for Made in USA leggings that we missed? Add it in the comments below.
Aero Tech Designs American made leggings (including compression leggings) are designed for cycling.
Alala luxury women's activewear line includes leggings, tights, and sweats.
American Giant leggings are available in a selection of styles and colors. 
Astrosportswear colorfully patterned options made in the USA.
Aviator Nation is a 1970's inspired California lifestyle brand. The leggings are not only super comfortable but they are also supportive and breathable and will 100% keep their shape for years of use. Great for working out, lounging or day-to-day use!
Avocado makes seamless leggings designed, knitted, sewn, and hand-dyed entirely in Downtown Los Angeles, California. These are my all-time FAVORITE leggings. They're comfortable; they stay put; they suck you in, but not uncomfortably so (I'm a size 12); the fabric is the perfect thickness and is soft and comfortable; the colors and patterns are fun and you'll be excited to wear them! I couldn't recommend them more!
Carve Designs surf-inspired leggings, capris and tights are made in California.
Clara Sunwoo Liquid Leather Leggings add style and luxuriousness to any outfit. Made from the brand's signature soft stretch poly blend fibers with a coating of faux liquid leather finish. They're easy to care for, quick-drying, and cooler than linen or cotton. They're made in the USA and designed in New York. 
Decent Exposures organic cotton leggings are made in Seattle, Washington.
Emily HSU Designs signature style features a high waist.
Fit Couture yoga tights and capris are made in USA.
Good hYouman are for lounging or for being active.
Hard Tail designer leggings are made in California.
Hyde offers organic yoga pants thoughtfully and mindfully designed for a mindful yoga practice. These leggings are mid-rise and made of 87% organic cotton and 13% spandex. They fit are true to size and comfortable for wear from studio to street.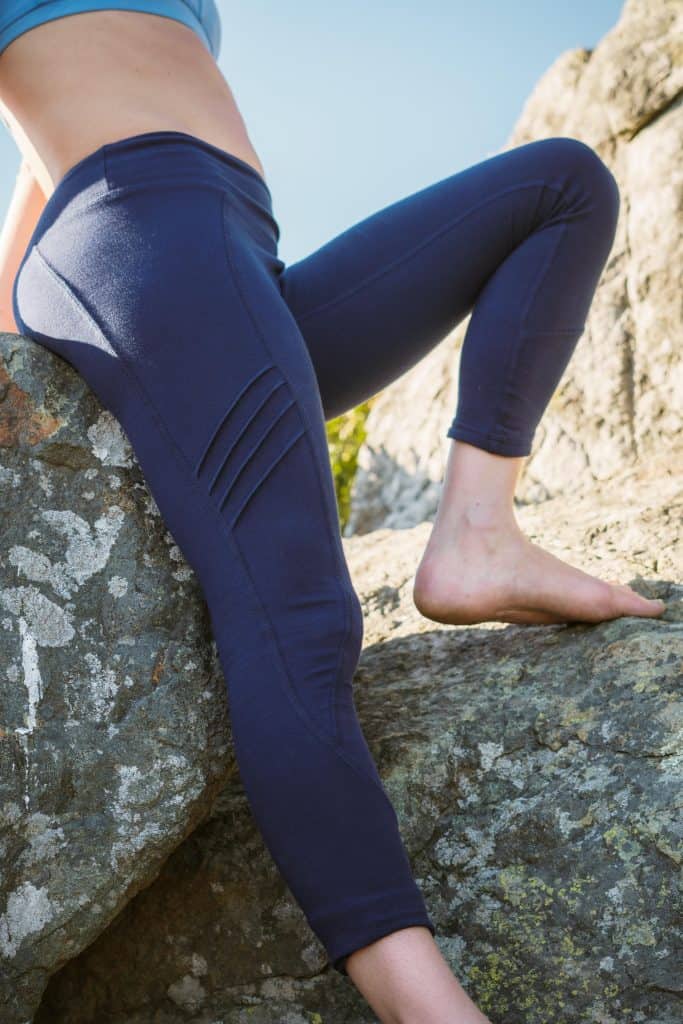 LYNA leggings were designed for postpartum, but the are fabulous at at any stage of a woman's life. They are high waisted for gentle support, they are made from heavy weight organic cotton, and they have pockets. 
K-Deer signature strip and colorfully patterned leggings are made in America and are available in sizes for women, kids. Available in plus sizes and maternity sizes too.

Monolith fitness High Waisted Lustre Leggings are made in the USA.
National Picnic thick and durable cotton leggings with a touch of spandex, are sewn to order in the USA. 15% off with code USALOVE. No expiration date. 

Nina b roze stylish fitness styles are made in Los Angeles, California.
NUX luxury leggings are available in reversible styles.
Onzie  fashion yoga leggings made in California. Men's styles also available.
Pheel leggings are designed for working out or hanging out.
PrAna some Prana items, including a line of patterned leggings, are made in USA.
SlipIns Sea Legs 4-way stretch, figure-flattering, high-waisted comfort leggings have 50+ UPF sun protection and stretchy, breathable, fast-drying fabric that fits every figure. They will quickly become your favorite go-to leggings for water or land. Sea Legs leggings are made in the USA in Orange County, California.
TAKE 15% OFF YOUR SLIPINS ORDER WITH CODE USALOVE. EXPIRES 12/31/2021.
Split59  Not all Split59 leggings are American-made, but several styles are. Read descriptions carefully.
Solow leggings are available in many styles.
Soul Flower organic cotton designs are super comfortable. I love my pair of skirted leggings!
Teeki Eco-friendly choices are made in the USA from recycled plastic bottles.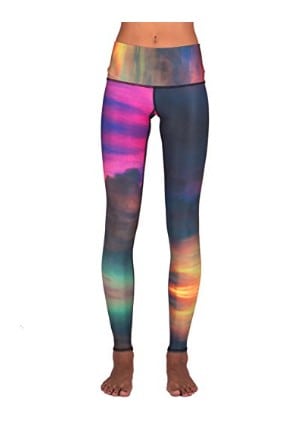 Terez unique patterned leggings are made in New York City.
Yoga Democracy activewear leggings are made from post consumer plastic bottles and fishing nets. Learn more about Yoga Democracy Eco-friendly activewear leggings at the top of this article. Take 25% off your  Yoga  Democracy  purchase  with  promo  code  USALOVE.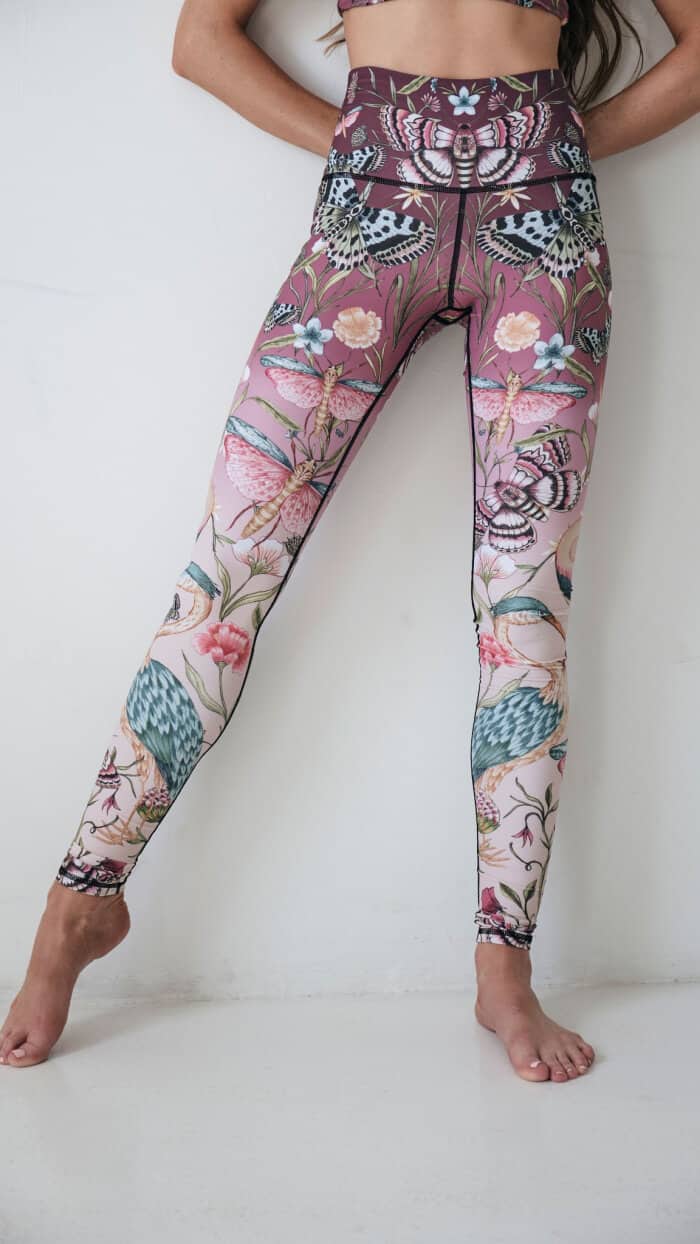 Disclosure: This is a sponsored post which USA Love List is proud to share with you because, sponsored or not, we only share stuff we love.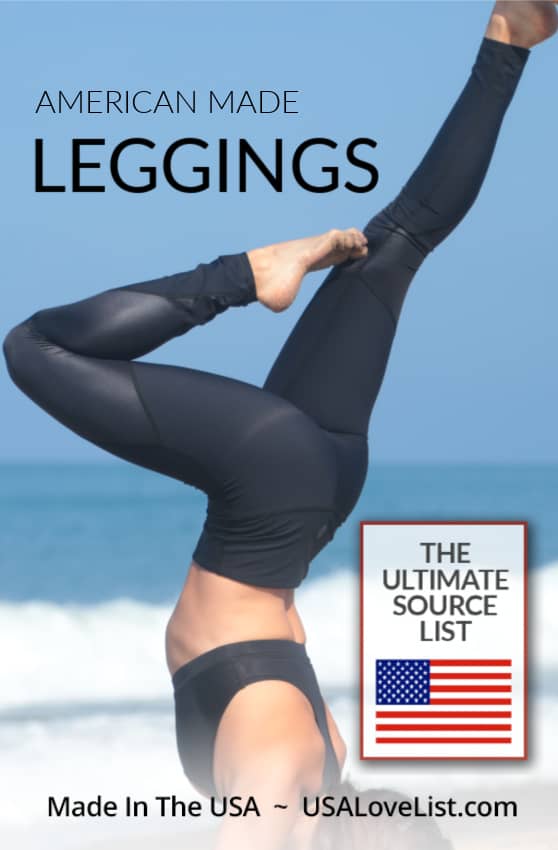 Cover Photo: Yoga Democracy