If you are looking for gift inspiration for your mom, a friend, or even for yourself, we found several affordable American made gifts for tea lovers. Cozy up and enjoy life's simple pleasures with these tea gifts that are perfect for everyone.
Affordable Gifts for Tea Lovers
Get organic, non-GMO, and Fair Trade tea from Plum Deluxe Tea of the Month Club. Each month Plum Deluxe sends a hand-blended, fresh, special limited-edition tea for tea club members only. One of the brand's signature blends, Oregon Black Breakfast Tea, featured below, is made with black and honeybush tea, orange peels, and hazelnut essence, which offers anti-inflammatory and anti-oxidant benefits. This unique tea blend offers balanced tastes with deep, mellow, citrus, and nutty flavors from the black tea, honeybush, orange peels, and hazelnut essence, respectively.  Plum Deluxe tea blends are blended by hand in Portland, Oregon.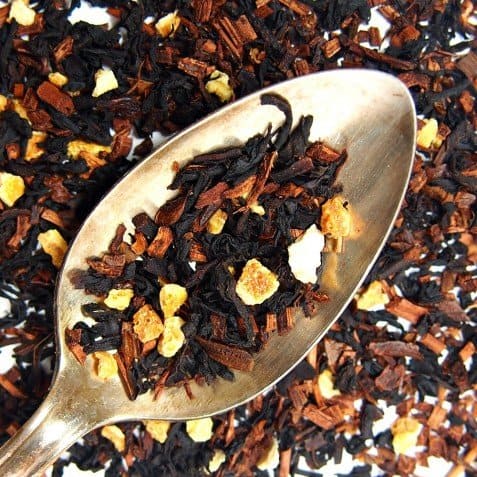 Make teatime an everyday luxury with this Love and Magic 'Tea Nest' Tea Infuser Set. The tea brewing set is carefully handcrafted in the USA from sustainable forests. Simply fill the mesh basket with loose tea, and then rest the wooden sphere on top of your teacup, mug, or teapot. The wood is thin enough to not get in the way of steeping the perfect cup, while also sturdy enough to hold up to regular use. The infuser comes in a paired set with a matching teaspoon, elevating your next tea time to a luxurious experience.
Taking time to brew the perfect cup of tea means you've carved out time for mindful thoughts. Enjoying tea, reflecting, and journaling sounds like the perfect "me-time" to me! The Plum Deluxe Tea Moments Journal makes it easy to keep track of your best thoughts, and favorite teas. This journal features 32 pages with three main sections for each tea moment, including:
Cups of Gratitude: Fill your cup with notes of what you're grateful for.
Insights and Epiphanies: Sometimes the best ideas can be found over a good cup of tea.
Tea Tasting Notes: Tea tasting notes are a great conversation starter & can help you decide what new teas you'd like to try.
<
End the day by letting the Paddywax Chai Latte Candle allure you with its sweet, strong, and comforting scents. I love that these candles are made of clean burning soy wax. The Provisions container make repurposing the ceramic vessel easy when the candle's life is over, and make it a unique and gift all on its own.
For more Tea Love gift ideas, don't miss the articles below
Image Credit: Plum Deluxe