Earlier this month, our own Jill Homiak and I met up in New York City to attend the third Martha Stewart American Made Summit.  Jill and I work together every day on USA Love List, but we live in different cities so we rarely get to see each other in person. What a treat! And even better, we were at a dream-come-true event entirely dedicated to celebrating American Made.


This was our first time attending this event. I'll be honest… I'd been a little skeptical. I'm a fan of Martha Stewart as a businesswoman and as a personality. But it had not escaped my notice that the majority of the products sold by her brand are not, in fact, made in the USA. That's something I'd love to talk with her about and it is something I hope we can all move her to change by creating more demand for American made. But I'm also aware of major brands doing at least some manufacturing in the US, but keeping it a secret because they are afraid of the backlash if they can't claim 100% of components and assembly. We're not perfectionists or even idealists here at USA Love List. We think it's worth supporting every step in the direction of more and better American jobs. And we wholeheartedly appreciated the excitement this event generated around all things American Made.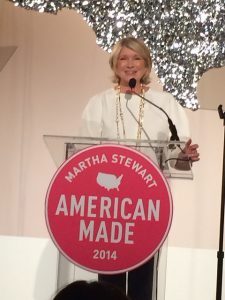 The event started on a Friday night with the awards and cocktail party, presided over by Martha herself. As we walked down the corridor to enter the party, there was a USA map with sticky labels inviting everyone to to mark where they were from. Since the East Coast was already well represented, I stuck my dark blue "USA Love!" dot on Northern Michigan where I live in the summertime. It was fun to see that I was not the only one from The Mitten. It was also inspiring to realize how many people had come from across the country to be in NYC for the 2014 American Made Summit.
The opening cocktail party was organized around sumptuous stations for each region of the country. I was most delighted by the Northeast's briny raw oysters on the halfshell so I snapped this picture. Once I got home, I found out that the purveyor was our own editor Tracey's high school friend Cindy's brother. No kidding. Did you follow that? It is a small world, which is one of many reasons why buying American matters.
The highlight of the evening was hearing the stories of the ten 2014 winners of the American Made awards. There were thousands of nominees, narrowed down to finalists in the categories of Crafts, Design, Food, and Style.  Here, Martha is talking to Pashon Murray of Detroit Dirt, whom I was fascinated to talk with myself at the closing cocktail party.
Throughout the event, there was a team on hand from The UPS Store wearing these comfy fitted American Apparel Tees to promote their #ViaStories campaign. The UPS Store supports a huge range of small American businesses, providing them with many of the office services they need. #ViaStories is all about hearing the stories of those entrepreneurs because we can never know who will hear that story and be inspired. They certainly inspired both Jill and me to share our stories. They are also sponsoring USA Love List's Black Friday Giveaway when we will be giving out Visa gift cards to buy your American made holiday gifts and inviting you to share your story too.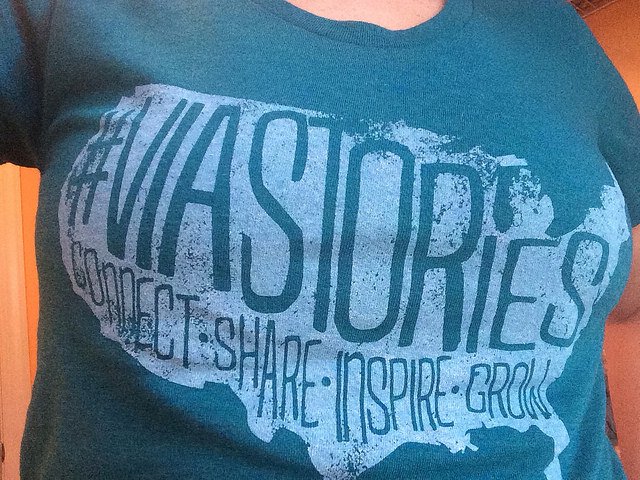 The following day included a full agenda, starting at 8am, chock full of spirited speakers and panels telling their own stories and talking about how to succeed as entrepreneurs in American made.
A pregnant and lovely Blake Lively was there to talk with Martha about the launch of her site Preserve.us and her decision to sell only American made items.
My favorite session was Martha's conversation with the founder and top executives of Alex & Ani who were positively passionate about manufacturing in Rhode Island. I took a few pages of notes.
Lunch was dreamy… by far the best catered lunch I've ever had. And Martha told us that all of the compostables get hauled straight to her farm.
To the event, I wore this fabulous plum colored hat given to me by Bollman Hat CEO and American Made Matters founder Don Rongione after spending the day with him at the Bollman factory in Pennsylvania. It was a brilliant move. I tweeted this stealth selfie of me trying to be cool when I realized Martha was standing right behind me. Because of the purple hat, people who saw the tweet came up to chat and high five me for the rest of the day.
Thanks for letting me share our American Made adventure in New York. I hope that many of the Made in USA brands we love will nominate themselves for next year's event and USA Love List will be there to support them.
Please come back on Friday for our #ViaStories giveaway of Visa gift cards and the release of our exclusive list of Black Friday & Cyber Monday DEALS on Made in USA gifts.