We all need cookware, and high-quality cookware can last a lifetime. Once and for all, for yourself or for a gift, choose a set of made in USA cookware. Investing in a set of American made pots & pans is a great way to support American manufacturing.
Our list of companies that have been offering made in the USA cookware has actually GROWN over the past two years. It is so exciting to see an American made product category increase in the number of made in USA products and companies available, as opposed to decreasing in size, as it often happens.
This list of made in the USA cookware will surely come in handy when you are ready to replace a set of pots & pans or just a piece here and there. Made in the USA cookware also makes great gifts for weddings, bridal showers, and housewarmings.
Don't miss our ultimate source guides for made in the USA kitchenware, and American made appliances.
Handcrafted in the USA Cookware
Eco Friendly Cookware: 360 Cookware
Now more than ever is the perfect time to take a deeper look at what you are using as cookware. 360 Cookware heirloom quality cookware is handcrafted in the USA. It is manufactured in the world's most environmentally advanced factory which is located in Wisconsin, American's heartland.
Imagine the possibility of reducing 6,000 calories per month just by changing your cookware! 360 Cookware's innovative, waterless pots and pans generate a vapor seal that perfectly distributes temperatures and re-directs the natural moisture back into the food. 360 Cookware is made of T-304 Surgical Grade Stainless Steel, so your food never comes into contact with non-stick coatings and other potentially-hazardous elements that can seep into your food.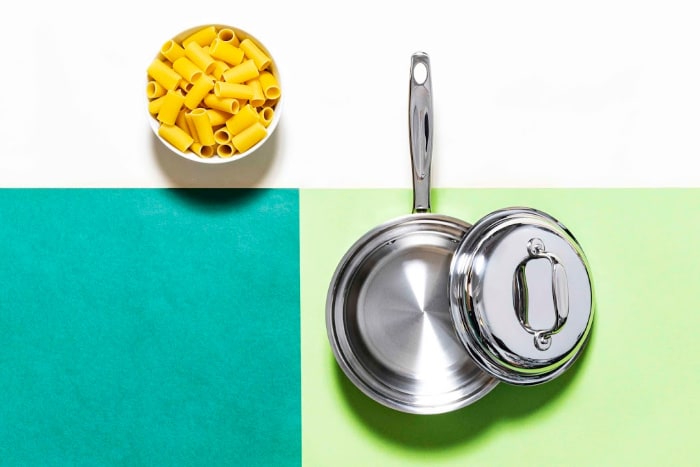 The 'greenest' thing that the manufacturers of 360 Cookware can do is make products that will never end up in a landfill. The LIfetime Warranty that consumers get when purchasing 360 Cookware, helps make sure that happens. Made in USA Cookware Deal: Save 25% on your 360 Cookware order with promo code USALOVE. Code expires December 31, 2020.
Made in USA Cookware: Ultimate Source List for Pots & Pans
This list is constantly being updated, so check back often. Did we miss your favorite made in USA cookware company? Leave us a note in the comments section.
1919 Cookware Collection is specially designed for home chefs to have quality kitchens tools on hand to enhance the cooking experience. Each 1919 Cookware piece is designed and manufactured to perfection in West Bend, Wisconsin. Made in USA Cookware Deal: 10% off 1919 Cookware with code USALOVE
360 Cookware stainless steel cookware and bakeware is made in Wisconsin by a family-owned company focused on one thing and one thing only—making heirloom quality cookware and bakeware in the most ethical and environmental manner possible. Learn more about 360 Cookware at the top of this post! Made in USA Cookware Deal: Save 25% on your 360 Cookware order with promo code USALOVE
All-Clad cookware and ovenware, made in Pennsylvania
American Kitchen cookware is handcrafted in Wisconsin. American Kitchen offers a tri-ply stainless steel line and a cast aluminum line of cookware.
Belkraft International factory direct pans are manufactured in Tennessee. Belkraft International cookware is stainless steel and constructed with a unique 7 layer design.
Brooklyn Cooper Cookware collection of pots and pans is handcrafted in Brooklyn, New York
Calphalon Unison non-stick cookware is made in Ohio
Duparquet Copper Cookware is handmade in Rhode Island
Field Company cast iron pans are lighter and have a smoother surface than typical cast iron products.
Finex cast iron cookware is handcrafted in Portland, Oregon
Heritage Steel cookware is made in Tennessee. Hammer Stahl American Clad cookware is made from stainless steel with 7 layers of metal.
Lodge is the oldest continuous manufacturer of cookware in America. Founded in 1896, Lodge has proven that cast iron cookware is timeless. Lodge cast iron cookware is made in Tennessee. Please note: Lodge enameled products are not American made. Don't miss our Lodge cast iron dutch oven chili recipe, and cast iron skillet pan pizza recipe.
Made in factory direct professional cookware is made from American metals. Made in cookware is constructed with 5 layers of aluminum and steel.
Nest Homeware is based in Providence, Rhode Island. Nest cast iron cookware is bronze in color due to the flaxseed oil used in seasoning.

Nordic Ware manufactures most of their bakeware products, like their baking sheets and bunt pans, in the USA. Check labels carefully!
Smithey Ironworks cast iron cookware is made in Charleston South Carolina.
USA Pan is family owned and operated and manufactures professional quality cookware and bakeware in Wisconsin.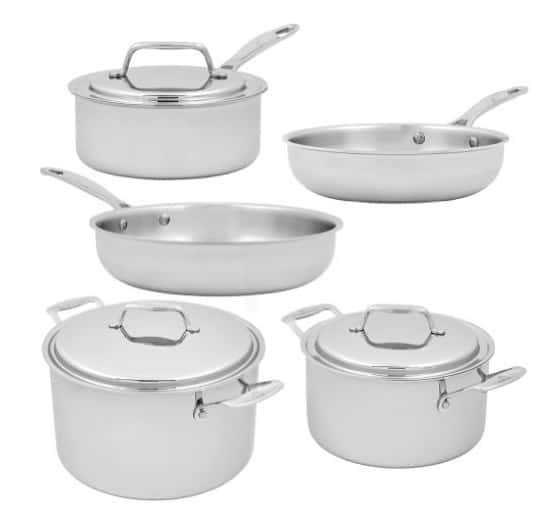 Viking is well known for its appliances, especially its ranges. Viking also offers a line of made in USA stainless steel multi-ply professional cookware.
Wolf Gourmet multi-clad stainless steel cookware is designed and manufactured in the USA. Wolf is another company that is well known for its appliances. They are now venturing into cookware.
Made in USA Cookware Retailers
Sur La Table offers a selection of Lodge, All-Clad, Viking, Nordic Ware, and Wolf products.
Bed Bath & Beyond offers a selection of All-Clad and Viking products