Summer gardens are in full swing. Fall will soon be in the air, and home gardens are overflowing with vegetables. Don't have a home garden? Farm stands are filling up to the brim with the season's bounty, and local orchards are awaiting visitors to do the picking. Gather up all of the fresh fruits and vegetables you can now and preserve them to be enjoyed all winter long.
Food preserving is becoming more and more popular. People are preferring home preserved fruits and vegetables over store bought canned goods and pre-packaged snacks that are filled with processed additives. In the long run, home preserving is also an economical way to prepare today's excess produce for tomorrow's meals. Here's the best news of all: many of the products you'll need for home canning, dehydrating, and preserving are made in the USA! Here are 3 great ways to preserve the flavors of summer with made in the USA supplies.
Preserving With Made in USA Canning Supplies
Canning fruits and vegetables is a tradition that has been passed down through generations. Canning is a great way to preserve fruits in jams, jellies and pie fillings. Vegetables are great to use in canning salsas and for pickling. There are 2 ways to can-boiled water bath and pressure canning. Fruits and vegetables that are of low acidic content and are not being pickled, MUST be pressure canned to prevent the risk of botulism. Canned items are best to be used within 8-12 months. Here are my favorite American made canning necessities!
Ball Brand canning jars have been US made since 1884. Some of their bands and lids are also US made. The metal canning lids are not reusable, but the bands are.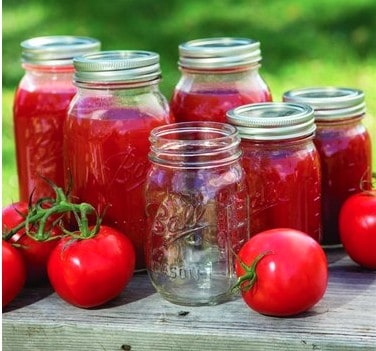 Tattler Reusable Canning Lids are made in Michigan. They are made of plastic, BPA free and indefinitely reusable. These lids work with the metal bands. Shop Tattler on Amazon.
If you are planning a large garden and will have lots of veggies to can, then this Amish made stovetop water canner is a must-have! It can fit 15 quart jars or 18 pint jars. This is probably the largest water canner you can find and it is made by Amish in Ohio from 24 gauge, 304 stainless steel.
Pressure canning is the only canning method recommended safe by the USDA for low acid vegetables, meats, and fish. Lehman's has five sizes of high quality made in USA pressure canners to choice from.
Freezer Supplies made in the USA
Freezing is my favorite preserving method because it is quick and easy. Vegetables and fruits can both be frozen. Small berries I freeze as is, but larger fruits and even strawberries, I like to slice or chop up before freezing. Vegetables are best blanched before freezing to kill any organisms and to preserve the vitamins. I chop my vegetables (like summer squash, zucchini, green beans) into bite sized pieces – the same sizes that you find store bought frozen vegetables before blanching. To blanch a vegetable is to add it to boiling water or steam for a few minutes- just long enough to brighten the color a bit, not to cook. After the vegetable is blanched it is immediately run under cold water to stop the cooking process. After the blanching and cooling, spread the vegetable pieces in a single layer onto a made in the USA Nordic Ware cookie sheet. After several hours, or the next day, remove the vegetables from the cookie sheet and store in a freezer safe container or bag. Pyrex makes great freezable glass containers that can be found in all sizes. I have found it hard to give up my plastic made in the USA Target brand freezer bags because they fit so easily in my freezer!
American made Dehydrators
Home dehydrating food is gaining in popularity. Moms are conscious of the chemicals added to kid loved fruit snacks and are opting for the more natural dehydrated snack option. Sliced apples, bananas and apricots are just some many fruits that are great dehydrated. Fruit leather (like a Fruit Roll-Up) is a popular snack made with a dehydrator. There are several popular brands of dehydrators made in the USA.
Nesco dehydrators are affordable and are a great choice for beginners. They even have a dehydrator to make jerky. Nesco dehydrators are made in the USA of global and domestic parts. Visit the Nesco Amazon shop.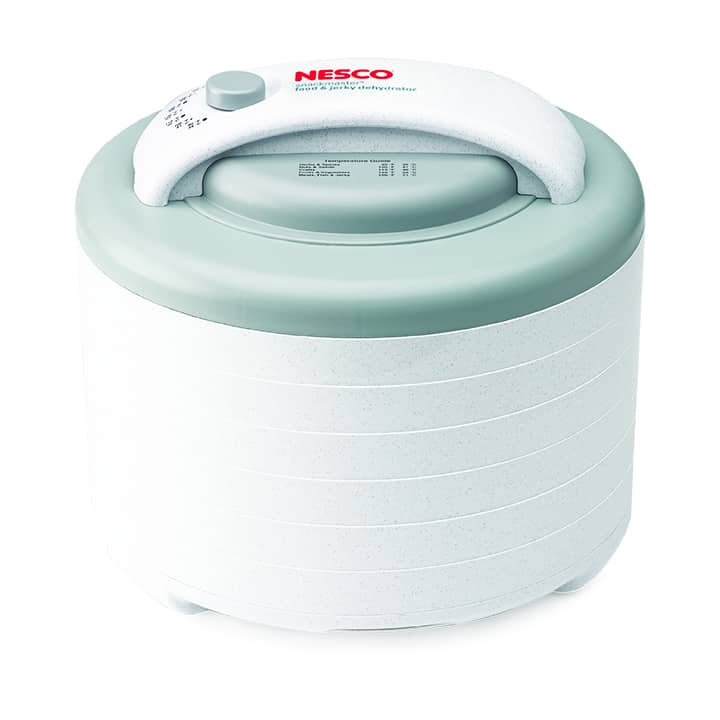 Excalibur Food Dehydrators have been made in California, with US and globally sourced parts since 1973. They are more expensive and are ideal for someone who does a lot of dehydrating. They are also available at Lehman's in multiple tray counts.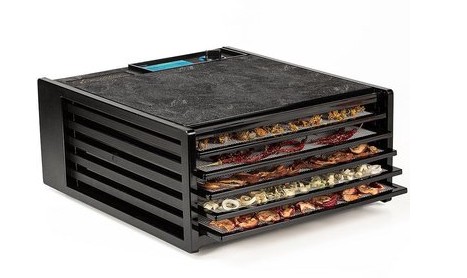 Do you have a favorite way to preserve fruits or vegetables? Are there any 'Made in the USA' preserving supplies that you love that weren't mentioned here? Please share and let us know!

Pin this list to save it for later!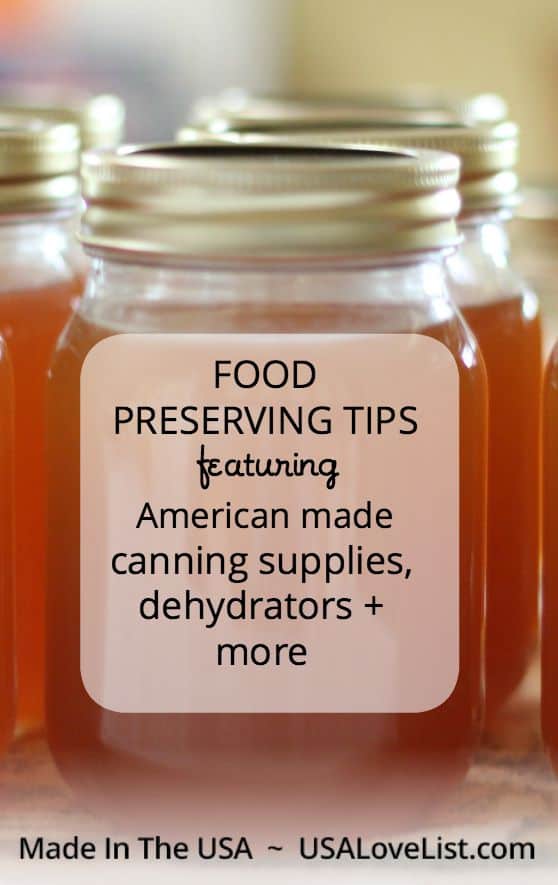 Follow Tracey's board Canning and Preserving on Pinterest.Follow USA Love List's board Homesteading on Pinterest.