Spring cleaning is an annual tradition at our house. It begins the first day the weather is warm enough (here in New England, that's 50 degrees!) to open every window in the house. The germs, dust, and grime of winter are let out as the freshness of spring blows in.  Ha! If only spring cleaning was as easy as letting Mother Nature in to do all the dirty work!
Spring cleaning might be dirty work, but it doesn't have to be hard on our environment.
5 Eco-friendly spring cleaning tips with American made products
1. Instead of using a cheap disposable sponge mop, clean your floors with a mop that has a removable, washable head. The made in the USA Libman Wonder Mop has a steel handle and an easy to remove head that you simply toss into the washing machine after each use. A washable mop head not only cuts back on your trash impact, but frequent washes stop the spread of germs.
2. Don't just throw old bath towels and T shirts away! Cut them up and repurpose them into cleaning rags. Use an all natural cleaner like the American made All Purpose Spray Cleaner from Eco-Me and toss that rag into the wash with your clothes without a second thought. Eco-Me products contain only natural ingredients, NO dyes or colorants, NO chemicals, and NO sulfates- and they clean great too!
3. Still getting a phone book, or have old ones lying around? Rip out those pages and use them to clean your windows with Better Life's I Can See Clearly Now window cleaner. Better Life cleaning products are made to be safe for people, pets, AND the planet. This is my favorite window cleaner, and it works great on mirrors as well.
4. Wash your towels, sheets, and throw rugs with a spring scented detergent. Roux Maison all natural laundry detergent comes in scents like Sweet Tea, and Ambrosia,  so you can experience the smells of spring before the warmer weather arrives! Roux Maison detergent is 6x concentrated so a 160z bottle is good for 40 loads of wash. Smaller packaging equals less waste.
5. Instead of using the clothes dryer, save energy and hang your laundry outside to dry. The umbrella clothes line from Best Drying Rack has been made in the USA for over 100 years and doesn't take up much yard space.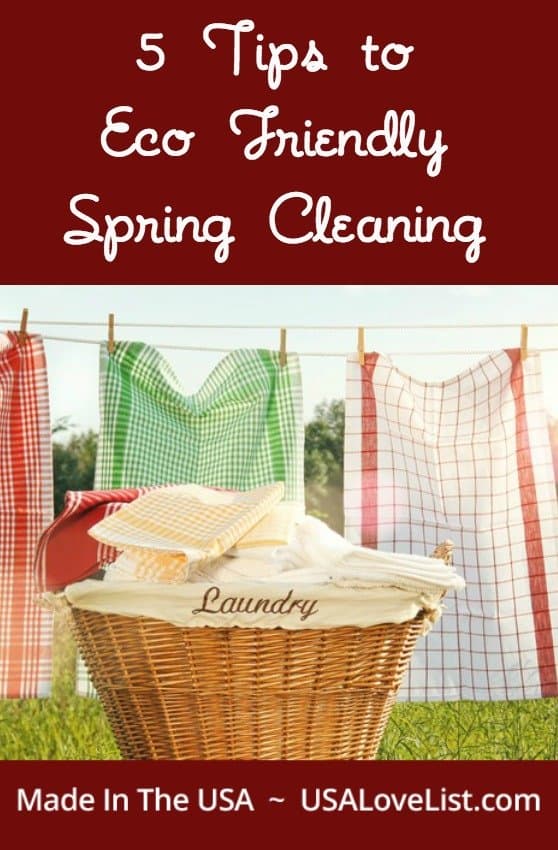 Disclosure: USA Love List received some products in this post unconditionally for review purposes. Our opinions are always our own, and we aim to write fair and balanced reviews to promote only the very best of American-made products.
Follow USA Love List's board Cleaning | Organizing on Pinterest.