You want, no, NEED to be able to trust the ingredients when you are searching for gluten-free foods. I always look for the Made in USA label when buying something I'm going to eat, but especially if I need to be able to count on the quality and integrity of the manufacturing process. I recently went hunting for American made gluten free foods and here is what I found.
Made in USA Gluten Free Foods
This list is always growing, so check back often. If you have a favorite American made gluten free food company or product that you don't see on our list, let us know in the comments and we will add it.
Gluten Free Breads, Wraps, Bagels, Muffins, Crusts,
WrawP  veggie wraps, coconut wraps, and pizza crusts are raw, vegan, and gluten free. The wraps are bursting with flavors, and are perfect for making sandwiches without any gluten. I love their texture too; they are chewier than regular tortillas. The veggie wrap is made with organic fruits and vegetables with spices added to complement the flavor profile of the wrap. They are handmade in California and are available in a variety of flavors. Save 10% off WrawP gluten free products now with discount code USALOVE through December 31, 2019. One time use per customer. 

Gluten Free Cereal
Check out our recipe for vegan, gluten free breakfast cereal featuring made in USA Bob's Red Mill products.

Erewhon Crispy Brown Rice is made with only three ingredients, organic brown rice, organic brown rice syrup, and sea salt. It is certified gluten-free, USDA organic, and it's Non-GMO Project Verified.
Munk Pack Oatmeal Fruit Squeezes that are a ready-to-eat on the go oatmeal. Available in five delicious flavors, including Apple Quinoa Cinnamon, Maple Pear Quinoa, and more, they are gluten-free, non-GMO, vegan and high in fiber (4 grams).
Seven Sundays gluten free Muesli- the Blueberry Chia Buckwheat variety is the perfect marriage of oats, organic honey, crispy coconut, apple-juice-sweetened blueberries, chia seeds, pepitas and buckwheat. Are you salivating yet? Head to Target stores to pick up this Minnesota made treat!
Gluten Free Entrees and Meals 
feel good foods offers a variety of gluten-free prepared Asian meal options.
Hilary's  gluten-free veggie burgers, bites, and sausages are vegan and made with allergen free ingredients.
Hungry Root created a range of convenience foods that are all vegan and gluten free, and high in fiber and healthy fats.
If you're looking for an adult version of fish sticks, that is also gluten-free and made from certified sustainable seafood, Ian's Herb Crusted Fish Fillet.
Nona Lim Miso Ramen Broth soups are made with organic, GMO free ingredients..Pair it with leafy greens and your choice of protein to make a complete gluten-free meal

Saffron Road offers a wide variety of gluten-free Mexican, Korean, Indian, Chinese, Thai, and Moroccan frozen entrees.
Swapples are waffles made entirely from veggies.  They are paleo, vegan, gluten free, and allergy friendly and are perfect for breakfast, lunch, or dinner.  Swapples is a woman-owned business.  Save 20% off Swapples gluten-free, paleo waffles now with discount code USALOVE through January 1, 2020.

Tandoor Chef  frozen meals are available with gluten free options.
Dining out? Don't miss our list of Healthy Restaurant Options Across the USA! Restaurants are highlighted that have gluten free options on their menu.
Gluten Free Snacks
Circle B Ranch brings you its newest product including its Nitrite Free Bacon Snack Stick, Nitrite Free Jalapeño Bacon Snack Stick, and Big John's Hawaiian Pork Snack Sticks. They are super flavorful and the most moist and tender jerky sticks I've eaten, which I appreciate. These sticks contain no high fructose corn syrup, red dye, nitrates, or sodium benzoate. Circle B Ranch uses only the good stuff to go into these delicious Bacon Snack Sticks! They have 5g of protein, 90 calories, 170 mg sodium and no carbs or sugar making them a great source of healthy fats perfect for the Keto diet.
Circle B Ranch, located in Seymour, Missouri, was started in 2009 by Marina and John Backes. The couple relocated from Branchburg, New Jersey to the lush rolling hills of the Ozark countryside in southwest Missouri. They were looking for the perfect weather for raising Heritage Berkshire/Kurabota hogs. This clean and natural environment allows the hogs to graze freely on the lush pastures and roam the woods foraging for nuts and acorns, while also allowing them to be free from any additional hormones and antibiotics from their feed. Marina and John raise the hogs using sustainable and humane production methods that adhere to the Certified Humane Raised and Handled and Animal Welfare Approved standards of operation.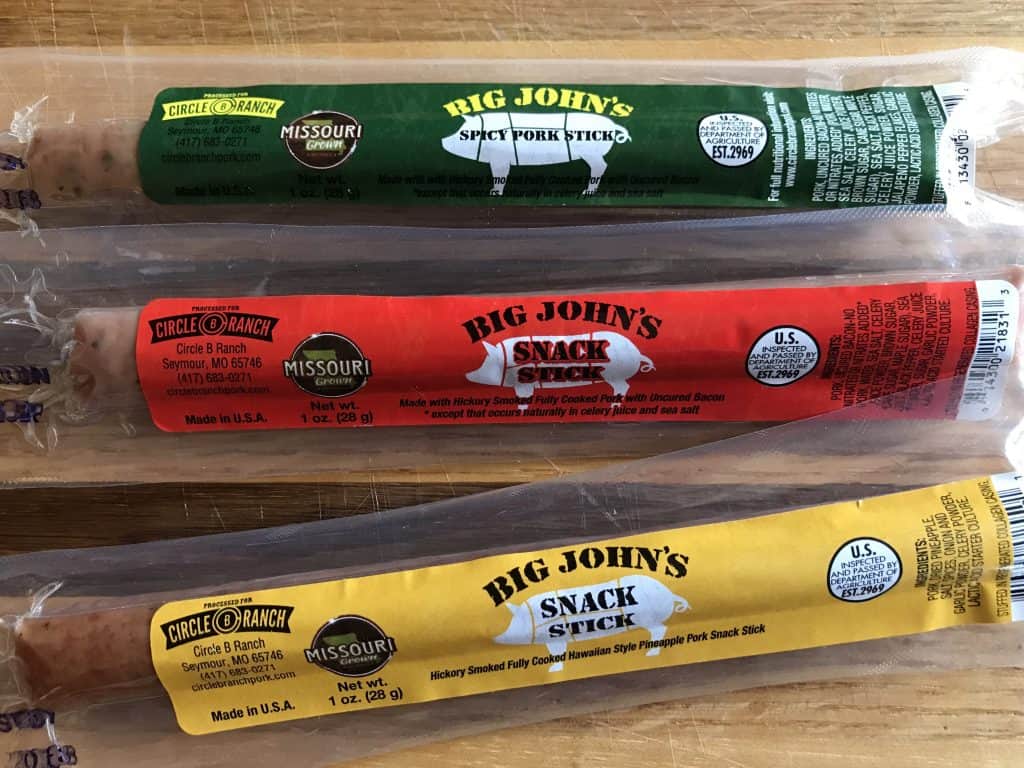 Bacon's Heir offers artisanal pork rinds
Bearded Brothers energy bars  are raw, organic, vegan, gluten free, and soy free and are made in Austin, Texas.
Brazi Bites  Brazilian cheese bread bites are gluten free, GMO free, sugar free, and soy free.
Cappello's Chocolate Chip Cookie Dough gluten free cookie dough is made from almond flour, chocolate chunks organic Grade B Vermont maple syrup, arrowroot flour, organic coconut oil, organic sea salt, organic vanilla extract, and baking soda
Creation Nation's Paleo Energy Bite Mix makes it easy to create a quick 'no-bake' energizing snack made to your taste specifications.  Whip up delicious, fresh, homemade energy balls by adding one of two ingredients – coconut oil or any nut butter of your choice. (Here are nut butters we recommend.) The mix is paleo, vegan, and gluten free, grain free dairy free, and soy free.
Dharma Bars  gluten free bars are non-GMO, organic, vegan, kosher, soy free and dairy free.
Emmy's Organics coconut cookies are made without artificial flavors or coloring and are certified USDA organic, non-GMO, gluten-free, soy-free and vegan.
Flax4Life  gluten free muffins, brownies and granola products are made in Washington.
Go Raw products include gluten free superfood bars, cookie crisps, crackers, and seeds.
Good Health chips and veggie sticks are crisp and flavorful.
Goodie Girl Cookies are gluten free, non GMO, and peanut-free sweet treats.
Jilz Crackerz are gluten free, GMO-Free, grain free, Paleo, and vegan crackers  made in California with clean, anti-inflammatory ingredients.
Larabar gluten free energy bars are dairy free, soy free, vegan, and GMO-free.
LivBars are gluten free, organic, corn free, soy free, GMO free, and nut free- they do contain coconuts, but not any other type of nut.  They also come in compostable wrappers.
Lundberg Grounded Snacks  chips are super satisfying despite not being made with wheat. Lundberg Family Farms uses red rice and quinoa to make its chips gluten free.
Maxine's Heavenly cookies are vegan, gluten free, GMO free, and soy free.
NUI Cookies remind me that gluten-free cookies can taste just as good as traditional cookies you may have grown up eating.
OLOMOMO small batch, kettle roasted almonds and cashews because they are made in Colorado with non-GMO ingredients.
Oregon Bark's Tom Bumble candy bar is vegan and gluten free. Flaky, sweet, and chewy, it's made by hand in Oregon.
Peaceful Fruits products are vegan, GMO-free, and Rainforest Friendly with no sugar added
PROBAR   energy chews are gluten-free, and non-GMO certified.
ProTings protein chips are perfect for dipping. These chips have 15 grams of protein and only four net carbs. They are GMO-free, and vegan too.
Rhythm Superfoods veggie chips and sticks are non GMO, gluten free and organic.
Rise high protein, gluten free bars are available in a variety of flavors.
Simply Gum chewing gum is made with gluten free and organic ingredients.
Simply7   gluten free popcorn and chips come in a variety of flavors.
That's It fruit bars are made with one simple ingredient – fruit- and have two servings of fruit in just one bar.
Veggie Go's fruit and veggie snacks are vegan, GMO free and Kosher too.
Wild Zora meat & veggie bars are incredibly flavorful, moist, and tasty. It's a jerky we love. Zora herself makes paleo and Whole30 approved jerky in Colorado. It's grain free, gluten free, soy free nut free, and dairy free. It's made with grass-fed beef that is free of antibiotic or hormones. Save 25% off your Wild Zora order with code USALOVE.


Wilde snack bars are a perfect protein-packed on-the-go snack and are soy free, dairy free, nut-free, gluten free, and low in sugar.
ZEGO organic allergy friendly bars  are organic, paleo-friendly, nut free, dairy free, and gluten free.
Gluten Free Condiments, Dressings, and Sauces
Hilary's Eat Well  dressings are made with organic, gluten free ingredients.
Tessemae's all-natural, hand crafted, gluten free dressings, ketchup, and BBQ sauces are made in Maryland.

Yai's Thai

gluten

 free ready to use simmer sauces, hot sauces, salsas pair well with everything from eggs to fish and beef. Save 20% off Yai's Thai order now with the discount code USALOVE


Gluten Free Drinks
Handmade in small batches, Circle B Ranch Top Tomato Bloody Mary Mix is made with the highest quality ingredients that will please the most discerning of Bloody Mary aficionados. Ahh; it's so flavorful I could drink it every day! Chock full of bits of real garden tomatoes, fresh basil, olive oil, chopped onion, vinegar, spices, and garlic, among other clean ingredients, the mix is good enough to be a stand-alone beverage simply poured over ice with a squeeze of lemon. The ingredient list is simple while also being gluten- and wheat free with no MSG, preservatives, or high fructose corn syrup! This mix is thick so don't forget to shake before you pour.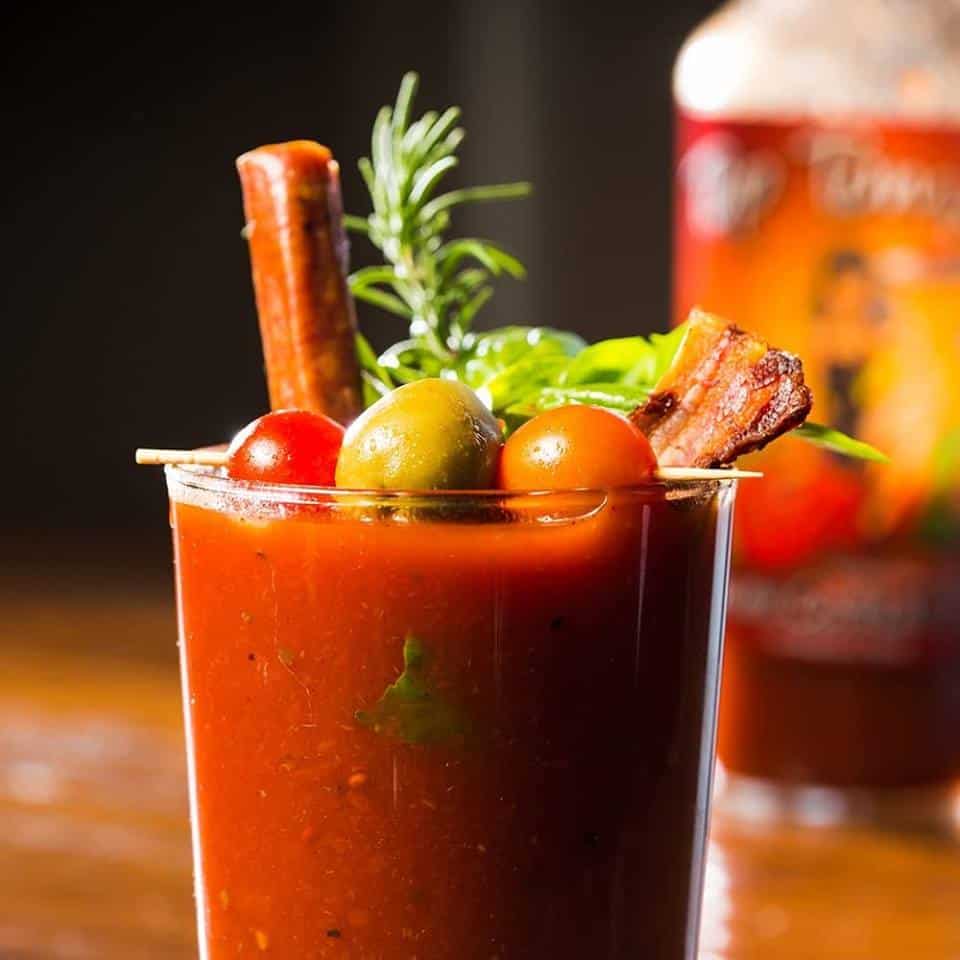 Celestial Seasonings Dirty Chai Latte makes it easy to enjoy a caffeine-charged chai at home. The concentrate already has added honey and cinnamon, clove, cardamom, and ginger, so you only have to add milk for the perfect creamy chai latte.
We recently got a chance to try Know Brainer ketogenic butter coffee creamers and instant beverages. The all-in-one butter and MCT oil packets made keto coffee easy on a bleary-eyed morning. Flavored instants like mocha, chai, and green tea latte delivered a hot, creamy, power-packed afternoon treat.
nutpods non dairy, plant based, gluten free creamer is available in a variety of flavors. Save 15% off your NutPods order with discount code USALOVE. One time use per new customer. No expiration date.

Other Gluten Free Foods or Ingredients
If you love tofu, but don't like eating soy, Tempt Hemp Tofu is the perfect gluten-free alternative. It is a non-GMO, soy free, meat alternative, made from hemp seeds that pack 30g of protein per package. It's a great non-bean vegetarian alternative, even for those who aren't vegetarian.
Disclosure: This post is sponsored which USA Love List is proud to share with you because, sponsored or not, we only share stuff we love.