You want, no, NEED to be able to trust the ingredients when you are searching for gluten free products. I always look for the Made in USA label when buying something I'm going to eat, but especially if I need to be able to count on the quality and integrity of the manufacturing process. I recently went hunting for American made gluten free products and here is what I found.
Best Gluten Free Products
This list is always growing, so check back often. If you have a favorite American made gluten-free food company or product that you don't see on our list, let us know in the comments and we will add it.
American Made Gluten-Free Bread, Wraps, Bagels, Muffins, Crusts
Potapas tastes like a flour tortilla and naan had a baby. You're gonna wanna try these! They're soft, flavorful, and satisfying. These gluten-free wraps are made from potatoes, cassava flour, and garbanzo bean flour. In addition to Original Potato, they also offer Sweet Potato and Veggie Medley flavors. With a savory potato flavor and soft, pliable texture, Potapas complement a wide variety of fillings and uses to make tacos, quesadillas, enchiladas, and roll-ups. They are free from gluten, soy, nuts, dairy, corn, and grains to meet a wide variety of dietary needs including being Paleo and Vegan friendly. Shop the Potapas Amazon store.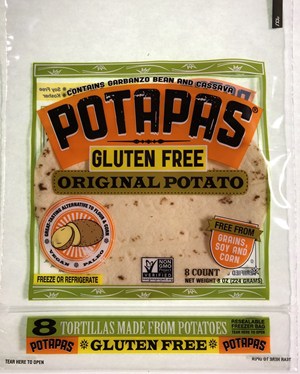 Soozy's gluten-free, grain-free, dairy-free, peanut-free, soy-free muffins are made with clean ingredients.
The Greater Knead Gluten-Free Bagels come frozen and are available nationwide. Shop The Greater Knead Amazon store.
WrawP veggie wraps, coconut wraps, and pizza crusts are raw, vegan, and gluten-free. The wraps are bursting with flavors, and are perfect for making sandwiches without any gluten. I love their texture too; they are chewier than regular tortillas. The veggie wrap is made with organic fruits and vegetables with spices added to complement the flavor profile of the wrap. They are handmade in California and are available in a variety of flavors. Shop the WrawP Amazon store.
Gluten Free Breakfast: Cereal, Granola, and More All American Made
Check out our recipe for vegan, gluten-free breakfast cereal featuring made in USA Bob's Red Mill products.
Healing Home Foods Almond Butter Chunk Granola is gluten-free, GMO-free, and made with organic ingredients. This granola is so good it place Silver in the Specialty Foods Association's sofi™Awards in the category of 'Granola, Cereal'. "Healing Home Foods products are available at select retailers. A full list of stores is available on our web site. They also have a factory store in Pound Ridge, NY at 73 Westchester Ave. and you can find our goodies at local farmers' markets.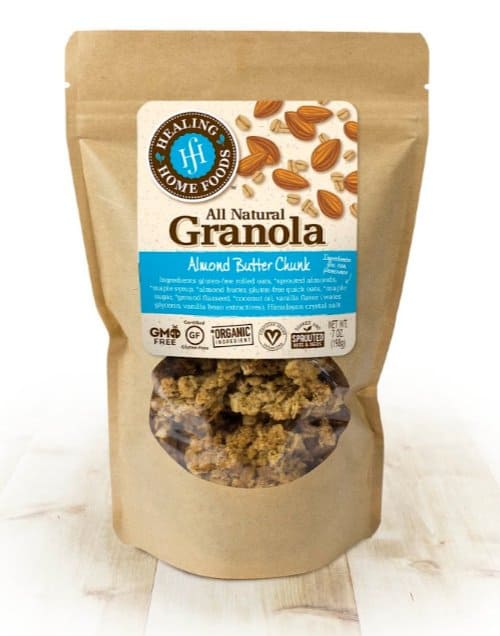 Seven Sundays offers Minnesota made gluten-free granola. The Blueberry Chia Buckwheat variety is the perfect marriage of oats, organic honey, crispy coconut, apple-juice-sweetened blueberries, chia seeds, pepitas, and buckwheat. Are you salivating yet? Shop the Seven Sundays Amazon store.
Hilary's gluten-free, non-GMO meatless sausages are vegan and made with allergen-free ingredients. I cannot tell you how much I love Hilary's Plant-Based Gluten-Free Organic Meatless Apple Maple Breakfast Sausage. They are the perfect replacement for breakfast sausage. The texture and flavor of the meatless sausage are completely satiating and fulfilling. With free-from common allergens and plant-based products in demand, Hilary's continues to offer delicious options for various eaters.
American Made Gluten Free Entrees and Appetizers
feel good foods offers a variety of gluten-free prepared frozen appetizers and meals. They carry gluten free pizza, calzones, egg rolls and more snack and breakfast options. Shop Feel Good Foods at Amazon.
Hilary's also makes amazing gluten-free, vegan, non-GMO veggie burgers, made with allergen-free ingredients. Hilary's Organic World's Best and Hemp & Greens burgers are my absolute favorite!!! These burgers make for an amazing meat substitute when you want to satisfy your burger or sandwich craving.
Rollin Greens gluten-free plant based ME'AT is made with veggies, beans and peas. Their products include ground taco, chorizo, and more. They are nut free and made in Colorado.
Saffron Road offers a wide variety of gluten-free Mexican, Korean, Indian, Chinese, Thai, and Moroccan frozen entrees. Shop the Saffron Road Amazon store.
Snow Days pizza bites bring the pizza bites we enjoyed as kids to a whole new level. Snow Days gluten free and organic pizza bites not only come in flavors that adults love, but they are healthier too. The organic, grass-fed cheese is sources from small US dairy farms. Snow Days varieties include Cheese, Veggie White, Sausage, and Buffalo Chicken. All varieties have no grains, no added sugars, and no preservatives. My teens and I love Snow Days pizza bites as afternoon snacks and late night munchies. We enjoy all of the flavors, so it is hard to pick just one! They cook awesome in the air fryer.
Swapples are waffles made entirely from veggies. They are paleo, vegan, gluten-free, and allergy-friendly and are perfect for breakfast, lunch, or dinner. Swapples is a woman-owned business.
Dining out? Don't miss our list of Healthy Restaurant Options Across the USA! Restaurants are highlighted that have gluten-free options on their menu.
American Made Gluten Free Cookies and Cakes
Emmy's Organics coconut cookies are made without artificial flavors or coloring and are certified USDA organic, non-GMO, gluten-free, soy-free, and vegan. Shop the Emmy's Organics Amazon store.
GoNanas Crackly Banana Bread Mix offers a new twist on a classic favorite. Made from oat flour, brown sugar, cinnamon, salt, baking soda, baking powder, flax, and millet, this bread satisfies your banana bread craving and makes millet the star of the show. This crunchy, gluten-free grain gives texture and uniqueness to each bite. You'll be hard-pressed to stop at one slice. Shop the GoNanas Amazon store.
Maxine's Heavenly makes vegan, dairy-free, egg-free, gluten-free, GMO-free, and soy-free cookies that taste incredible. As a vegan myself, I have to say, these cookies are LEGIT! They're soft, flavorful, and hard to put down. Normally oatmeal raisin cookies are my favorite (I know, I know, not usually a fan favorite) but in the case of Maxine's Heavenly, I love the Snickerdoodles most for their soft texture and warm spices. Oatmeal raisin comes in second this time. Shop the Maxine's Heavenly Amazon store.
Gluten Free Snacks Made in USA
AKUA Kelp Jerky is vegan, soy- and gluten-free, high in protein, high in fiber, low in calories and sugar, and overflowing with vitamins and minerals. One bag has 70% of your daily iron intake. This kelp jerky has a surprisingly meaty texture but not in a way that is as if it's trying to be like meat, which was really nice. I love the rosemary & maple BBQ variety for its vibrant taste.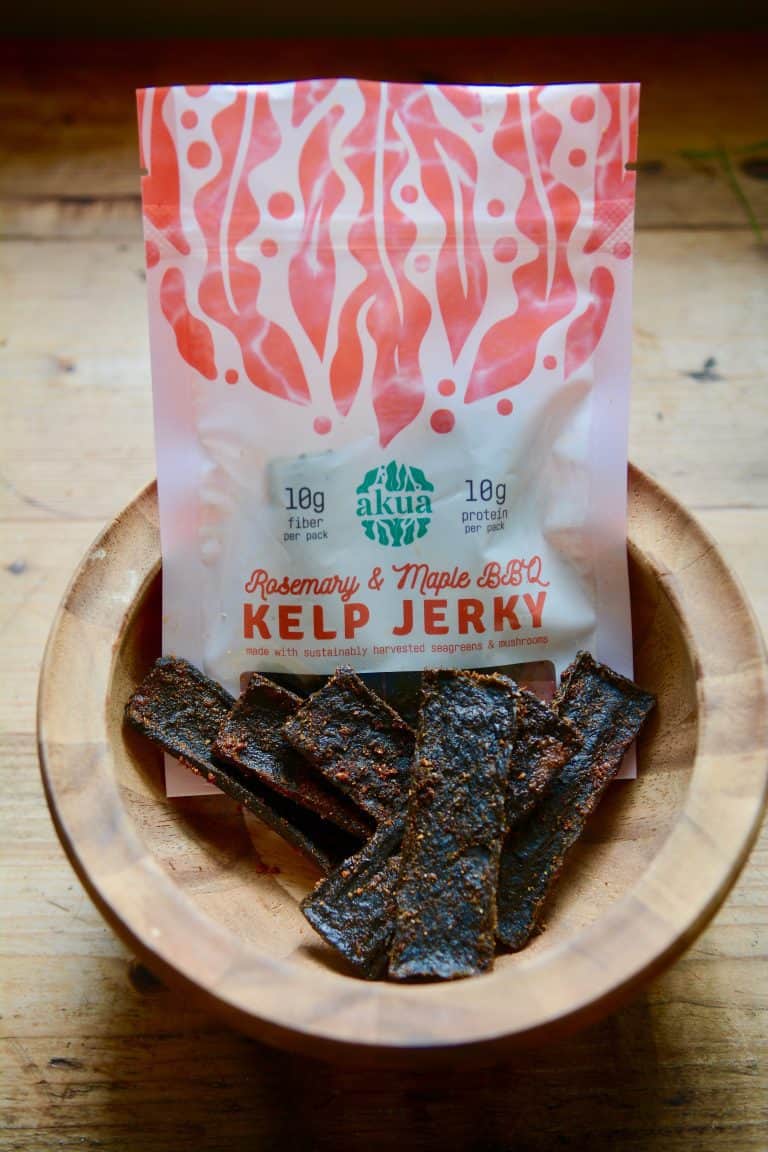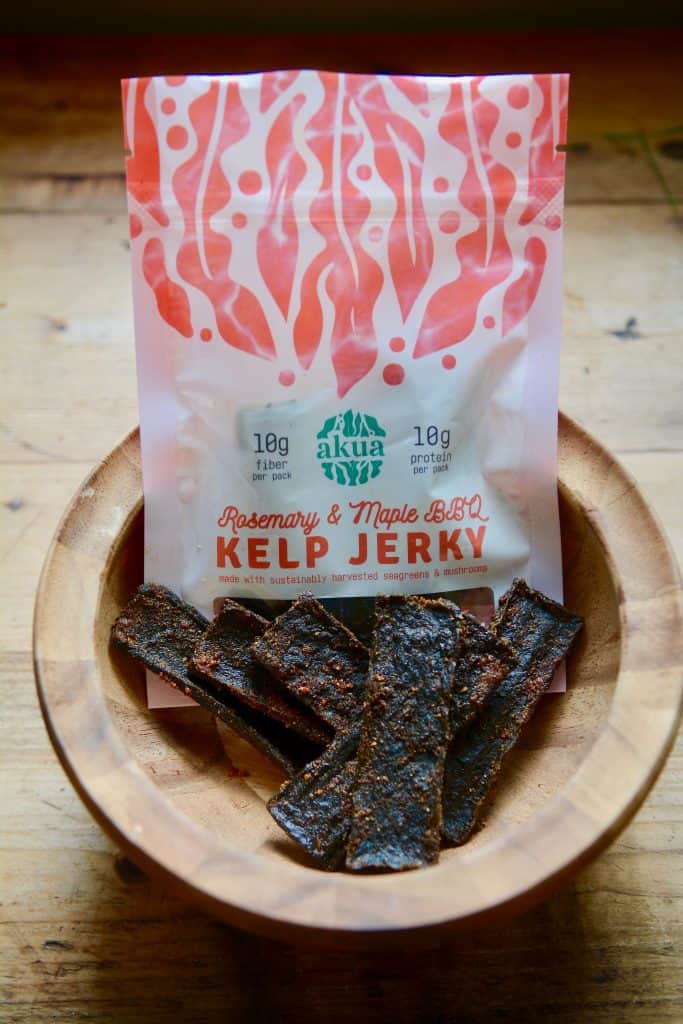 Bearded Brothers energy bars are raw, organic, vegan, gluten-free, and soy-free and are made in Austin, Texas.
Brazi Bites Brazilian cheese bread bites are gluten-free, GMO-free, sugar-free, and soy-free.
Cappello's Chocolate Chip Cookie Dough gluten-free cookie dough is made from almond flour, chocolate chunks organic Grade B Vermont maple syrup, arrowroot flour, organic coconut oil, organic sea salt, organic vanilla extract, and baking soda.
Circle B Ranch brings you its newest product including its Nitrite Free Bacon Snack Stick, Nitrite Free Jalapeño Bacon Snack Stick, and Big John's Hawaiian Pork Snack Sticks. They are super flavorful and the moistest and tender jerky sticks I've eaten, which I appreciate. These sticks contain no high fructose corn syrup, red dye, nitrates, or sodium benzoate. Circle B Ranch uses only the good stuff to go into these delicious Bacon Snack Sticks! They have 5g of protein, 90 calories, 170 mg sodium, and no carbs or sugar making them a great source of healthy fats perfect for the Keto diet. Circle B Ranch, located in Rogersville, Missouri, was started in 2009 by Marina and John Backes. The couple relocated from Branchburg, New Jersey to the lush rolling hills of the Ozark countryside in southwest Missouri. This clean and natural environment allows the hogs to graze freely on the lush pastures and roam the woods foraging for nuts and acorns, while also allowing them to be free from any additional hormones and antibiotics from their feed.
Learn more about Circle B Ranch products in their American Made Brand Spotlight feature.
CRUNCHIES freeze-dried fruit is available in strawberry, mango, pineapple, and more, these tasty single-ingredient snacks are made with nothing but fresh fruit, have zero added sugar, are non-GMO, gluten-free, vegan, and kosher certified. Crunchies' unique freeze-drying method preserves the nutritional value of its fresh produce—giving you a convenient, healthy snack that's perfect for summer travel, camping trips, and beach coolers. NOTE: The apples are the only fruit that is a product of the USA. The other fruits are imported, but all of their snacks are packaged in the company's Chicago, Illinois factory.
Creation Nation's Paleo Energy Bite Mix makes it easy to create a quick 'no-bake' energizing snack made to your taste specifications. Whip up delicious, fresh, homemade energy balls by adding one of two ingredients – coconut oil or any nut butter of your choice. (Here are nut butters we recommend.) The mix is paleo, vegan, and gluten-free, grain-free dairy-free, and soy-free.
Flax4Life gluten-free muffins, brownies, and granola products are made in Washington.
Go Raw products include gluten-free superfood bars, cookie crisps, crackers, and seeds.
Good Health chips and veggie sticks are crisp and flavorful.
Ithaca Hummus is by far the most flavorful hummus on the market. All the flavors are true to flavor. Perhaps its because they are made without preservatives and do not include citric acid. The Lemon Garlic, Lemon Dill, and Classic are my favorites.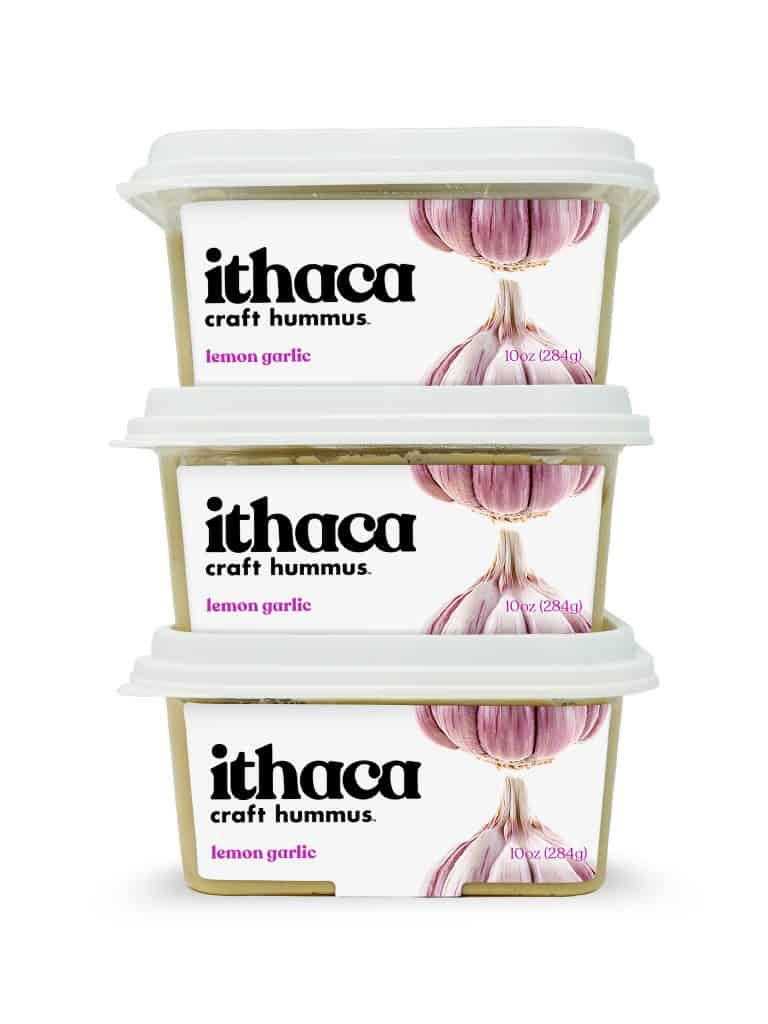 Larabar gluten-free energy bars are dairy-free, soy-free, vegan, and GMO-free.
Lundberg Grounded Snacks chips are super satisfying despite not being made with wheat. Lundberg Family Farms uses red rice and quinoa to make its chips gluten-free.
Oregon Bark's Tom Bumble candy bar is vegan and gluten-free. Flaky, sweet, and chewy, it's made by hand in Oregon.
Peaceful Fruits products are vegan, GMO-free, and Rainforest Friendly with no sugar added
PROBAR energy chews are gluten-free, and non-GMO certified.
Rhythm Superfoods veggie chips and sticks are non-GMO, gluten-free, and organic.
Rise high protein, gluten-free bars are available in a variety of flavors.
Simple Mills cookies, snack bars, and crackers are gluten free and made with almond flour. Shop the Simple Mills Amazon store. Shop Simple Mills at Instacart.
Simply Gum chewing gum is made with gluten-free and organic ingredients.
Simply7 gluten-free popcorn and chips come in a variety of flavors.
Taos Bakes makes incredibly tasty and satisfying snack bars that also happen to be made from gluten-free, non-GMO, and organic ingredients. I tried every flavor and loved each one. The pb chocolate + butterscotch flavor is my absolute FAVORITE!!! It's tastes like a decant, satisfying dessert.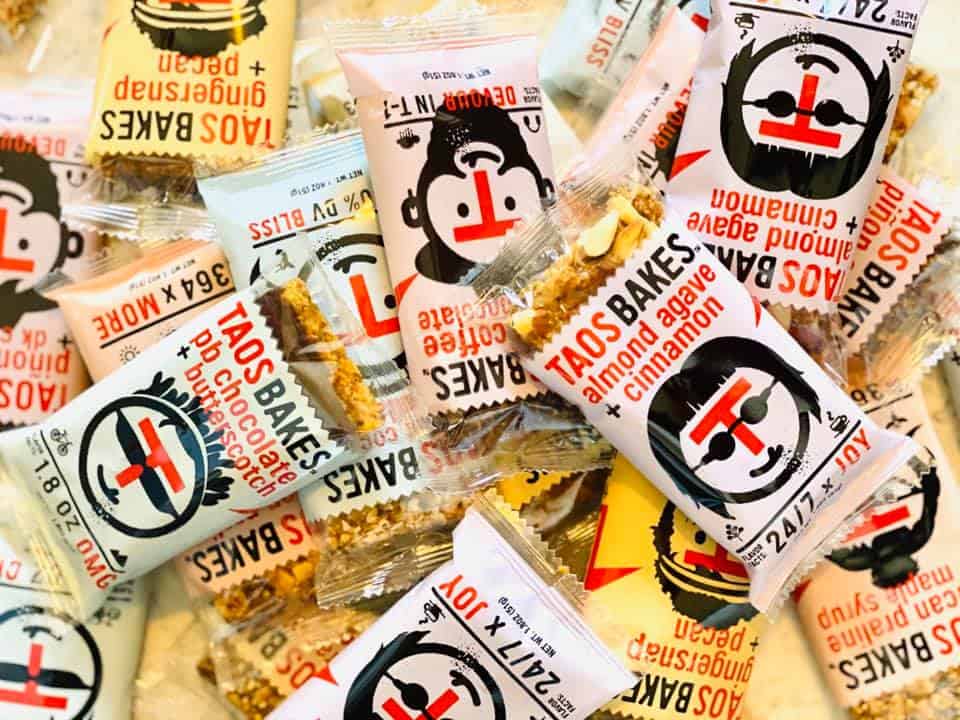 Tia Lupita makes delicious grain-free, gluten-free chips made with cactus; a delicious superfood that is one of the most sustainable plants on the planet. I love these chips for their bright and bold flavors and great crunch! The salsa verde flavor is my favorite.
That's It fruit bars are made with one simple ingredient – fruit. Each bar contains two servings of fruit. I absolutely love these bars for travel and on the go. The taste & texture makes these bars a satisfying snack to have on hand all the time.
Veggie Go's fruit and veggie snacks are vegan, GMO-free, and Kosher too.
Wild Zora meat & veggie bars are gluten-free and sugar-free snacks that are incredibly flavorful, moist, and tasty. Zora herself makes paleo and Whole30 compliant emergency food made in Colorado. They are grain-free, gluten-free, soy-free nut-free, and dairy-free and made with grass-fed beef, free of antibiotics or hormones. Save 15% off your Wild Zora order with code USALOVE. One time use per customer with no expiration date.

Gluten-Free Condiments, Dressings, and Sauces
Yai's Thai gluten-free ready to use simmer sauces, hot sauces, salsas pair well with everything from eggs to fish and beef. Save 20% off Yai's Thai order now with the discount code USALOVE

American Made Gluten Free Drinks
Califia Farms Nitro Latte with Oatmilk offers a smooth and creamy texture for your daily caffeine fix. Califia Farms Nitro Latte with Oatmilk is gluten-free and perfect to have on-hand to enjoy when you're on-the-go.
Handmade in small batches, Circle B Ranch Top Tomato Bloody Mary Mix is made with the highest quality ingredients that will please the most discerning of Bloody Mary aficionados. Ahh; it's so flavorful I could drink it every day! Chock full of bits of real garden tomatoes, fresh basil, olive oil, chopped onion, vinegar, spices, and garlic, among other clean ingredients, the mix is good enough to be a stand-alone beverage simply poured over ice with a squeeze of lemon. The ingredient list is simple while also being gluten- and wheat free with no MSG, preservatives, or high fructose corn syrup! This mix is thick so don't forget to shake before you pour.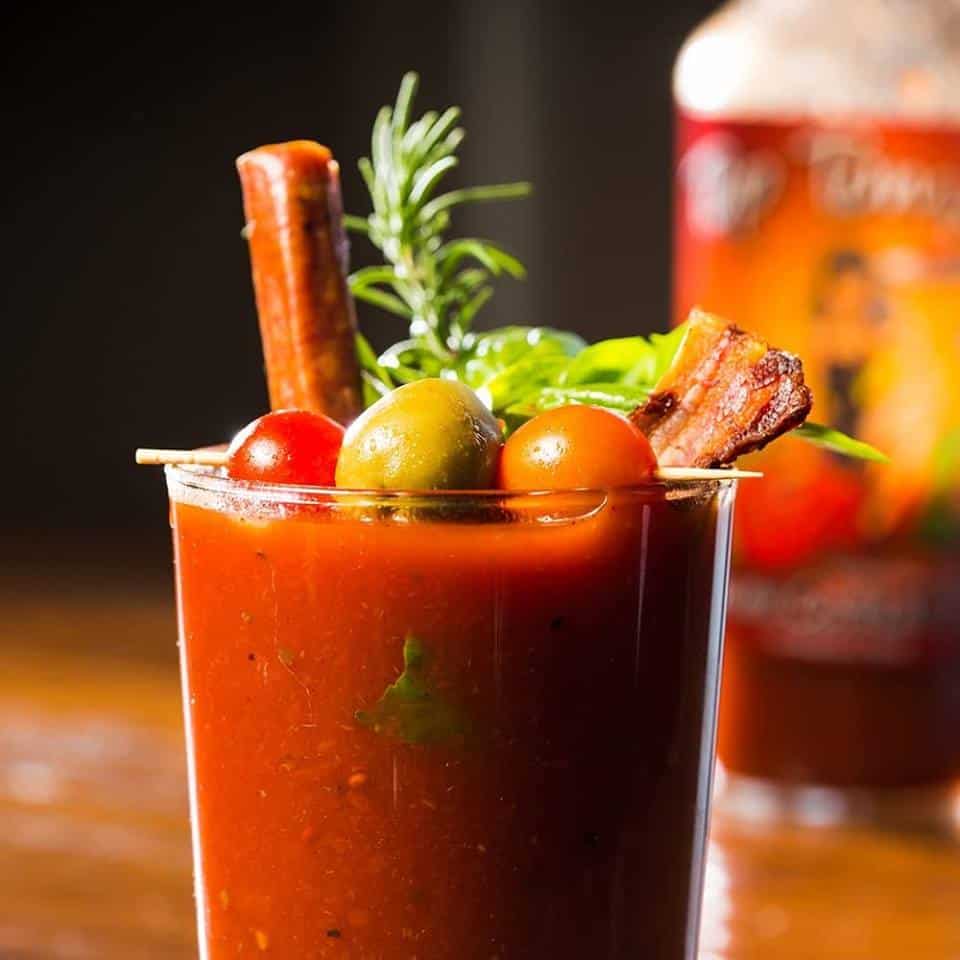 nutpods non-dairy, plant-based, gluten-free creamer is available in a variety of flavors. Save 15% off your NutPods order with discount code USALOVE. One time use per new customer. No expiration date.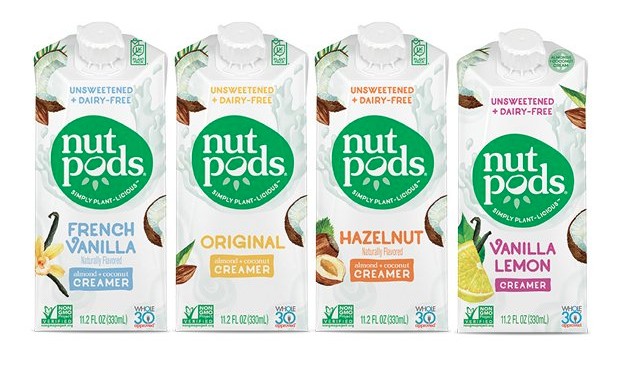 Other Gluten-Free Foods or Ingredients
Lundberg Family Farms offers a wide variety of gluten-free grains including quinoa, basmati rice, and wild rice that are all grown and harvested in the USA. I always buy this brand because I trust the ingredients and farming practices. I also find that their rice is much higher quality than others, especially when it comes to the wild rice variety. Since 1937, the Lundberg family has been growing healthy, great-tasting rice while protecting and improving the environment for future generations.
Disclosure: This post is sponsored which USA Love List is proud to share with you because sponsored or not, we only share stuff we love.
Have you visited our Made in USA Shopping District? It is the place to start your shopping when you want to find the best of American-made.