Eating out can make it hard to stick to a healthy eating routine. There are restaurants out there that are making it easier to find healthy meal options on the menu. We have compiled a list of our favorite healthy restaurants across the USA. Find out if any of these restaurants have a location near you, or plan a visit to one on your next vacation.
Have you been to any of our favorites yet? What are your favorite go-to healthy restaurants? Let us know in the comments section below. 
Healthy Restaurants Across the USA That We Love
Abunai
Abunai, created and founded by Akina Harada, an Oahu native, brings modern Hawaiian cuisine, namely poke, a Hawaiian staple, to Washingtonians and Philadelphians at its storefront locations and via its food truck. Of the poke I've tried it comes together the best in terms of flavors and textures. Poke is meant to be a simple dish that highlights fresh raw marinated fish. It's bursting with flavors and is just the right amount of food to make you happy and satiated. If you live in DC or are visiting the city soon, I suggest you try it! Abunai also serves a variety of Hawaiian juices and 100-percent Kona coffee.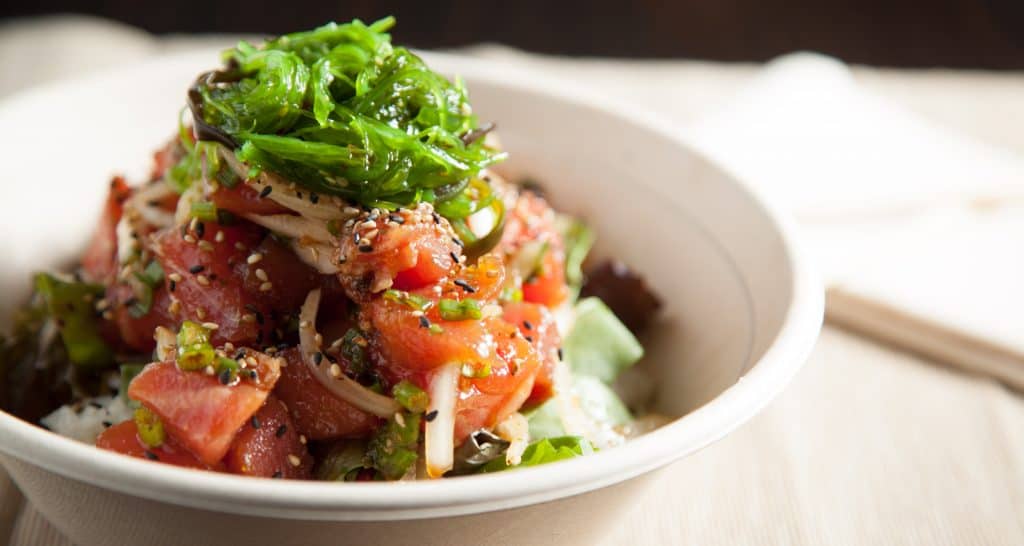 Image credit: Abunai
Healthy Restaurants Across the USA with Multiple Locations
CAVA
CAVA offers flavorful, healthy customizable & craveable salads and grain bowls. Create a base with greens or grains, add CAVA's signature dips and top with plant or animal proteins, and pile high with toppings like Kalamata olives, cabbage slaw, diced cucumbers, and pickled onions and drizzle with your dressings for the finishing touches. My favorite combination is the Supergreens topped with Eggplant + Red Pepper Dip, Braised Lamb, and LOTS of toppings including Kalamata olives, cabbage slaw, tomato + cucumber salad, pickled onions, mint, and lemon topped with the Lemon Herb Tahini Dressing. For cheese lovers, the Crazy Feta dip made from imported Greek feta cheese, extra-virgin olive oil, and spicy jalapeño peppers is whipped to perfection for the perfect addition to any of one of your CAVA meals.
The brand originated from its full-scale parent restaurant Cava Mezze. The brand also bottles its sauces and dips which are sold at Whole Foods across the country.  Download the CAVA app here & get $3 towards your first purchase.
CAVA healthy restaurants can be found across the USA in California, Connecticut, D.C, Massachusetts, Maryland, North Carolina, New Jersey, New York, Texas, and Virginia.
Image credit: CAVA
Del Frisco's Grille
Del Frisco's Grille Whether you're eating Whole30, Low Carb, or Gluten-Free, Del Frisco's menu is comprehensive without being overwhelming. Stick to the fresh seafood on the Whole30 or Low Carb and Iceberg Lettuce Wedge, Del Frisco's Signature Steaks, Deviled Eggs, and the Kale and Brussels Sprout Salad or Steakhouse Salad, if you're looking for Low Carb or Gluten Free. Don't miss our full review of Del Frisco's Grille after visiting the restaurant's Atlanta location. 
Del Frisco's Grille healthy restaurants can be found in New York City, Dallas, Washington, D.C, and multiple locations in Texas, New York, Massachusetts, Georgia, California, Tennessee, Maryland, New Jersey, and Florida.
Image credit: Del Frisco's Grille
Modern Market
Modern Market uses pure, simple ingredients to make you feel good. We're big fans and appreciate that Modern Market offers meals that are quick, simple, and easy. Their service is fast and friendly too. The restaurant embodies the fact that fast food can be good food. I'm a big fan of the Heritage Pulled Pork served with chimichurri and lemongrass. Modern Market offers breakfast, lunch, and dinner with a broad menu of farm-­to-­table food that tastes even better than it looks. If you're in Arizona, Colorado, Indiana, Maryland, Texas, or Washington, DC, be sure to find your nearest Modern Market.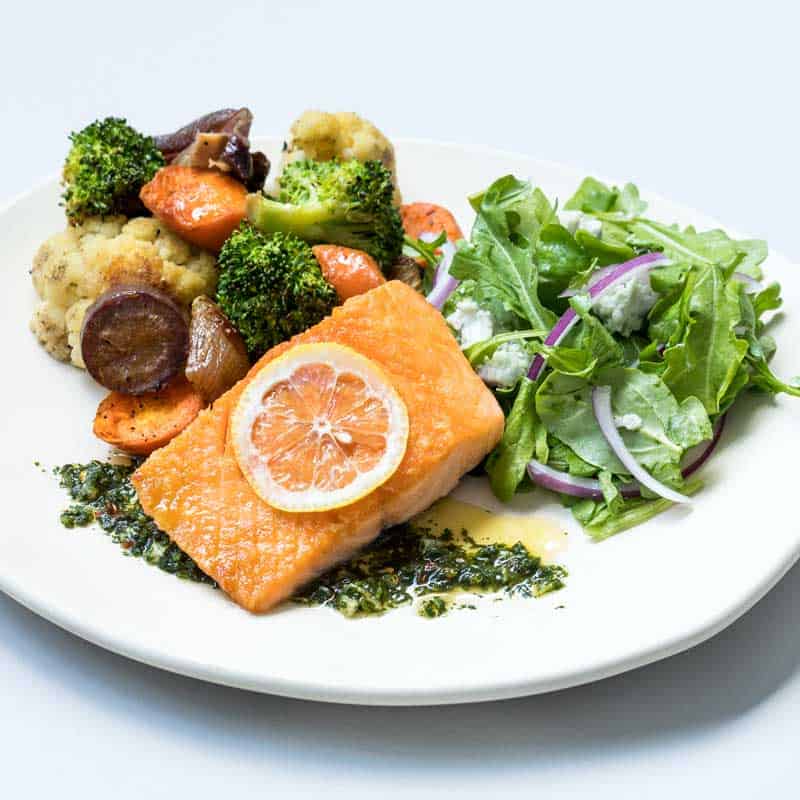 Noodles & Company
Noodles & Company I was surprisingly shocked at how tasty and delicious Noodles & Company's newest menu addition, zoodles (zucchini noodles). Noodles & Company offers noodle-based entrees inspired by world cuisine, so you can order anything from Wisconsin Mac and Cheese topped with BBQ and Beef Stroganoff to Japanese Pan Noodles and Pad Thai Shrimp.
Noodles & Company now offers three of its signature dishes, including Zucchini Spicy Korean Beef, Zucchini Thai Green Curry with Shrimp, and Zucchini Romesco, all made with zucchini noodles to offer gluten-free, vegetable-based bowls.  My favorite of the three is the Zucchini Thai Green Curry with Shrimp made with a sweet coconut green curry sauce, pineapple, broccoli, red onion, snap peas, lime, black sesame seeds, and cilantro. This dish is bursting with flavor while satisfying. It absolutely had to be part of our list of healthy restaurant meals across the USA.
Noodles & Company healthy restaurants are located in 29 states and Washington, DC, so check to see if there's a location near to you.
Image credit: Noodles & Company
Roti Modern Mediterranean
Roti Modern Mediterranean offers a fresh take on modern Mediterranean foods including wraps, rice bowls, and salads. Roti uses some of the best ingredients to make its meals including, non-GMO basmati and wild rice blend from Lundberg Farms in California, antibiotic-free chicken grown without hormones, 100% grass-fed beef, and sustainably raised, Atlantic salmon. I've been to Roti a handful of times and have never been disappointed with the way my meal has come together. I always create my own bowl and top it with the flavorful dressings and sauces they offer. A few of my favorites to add to each salad or bowl include the Dill Yogurt & Cucumber, made with low-fat Greek yogurt and sprinkled with dill, for a creamy, but not too heavy, sauce, Garlic Sauce made with garlic, little lemon juice, sea salt, and black pepper and the Roti Vinaigrette made with white balsamic vinegar, rice vinegar, lemon, cardamom, tahini, and extra virgin olive oil.  Download their app using my code, and you'll get $5 towards your meal.
Roti Modern Mediterranean healthy restaurants can be found at multiple locations in Illinois, D.C., Maryland, Virginia, New York, Texas, and Minnesota, 
Image credit: Roti Modern Mediterranean Facebook
Sweetgreen
Sweetgreen started in Washington DC and has spread across the country. They serve simple, seasonal, healthy salads and grain bowls made in-house from scratch, using whole, local produce delivered that morning. As far as salads go, Sweetgreen makes the best ones and is my favorite fast-casual salad chain. No other salad chains can even come close to Sweetgreen! Make your own, or pick from their seasonal menu. The Kale Caesar is one of my go-to and favorites.  Download the app & get $3 towards your first purchase. It's the only way to pay (they do not accept cash)!
Sweetgreen healthy restaurants are located across California, D.C., Illinois, Massachusetts, Maryland, New York, Pennsylvania, and Virginia.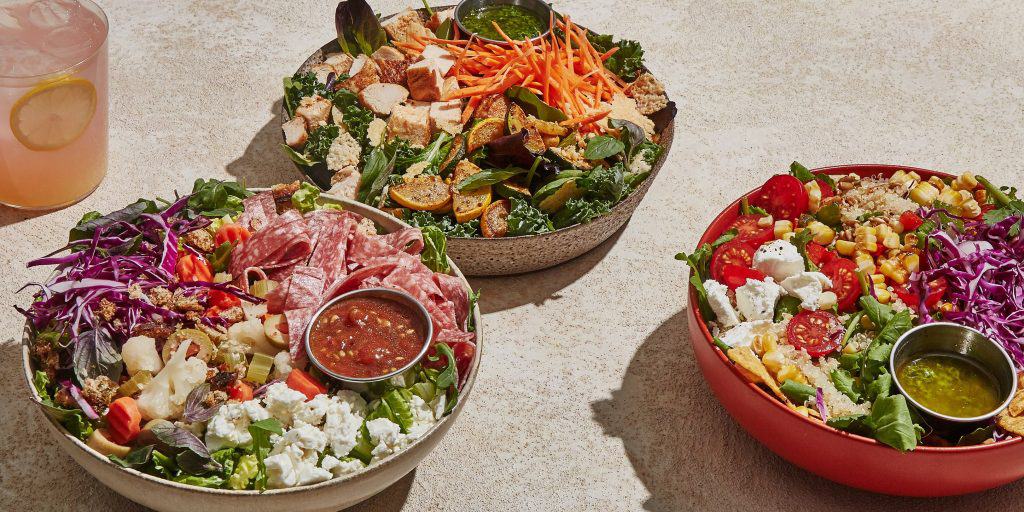 Image credit: Sweetgreen Facebook page
True Food Kitchen
True Food Kitchen is one of my all-time favorite restaurants, especially when feeling indulgent. They offer sustainable fare made with ingredients local to each restaurant's location. The menu is inspired by Dr. Andrew Weil's Anti-Inflammatory food pyramid, while offering meals that counteract chronic diseases by eating foods to help you maintain optimum health. Who could argue with that, right? The menu is seasonal.
My favorite things to order on the menu include the Edamame Dumplings (Dumplings stuffed with Edamame and Topped with Dashi, White Truffle Oil, and Asian Herbs), Farmers Market Crudités (Chilled raw vegetables, with Tzatziki & Black Olive Dip), and the Spicy Panang Curry (Thai Inspired Panang Curry made with Organic Potato, Pole Bean, Bok Choy, Carrot, Thai Basil, and Coconut Shrimp Broth). Check out the entire Seasonal menu here.
Don't miss our full review of True Food Kitchen from when my local True Food Kitchen opened in Merrifield, Virginia in 2014. 
True Food Kitchen healthy restaurants can be found in Arizona, California, Colorado, Florida, Georgia, Illinois, Maryland, Missouri, Pennsylvania, Tennessee, Texas, and Virginia.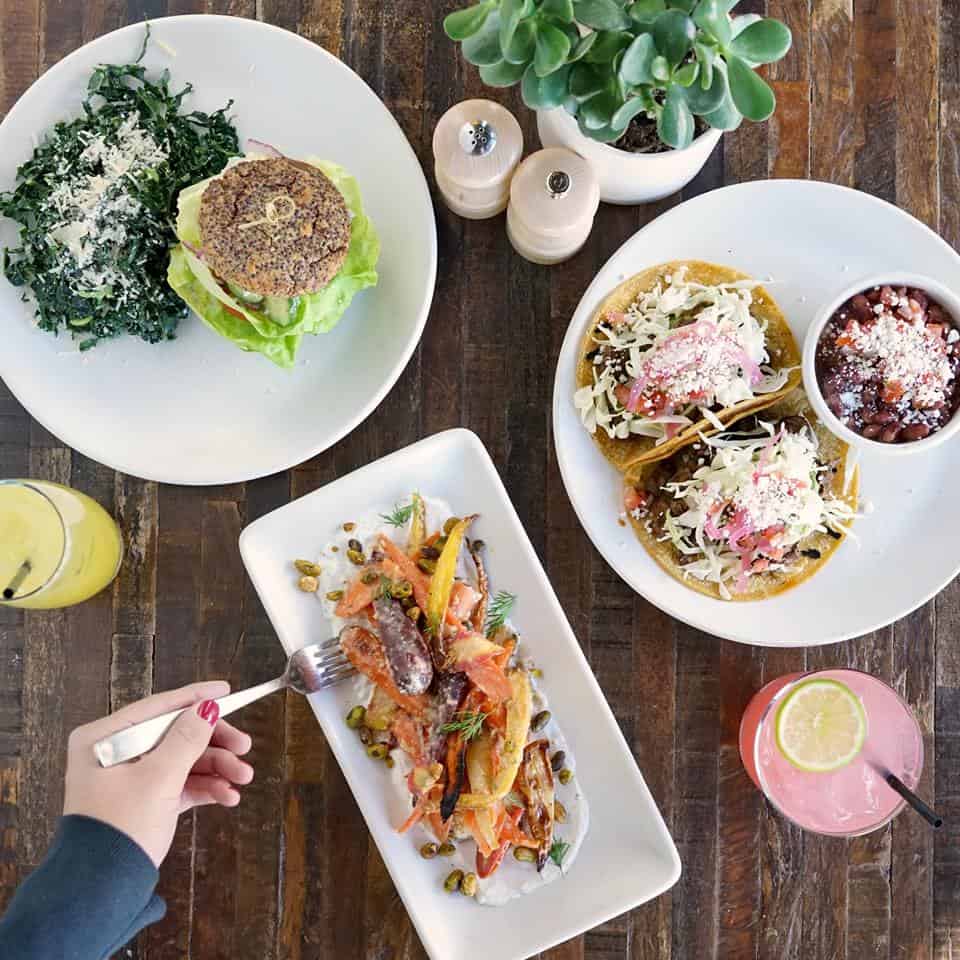 Image credit: True Food Kitchen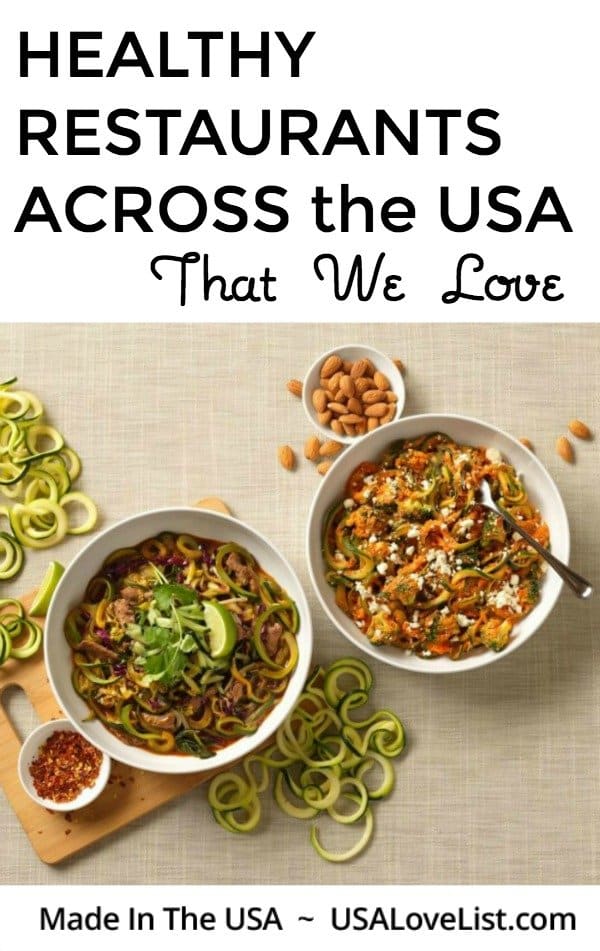 Header image: True Food Kitchen Facebook and Footer Image credit: Noodles & Company
Disclosure: This post is sponsored, which USA Love List is proud to share with you because, sponsored or not, we only share stuff we love.