After trashing 90 percent of my beauty and personal care in an effort to reduce the toxic chemicals in my life, I also took a look at what was in my nail polish. GASP! I typically used well known salon brands, but not anymore. I recently overhauled my entire collection of beauty and personal care products, and my nail polish is no exception.
Here's a list of five of the best non toxic nail polish options on the market, all American made so I trust the ingredient list. Non toxic nail polishes are typically free from dibutyl phthalate (DBP), toluene, formaldehyde, formaldehyde resin, and camphor.
Is Your Nail Polish Toxic?
Why should you care anyway? Here's information, which comes from EWG. You be the judge.
DBP: The State of California and other authoritative bodies have classified dibutyl phthalate (DBP) as a reproductive and developmental toxicant.
Toluene: A volatile petrochemical solvent and paint thinner, toluene is a potent neurotoxicant that acts as an irritant, impairs breathing, and causes nausea. Mother's exposure to toluene vapors during pregnancy may cause developmental damage in the fetus. In human epidemiological studies and in animal studies toluene has been also associated with toxicity to the immune system and a possible link to blood cancer such as malignant lymphoma.
Formaldehyde is a carcinogenic. Occupational exposures to formaldehyde gas are linked to nasal and nasopharyngeal cancers.
There are moderate concerns related to organ toxicity as it relates to Formaldehyde Resin.
Applying Camphor to the skin has been linked to potential liver damage.
Our Top Picks for Non-Toxic Nail Polish: Made in the USA
All of these polishes are free of dibutyl phthalate (DBP), toluene, formaldehyde, formaldehyde resin, and camphor free. Some options are free of other toxins as well.
ella + mila offers a huge variety of colors. I particularly love the So In Love color. It offers the perfect pink tone to serve as a nude color, for a fun look without being too girly. The polish is color rich and wears well too.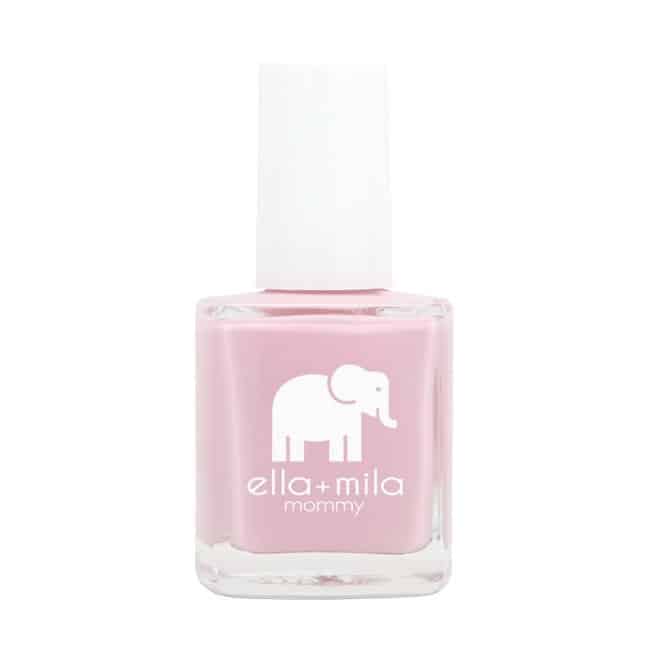 Mischo Beauty was created by Kitiya Mischo King, a licensed Cosmetologist, Manicurist, Esthetician and Makeup Artist. It's no wonder her collection of luxury lacquers come in drool-worthy colors. The lacquer goes on really nicely, dries quickly, and lasts long.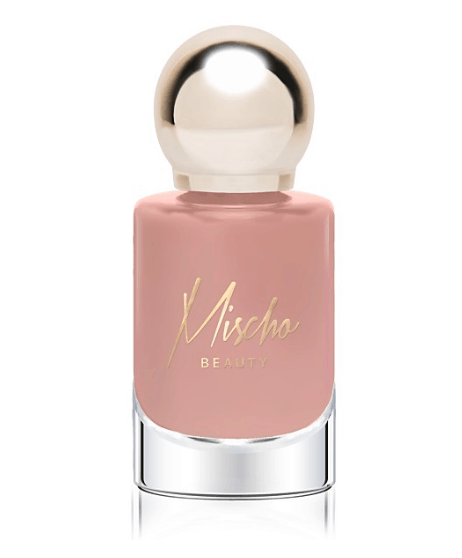 SOPHi by Piggy Paint is certainly the safest option with no greenwashing here. Like the product slogan says, "Natural As Mud". It's actually true for Sophi by Piggy Paint. I checked every single ingredient at EWG, and each ingredient ranked a 1 or 0. There's absolutely no smell to it too. It's shiny and lustrous and it's very fast drying.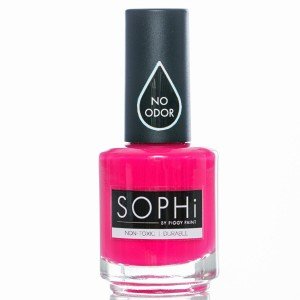 tenoverten offers a really rich and luxurious nail lacquer. The polish goes on smoothly, is color-rich, and stays on long. The Elizabeth color is also aluminum free. The color is pretty sick – I highly recommend it! If you're ever in New York City, check out the brand's exclusive nail salons in SOHO, Tribeca, or Midtown. tenoverten products are also cruelty-free, vegan, and made in the USA in a factory that honors the Leaping Bunny Program manifesto.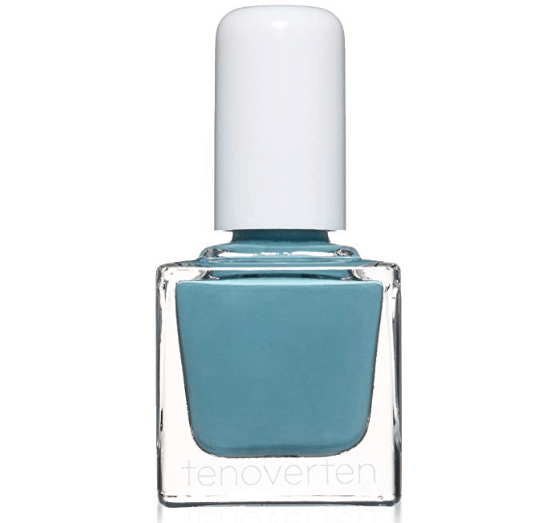 Trust Fund Beauty polishes are really divine. As the slogan says, "We are a lifestyle in a bottle and, simply put, amazing." I'd have to agree. The polish color names are really fun too, like 1st Degree Diva, shown below. Trust Fund Beauty polish is also lead and nickel free. The polishes are all cruelty-free as well.
What do you think of this list of the six of the best and least toxic nail polish? Will you try them out?
If you're looking for non-toxic nail polish remover try the following ones:
Karma Naturals Nail Polish Remover is an acetone-free soy based (derived from farm crops that support American farmers), non-toxic, petroleum-free nail polish remover.

If you're allergic to soy, shop Piggy Paint's Nail Polish Remover that is made from corn alcohol. It is designed for kids, but it is a great option for all the ladies, and it works really well too.

Don't miss our Clean Beauty Source Guide featuring products across all categories.
Disclosure: USA Love List received some products in this post unconditionally for review purposes. Our opinions are always our own, and we aim to write fair and balanced reviews to promote only the very best of American-made products.