If you are expecting, or know someone who is, then this American made source list is one that will be extremely handy! Make sure that baby has only the best products, all made in the USA.
American Made Baby Products
Made in USA Baby Heirloom Gifts: Beehive Handmade
If you are looking for a baby gift that will be treasured through generations than Beehive Handmade is sure to have what you are looking for. All Beehive Handmade heirloom quality baby gifts are handcrafted in Rhode Island from lead-free pewter. Beehive Handmade picture frames, tooth boxes, feeding spoons, baby cups, and baby's first ornaments all contain images inspired by vintage children's books. 10% off Beehive Handmade with discount code USALOVE. No expiration.
Made in USA Baby Bedding: Liz and Roo
Liz and Roo high quality baby bedding for boys and girls is sewn by hand in Kentucky. Buy a set, or just a few pieces. The crib rail cover is a beautiful bedding choice that protects the crib from teething while adding to the baby's room decor. Liz and Roo recently introduced the new "Cubby II" luxury baby bedding in Taupe. This bedding collection pattern features bear silhouettes on a white background with small arrows on flax linen. American made Baby Products Deal: Use promo code USALOVE to save 15% on your Liz and Roo purchase.
Made in USA Organic Baby Sleepwear: CastleWare Baby Footies, Sleep Bags, & Pajama Sets
CastleWare Baby offers a full line of timeless, eco-friendly sleepwear for babies and kids, up to size 6. CastleWare Baby clothing items were design and created with functionality and durability in mind. Eliminate the need for lose crib blankets, and keep little one safe with the popular Sleeper Bag/Wearable Blanket. Footsies are the favorite PJ style for the toddlers, and for lighter wear, the two piece (Tee and Leggings) Pajama Set will keep baby and kids cozy.
CastleWare Baby footsies, sleeper bags, and pajama sets are manufactured in Los Angeles, California from the finest fabrics. All CastleWare Baby clothing items are made in the USA from start to finish. The cotton is grown without harmful pesticides or chemical fertilizers. Only low impact, fiber reactive dyes are used. CastleWare Baby clothing is safe for babies and children to sleep in. 20% on your entire CastleWare Baby order with code USALOVE. No restrictions, no expiration.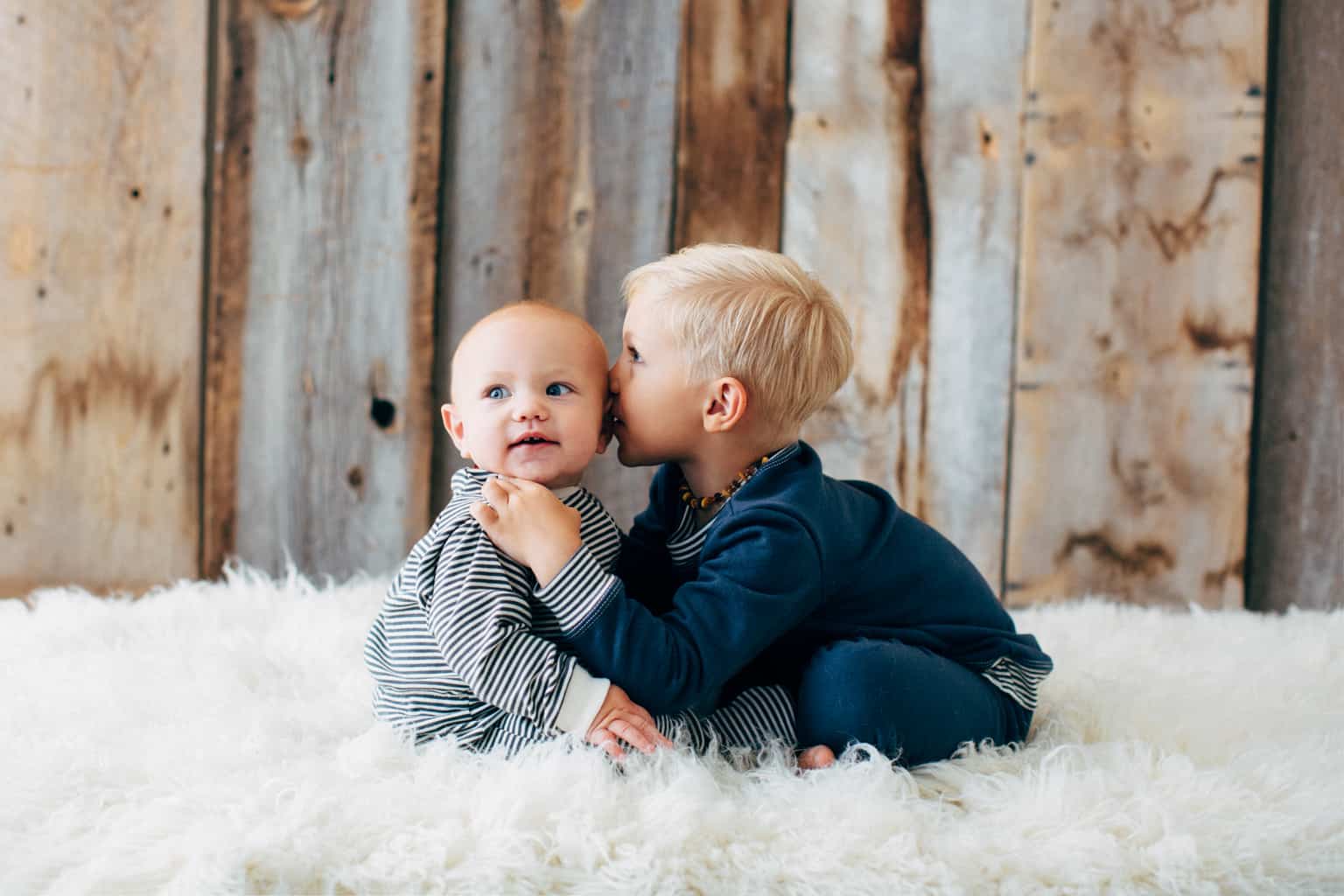 Baby's First American made Flatware: Baby Liberty by Liberty Tabletop
Liberty Tabletop is the only flatware that is still manufactured in the United States, upstate New York to be exact. Liberty Tabletop stainless steel flatware is made from domestically sourced steel that is 8 to 10 percent nickel and 16 to 18 percent chromium. Unlike stainless steel in foreign flatware manufacturing, Liberty Tabletop guarantees that the metal mix in their stainless steel does NOT contain lead, mercury, or any other toxic metals that we don't want in baby's mouth. Baby Liberty Baby Flatware is design with baby and child in mind. These flatware pieces are smaller and perfect for baby and child hands and mouths. Also available is the Liberty Baby soft bite coated feeder spoon, for serving baby's first solid foods.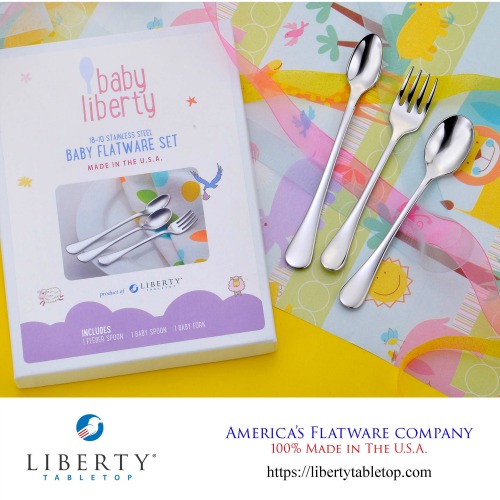 American made Organic Calendula Castile Bar Soap: Apple Valley Natural Soap
Apple Valley Natural Soap is an artisan soap company making over 60 varieties of natural & organic, handcrafted, cold-processed shampoo, salt, Castile, coconut, face and body bars. The Calendula Castile Bar Soap is made with two skin nourishing ingredients, saponified organic extra virgin olive oil, and organic calendula petals. There is no added scent. Castile soap is the most gentle and mild of soaps, safe even for babies and those with ultra-delicate skin, although it's not a tear-free soap. American Made Baby Products Deal: 15% off with code USALOVE on your Apple Valley Natural Soap. No expiration. One use per customer.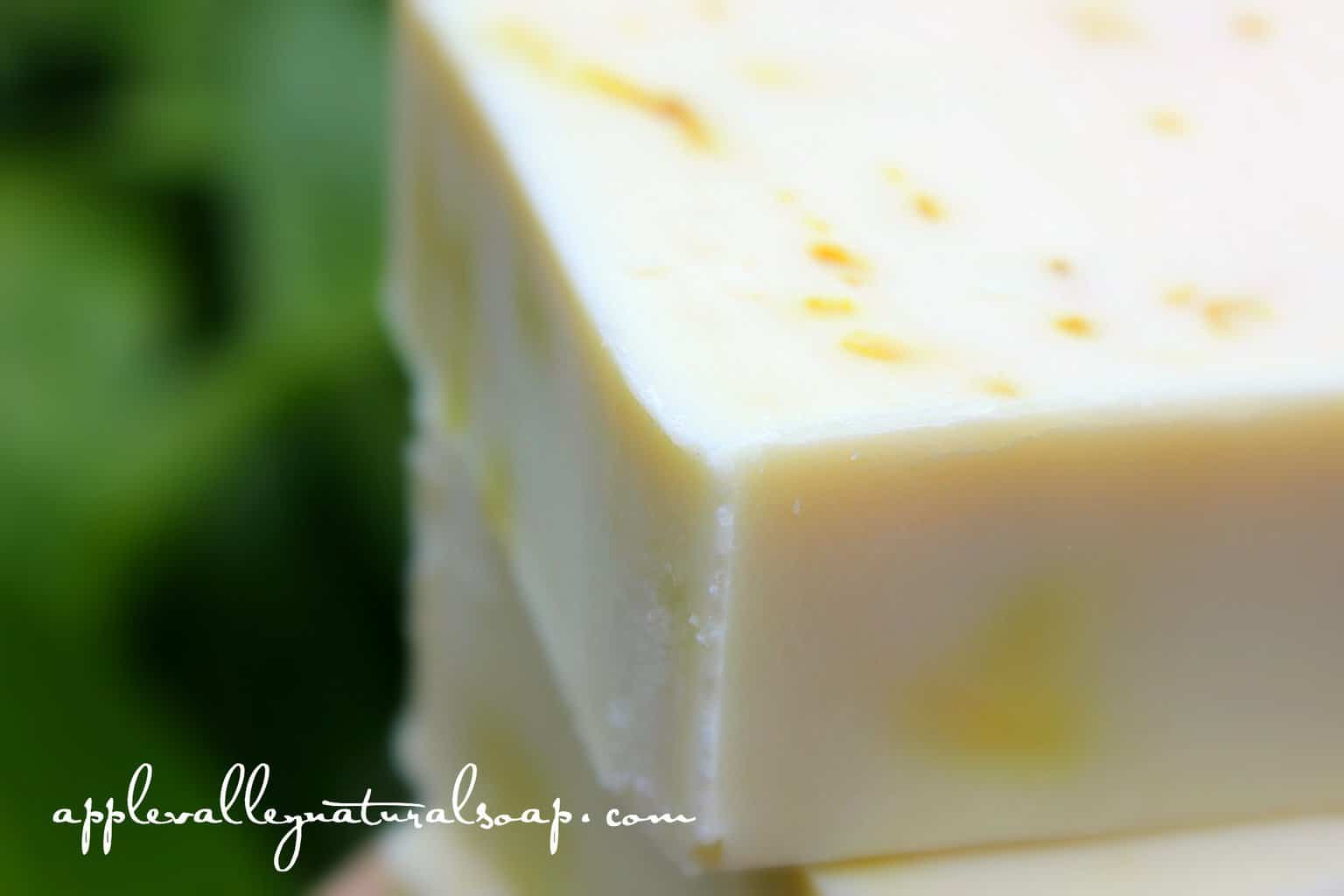 Made in USA Car Seat and Booster: Britax
Are you as surprised as we are that there is a child car seat made in the USA? How amazing is that? Britax Cool N Dry Collection is designed for rear-facing babies 5-40 pounds and forward-facing kids up to 65 pounds. The new line of car seats features a high-performance Thermo5™ knit blend with 30 percent Bamboo Charcoal that wicks away moisture and naturally allows air to flow. Installs are easy as buckling a seatbelt with the ClickTight® Installation System. For extra peace of mind, the seat offers two layers of side impact protection, plus the patented SafeCell Impact Protection® system that surrounds growing babies in safety, including a reinforced steel bar, V-shaped top tether with impact-absorbing stitches, and an impact absorbing base. The Cool N Dry Collection is available exclusively at BuyBuyBaby.com.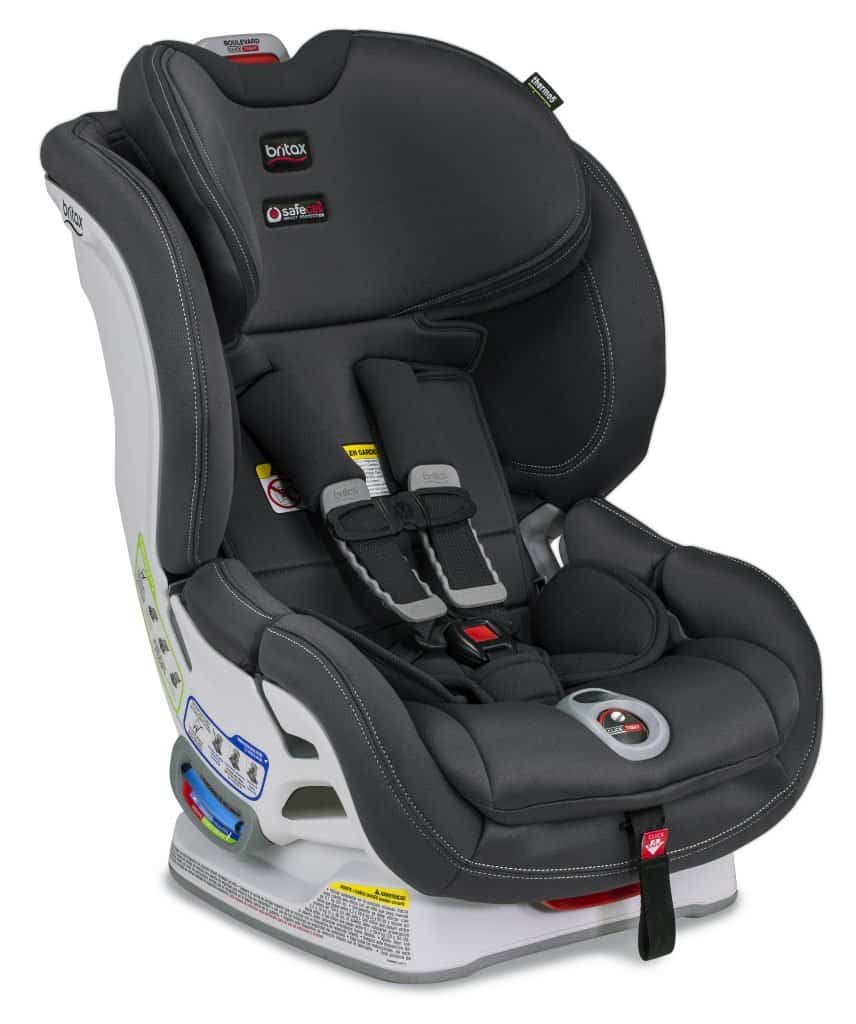 American Made Baby Products: The Ultimate Source List
This list is constantly being updated, so bookmark and check back often! If we missed a source you love, add it to the comments so we can include it with our next edition.
Baby Bath & Body Care Products
Apple Valley Natural Soap Calendula Castile Bar Soap is made with two skin nourishing ingredients, saponified organic extra virgin olive oil, and organic calendula petals. There is no added scent. Castile soap is the most gentle and mild of soaps, safe even for babies and those with ultra-delicate skin, although it's not a tear-free soap. American Made Baby Products Deal: 15% off with code USALOVE on your Apple Valley Natural Soap order through October 31, 2019. One use per customer.
Babo Botanicals Natural skin, hair, and sunscreen for baby, kids, and adults
BabyBearShop organic skincare line for baby, and mom
Babyganics skincare, hair, diapering, and laundry products
Babytime! by Episencial is the only baby skin care line that contains products with natural ingredients AND probiotics
Botanic Organic's Lavender & Calendula Soothing Balm protects, moisturizes and heals skin naturally with this soft scented balm for even the most sensitive skin, like that of a newborn baby. We love Botanic Organic for its healing American made skincare products, making them perfect for the delicate skin of a baby. 15% off Botanic Organic with discount code USALOVE. No expiration. One use per customer.
California Baby makes non-toxic skincare, haircare, and diaper products. The brand is known for its Calendula Cream; this botanically based, light and fluffy cream contains the ingredient of Calendula, which has been used to soothe the skin for centuries.
Dolphin Organics 100% natural and certified organic baby shampoo & body wash, baby bubble bath, and baby lotion
Dr. Bronner's makes a Baby Unscented Gift Set complete with one Pure-Castile Liquid, one Bar Soap, one 4-in-1 Organic Sugar Soap, and one Organic Magic Balm. It contains no synthetic ingredients or petrochemical detergents, cleans and moisturizes with organic coconut, olive, hemp, and jojoba oils for a creamy lather that leaves skin and hair smooth and soft.
Earth Mama Organics products for baby (and mom too!) are natural and with organic ingredients.
Nature's Baby Organics Organic ingredient shampoo & body wash, face & body lotion, calming spray, baby oil, and dusting powder
Original Sprout I LOVE Original Sprout products for myself as they smell sooo good and leave my hair clean and soft. Original Sprout baby products are non-toxic, clean, all natural and vegan.
Ruby-Blue Bunny non-toxic certified skin and hair care products for baby are free of endocrine disrupters and harsh chemicals.
Tom's of Maine baby products are free of artificial colors, fragrances or preservatives, parabens, phthalates or phenoxyethanol (an artificial chemical preservative) and are made without animal testing. The company gives 10% of profits back to helping people and the planet.
Baby Bedding
Carousel Designs manufactures cute, unique crib sheets, bumpers, blankets and more in the USA
CastleWare Baby offers organic Sleeper Bags/ Wearable Blankets, and pajamas for baby up to kids size 6, made in Los Angeles Learn more about CastleWare Baby at the top of this post! 20% off CastleWare Baby with discount code USALOVE. No restrictions, no expiration.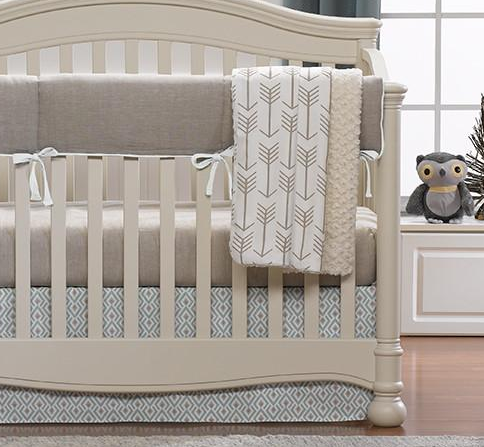 The Baby Snap Sack is a made in USA wearable blanket/sleeping bag for baby 3 months to 3T
Baby Clothing
Baby Diapering
Enchanted Slumber organic diaper covers are made in USA with 100% certified organic cloth outer and a waterproof polyurethane inner.
Baby Feeding
Baby Toys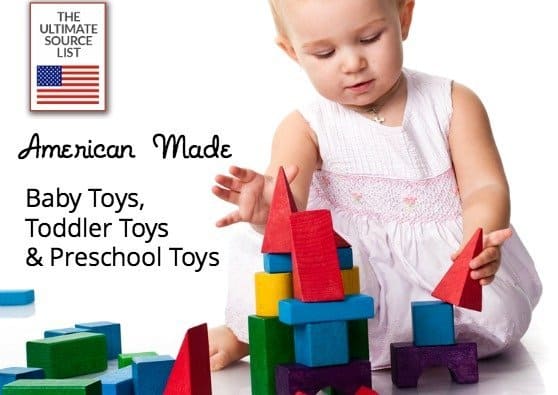 Baby Safe Cleaning Products
B & N Laundry all natural laundry soaps, stain removers, and laundry supplies
Babyganics baby safe cleaning products are made from safe, plant-based ingredients, and contains no: ammonia, bleach, phosphates, parabens, sulfates, phthalates, fragrances or dyes. Products include Toy & Highchair Cleaner, Dish & Bottle Soap, and Floor Cleaner.
Other Baby Products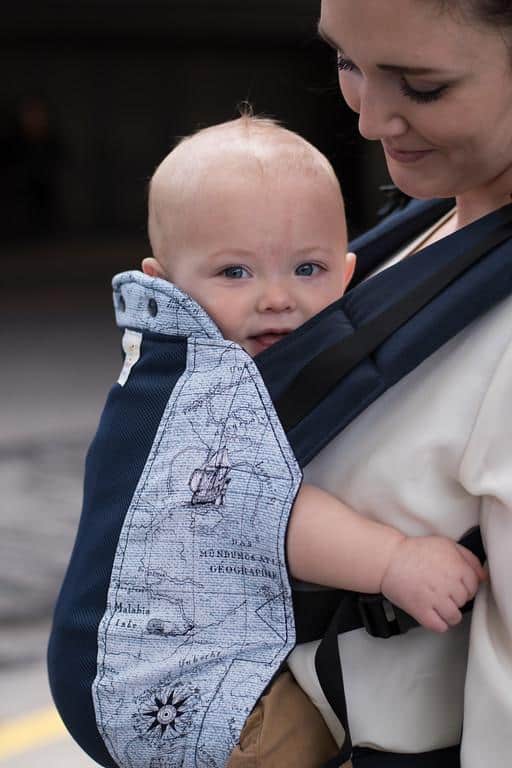 Kleynimals makes non-toxic, stainless-steel, American made rattles, jangles, keys, and utensils for babies. From its inception, Kleynimals has sourced small, independent, American companies to help with manufacturing. All of the brand's products are made in upstate New York by Sherrill Manufacturing, another independently owned company with a strong commitment to creating American jobs. Kleynimals makes for the perfect American made baby gift.
Online Retailers of Made in USA Baby Products
AnytownUSA is the go-to marketplace for American products, with a number of American made baby items. AnytownUSA is honored to offer a 10% discount to military members to recognize and thank you for your service. The discount is available to active duty service members, veterans, retirees, spouses, and immediate family members.
Nordstrom and Nordstrom Rack both have a wide selection of made in USA baby products including clothing, accessories, body care products, trinkets and more. Read the labels carefully!
Disclosure: This is a sponsored post which USA Love List is proud to share with you because, sponsored or not, we only share stuff we love.