Made in USA sneakers and athletic footwear are very hard to find, but we have the list! Our readers have been asking for American made sources for their sneakers, athletic shoes, running shoes, gym shoes, tennis shoes… or whatever you call them.
We have finally put together a source list for American made sneakers and athletic footwear for men and women that even includes walking shoes, minimalist running shoes, athletic sandals, bike shoes, golf shoes, and more.
If you really want to buy American made shoes for sports, these are your options. (As always, if you feel we've missed any, let us and everyone else know by posting in the comments section.)
---
Don't miss our other American made footwear lists:
---
SOM Footwear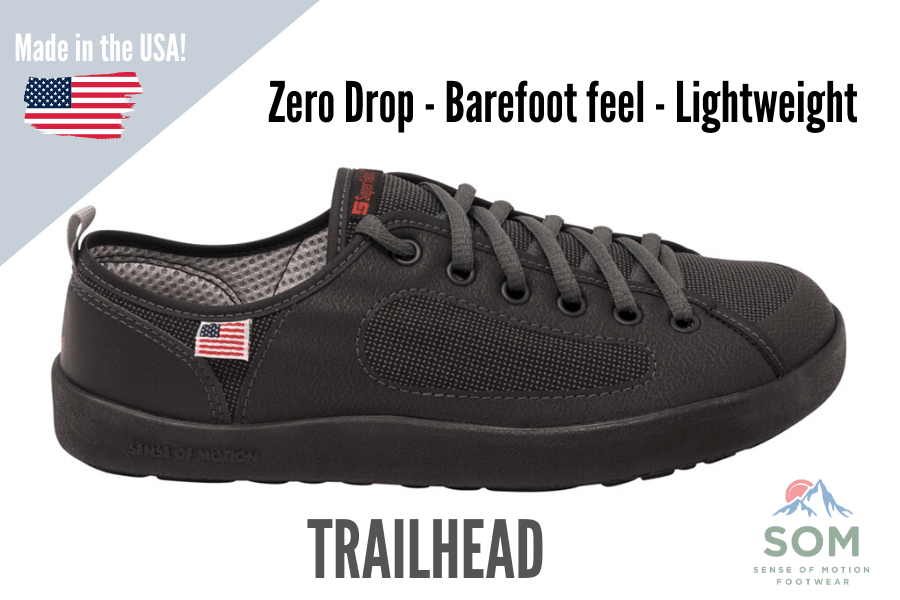 SOM Footwear's made in USA sneakers are made around the foot so they won't hurt the foot while letting the toes do the work they were meant to do. Many of SOM Footwear's athletic customers appreciate these sneakers for that specific reason. If you are looking for a shoe that treats your feet right while you are out on a trail run, the Trailhead has you covered! The Trailhead is SOM's most technical, sports-driven shoe, using the abrasion-resistant SuperFabric® while keeping out the mud, rain, and other elements Mother Nature can throw at you.
Made in the USA Sneakers and Athletic Footwear: The Ultimate Source List
Also, check our source list for made in USA Activewear!
If you notice that we have missed your favorite American made shoe brand, please let us know in the comments and we will add them to our list!
Running Shoes, Walking Shoes, Sneakers
Climbing Shoes
Evolv rock climbing shoes are assembled in California
Golf Shoes
Don't miss our list of Unique Golf Gifts, All American Made
Footwear Accessories
Ener-Gel inserts for walking and sport shoes are made in the USA
Disclosure: This is a sponsored post which USA Love List is proud to share with you because, sponsored or not, we only share stuff we love.
---
---